Driven by value: Oppo's $299 metal 4G phone reviewed

Price (RRP): $299
Manufacturer: Oppo
Budget phones are usually made for just that — a budget — but Oppo's F1 bucks the trend, bringing a premium look and feel to a price point that doesn't normally scream any of those things.
Specs
How much phone can $299 get you?
That's the question Oppo is asking with its latest handset, a smartphone that goes for broke with a practical copy of some of Oppo's other smartphones, and yet also a reduction in some elements that allows the company get to a smaller price point.
First up, we need to note that the F1 is very, very similar to what Oppo has released in its R7 series of phones, so if it feels like we're just writing about that phone — especially if you have read the R7 or R7s review — it's because Oppo is more or less borrowing a template.
As such, you'll find the same processor and much of the internal spec as the original R7, complete with a Qualcomm eight-core Snapdragon 616 processor paired with 3GB RAM.
Storage on this phone is set to 16GB, and this can be upgraded with a microSD card if need be, provided you use a microSIM.
Just like the other Oppo phones, you'll find support for two SIM cards in the Oppo F1, providing spaces for both a microSIM and a nanoSIM. Out of these slots, only one of them serves dual purposes, with the nanoSIM either working as a nanoSIM slot or a microSD expandable storage slot.
That means if you use a microSIM, you can either upgrade the storage with microSD or use a second SIM with the nanoSIM slot. Otherwise, if you use a nanoSIM — say you're switching from an iPhone 5 or something else — you can't use the microSD slot at all.
Connections for the Oppo F1 are pretty standard, with support for 802.11b/g/n and Bluetooth 4.0, as well as 4G LTE, but there is no support for Near-Field Communication (NFC).
You'll find your regular collection of ports that most phones support, with a microUSB port at the very bottom and a 3.5mm headset jack up top.
There are also two cameras here, with a 13 megapixel rear shooter and an 8 megapixel camera up front.
All of this sits under a 5 inch high-definition screen, displaying a resolution of 1280×720 with a layer of Corning's scratch-resistant Gorilla Glass 4 to protect everything, while a metal body handles every thing else.
The battery inside the phone sits at 2500mAh and is not removable.
Design
Picking up the Oppo F1, it's hard not to see a little bit of Apple in the F1, or even a lot of Oppo.
Whether you glance at the F1's white frame with camera and speaker up top and see Apple or twist the phone around to find a polished metal side and back for some of that Oppo love, you're definitely going to envisage one of the two companies.
Really, it just comes down to what you know, and the F1 feels familiar regardless of your background in phones.
Despite this familiarity, it's still a comfortable design with smooth edges, a soft metal back, and a slick glass front that feels more premium than most phones around the $300 price point ever achieve.
Performance
Inside the phone, Oppo surprises again, taking the formula it had previously used with the Oppo R7 series of devices — all three of them — and essentially cloning it, using it one more time for a smaller device.
That means you'll find a new variant of the same eight-core Snapdragon 615 processor — now called the Snapdragon 616 — from Qualcomm as from the R7 phones, but with 3GB RAM paired with the phone and 16GB storage.
Just like the existing phones, Oppo's ColorOS is here based on Android 5.0, which means it isn't exactly like the way Google envisioned it, but close enough to let you run all of those Android apps you normally find on the Google Play store.
We'll get into how the whole phone feels to use shortly, and ColorOS changes it from most other Android phones out there, but performance can be measured thanks to benchmarks and use outside of how the phone feels.
So what does it perform like?
Despite that obviously below mid-range price, the F1 handles its own, relying on Qualcomm's eight-core Snapdragon 616 and producing some decent speeds as you use the phone.
On the benchmark side of things, it's about the standard performance for this processor, but the 3GB RAM certainly helps to complete the package for the F1, providing only a hint of lag as you jump from app to app.
Mobile 4G performance is also quite good, and it's clear that this Category 4 4G phone can handle its own, providing speeds as high as 123Mbps in our first day of testing, with regular speeds ranging from 20 to 120Mbps as we walked through Sydney's CBD on the Telstra 4GX network.
In-use
With the performance mostly chugging along, you'll find use of the Oppo F1 actually isn't half bad, a skerrick of lag here and there, but mostly pretty reliable performance.
We've never been huge fans of Oppo's ColorOS, partly because to us Android isn't supposed to be a clone of Apple's iOS with side-swiping menus, and yet that's exactly what Oppo presents in the F1.
If you like iOS, you'll be at home here, with no app drawer and merely just one constant menu to swipe through. Your app icons sit here, and you can move them around, but unlike other Android versions, you only have one instance, so no shortcuts as these are the full app. Move them into your shortcut dock at the bottom of the phone if you like, but just like on an iPhone, they will only sit in one place at the one time.
Coming from an iPhone, it'll be like you're right at home, though people used to other Android devices may take a little more time to get used to what they're presented with, and it's not the only place that could confuse other Android owners.
While Android generally provides on-screen soft buttons that change based on the app, Oppo has left the older style of soft buttons for this phone, with printed-on soft buttons shown here one of which — the left-most — is for the menu options instead of Android's preferred multi-tasking option.
It still functions as multi-tasking button if you hold it down, granted, but it predominantly works as a menu button, making the use of this phone a little older than we're used to, but still relatively up to date.
Newbies should be fine with the Oppo F1, though anyone used to another Android phone may take a little getting used to, not just because of the iOS-inspired operating system overlay, but also of that older soft button.
One thing we do like about the use of the F1 is the level of customisation Oppo has thrown into this phone, with customisable data speed notifications, an "eye protection" mode for reducing strain, a security centre for working out how to speed up the phone and make it more secure, and even constantly changing lock screen images.
Hey, there's even a screen protector preinstalled to the phone the moment you get it out of the box, which is something else you don't have to buy.
Battery life
Thanks to a combination of specs such as a 720p screen, Snapdragon 616 processor, and a highly tweaked operating system, we found Oppo's F1 could hit a surprising one to two days of life depending on how much you used the phone.
Our test found closer to a day and a half, with the rest of that second day possible if you started to reserve usage, a result that impressed us.
Use your phone a lot and you should find a full day of life, a number that is still impressive given the price point being reached and the amount of technology inside.
Cameras
Cameras are, however, one area where the Oppo F1 doesn't really feel like you're getting the best results ever, but then again it's worth factoring in just how much this phone costs.
Yes, there's a 13 megapixel camera on the back and an 8 megapixel camera up front, but the cameras here are examples of situations where megapixels don't mean everything.
Take that rear camera which provides acceptable images in broad daylight provided you don't zoom in or get close, because noise and soft detail are very visible.
Lower the light a little and you find the camera suffers more, with little to no detail in the dark areas and really no way of bringing out. You'll get a flash to deal with that if need be, but these aren't grade A cameras, not by a long shot.
Value
Easily one of the best features of the Oppo F1 is the price, because at $299, Oppo is serving up a device that is very hard to look past.
Granted, it's not the cheapest phone on the planet, but the Oppo F1 offers more value than we've seen out of any phone prior.
You've got that metal body, a decent set of hardware inside, a more than tolerable screen, and enough battery life and 4G speed to handle a day's worth of activity. These features would normally incur a high cost — probably closer to the mid-range value of $500 or $600 — and yet Oppo has it for $299.
Now you can definitely find phones for lower than $299, and we've reviewed $99 and $199 models in the past, but without doubt the Oppo F1 is a phone that actually matches its value, and that is quite impressive.
What needs work
While we've never been too thrilled with the iOS-style implementation of the operating system, ColorOS has its fans, and it's not hard to get used to. Plus it does allow Oppo the chance to tweak the operating system, and there's no doubt this level of customisation adds to the integrity of F1's performance, which is pretty clear.
So this is hardly a real quibble, but just something we don't like.
What you may find a little problematic is the screen's viewing angles which does gel with the whole "budget" approach to making a smartphone.
You won't notice it most of the time, and generally the 720p display Oppo has gone with is easy on the eyes, but the moment you twist that display to take a picture in landscape view, the angles will wash the screen out.
That's one of the drawbacks with using a lower quality screen, and it's quite clear this isn't of the same ilk as its siblings. Still, at least it's higher than 800×480, because your eyes won't be squinting too much with a close-to-Retina value of 294 pixels per inch.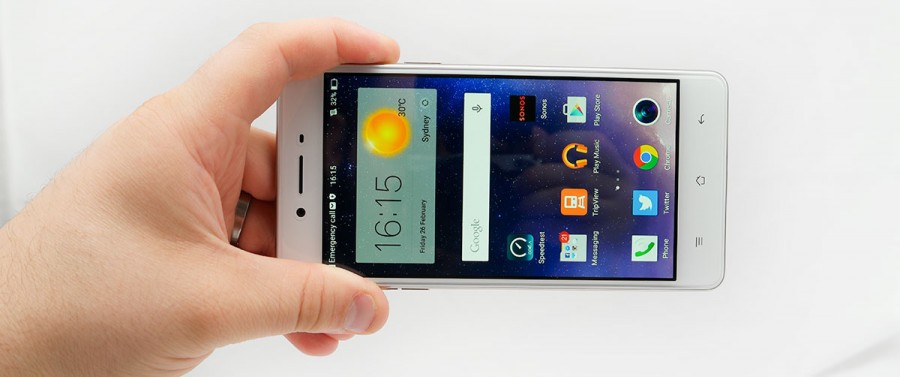 Conclusion
Overall, Oppo's F1 really pulls together the value experience, with more technology and a better feeling product at a $299 price point than some phones that cost twice that.
Some things could definitely be better, sure, there's no doubt that the screen could do with an update while the camera needs to be improved, and we'd still prefer to see stock Google Android instead of the incarnation Oppo uses that pretends to be like Apple's iOS.
But if neither bothers you and you're after a relatively high quality phone without spending a fortune, Oppo's F1 absolutely delivers for the price.
Driven by value: Oppo's $299 metal 4G phone reviewed
Price (RRP): $299 Manufacturer: Oppo
Great premium-feeling body for the price; Solid rounded specs; Surprisingly impressive battery life; Supports either upgraded storage or two SIMs, dealer's choice; Fast 4G; Screen protector installed to the phone out of the box; Inexpensive;
Screen viewing angles aren't the greatest, and will wash out; Camera needs some work;