A gem of a phone: Samsung's Galaxy S7 reviewed

Price (RRP): $1149 outright; Available on plans from Telstra, Optus, Virgin, and Vodafone;
Manufacturer: Samsung
All eyes are on Samsung's latest smartphones, and while the S7 Edge has most of the attention, the smaller standard S7 is just as stellar a smartphone as its brother.
Specs
The second of two models released in the Galaxy S7 range for the first half of 2015, the standard Galaxy S7 is one that will appeal to people looking for a modern take on the typical phone.
You may have heard about the edge screen coming to Samsung's devices, but the standard Galaxy S7 eschews that, opting for a straight metal frame that holds the phone together as opposed to a slimline metal frame that barely touches the curved edge on the S7 Edge.
Some will prefer this style as they will the smaller size, and for those, the Galaxy S7 is ideal.
Inside, though, Samsung has more or less kept things the same as its high-fashion brother, including an eight-core Samsung-made Exynos 8890 processor which has been paired with 4GB RAM and 32GB storage, the latter of which can be upgraded with a microSD slot as the upgradeable feature returns to the Samsung Galaxy range.
Google's Android 6.0 "Marshmallow" is also here, running with Samsung's TouchWiz interface on top, while your connections to the web are handled through either 802.11a/b/g/n/ac WiFi or via Category 9 4G LTE capable of maxing out to 450Mbps.
Bluetooth 4.2 with A2DP rounds out the wireless features alongside GPS, A-GPS, and Near-Field Communication, while support for Samsung's wireless payment feature "Samsung Pay" is here and will be rolled out eventually in Australia.
Over on the camera side of things, you'll find a 12 megapixel sensor on the back with an f/1.7 aperture lens while the front-facing camera relies on a 5 megapixel camera for selfies keeping the f/1.7 aperture glass around.
Video capture can be handled as high as 4K Ultra HD on that rear camera, and you'll also find a flash on the back next to a heart-rate tracker.
And all of this sits under a 5.1 inch Super AMOLED display capable of showing the Quad HD resolution go 2560×1440, with protection provided by Corning's scratch-resistant Gorilla Glass 4. The back is treated in this material, too, with the metal side wrapping the Galaxy S7.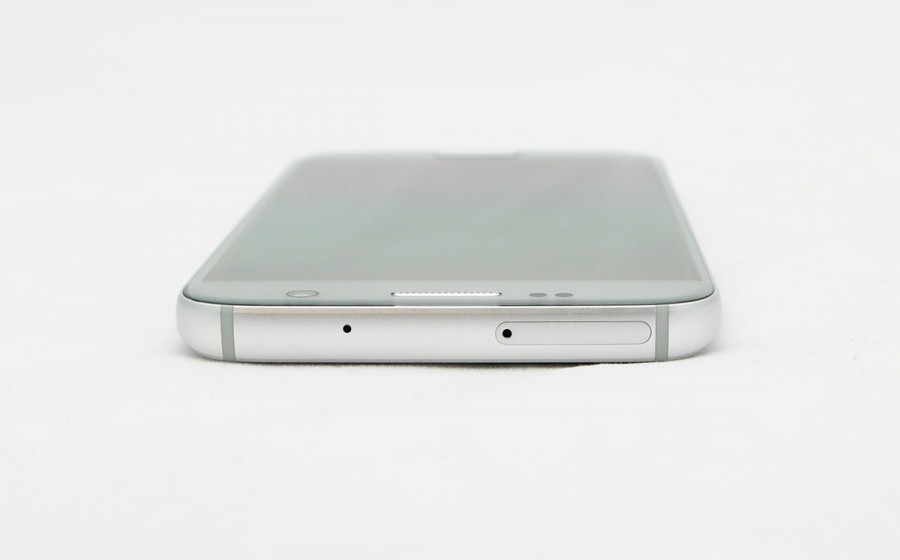 Along the top, you'll find a pin ejectable tray providing a microSD slot and nanoSIM slot, while the bottom holds a 3.5mm headset jack and a microUSB charge and data transfer port.
Buttons are about standard, with individual volume rocker buttons on the left edge while a power button sits on the right. The home button up front includes a fingerprint sensor underneath with soft buttons for multi-tasking and back flanking this on each side.
Finally, the Samsung Galaxy S7 is rated for IP68 certification, meaning it is dust right and resistant to water down to one metre for up to 30 minutes, though this is fresh-water specific rating.
The battery inside Samsung's Galaxy S7 is rated for 3000mAh and is not removable.
Design
Last year, when Samsung released two variants of the S6, many expected the standard edition to be the most popular. It was less interesting, sure, because a curved screen was new, but it was also more expensive, commanding at least a hundred bucks more for a slightly curved display that did very, very little.
The style was also a little different, and while the S6 Edge tried to give off the impression of a display that wrapped around the body, the S6 was more like a phone you knew, with a lot of Samsung and a little Apple wrapped into basic block of a touchscreen device.
Interestingly, from what we know from Samsung, the Edge device was more popular, with many a customer choosing the curved variant over its straight-edged family member.
This year, much the same is expected, but that doesn't mean that the standard variant of the Galaxy S series won't have its fans, as some just prefer an edge they can hold, feel, and pick up without any problems.
In the 2015 Galaxy flagship S7 (without the edge), that is precisely what you get, with Samsung bringing over some of the learnings from the Galaxy Note 5 over to an improved Galaxy S6 with a flat edge.
One of those learnings is with the bottom, where Samsung has curved the glass on the edges to help you hold the phone and pick it up, and it might sound minor, but it is easily one of the better aspects of the design improvements.
The smaller size is also noticeable — obvious, actually, with the 5.1 inch Galaxy S7 in comparison to the 5.5 inch S6 Edge — and it is very comfortable in the hands, the softened back conforming nicely to the palm while the fingers grip the phone.
All up, it's a lovely design, even if it can be a bit slippery, something you can thank a glass front and back for.
Display
Next up is that display, and you should hardly be surprised by this lovely 5.1 inch panel.
Just like last year's Galaxy S6, the 5.1 inch screen in the Galaxy S7 is one of the brightest and sharpest displays you'll ever set eyes on, offering a Quad HD resolution of 2560×1440 and delivering 576 pixels per inch, making it one of the sharpest screens on the planet.
Forget the numbers, though, because they're not as important as the impressions, and just like the S7 Edge, this is a screen that stands out.
Simply put, it's pretty, vibrant, easy on the eyes, and one of the only screens that can be viewed under direct sunlight.
Performance
Performance is the next area, and Australians will be treated to a Samsung Exynos 8890 eight-core processor, just like in the Samsung Galaxy S7 Edge.
It should come as no surprise that the S7 is pretty much spot on like the S7 Edge, and that means you don't just get the same processor, but also the same compliment of memory, storage, liquid-cooled component, and operating system, though there is a tweak between them given that there is no edge screen.
That's a minor thing, though, and doesn't affect the performance side of things, which is actually pretty solid, offering a staggering benchmark and some pretty solid activity on the operational side of things.
Testing the S7 in action, we found one of the fastest Quadrant benchmarks we had ever seen, as well as little to no lag in everything we did, whether it was loading apps, multitasking and switching between programs, and generally just using the phone.
Samsung's Galaxy S7 performed like a dream and never really let up.
Mobile performance was also pretty top notch, and while we didn't quite achieve the limit of the Category 9 4G modem being used, we did find our speeds maxing out at 211Mbps, a speed which definitely manages to impress, and tells us that Category 6 speeds of around 300Mbps should be possible with no problem in Australia.
In-use
It's pretty clear that Samsung has been learning how to refine Google's Android over the past few years, and while we've seen Samsung's overlay "TouchWiz" spread on pretty thick in various models, the variant you find on Aussie S7 and S7 Edge phones is the closest we've seen yet to the way Google prefers it, also known as "stock".
Stock Android is very much the way Android geeks like it, and while companies like Oppo and Huawei go more for an iOS-inspired take — for the people that prefer a phone to feel like an iPhone even when it's not made by Apple — Samsung's TouchWiz is now like stock Android, but just different enough to be different.
You'll find the typical assortment of widget-supporting home screens and an app drawer, while the dropdown notification bar at the very top of the screen can be edited to have your favourite power control options in there.
Samsung has thrown in a little more customisation in its latest TouchWiz implementation, and now you can change the grid size of your home screen, or even get rid of the whole home screen logic with Samsung Labs which will let you try out features Samsung is dabbling with, one of which is an iOS-styled implementation.
Even if you don't like TouchWiz, you can always load your own launcher, but we found Samsung's scaled back edition of its Android overlay was nicer than it has previously been, and closer to what Google believes Android should be like, even if it wasn't really the same.
Camera
Past the interface, we can get stuck into the camera, and this is an area Samsung has been improving in leaps and bounds over the past few years.
And yet here on the Galaxy S7, it's like we've made our way to an entirely different world.
Seriously, the camera on the Galaxy S7 is so good, people who call themselves "photographers" may want to consider a new walk-around body, because while it doesn't quite have the length or reach to get shots from far back, it has just about everything else you'd want in a compact camera covered.
Let's touch on speed first because it definitely has that. You'll find the camera shortcuts in Android waiting for you, or if you don't feel like looking for the shortcut or just opening the camera from standby, double tapping the home button does this, too, launching the camera super quickly.
New to phones is a technology called "Dual Pixel AF" which provides super speedy autofocus, and it even works a treat when you've turned that camera on from nothing to fire a shot you'd normally otherwise miss with another camera.
The on-screen camera software is a little faster to operate — certainly faster than it ever has been for a Samsung phone — and you'll even find a few modes for you to work with, including a "food" mode and one sort of made for the professionals with shutter speed and ISO control, among other things.
Taking the photos, though, is generally quite fast and an on-camera button will take care of that for you, storing a 12 megapixel image on your phone's storage.
Over to image quality, and that is one area Samsung has literally nailed.
The 12 megapixel sensor might seem smaller than what we saw in the last generation of Samsung phones — and it technically is, down from 16 megapixels in the Galaxy S6 — but the sensor appears more capable, with better low light imagery that doesn't generally require a flash as well as some very sharp details in daylight.
To say we're impressed by the development of the S7's camera is an understatement: we are stoked that Samsung has reached this point in smartphone camera development.
Great work, team.
Battery
We shouldn't be surprised by the battery life, either, as the S7 has been built from the same hardware design as its S7 Edge brother.
Granted, there's a difference in battery size, with a good 600mAh between them, but there's also a different screen with a different screen size, with 5.1 inches on the Galaxy S7 compared to the curved 5.5 inch screen on the Galaxy S7 Edge.
Over on the S7 Edge, we found that Samsung had not only found the right balance to achieve a full 24 hours, but had literally nailed it, getting that full day without any problems whatsoever.
And here on the Galaxy S7, Samsung has nailed that balance again, with the 3000mAh battery working with the 5.1 inch Quad HD display to pull another full day of battery life.
Not bad, Samsung. Not bad at all.
…and then some
But the great battery and the great camera and the great feeling that you're getting a well-thought out device aren't the only things you get with the S7, because like its S7 Edge brother, this phone is loaded with fix-ins.
For starters, there's the expandable memory, new to glass and metal backed Samsung phones, because it was there on the S5, but disappeared on the S6.
It's back, and that means you can throw in a microSD and bring that storage up to an amount you'd be happy with. Every Galaxy S7 phone comes with 32GB in Australia, but depending on the size of a memory card you have, you can increase this, meaning more storage for movies, music, pictures, files, and VR videos.
Water-resistance is also back, with IP certification delivered via an IP68 rating. That might just look like a bit of jargon to you — and it is — but what it translates to is complete resistance to dust (that's the "6") while water can be handled for up to three metres for as long as 30 minutes or so (that's the "8").
That's technically clearwater, folks, so if you plan on going swimming in a pool or the ocean, make sure to wash that phone under a tap so you get rid of any excess chemicals, as IP ratings don't take these into account.
Still, it's good news for Aussies who love taking their phones into the world and not worrying as much about "will it survive a close encounter with a lot of rain".
While it's great to see those two features return, others have remained, with wireless charging still here, high-resolution audio still supported, and even compatibility with Samsung's Gear VR virtual reality headset. That's the future of entertainment compatible with a phone from today. Neato!
A finger- and thumb-print scanner is also built into the body, sitting underneath that home button, and while it isn't the best on the market — that goes to Apple on the iPhone 6S — it's still not bad, and is a far cry better than the original generation Samsung shipped back on the Galaxy S5 which required a swipe to work.
Samsung has also provided some slightly unexpected inclusions, some of which feel more like experimental bits and bobs, such as Samsung Labs which lets you change the way the home menu works with a design more like that of iOS.
Another unexpected inclusion is that of the gaming additions, specifically that of water-cooling and Samsung's Game Launcher, the former of which tends to keep the phone stable enough for heavy multimedia and gaming while the latter bundles games together in one folder and provides a simple set of controls to let you decide whether you want any alerts during gaming or if Samsung's extra set of controls for "Game Tools" should be running while you play your game.
This is a neat set of controls that let you record video of the game, grab screenshots, or fiddle with whether someone can send you alerts while you're getting knee-deep in strategy, as you might well do.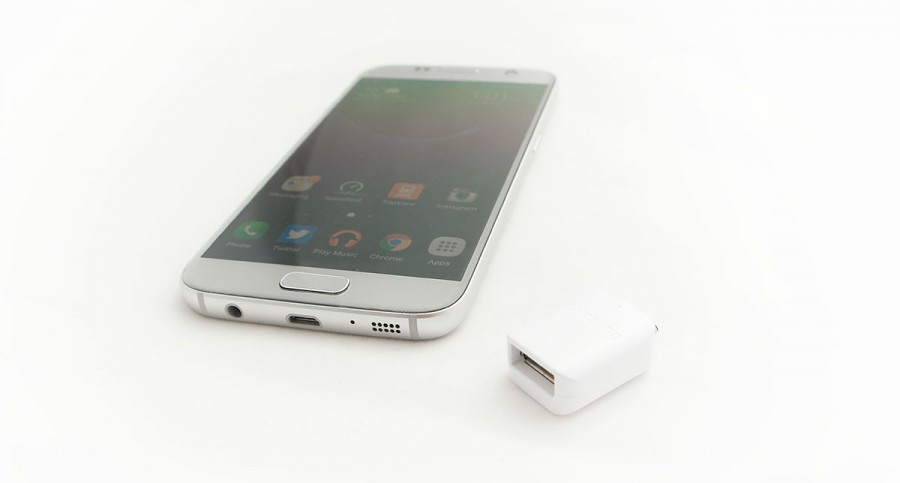 There's even a hardware feature included in the box that's worth talking about, with an accessory that converts the microUSB at the bottom of the phone into a standard full-size USB, handy if you want to attach a solid-state drive or thumb drive to the phone and move files over in either direction.
Granted, this accessory isn't exactly expensive, and you can find them for $20 to $30, but it is rare to find such a thing included in the box of a phone, and so just like we were delighted to see it on the S7 Edge, we're thrilled Samsung has included in the box of the S7, too.
What's needs work
Like the S7 Edge, it's hard to really find an area where Samsung didn't really nail the formula, because with great battery life, fantastic system performance, a superb mobile modem, and one of the best cameras not just of any smartphone but one that competes properly with compacts, Samsung's Galaxy S7 is an all-round brilliant phone to have in your life.
So what's wrong, and what needs work?
Well nothing is wrong per se, but the fingerprint sensor does need to be faster, something we suspect will come over time with some changes to the software.
More than that, though, the soft buttons tend to flake out a little, timing out when you really need to press theme, or being too sensitive.
Like the extra wide screen on the Galaxy S7 Edge, we expect this is one of those things that — like the fingerprint reader — will be fixed over time as Samsung's developers finesse and massage the code, making the whole package work just a little better.
The issues with the soft buttons under the screen are very, very minor, that said, and don't occur all that often, and so our only other complaint can come from the design, because thanks to the glass on the front and back, Samsung's Galaxy S7 is — like the S7 Edge — a fingerprint magnet that can be very slippery.
That is unfortunately what you get when you go for glass as the primary material, though we'll take it over Samsung's usual choice of plastic, as glass feels much stronger and premium than more polycarbonate.
And hey, at least you can wash this phone off when it gets dirty, something you can't say for many other devices out there.
Conclusion
Samsung's Galaxy range has been running for seven years, and that is seven years that Samsung has been well and truly trying to take on Apple's iPhone.
We've certainly seen some great phones over the years, but this year's range well and truly takes the cake, and not only do we have a device that seriously gives Apple's phones a good run for their money, but packs so many features in, you'd be hard pressed not to consider a Samsung Galaxy S7 or S7 Edge as your next phone, especially if you were upgrading this year.
As reviewers, we pride ourselves on finding something wrong with devices. When you find something that is a fault or a problem, generally it can dent the entire package.
But on Samsung's Galaxy S7, neither the slightly slippery design nor the fact that the soft buttons down below occasionally don't fire when they should isn't enough to dissuade us to not say this is a great phone.
Rather, we're thrilled that Samsung has thought so much of the entire package, delivering a phone that checks so many boxes and works as well as it does.
Of the two devices Samsung has released, we're of the point of view that the 5.5 inch Galaxy S7 Edge is a more elegant phone and since it has a bigger battery could be more useful long term, but Samsung's Galaxy S7 is a gem of a phone and ideal for anyone disillusioned with regular sized handsets not reaching their full potential. Highly recommended.
A gem of a phone: Samsung's Galaxy S7 reviewed
Price (RRP): $1149 outright; Available on plans from Telstra, Optus, Virgin, and Vodafone; Manufacturer: Samsung
Comfortable design; Glass body makes the phone feel soft and elegant; Water resistance returns to the Samsung Galaxy range!; Slick performance with little-to-no lag; A screen you can read in direct sunlight; Expandable storage means more space for files and apps; Water-cooling and game control bar is useful for gamers; Works with wireless charging; Compatible with Samsung's Gear VR headset; Includes a microUSB-to-USB converter in the box;
Can be slippery; Fingerprint magnet, just like its sibling; Soft buttons below the screen don't always work properly; Always-on screen can't be customised remarkably;