Android's best iPad: Samsung's Galaxy Tab S2 reviewed

Price (RRP): $from $599; 9.7 inch WiFi 32GB is $599; 9.7 inch WiFi 4G is $749;
Manufacturer: Samsung
You've seen Samsung's 2015 phones, and now it's time to see what the company can do to make its tablets on par with these bad boys. Is Samsung's Galaxy Tab S2 the best tablet around?
Features
Another year, another tablet, and while these get better every year, Samsung is hoping to echo its success in the year's smartphone world in tablets, too.
This starts with the processor in the Tab S2, and it's here that Samsung has made a few changes, keeping an eight-core processor reliant on two quad-core chips, replacing its homegrown Exynos 5420 from last year with the newly updated Exynos 5433 which comprises of one 1.9GHz quad-core section working alongside another 1.3GHz quad-core section.
This will be matched with 3GB RAM and 32GB storage in Australia, the latter of which can be updated with a microSD slot.
Google's Android 5 "Lollipop" runs here, with the latest incarnation of Samsung's TouchWiz operating on top.
All of the Galaxy Tab S2 models being released in Australia will feature 802.11a/b/g/n and 802.11ac WiFi, Bluetooth 4.1 with Low Energy (LE), with the LTE models also featuring 4G mobile connectivity with support for voice, too.
Cameras are also here, with a 8 megapixel auto-focus camera on the back with no flash, while the front sports a 2.1 megapixel camera, also with no flash. Video capture is possible from the rear camera, supporting up to Quad HD's 2560×1440, the same widescreen resolution the previous display of the Galaxy Tab S (2014) sat at.
For sure review unit, this technology can be found under a 9.7 inch 4:3 aspect ratio Super AMOLED display running the resolution of 2048×1536, protected by a level of Gorilla Glass.
The 8 inch variant also features the same resolution in a smaller panel relying on the same 4:3 aspect ratio, and as such, each version of the Tab S2 supports a different pixel clarity, with roughly 291 pixels per inch on the Tab S2 9.7 inch, and roughly 320 pixels per inch on the 8 inch, technically making the Galaxy Tab S2 8 inch the better of the two.
Ports on the units include a microUSB charge and data transfer port found along the bottom near the 3.5mm headset jack. Meanwhile, up to two slots can be found on the side dependent on the model you opt for, with a pin tool ejectable microSD slot on the right edge found on all models, while the LTE models add a nanoSIM slot ejectable by the same pin tool just below this.
Buttons are the same, however, with the same staple signature Samsung buttons seen on phones here, providing light-up soft buttons for multitasking and back below the display and flanking a physical home button with a fingerprint sensor found beneath this. Two other buttons can be found on the right edge, comprised of a power button just above a volume rocker.
The battery in both Galaxy Tab S2 tablets is non-removable, and is rated differently for each variant, with the 9.7 inch model sporting a 5870mAh battery, while the 8 inch grabs a 4000mAh battery.
Performance
It's that time of the year again, folks: it's time for a new tablet.
Not one from Apple, though; we just saw a launch of a 12.9 incher from Apple already, and it won't be here until later on, roughly when the next 9.7 inch iPad Air 3 is expected, likely to be some time in October or November.
No, this time the tablet is from Samsung, a company that has been trying to match and outpace its biggest rival in the smartphone and tablet space for sometime.
We don't have to tell you what company that is, sufficed to say that with the reinvention of its tablet series last year, it got quite close.
In fact, 2014's Tab S series brought with it a textured back, decent performance, lots of features, and a screen that was super sharp and ideal for taking on the go. Samsung has even manage to hit Apple where it hurts with its latest smartphones this year, with unique designs, excellent screens, fantastic cameras, and a solid build.
Can Samsung work the same magic to the tablet sector in 2015 as it did with phones?
Pick up the Galaxy Tab S2 and you'll find a totally different look and feel to that of the previous Tab series, with metal, plastic, and glass, and the general feeling that Samsung has taken its Note 4 from last year and rolled it out with a rolling pin.
This means you get flat metal edges with a trim of silver regardless of whether you chose black or white, since they're the only two colours being made available.
The design is also fairly thin, measuring in at a ridiculous 5.6mm, which is still thick enough for both the microUSB charge port and 3.5mm headset jack that sit along the bottom.
A weight of around 392 grams makes for a comfy hold on our LTE variant, and you'll even shave three grams off if you skip the mobile modem, though we'll get to a neat feature later you'll miss out on if you do.
Switch the Galaxy Tablet S2 on and you'll be greeted by easily the tablet's best feature: its screen.
By now, you're probably aware of the quality of Samsung's screens and how the company is constantly developing and focusing its efforts in this space, and in the past few years, we've certainly seen some impressive results from Samsung displays.
Whether it comes from a fantastic LCD monitor, a bright and vibrant quantum dot television, or the stunning AMOLED screens seen on its mobile devices, Samsung is constantly blowing our eyelids off when it comes to showcasing its results in the display world, and the screen on the Tablet S2 is no different.
While this is the first time we've seen Samsung built a 4:3 aspect ratio screen — a sizing that looks more like the sort Apple would use rather than Samsung — its 2048×1536 screen offers the same level of clarity as the iPad Air 2, and feels like it offers more brightness in general, even doing that thing its flagship phones do which somehow pulls from an extra reserve of power when you head to bright sunlight and turns the screen up brighter.
What this translates to is that you can actually use the tablet in the harsh sunlight that our majestic nation offers, and with the Aussie sun beating down on your sunscreen-laden back, you could sit in the backyard and surf the web, if you were so inclined.
Back indoors, the screen will pull itself down to a more appropriate viewing brightness, and it's here you'll have the best experience with viewing, since the lighting will be more balanced.
Colours are rich and images are clear, and if we thought Samsung couldn't make a better screen than what we saw on the Tab S, we were wrong, because even though the pixel clarity has dropped ever so slightly, the display manages to feel better.
Some apps may not render exactly perfect, as we found Evernote didn't feel optimised for the 4:3 screen Samsung was using with a little bit of pixelation in some of the text, but we suspect this might come down to some app updates later on, as we've not seen this before.
Otherwise beyond this minor thing, the display is lovely, and seriously gives other tablets a good run for its money. Corning's scratch-resistant Gorilla Glass protects this display, helping if you accidentally run keys over the screen, which we're not even sure why you'd ever do.
Let's talk about the interface, because this is one area where Samsung has improved things.
To put it simply: no more silly Magazine UX.
You might not recall Magazine UX, but we sure do.
Back in the Galaxy Tab S, and even a tablet or two before it, Samsung had the bright idea of adding a different overlay to Android to make it a little more modular. You had a quadrant in the top left, one taking up the side on the right, and you could fiddle with the layout of these as you pleased, with the ability to bring in emails, your calendar, and news feeds using the Magazine UX.
It was a neat concept, but there was one major flaw: it was never finished. As a result, there was virtually no support for any apps or widgets beyond the few Samsung provided, and most would have given up on Magazine only a few minutes after realising that Samsung had given up before it had started.
Fortunately, Magazine UX isn't here on the Tab S2, and instead we're being greeted with a minimalistic interface similar to that of Samsung's 2015 phones.
As such, you'll find the lightest version of Samsung's TouchWiz Android overlay here, with a relatively stock Google Android experience, and very apps loaded on top.
The shortcut dock is very much customisable, and we're glad to see Samsung has well and truly shaken free of the locked-dock shackles that it held close for so long, and in general the whole device just flows nicely.
You'll find several widgetised home screens, a dropdown menu, and of course an app menu available to you, and basically if you're at all familiar with a Samsung smartphone from this year (2015), this will be a familiar experience.
Performance is also solid, with little to no lag as you jump from app to app, with the eight-core processor doing its best to make the tablet experience on the S2 a pleasant one.
Samsung tells us that this is the fastest Galaxy tablet it has ever produced, and while the specs on paper suggest the chip is very, very similar to the model used in the previous Tab S — complete with the same amount of RAM, no less — the benchmarks suggest that it's actually a revised variant of the Samsung-made octa-core chipset, with a slight increase in what it can do against the previous model.
That's good news if you happen to play games and use a fair amount of apps, because it means the Tab S2 won't let up when you really need it.
Likewise, battery performance was pretty good on our 9.7 inch review unit, with the "up to 12 hours" life we were told of translating roughly to two days of usage with a good three to four hours a day of actual real-world use.
You could easily kill the life of the Tab S2 in a day if you wanted to, but you should see roughly two without any problems if you're not totally dependent on this device and only this device.
Mobile performance on the LTE model also appears to be pretty decent, revealing speeds at GadgetGuy HQ in Woolloomooloo (Sydney) of just under 50Mbps. We suspect there's either a Cat4 or Cat6 modem in this unit, and regardless of which it is, speeds should be more than adequate for staying connected.
Outside of the regular test needs, being a Samsung tablet, you can expect some points of difference against the other brands, with features here and there that some may not have, like the microSD slot, a return to the expandable memory that has since disappeared from the Samsung phones (much to our annoyance).
Upgradeable storage is one of those things people turned to Android for, and while Samsung has practically killed it off in its otherwise excellent phones, you still get some storage love in the Tab S2 tablet.
Another random feature is that the Tab S2 can technically work as a phone.
Yes, you read that right, and if you check the screenshot above, you'll find a phone interface waiting for you in both the LTE models of the 8 inch and 9.7 inch Tab S2 handsets.
Granted, the speaker and microphone appears to be on the bottom of the tablet, but you can still awkwardly hold the Tab S2 to the side of your head and make and take calls if you so choose. Paired with a handsfree headset — Bluetooth or wired — this tablet is a much less awkward but still ridiculously large 9.7 inch smartphone-tablet-thing that can make phone calls, provided you didn't opt for the WiFi-only one, as you'll need the LTE variant for that.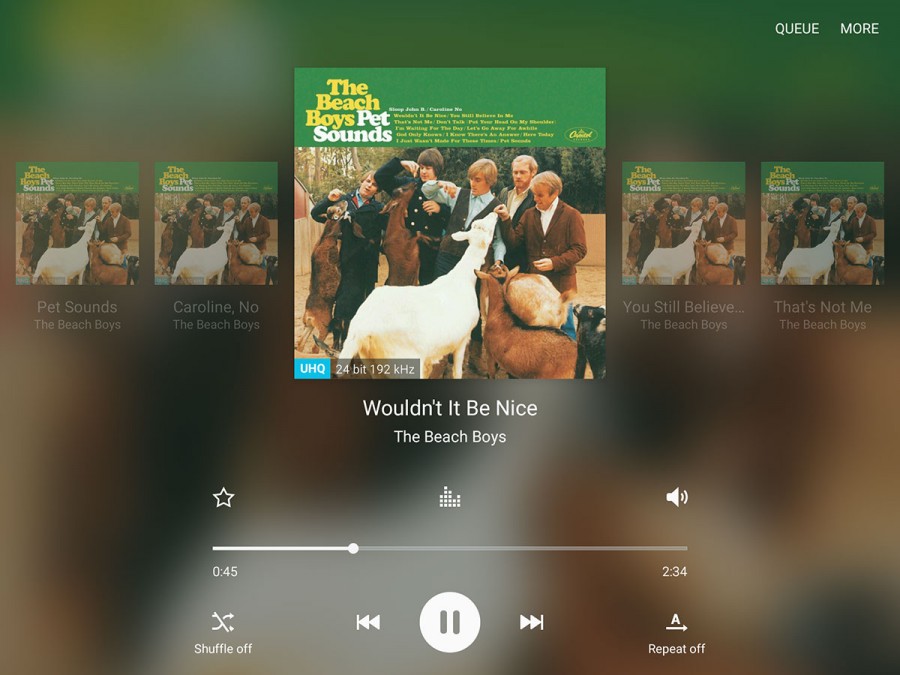 Some of Samsung's staple bits and bobs are also here, such as the 24-bit audio support, a fingerprint sensor, Knox security with the Samsung Smart Manager looking over storage and battery life, and there's also the phone connecting app "SideSync".
Now if you already own a Samsung flagship phone from the past year or two, this one feature could make the Tab S2 the ideal tablet, if you are in the market for one, as SideSync makes it possible to connect your phone wirelessly to the Tab S2 tablet, with the device showing up in a small window and letting you control it while the phone is somewhere else nearby, say your pocket or hand luggage.
But even with these features, you can't help but look at the Tab S2 and feel that Samsung has lost much of its individuality, joining the throng and making what isn't far from a literal "me too" product just when the company has been dabbling with ideas that separate it from the pack.
For instance, there's that look: there's just something about this tablet that reminds us of something else.
From the sudden change to the 4:3 aspect ratio — where did that come from, Samsung; you were going just fine with 16:10 for the past few years — to the soft rounded edges, to even the optional magnetic case that buttons itself in and then uses magnets to lock the screen, and then provides a folded fabric back to get the tablet to stand up all on its own.
There's also an omission of elements that made Samsung tablets unique in the past, with the company removing them for a reason, though it hasn't said why.
As an example, there's no camera flash on the back.
To us, this isn't a huge loss, and people probably shouldn't be taking photos with a tablet, as it can look a little silly, and your phone will probably do just as good a job. That being said, however, the previous Galaxy Tab S did have a flash, so why drop it in this incarnation?
At the launch, a representative for the company told GadgetGuy that the flash wasn't there because the lens was one of the new lower-light friendly lenses, sporting an aperture of f/1.9 just like that found on the Galaxy Note 5 and Galaxy S6 phones (all of them: flat, Edge, Edge+).
It's all well and good to say "the lens is better so we don't need a flash", but why have both on the phones and discard one on the tablet when it was there in the past?
We hope it's not because the Apple iPad doesn't have a flash, because that whole "if you can't beat 'em, join 'em" attitude shouldn't really apply to a company making products designed to be different, which you have to hope Samsung figures itself as.
Another thing is missing, too, and it's one that made Samsung's tablets pretty special: infrared.
For quite a while now, Samsung's tablets have been able to act as a giant universal remote for your television, with an infrared controller built into the body and an app that made it possible to control you telly, regardless of whether or not Samsung made it.
It was there in last year's Tab S, and yet in this one, it's gone AWOL.
Why? Again, we couldn't tell you, though you will find it in the Galaxy S6 and S6 Edge, but not in the S6 Edge+ and the Note 5.
Our guess is this is a question of cost and a suggestion that people download the app for their respective TV, but again, we're missing out on a feature that didn't really need to go away and made Samsung's tablets unique.
And it is points like these that made Samsung tablets unique, as well as things like the textured back on the previous models so they were easy to grip and looked different.
Now, the only way to tell the Tab S2 apart from its major competition just looking at it from the front is the "Samsung" logo blaring at you along the top.
The designs aren't exactly the same, mind you, as Samsung's look is more blocky and sort of like an elongated Galaxy Note 4 than the softened elongated iPhone that is the Air 2, but put them next to each other and there is definitely a resemblance.
Again, these aren't bad things, nor are they quibbles that point out anything dramatically wrong with the Samsung Tab S2, but it's a pretty obvious sign that Samsung is beginning to pull back from its own identity in the tablet design world, and that's a real shame.
We also take aim at the on-screen keyboard which is just a little too complicated for it's own good.
Granted, this isn't far off what Samsung provided on last year's Tab s and the previous Note Pro, with keys not normally seen on tablets that tend to dent the experience and slow down your typing or marr it with mistakes, so we have to wonder: why didn't Samsung decide to fix this for the newer, better tablet?
You have, for instance, a control key (ctrl) here, which you might expect on a full keyboard where you have a mouse nearby for selecting, followed by subsequent copying, pasting, and so on and so on, but it just feels like a waste here when a selection on Android will invariably give you these options anyway.
There is also a delete key (del) which sits in an uncomfortable location of just above the backspace key. Now that might be roughly where it sits on a proper keyboard, but proper keyboards are also physical and tactile, and so you tend to remember not to press that when you want to delete things ahead of your cursor instesd of backspacing it up. Unfortunately, this combination of poor spacing means you will at one point start deleting text ahead (if you have written ahead or are taking notes in the middle of the page), when you meant to hit backspace, as happened to us several times.
The reason we point out these two keys is simple, however: they're in every Samsung keyboard orientation, you can't remove them no matter what you do, and they severely dent an otherwise excellent typing experience on a tablet.
When it comes to keyboards on tablets, design of the keyboard is only one part of the equation, as you need to hacve an equally capable screen with which to grab finger presses in a timely fashion. It has to be so timely, in fact, that it doesn't discriminate against the quite fast typists out there which would only be so happy to complain that the tablet isn't working to the speed they're used to. One argument is that these people could buy a Bluetooth keyboard if they wanted to, but better tablet engineering ensures they don't need to.
Apple pegged onto this with the last generation of the iPad, the Air 2, where it reworked the display to respond to faster typing, and it is one off the reasons why the Air 2 is such a top notch working machine, because you can get by without an external keyboard if need be even if you're used to typing with speed.
In the Galaxy Tab S2, Samsung has delivered an equally speedy screen, allowing one to type without the need for an external keyboard at a speed not so dissimilar from something with physical keys. Unfortunately, Samsung's unnecessary on-screen keys hamper the otherwise top notch typing experience.
Fortunately, Android is highly modular, so if you don't like the keyboard, you can just replace it with one that you do like, and there are certainly quite a few of these out there. But we argue that while Samsung got close to quite a good keyboard, this less friendly keyboard just doesn't work as well as it's standard layout for phones, and perhaps if it had provided an element of customisation — you know, to remove the keys you're never going to use, possibly even increasing the key spacing simultaneously — it would have perfected this element.
Conclusion
With Samsung's latest tablet, there is no mistaking that this is one of the best non-Apple tablets out there, with a combination of parts that Android fans are sure to love, though it's not the independent design you've seen from Samsung in the past.
Rather, for this one, Samsung appears to have resigned itself to making something close to an iPad.
That's not a bad thing, either, because we all know the iPad is a great device, and using this tablet, you'll quickly find that equally this is one of Samsung's best tables years, with a solid build, speedy system, one of the least bloated and weighed down operating environments, and one of those lovely screens the company has been known for, increasing the size of the same technology found on the phones the company is producing.
Ultimately, if you're a Samsung phone owner, you'll probably love it, even with some of the little quibbles we have with it, because it's a fantastic little tablet, it just needs more of Samsung's personality injected back into the mix.
Android's best iPad: Samsung's Galaxy Tab S2 reviewed
Price (RRP): $from $599; 9.7 inch WiFi 32GB is $599; 9.7 inch WiFi 4G is $749; Manufacturer: Samsung
Very well built; Slim, comfortable and easy to hold; One of the brightest screens on any tablet available found today; Surprisingly fast screen response when typing; Just like in the 2015 phones, Android is fairly stripped back, making it more efficient; Performs quite well; LTE model works as a phone... an awkward phone, sure, but a big phone; Supports SideSync, though it's only useful if you already have a Samsung phone; Includes a microSD slot for expanding the storage;
Samsung has ditched the camera flash... for some reason or another; No infrared port; On-screen keyboard needs a bit of work; Has virtually no individuality or unique identity: it looks like Samsung's interpretation of an iPad;