One classy bit of kit: Samsung's 55 inch F8000 3D TV reviewed

Price (RRP): $4,199
Manufacturer: Samsung
In 2012 Samsung introduced a host of new features to its Smart TV line-up, some content and network related, some to provide greater interactivity and control, and in some models, one that fights obsolescence.
This year that last feature has been retained, while the others have been significantly enhanced and improved, including the addition of increased support for cloud services.
Samsung's flagship 2013 LED LCD television, the UA55F8000 crams all the company's top tier technology into a super thin (35mm) panel.
Don't let that dimension fool you, though. That 35mm is the overall thickness, which is primarily due to the electronics and connection chassis at the bottom rear. This only reaches about three-eighths of the way up from the bottom.
The rest of the panel is a hair under 15mm thick, looking sleek and elegant.
And it's beautifully finished with a clean black, rear panel, marred only by Samsung's model ID plate.
Nonetheless this is a TV that can be placed so that the rear is visible. Removable covers hide the connections so even the cabling is relatively unobtrusive.
The 55 inch (140cm) display features a wonderfully thin bezel, just 6mm from the edge of the display to the outside world on three sides, 12mm at the bottom.
Speaking of which, its curved metal 'Arc' stand holds up the TV with two arms widely separated. Although nicely finished in a chrome look, you hardly see it because only the ends poke out from under the TV, which is raised from the bench by just 35mm.
Don't plan on putting a soundbar speaker on the entertainment unit in front of this TV.
Features
The TV has built-in WiFi, of course, plus Ethernet. There are four HDMI inputs and a bit of legacy support for analog audio and video, and three USB sockets. One of these can be usefully employed for recording or time shifting TV shows (via the TV's single tuner) simply by plugging in a USB hard disk drive.
You don't need to use one for a camera, though, because that, and a microphone, are built in at the top, in a section of the panel which swells slightly to accommodate them. The camera pops up and retracts as you require it, preserving the sleek lines of the TV.
One of the HDMI sockets supports MHL – the 'Mobile High-Definition Link' – by which an increasing number of Android devices can be charged, and deliver high definition video and audio to the TV. This is an excellent way to play back video from your mobile device.
The TV's own camera can be used for the built-in Skype app, but also for the motion control function. By 'motion' I mean you use your hands to control the operation of the TV, Minority Report style, without moving from your seat.
And you can control it by voice, either with the aforementioned microphone, or with the microphone built into one of the two remote controls. One of those remotes is conventional, although smaller than Samsung remotes of the past. The other is a touchpad model.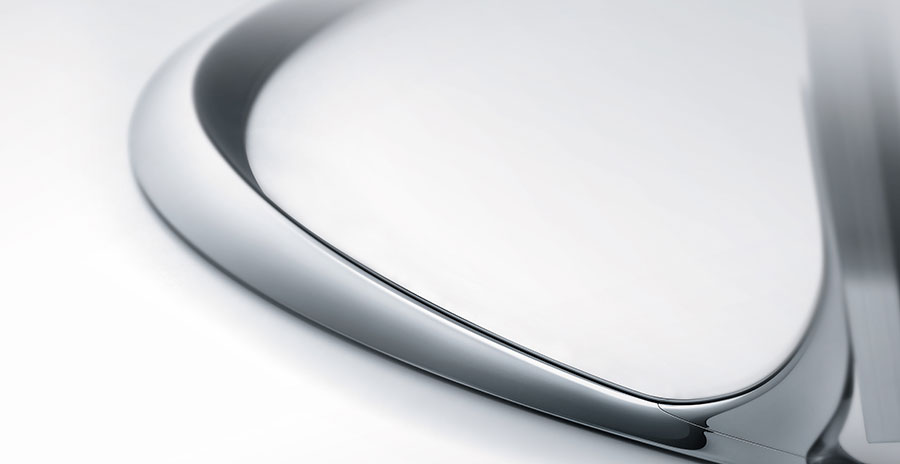 That one lets you move the selection (or the cursor in the web browser) around by sliding your finger over a touch-sensitive area. This worked very well, except for the surprising lack of a 'Mute' key. Even the onscreen virtual remote, which you can invoke with this remote, lacked that important function.
There are lots of Internet features built in, including the usual Australian TV catch-up services (iview, SBS On Demand, PLUS7), as well as QuickFlix and Foxtel on Internet TV, which allows you to subscribe to more than 30 channels on a monthly basis, rather than contracting for the long term.
This service is available via the Xbox 360 console, but when it comes to TVs, Samsung has the exclusive.
You can download plenty more apps too, including one for BigPond Movies if that's your preferred supplier, and the BigPond AFL Games Analyser.
Performance
Samsung has quietly made a few improvements to general picture quality this year with the UA55F8000 TV, primarily in the area of 200 hertz performance.
By default it operates in the 'Standard' mode for its Motion Flow picture smoothing facility, and this does indeed smooth the picture, eliminating all judder and providing a liquid motion that allows fine detail to be seen even while a great deal of action is occurring on the screen. This is achieved with almost no picture distortion artefacts, an impressive performance.
The default 'Sharpness' setting with most signals was '50' on a 100 point scale. This was too high, but didn't seem as bad a last year. Winding it down to 5 delivered a natural picture without the harsh edges that the higher rating produces.
Free-to-air TV gets an interesting advance in accessibility. Last year Samsung's TVs offered the enhanced 'Freeview' menu.
This year that has been dropped in favour of something better: a 'Now & Next' type panel called 'On TV'. This displays images from the shows and graphical logos from for the stations available, and is derived not from a free-to-air broadcast, but from Samsung's own Internet server. Just a little added value for the user.
The 3D performance was good, too. Not perfect, but Samsung seems to have biased the leakage of each eye's content into the other eye so that it only happens when light objects appear over dark backgrounds.
This is rather less common than the other way around, so the 3D effect was impressive, and of course provided with full resolution rather than the reduced resolution of 'passive' 3D systems.
Two sets of active 3D glasses were included. These are spidery affairs that use disposable batteries (providing 150 hours of use) that proved to be very comfortable. They use an RF synchronisation connection so they don't interfere with IR remote controls.
Smart Hub interface
Of course, it is the smarts of this TV that offer so much. Samsung has reorganised its interface into four main panels.
When you first switch on the TV, or hit the 'Smart Hub' key on either remote, the first panel deals with traditional TV functions. The current TV show (or external input) is showing in a window in the corner, while the enhanced EPG is laid out around it. Four icons to the top of the screen represent the four panels.
The next one is 'Photos, Videos and Music', which you use to play back content from USB (including TV shows you've recorded using the TV's PVR functionality), content from your network, or (as we'll see) content from your Cloud providers.
Following that is the 'Social' panel. You should spend a little time linking this to your Twitter and Facebook pages so that it can track what you're up to and link you to your friends. There's a lot of sharing here. It also offers a 'What's Hot' page which primarily shows trending YouTube videos.
Finally, the Apps page lists all the apps in the TV in one place, some that are pre-installed and some that you can download from the Samsung Apps store.
Apps provide the catch-up TV services, a web browser, use of the built in camera, games for kids, horrifying fitness feedback functions and such.
Thanks to the quad core processor the TV uses – which means that more processes can be run independently in addition to it simply running faster than last year's dual core processor – all these functions worked fast.
The panels scroll across smoothly and everything responds promptly to the remotes, and indeed to the voice and motion commands (we'll get to those). Not once was there any of those pregnant pauses that some TVs display, where you're sitting there wondering whether the TV has seized or is just taking its time.
Sharing and networking
The music playback format support of the TV was surprisingly broad. It played not only the usual MP3s, but added WMA, WAV, iTunes-style MP4 and FLAC. That was from USB, and photo delivery (both .jpg and .png) was equally impressive.
But you can link some of your online resources to the TV so that it can play via the DLNA protocols video, photos and music from your computer. And also from your Dropbox or Skydrive 'Cloud' services.
You can set the TV to automatically log on to those services for you so that their contents are readily available, and once I'd set up the link to my Dropbox service – and worked out how the TV linked – it worked seamlessly.
Be aware, though, that the TV doesn't draw from the default Dropbox folders. Instead, it sets up a new one called 'Samsung Link', and it is there where you should put the music and photos that you want the TV to be able to use.
YouTube videos looked surprisingly good on this TV, as did Sky News. While you have to subscribe (a month at time if you want, remember) to really take advantage of the Foxtel capability, Sky News National is provided for free, presumably as a teaser. But it is a substantial bonus in its own right.
Upgradable TV
The TV supports the 'Evolution' upgrade capability. This supports plug-in modules to be released in future years, which upgrade the TV to support new features and functions. I recently had the opportunity to see last year's model with the 2013 Evolution upgrade, and it was rather impressive.
Not only do you get the general capabilities, the upgrade included the quad core processor provided in this year's TV. So it's reasonable to conclude that next year's Evolution upgrade will usefully transform the present TV into next year's model, barring only some cosmetic differences.
Motion and Voice Control
The advanced control features have improved enormously from last year. There are a greater number of voice commands this time around, and in practice the TV accepted them with decent reliability. But don't waste your time saying 'Volume Down'.
It works, but a one notch reduction in the volume level is barely audible. It's far easier to control the volume by using the dedicated keys on either of the remotes.
More fun was the 'S Recommendation' feature in which you can say such things as 'Show me a news program'. The TV consults its guide and offers you a list from which to choose (by number).
If you select one that isn't presently showing, the TV will offer to record it or switch to it automatically when it starts. The TV notes your responses, too, and over time builds up a profile of your preferences so it can offer better suggestions.
The TV even talks back, using a reasonably natural Australian-accented voice. You can choose the sex.
The touch pad remote works very effectively now, especially when it came to bouncing around a virtual typewriter keyboard when I was logging into the internet. It responded with 100 percent reliability to swipes and pokes.
But you can wave your hands in the air instead to attract the TV's attention. Its hand control mechanism was also greatly improved, and surprisingly reliable. Put your hand up and a control icon appears on the screen. Move your hand and the icon moves. Grasp your hand while the icon is hovering over a command graphic, and the command is executed.
The Smart Hub panels all have clear pointers on the screen so this was also easily navigated by hand, so to speak. Indeed, fairly quickly I found it faster to use hand motions for moving around some of these well-populated panels than with the IR remote and, at times, even than the touchpad remote.
In photo mode you can do even cooler stuff, like raise one hand after the other so that you have two control icons, whereupon you can zoom by drawing your hands and their associated icons apart, or by kind of grasping and twisting them over, as though you were turning a large steering wheel on a ship, you can rotate a picture.
Conclusion
The Samsung UA55F8000 is one classy bit of kit. Incredibly smart, with very good basic TV performance as well, and an elegantly thin panel. And it won't be left behind for the next few years if you want to pay for the Evolution upgrade.
I'd certainly be happy with one.
UPDATE: Well, it turns out that there is indeed a mute key on the touchpad remote. I had so much trouble believing that there wasn't one there I examined its surface several times, carefully and slowly reading each label. But moments ago I picked up the remote, felt my thumb sink slightly into the body of the remote, and the sound of the TV went off. Turns out there's a slim mute key on the side, right under the thumb of your right hand.
One classy bit of kit: Samsung's 55 inch F8000 3D TV reviewed
Price (RRP): $4,199 Manufacturer: Samsung
Excellent picture quality; Very good touchpad remote control; Cloud support; 3D glasses included; 'Evolution' upgradability;
No swivel stand; default sharpness setting up too high;