PC gaming tends to offer more supply than any other platform, but it comes with one caveat: weight. Few gaming laptops are friendly to backs, but Razer's latest could nail the balance.
Gaming peripheral maker Razer has recently shown what Aussie mobile gamers should expect when it comes to portable PC gaming, with a new computer designed to impress not just in looks, but also durability and performance.
Pushing past what the company first achieved in the Blade we saw back in 2014, Razer has been working on a generation of the machine that manages to take things to a different level, with a lighter and slimmer beast the company has called the "Blade Stealth".
You can expect some pretty solid design here, with a body made from black aircraft-grade aluminium in a design measuring 13.1mm thick, with the guts and the metal body coming together to weigh merely 1.25 kilograms.
Those guts will include Intel's sixth-generation Core i7 processor, paired with 8GB RAM and either a 128GB, 256GB, or 512GB solid-state drive, basically telling you this is one fast Ultrabook.
But it's also not your ordinary Ultrabook, with a design intended for gamers thanks to a choice of two screens which look to be very high end, especially in comparison to what is used in computers normally these days, with either a 12.5 inch Quad HD 2560×1440 touchscreen or a 12.5 inch 4K 3840×2160 touchscreen, both of which offer 100 percent of the Adobe RGB colour space and wide viewing angles, the latter of which gamers have come to expect.
There's no dedicated graphics card, something gamers also tend to prefer, though Razer will eventually have a graphics amplifier able to work over the Thunderbolt 3 connection for the computer, ideal if you need more guts when you're sitting at a desk.
For going out on the road, the graphics will be whatever Intel can churn out via the sixth-generation hardware, and there is even an anti-ghosting keyboard in this body, with individually backlit keys that you can change the colour of, much like in Alienware's colourful laptop lighting.
You'll also find some other high-end bits, such as 802.11ac connectivity, two USB 3.0 ports, and because there's a Thunderbolt 3 port here — one that uses the same USB Type C port other laptops are beginning to embrace — Razer has also made the power pack take advantage of this port, meaning it charges with what is now becoming a universal standard, Type C USB.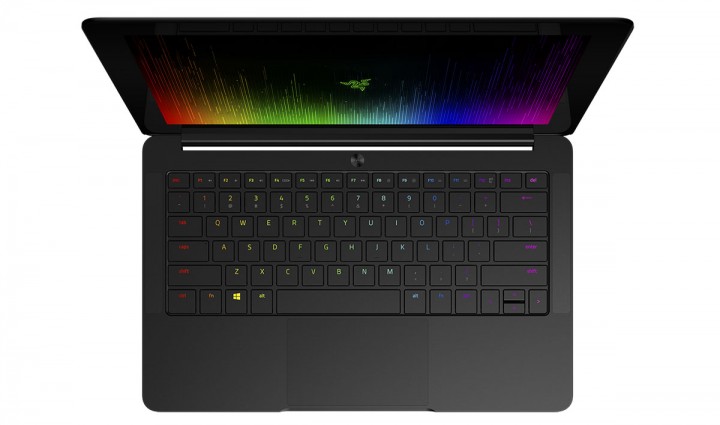 Pricing appears to be quite compelling, too, and it already has our attention, with the Quad HD variants of the 12.5 inch Razer Blade Stealth set to $1549 and $1849 for the 128GB and 256GB models respectively.
More interestingly, though, are the 4K editions, with $2149 getting you 256GB and $2449 netting a 512GB edition.
With prices like these, it'll be a very interesting choice for people who like to do a little more than standard work, especially since a machine made for gamers is also going to be useful for people crafting content, including photographers, video editors, and anyone else who sits at a desk and churns out the processing cycles.
Or in other words, Apple, HP, and Alienware now have some serious competition in the "pro" laptop space, and Razer's Blade Stealth could really raise the game. Consider us intrigued.