The Panasonic Lumix DMC-FZ2500 digital camera is a very interesting beast. It is priced at significantly more than many interchangeable lens cameras, yet it has a fixed lens. It's also as large as many interchangeable lens cameras. And Panasonic calls it a hybrid video and still camera.
So what's it all about?
Features
To start with, rather than having changeable lenses, it packs a highly versatile lens. Not any old lens. Panasonic Lumix cameras basically carry two lines of lenses: Panasonic Lumix branded and Leica branded. The latter are more expensive. This camera packs a Leica DC VARIO-ELMARIT lens. You will rarely feel the need to change lenses because it has a 35mm equivalent focal length of 24 to 480mm, which is 20x from a respectably wide wide-angle to a super telephoto.
As for size, standing 102mm tall, 138mm wide and 135mm deep with the lens retracted, and weighing not far short of a kilogram (966 grams including battery and SD card), yup I'd hesitate to call it compact.
That said, I did go on several walks of several kilometres with the camera slung over my shoulder and it left me unbruised.
The camera uses a 20.1 megapixel MOS sensor to capture images. The "hybrid" moniker comes from certain video-friendly features (many of which are useful in still photography as well). For example, there's a built in neutral density filter with three settings – 1/4, 1/16 and 1/64 – accessible via switch on the side of the lens. The bane of cinematography can be too much light, leading to fast shutter speeds, leading to too little motion blur during camera movement, leading to judder as the picture jumps from one sharp position to the next at 24 times per second. A bit of neutral dimming allows a slower shutter speed, eliminating the problem.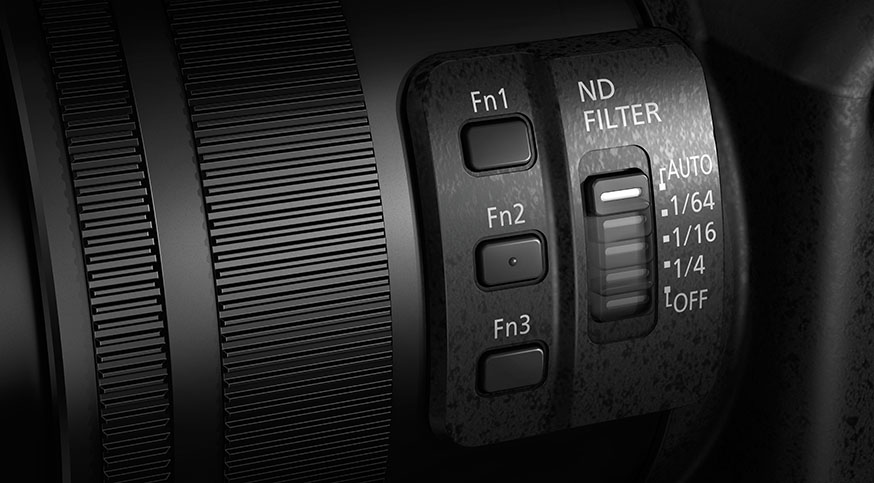 The 9-blade aperture diaphragm provides smooth out-of-focus backgrounds. There's a variable frame rate function where you can dial in frame rates of between 2 and 120 frames per second, allowing from near time-lapse speeding up to 1/5x slow motion. And, of course, there's real time-lapse video recording.
An external microphone input is provided, and some of the video formats support LPCM stereo sound for the highest quality.
In addition, basically all the features that Panasonic packs into its interchangeable lens cameras are built into this one as well. The video tops out at 30fps in 4K, but you can record at up to 100Mbps for very high quality. There's focus bracketing, high speed burst shooting, 4K post-shooting focus selection. You're not going to be disappointed by some missing features. For still photographers, a socket for an optional remote shutter release is provided.
There's also WiFi for uploading content and for remotely controlling the camera.
Both a 75mm one megapixel rear panel LCD screen – that can conveniently fold out to all kinds of angles – and a 2.3 megapixel OLED viewfinder are provided. Panasonic says the viewfinder has a contrast ratio of 10,000:1. Of course it uses SD cards for holding your photos and videos. For the highest 4K video standards, UHS U3 cards are recommended.
Performance
This was an easy camera to use. I don't say that lightly. If you just leave it on Intelligent Auto it will handle pretty much everything for you. All you'll have to do is zoom and shoot. A two-stage shutter release press is available to allow it to focus, although in normal circumstances that was extremely fast. Want a little more flexibility, then choose "P" for Program. In that mode you can use the quick menu to bring up settings like Auto ISO and White Balance and switch them to fixed settings. Hit the Exposure Compensation button and you can dial up to five stops either way using a thumb wheel. A couple of stops was great for shooting birds on power lines, silhouetted against the sky. Or you can move the dial further to Aperture or Shutter priority, or fully Manual should you want.
I mention those for the enthusiasts. Most will stick with Program or fully Auto.
It's also easy due to the five axis optical image stabilisation. I should not be able to take a decent shot with a 480mm (equivalent) focal length camera, hand held, even in daylight. But I could. It was really rather surprising.
Of course, a tripod is needed when the light is down a bit. And one slightly unusual aspect of the camera I found was when using a tripod. I'd zoom the lens all the way to maximum, and then over a second or so the frame would shift, with the content moving up in the viewfinder as though the lens had drooped. When you're at 480mm, an invisibly small movement is sufficient to produce a noticeable shift in the image. My guess is that the lens locking system – apparently it uses rods to provide greater stability – engages shortly after you stop zooming and this is enough to drag the lens in one direction. An imperceptibly small drag when you're looking at the camera, but one amplified through the long focal length.
In practice, that just meant to be on the safe side, wait a second after a zoom before finally framing your shot.
All the auto settings generally gave extremely good results. But I did find myself resorting to manual focus, enticed by the opportunity to get up close, optically, to birds. Too often the auto focus would be distracted by some leaves in front of the bird, rather than focusing on the bird itself. Much as I'd like to, you can't blame it for that. When I had time, the traditional manual focus through a ring on the lens allowed excellent precision. When focusing the centre of the screen is zoomed in on the viewfinder or rear display screen, and you can have peaking displayed, which highlights the sharp areas. That makes things very easy to focus on precisely.
The sheer flexibility of the camera was just wonderful. Whether taking shots inside a house to bringing the wildlife close, it permitted it all. The following two shots illustrate the zoom range. Both are centred on the same spot.
And just being able to get up close to creatures optically made this camera seem like an interchangeable lens model packing a $3000 telephoto lens. This kangaroo was quite skittish so I was as close as I could get. And it proved close enough:
The birds refused to come down from the trees and pose for me at a convenient distance. No problem. This one required manual focus because the camera wanted to focus on the leaves:
This one needed plenty of exposure compensation:
And this one needed luck:
The moon couldn't be captured at dusk hand-held of course, but tripod mounted the results were respectable, if just slightly soft. That one needed the full range of exposure compensation adjustment.
The macro function does indeed work down to 3cm, but that is with the lens on maximum wide angle. The closest focus distance at full zoom is closer to a metre. But that gives you a kind of pseudo macro anyway, and one that can work on live subjects which you could never actually approach without making them take off. For example, a grasshopper:
Or a bee:
Even though Panasonic makes bit of a thing about its OLED viewfinder, it did have a rather strange problem. Specifically, it looked like the bit depth of the colour had been reduced from the customary eight bits to five bits. It looked "posterised". Particularly with things like clouds in the sky assumed a kind of paint-by-the-numbers appearance, best shown by illustration (yes, a took a photo of the image:
It make no practical difference as far as I could tell. Framing was unaffected and manual focus we still clear. Just a bit weird.
Conclusion
Versatility is the word for the Panasonic Lumix DMC-FZ2500 camera. In just about every circumstance you can probably take a slightly better photo, viewed technically, with a careful choice of lens and camera body than you can with this camera.
But this one will give you 80% to 90% of the quality in a single, easy to use package. And while you're still changing lens on the optimum camera as the subject flees, you'll be wishing you had 80% to 90% of the shot, instead of zero per cent.
Great all-in-one package, extremely useful zoom range, excellent image stabilisation, useful video features
Weird view through viewfinder