Can you believe that spring is almost upon us? We are mere weeks away from being unable to breathe through all the hay fever, while the weather yo-yos between "utterly freezing" and "quite nice". I unironically cannot wait. There are plenty of devices that'll help you get the most out of your spring, ranging from a Dyson air purifier that helps allergy sufferers to an Ecovacs Winbot that does the dreaded window-cleaning chores for you.
Whether you want to do a spot of spring cleaning, entertain at home or eat healthily during the new season, here is some of the must-have tech to get through the time of change.
Entertainment
Samsung The Freestyle Portable Projector – $995
The Freestyle is really great in any weather: perfect for a blanket fort, backyard barbeque footy watch party, or romantic date with your own moonlight cinema. The Freestyle is small enough to be portable, not too much bigger than a drink can, but it has a great 100-inch Full HD picture. It has all the smart features you'd expect of a portable projector in 2023, so you can just hotspot your phone to watch Netflix or Optus Sport.
The sound from the built-in speaker is… tolerable. I'd recommend pairing it with a portable speaker (like a Sonos Move).
You can currently pick one of these projectors up for $995 at Harvey Norman.
Temperature and Air Purification
Dyson Purifier Hot+Cool Formaldehyde – $1,048
These Dyson fans are so very, very expensive. But, if it's in your budget, I highly recommend springing for them for a few reasons:
One, they're really good heaters. They don't use quite as much energy as my old blow heater (but don't get me wrong, they still use a lot of electricity), and they heat the room quickly, because of the way it oscillates. On hot days, it also works as a handy fan to cool you down a bit. Not as well as an air conditioner, of course, but if you don't have an air conditioner on hand, it'll work in a pinch.
Plus, it's a really good air purifier. Air purifiers are important at all times, and I will never not recommend getting one, because they make such a huge difference for allergy sufferers and asthmatics, not to mention people who enjoy breathing clean air. This air purifier has a fully sealed HEPA filter, so air won't just bypass the filter. Plus, because it's designed to throw heat/cool air around the room, it moves air effectively to clean more of the space, unlike some other purifiers which just seem to purify one cubic metre of air.
It's also smart, so you can trigger it with voice prompts (if you set that up with your smart assistant) and control it with your phone, so if you're cold in bed you can just activate it from your phone instead of making yourself colder by leaving the safety of the blankets.
I've relied on Dyson heaters in my (non-air-conditioned) apartment for years, and can't imagine living without them at this point. The Dyson Purifier Hot+Cool Formaldehyde comes highly recommended.
Dyson Australia stocks the heater on its official store, or you can find it at major home appliance retailers.
Cleaning
Ecovacs Winbot W1 Pro – $679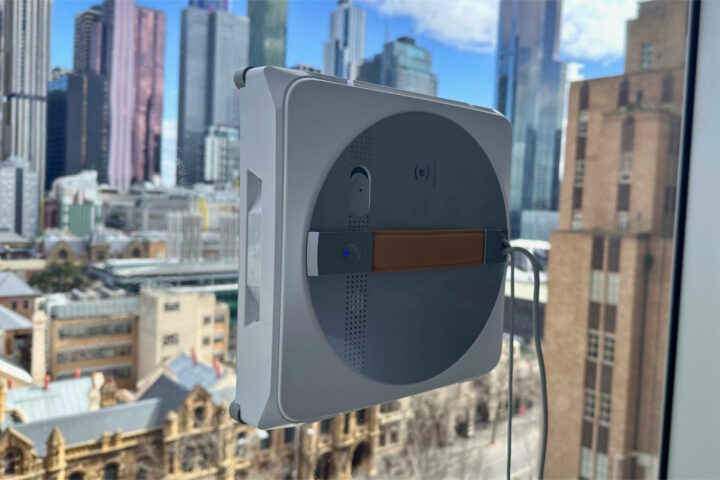 Spring is a great time to clean out your home after the hibernation of winter. However, cleaning is hard and who has the time or energy to do it all manually? This Ecovacs Winbot W1 Pro won't do as good a job as you would with the proper equipment and some elbow grease. But also, let's be real, you're probably not going to get around to using the proper equipment or elbow grease (I know I'm certainly not), and this new robot window washer does a much better job than the original model.
The proprietary cleaning solution is a bit pricy, and the robot uses a lot of it. However, you can switch to water and just deep clean the window twice to get a similar effect. Or (and Ecovaccs doesn't endorse this idea), just lightly spritz the window with Windex and have the Winbot filled with water clean the window from there, but make sure you don't make the window too wet or the Winbot will fall and everyone will be sad.
Sale
ECOVACS Winbot W1 PRO Window Cleaner Robot, 2800 Pa Suction with Cross Auto-Spray & Win SLAM 3.0 Path Planning Technology, Anti-Flare Edge Detection,App control
Effortless cleaning: the window cleaning robot with its optimised suction power of 2,800 Pa, which thanks to its sophisticated intake, the window vacuum robot adheres well to the window at all times
WIN SLAM 3.0: The WINBOT W1 PRO robot cleans the window completely and thoroughly with a forward-reverse motion in 3 adaptive modes: quick cleaning, deep cleaning and stain removal
Highest safety for the robot windscreen cleaner – a drive system with non-slip function that ensures even movement and protection against power failure – it is hardly safer
Edge detection: the high precision coupling sensor detects edges and fits the cleaning path within 0.02 seconds. so that the Winbot W1 Pro window cleaner can easily clean frameless windows
But again, I cannot stress enough how much this is a device that means you don't have to clean your own windows. This is the dream.
At the moment, the Winbot W1 Pro is $697 on the official Ecovacs Australia store, alongside several other retailers.
Bissell PowerFresh Lift-Off Steam Mop – $299
This steam mop is one of the best cleaning devices I have. Mopping normally requires a lot of effort, and usually the reason why I need to mop is because I just cooked, and that was already enough effort. Having a steam mop means that the floor gets clean with less effort because the steam loosens the ickiness of the floor.
This one has some really finicky controls that are downright new-user unfriendly. But once you work out its idiosyncrasies, you can just kinda drag it around the floor to make it clean, rip off the mop pad, and chuck it in the washing machine. As easy as mopping can get without a robot.
It's $299 from Godfreys and other stores that sell cleaning appliances.
Cooking
Panasonic SR- HL151KST IH Rice Cooker – $499
Yes, the absorption rice cooking method is great because it's cheap and easy. However, it also requires a medium amount of effort and some supervision. A rice cooker means you just put the water and rice in there, and then the rice cooker will cook it and keep it warm until you're ready to eat. You can make rice for lunch and still have it warm and nice for dinner.
What does this have to do with spring? Maybe you're distracted from enjoying the outdoors, or you're cold, and just want food to happen with the least amount of effort possible? Who knows. The important thing is that a good rice cooker is an essential any time of year, and this is a really good one. Spring is also a good time for healthy eating, if you need a tenuous seasonal link to make a purchase. Anyway, rice cookers are great and you need one.
Panasonic 1.5L Induction Heat Rice Cooker with Multi Cooking features for Healthy Low Starch Rice (SR-HL151KST),Black
HEALTHY LOW STARCH RICE. Separates Starch Water from Rice. The soluble starch is dripped down and kept separated from the rice to reduce the starch content
PRECISE TEMPERATURE CONTROL FOR TASTY and FLUFFY RICE. Intelligent sensors and the built-in inverter ensure rice is cooked at the right temperature
NON-STICK and DURABLE INNER POT. Better Heating with Binchotan Charcoal coated inner pot which has excellent thermal conductivity and heat retention to transfer heat quickly and effectively during cooking
MULTIPLE COOKING FUNCTIONS. 11 EASY ACCESSIBLE MENUS – Healthy Low Sugar Rice, Enhanced Taste, White rice, Quick/Quinoa, Long-grain Rice, Brown Rice, Multigrain, Congee/Soup, Cake, Reheat and Steam. 15 Minutes Reheat & Keep Warm for up to 5 hours. TIMER – 24 hour preset timer
Australian Plug and Australian Manufacturer's Warranty Provided
It's $499 direct from Panasonic, with plenty of bargains to be found if you shop around.
Read more appliance tech news on GadgetGuy
GadgetGuy occasionally uses affiliate links and may receive a small commission from purchased products.