I had to see what a 1000R curve was like – it is quite extreme as the Samsung 32" CT550 shows. But you know what? I like it and it is easy to live with.
What is a 1000R curve? Well, it is the radius (half the diameter) of the circle it would form. In this case, a lower R-value is more extreme – it would form a 1m radius (2-metre-wide circle). Most curved monitors are closer to 1800R – 3000R or 1.8 to 3 metres.
Now we could fill your head with gobbledegook about the curvature of the human eye – which happens to be about 1000R – but essentially if you sit 1 metre away, it supposedly fills your field-of-view. That means you see deeper blacks, more vibrant colours and even brightness because you are on the curve – no off-centre viewing.
Samsung says that a comprehensive clinical study conducted by Prof. Seong-Joon Kim at Seoul National University Hospital showed that curved monitors could help reduce eye strain. The 1000R curves in more tightly to reduce the eye fatigue zone typically at the edge of a 1800R monitor.
Now, gently curved TVs flopped badly because at typical 2-3 metre viewing distances they simply did not look as good. But at 600-1000mm monitor viewing distance curved outsells flat any day as it is more immersive.
The Samsung 32″ CT550 and 27" monitors are not classified as gaming monitors (which is good as I am not a gamer), so we will review it as a productivity monitor. But it does have AMD FreeSync, 75Hz refresh and a Games mode.
Samsung's new Odyssey 32" G7 and 49" G9 Curved Gaming Monitors have that honour at $1099 and $2799 respectively.
Australian review: Samsung 32″ CT550 1000R curved FHD monitor
Screen Size(class)
27, 32 (16:9)
32" is 710mm wide
Price
27/32 $399/449
Website
Australia
Resolution
1920×1080
8-bit 16.7M colours
69ppi
Low glare matte finish
Gamut
119% sRGB
88% DCI-P3 and Adobe RGB
Curvature
1000R
Panel Type
VA WLED (not Quantum Dot)
60HZ unless connected to AMD FreeSync adapter 75Hz refresh
27" has TÜV Rheinland eye comfort certification
Contrast Ratio
3,000:1 (typical)
Brightness
250 nits (typical)
Response Time
4ms (GTG)
Viewing Angle (H/V)
178° (wide-angle and good off-centre viewing)
Embedded Function
Game Mode, FreeSync, Eco Saving Plus, Eye Saver Mode, Flicker Free
Interface
HDMI1.4 (with CEC), DP 1.2, D-sub, 3.5mm audio out
Speaker
5W x 2 (Stereo) gets sound from HDMI/DP or 3.5 audio in
Colour
Dark Blue Gray
Borderless Design
Yes 7.9mm on top and left/right.
Stand
270mm round base lifts screen 85mm
Cable management and rear cable cover
Ergonomics
-3/20°
Power
DC19V/2.53A/48W
Size with stand
708.8 x 514.4 x 271.7mm x 6.4kg
Missing
No VESA mount capability, camera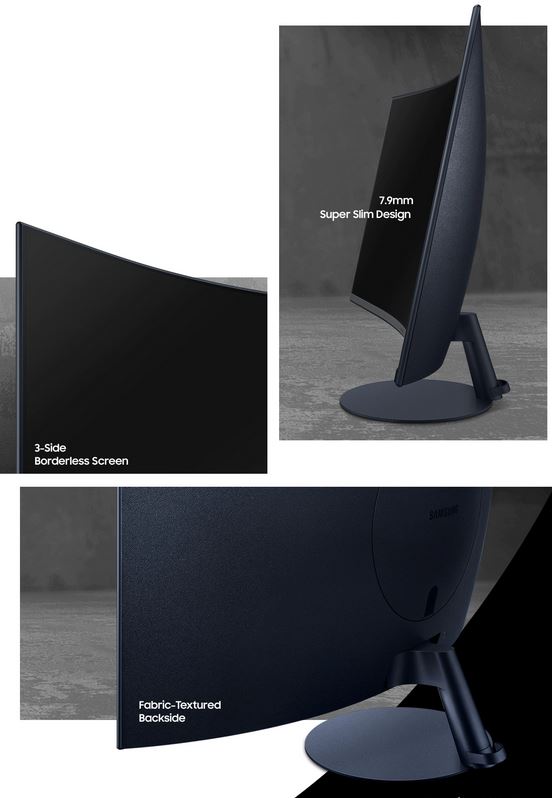 So that 1000R curve – PASS+
My daily drive is a pair of Samsung C27F591 (GadgetGuy dual monitor review here) 1800R VA panels with very similar specs to the above, e.g. not QLED or HDR but similar gamut and brightness. So, I know what to expect!
I have to say that initially, I found the curve a little severe but after a day or so I was used to it. The tilt allows you to stand it upright (flat) so you can use it in multi-monitor setups (not tested). Note: our strongest advice is you want dual monitors, buy them at the same time to get the same panel batch to match colours and gamma.
Despite what the diagrams indicate, I found that my field of view is considerably wider than 1000R. I have a 38" HPZ38C with a 2300R, 3840 x 1600 and I can see that all quite well.
1000R Summary: It comes down to intimacy! If you have a single 1920×1080, 16:9 monitor, this is as expansive and curved as you need.
Colours/gamut etc. – EXCEED
I love Samsung's QLED (Quantum Dot) monitors for their amazing, saturated colours. Its gaming range has that as well as HDR
Colours verge a little on the warm side (great), but you can use the controls to adjust that however you like it. Clarity – well, it is 1920×1080 pixels spread over 32" (69ppi) so if you place it beside a 27" (81ppi) – as we did in this test – you will notice the 32" is not as sharp. But take the 27" away, e.g. no reference, and it is fine.
We tested colours, gamut, brightness and contrast and all fall within the Samsung specs – as we have come to expect from Samsung. The panel offers lots of flexibility to set colours as you like it.
However, as an SDR (standard dynamic range) it gives a reasonable video image, but it is not TV quality. What is missing is the sophistication of TV electronics to upscale and for motion smoothing. We noticed a little too much judder and tearing for TV use.
Gaming – PASS – only for a casual gamer
It has a 145Hz pixel clock rate enabling 75Hz AMD FreeSync if you use a Radeon video card. Its 5ms G-T-G is fine for a casual gamer.
Again, the new QLED Odyssey series is far better suited to gaming needs with a 240Hz panel and 1ms G-T-G. These also support FreeSync and G-Sync, and there are much more expensive.
Having said that this monitor is fine for casual gamers with flicker-free and low blue light.
Productivity – EXCEED
How would you like a monitor that displays columns A to AB and lines 1-40 in Excel? This does. What is more, if you reduce the screen magnification to 75% (still large enough to see) it's A-AL and 1-55. Or line up two A4 Word docs. Now that is screen real estate.
Sound – EXCEED
This belts out 80dB or more of loud and quite nicely tuned sound.
Deep Bass: 20-40Hz – nil
Middle Bass: 40-100Hz – building nicely and good presence
High Bass: 100 to 200Hz – building to 150Hz then flat
Low-mid: 200-400Hz – flat
Mid: 400-1000Hz – flat
High-mid: 1-2kHz – flat
Low-treble: 2-4kHz – flat
Treble:4-6kHz – flat
High Treble: 6-10kHz – dip to avoid harshness – flat
Dog whistle: 10-20Hz – flat to 17Hz
This is one of the more pleasant monitors I have listened to. It is warm and sweet for music, and your content device could add more bass or treble.
GadgetGuy's take – the Samsung 32" CT550 is a productivity demon
Oh, but I had a pair of these (to test). The extra screen real estate is superb. I can forgive the slightly less crisp image than my Samsung C27F591 – it is all down to pixel density, and perhaps the dual monitor sweet spot is 2 x 27".
I also think that 32" is about the maximum for 1920×1080, 16:9 format. It lets you view larger images larger – not smaller fonts.
In summary – the 27 and 32" are great standalone monitors at the edge of 1920x1080p 16:9 technology. And it's a Samsung, so you know its reliable. Price – a bargain.
Lots of screen real estate
Multiple inputs
Decent monitor specs for brightness, contrast and gamma
1000R is probably best for single monitor use
Only for a casual gamer
Not as crisp as the 27" version
It is best as a monitor – not a TV substitute