The Q9 series is Samsung's top of the line TV. In its second iteration, the Q9 (Q9FN) made its debut early last year. This year's Q9 comes equipped with a new QLED panel, which sees some improvements. Picture quality enhancements aside, to truly stand apart from the likes of Sony, LG, Panasonic and others, the Q9 also needed to deliver some clever 'quality of life' features to help tip the scales in its favour.
The latest in picture technology
Starting with the screen, the Q9 comes with 65 and 75 inch panel sizes, both of which are 4K resolution (3840 x 2160), operate at 200Hz and use Quantum Dot technology. As it's Samsung's top of the range model, it has other image enhancing features too including Direct Full Array, Ultra Black Elite, Q Contrast Elite, HDR 10+ (Q HDR), Q Engine and a 10 year 'No Burn in' guarantee.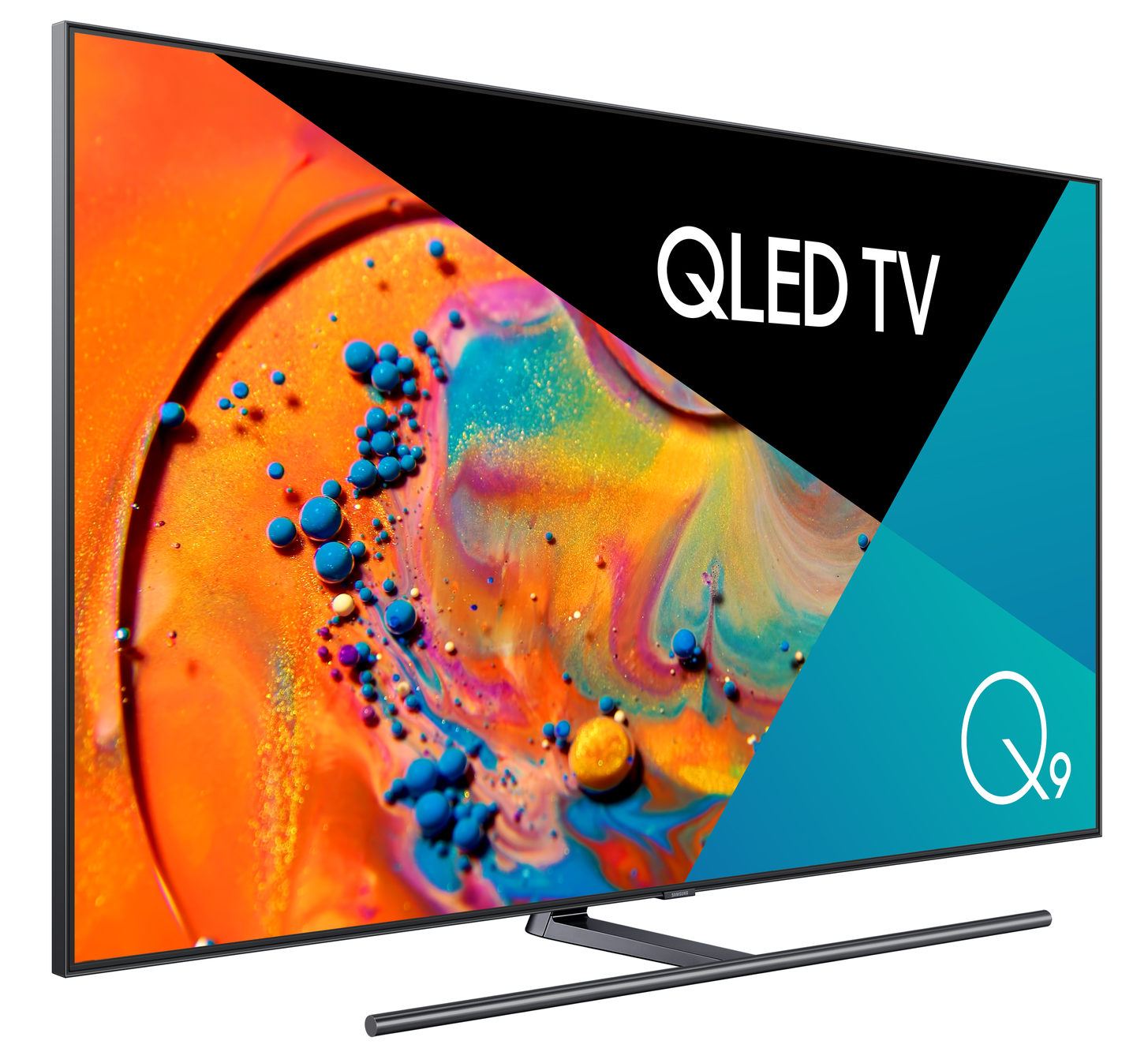 Without getting too technical, the Quantum Dot technology in Samsung's QLED panel delivers a very bright and vibrant picture, and does not loose colour integrity as it gets brighter. This is because with traditional LED-backlit TVs, more white light is mixed in with the colour the brighter it gets, so colours tend to wash out, such as red becoming orange and so on. With Quantum Dot panels, the colour comes from a blue blacklight hitting red, green and blue nano-crystals, which in turn produce very pure colour at a wide range of intensities.
Since the Q9 uses a backlit panel, it is not self emitting like the OLED panels found on LG, Sony and Panasonic top-end TVs. As OLED is exceptional when displaying darker scenes, the Q9 competes with the help of Direct Full Array and Ultra Black Elite technologies. The former consists of a backlight broken into tiny pieces, and it only activates the backlight in areas of the screen where it's needed, meaning the rest of the panel can be switched off for a 'true' black effect. Q Contrast Elite adds more contrast and detail in darker areas. Ultra Black Elite is a surface coating that helps eliminate reflections that would otherwise be visible when the screen is dark.
The 2018 Q9 also supports High Dynamic Range, and has been upgraded to the HDR10+ standard. When playing compatible content, this allows finer adjustment of light and dark areas of scenes for more realism and colours closer to what the director intended. It would, however, be good to see support Dolby Vision, which is found on LG and other OLED TVs. Quite a few movies are supporting Dolby Vision now, and it's arguably the best HDR standard in the business.
On screen performance
We tested the Q9 on a range of content including the Martian via a 4K Blu-ray player, Blade Runner (original) from a 4K Apple TV, HDR encoded Netflix videos including Bloodline and Marvel's Daredevil, free-to-air SD television and games.
Overall, the Q9 produces superb, bright colours, while providing a near-OLED like black performance. While not quite as good as OLED with blacks, the Direct Full Array micro dimming worked impressively and was only spoofed by situations like end credits where white type played in the middle of a black screen. This created some minor vignetting at the edges of the test and nothing dramatic.
Samsung's QLED panel handles colours exceptionally well, both in terms of saturation and purity in different areas of the screen. As the panel is 10-bit, it can display a whopping 1 billion colours and supports the same DCI-P3 colour space that film cameras use. As such, the Q9 has superb 'colour volume' meaning it can display pure colours from very dim to very bright levels.
Brightness wise, Samsung's QLED panel jumps from 1500 to 2000 Nits peak brightness compared to last year's Q9, so it has plenty of punch to cut though sunny living rooms with dazzling whites and vibrant colours.
Also impressive is the SD up-scaling, with minimal artefacts and impressive edge smoothing. Games via the Game Mode played very well, and there was no perceptible input lag or pixel response issues. With a very low input lag of 15 milliseconds, this is definitely a gamer's TV.
In terms of motion, the 200 hertz panel is great at displaying fast action, with no perceptible tearing, streaking or blurring of objects moving across the screen.
Lastly, a huge improvement over the 2017 Q9F is that the backlight is no longer visible as a series of slightly off coloured bands. Now it's uniform and consistent, especially when displaying a grey screen, such as an X-Box's settings menu.
The only let down of the excellent screen is that the viewing angle could be wider, and there could be less colour and brightness fall-off as you approach these wider angles. Still this is a very, very impressive effort.
Setting up
Setting up the Q9 out of the box is fairly quick. The stand takes a few screws to secure but isn't complicated, and everything else plugs into the One Connect Box. You now need to download an App onto your iOS or Android smartphone for the TV configuration, however, but once installed, it's a snap to set up your network and TV settings. Some might not love this approach, but it works well enough.
Also, the Q9FN will automatically recognise your devices, such as Foxtel IQ box, Apple TV, Blu-Ray player, X-Box, PS4 and others, so you don't need to manually set these up.
The Smart Hub
The menu interface, which Samsung calls its Smart Hub, has seen further streamlining this year. Now, all of your most popular content is displayed in a row across the bottom of the menu home screen. It doesn't matter if it's free-to-air channels, Foxtel, Stan, Netflix, YouTube or other online video sources, they're all located in the same place. When you highlight some of them, such as Stan or Netflix, a second row opens above, which shows recommended or recently played content, depending on what the service makes available. The net result is a very easy to navigate menu system, and one that puts all the stuff you watch in an easy to find place, regardless of if it's downloaded, streamed, recorded or broadcast.
Controlling the action is made quite simple with the One Remote. This compact metallic unit also doubles as a configurable universal remote for your other peripherals. When tested, the One Remote automatically recognised and controlled our Foxtel IQ3, Apple TV, PlayStation 4 Pro, X-Box One X, Samsung 4K Blu-ray and Samsung sound bar. We didn't need to configure a thing. While the remote has a simplified set of buttons, it can be tricky to access all of your peripherals' features, but you can access most things like power, volume, channels and directional controls. A more standard remote, with many buttons, is also included in case you prefer this.
Look and feel
From the outset, it's easy to see that this is a premium model. Its design is sleek and uninterrupted, with smooth lines and and panel covers, along with complimentary textures. It comes in a dark metallic grey with a slight hint of graphite, however, the materials are a high-grade plastic, not metal. Still, you'd hardly notice, and the back of the TV's striated surface is interesting to look at and touch.
Samsung has also added some height to its stand, which, while not as pretty as last year's twin 'foot-peg' design, raises the screen up enough to clear a sound bar. This is a must to keep the sound bar's height from covering up the screen, so it's good to see this fixed. There are optional Gravity and Studio stands if you prefer something a little more special.
Smarter cable management
Apart from the panel and stand, the Q9 is designed around the One Connect Box. This is a separate rectangular box where you plug in all of your external peripherals, such as Blu-ray players, Foxtel boxes, games consoles, hard drives, USB sticks and the like. It includes 4 HDMI, 3 USB, and an Optical connection.
The idea is that you can plug everything into the box and run a single proprietary cable to the back of the TV. Last year, Samsung unveiled its One Clear Connection, which was essentially a cable slightly thicker than fishing wire that ran between the One Connect Box and the TV, and was a very tidy way to consolidate and hide cables. The solution lacked one key component, however – power. You still needed to run a separate power cable to the back of your TV along with the clear cable, so it wasn't as practical as it could have been.
This year, the One Connect Box has grown in height for one very good reason. It now houses the TV's power supply and includes a 240 volt mains connection. What this means is that Samsung's One Clear Connection can now carry power in addition to data and video signals, so there really is just one nearly invisible cable that's needed to connect your TV to everything else. Brilliant!
While thicker and not quite as clear as last year's version, it is a fantastic way of eliminating the cable mess and it opens up many new options to conceal your TV peripherals. It's great if you're planning to wall mount the Q9, or hide all of your components in a cabinet beneath the TV, or even a separate set of shelves on an adjacent wall. You can paint over the Once Clear Connection cable as well. This feature alone sets the Q9 apart from the competition, so if cable management is important to your set up, this is the TV for you.
Wall mounting
To address another pain point is the Slim Fit Wall Mount system. This includes a low-profile wall mount bracket that connects to recessed mounting points on the TV, creating a nearly-flush 7mm gap against the wall. Also, with the ability to rotate the TV slightly once mounted, you can make minor corrections to level it without needing to rip the bracket off the wall and start drilling holes again. The Slim Fit Wall Mount will cost you $199, as it's not included in the box.
Ambient Mode
Samsung thinks that your TV shouldn't look like a black slab in your living room when it's not on. This year, it included Ambient Mode, which is a selection of on-screen 'wallpapers' to display when you're not watching TV. Most notable, you can use your SmartThings app on your smartphone to take a picture of the wall your TV is positioned on, and it can then mimic this on the screen.
If you have the right combination of wall colour or texture, the TV can blend into your environment, while displaying some useful info like the time or weather. Unfortunately, our TV was placed on a white wall, so the colour matching wasn't quite right and the on-screen version of our wall was a bit yellow. Still, you can opt for water effects, artwork or your own personal photo gallery instead. While fun to play with, we haven't returned to this feature and just turn the TV off instead.
Another interesting feature in the 2018 model is SmartThings support. This means that your TV can become a central 'hub' for your compatible smart home devices. So if you have a Samsung washing machine or Family Hub refrigerator, you can get notifications and share information with these devices via your TV screen. Also, the SmartThings ecosystem supports smart light bulbs and other sensors, so it can control your lighting as well. While it's early days, the TV seems like a good place to control your home, so it may become more useful as time goes by and more devices become available.
Speakers
Good sound is often a challenge on flat TVs due to the constraints made on speaker size and position. The Q9 doesn't excel here and we'd recommend a sound bar rather than the integrated 60 watt system. While it includes four speakers and two woofers, when comparing to the Samsung N650 sound bar, the difference was immediately obvious. The internal speakers are quite disappointing for a TV of this price, sounding muffled and with a distinct lack of bass and depth.
GadgetGuy's take:
To summarise, we expected great things from Samsung's top of the range TV and it delivered in spades. The Q9 excelled in terms of incredibly vibrant, pure colours. We were also very impressed with its black performance, where many dark scenes retained detail and contrast. The design of the Q9 is gorgeous, and the One Clear Connection cable management is absolutely brilliant. No more messy cables, and plenty of positioning options for the living room. Ambient mode is a thoughtful addition and could add a design dimension for the right living room. Otherwise, Samsung's menu system and smart remote are right where they should be.
Price wise, the 65 inch has an RRP of $6,299 and the massive 75 inch goes for $10,499. At this price level, you could also consider many excellent OLED TVs, however, considering the Q9's impressive black performance, you won't be missing out on too much. Given that Australian living rooms are sunny, a bright screen can be a better option here. OLED also has some questions about burn-in, brightness fading over time, and they are not as bright as a QLED TV in the first place. Also, keep in mind that you get a 10 year no-burn in guarantee with the Samsung.
There should be some impressive discounts to be had at electronics retailers, so now's the time to snap up a new TV, and you will be very impressed with Samsung's latest and greatest.
Specifications
| | | |
| --- | --- | --- |
| Product | Product Category | QLED TV |
| | Model Number | QA65Q9FNAWXXY |
| Display | Screen Size (rounded) | 65-inch |
| | Screen Size (rounded) | 163-cm |
| | Display Technology | QuantumDotLED/LCD |
| | Resolution | 3840 x 2160 (4K UHD) |
| | Motion Refresh Rate | 200Hz |
| | Screen Burn | 10 Year No Screen Burn Guarantee |
| Picture Quality | Colour Bit Depth | 10-bit |
| | Colour Space | 100% DCI-P3 |
| | Wide Colour Gamut | Yes |
| | Anti Reflection | Yes (Ultra Black Elite) |
| | Screen Backlight | Direct Full Array |
| | Local Dimming | Yes |
| | High Dynamic Range | Yes (HDR10+) |
| | HLG (Hybrid Log Gamma) | Yes |
| | Wide Viewing Angle | Yes |
| | Micro Dimming | Yes |
| | Game Mode | Yes |
| Style | Recommended Viewing Distance | 2.0 |
| | Bezel | 4 sides bezel-less |
| | Stand Type | T-Centre |
| | Stand Colour | Midnight Black |
| | One Connect Box | Yes |
| | One Clear Connection | Yes (5m included) |
| | Ambient Mode | Yes |
| | Slim Fit Wall-Mount | Yes (WMN-M13EA/XY |
| Smart | Smart TV | Yes |
| | Operating System | Tizen |
| | Freeview+ | Yes |
| | One Remote Control | Silver |
| | SmartThings Compatible | Yes |
| | SmartThings App | Android 6.0↑ and iPhone 6 iOS 10.0↑ |
| | Voice Interaction | UK English, Spanish, French, Italian, German, Korean, Chinese (Mandarin) |
| Connectivity | HDMI inputs | 4 |
| | USB | 3 |
| | Component In (Y/Pb/Pr) | 1 |
| | Composite In (AV) | 1 (Common Use for Component Y) |
| | Ethernet (LAN) | 1/1 (Common Use for Terrestrial)/0 |
| | Digital Audio Out (Optical) | 1 |
| | RF In (Terrestrial / Cable input / Satellite input) | 1/1 (Common Use for Terrestrial)/0 |
| | HDMI Audio Return Ch. (ARC) Support | Yes |
| | Wireless LAN Built-in | Yes |
| | Anynet+ (HDMI-CEC) | Yes |
| | Auto Device Detection | Yes |
| | Bluetooth Low Energy | Yes |
| | Wi-Fi Direct | Yes |
| Tuner | Digital Broadcasting | DVB-T (T2 Ready) |
| | Analog Tuner | Yes |
| Power | Power Consumption (Max) | 305 Watts |
| | Power Consumption (Standby) | 0.5 Watts |
| | Power Consumption (Typical) | 215 Watts |
| | Eco Sensor | Yes |
| | Energy Efficiency Class | 2.5 Stars |
| Audio | Dolby Digital Plus | Yes |
| | Sound Output | 60W |
| | Speaker Type | 4.2 CH |
| | Woofer | Yes |
| | Bluetooth Audio | Yes |
| Additional Features | Electronic Program Guide | Yes |
| | Personal Video Recording | Yes |
| | Time Shift | Yes |
| Accessories | One Remote Control | Yes (TM1890A) |
| | Batteries for One Remote Control | 2 x AAA batteries |
| Dimensions | TV with stand (W x H x D) | 1450.1 x 899.9 x 353.4 mm |
| | TV without stand (W x H x D) | 1450.1 x 830.4 x 38.9 mm |
| | One Connect Box (W x H x D) | 390 x 67 x 130 mm |
| | TV with stand | 30.9 kg |
| | TV without stand | 26.7 kg |
| Warranty | Coverage | 12 Months |
Incredibly bright and vivid colours and high dynamic range (HDR)
Consolidates your messy connections into a single, clear cable
10 year no-burn in guarantee
New micro dimming tech means great blacks and contrast
Speakers lacking in depth
Viewing angle could be wider
No Dolby Vision support