If ever you could admire a piece of beautiful industrial design the Samsung Thunderbolt 3 X5 is it! It is a beautiful and functional, super-fast Thunderbolt 3 external SSD backup device.
Samsung prides itself on making go-fast external devices. The T3, T5 and now the X5 are all class leaders and show off its VNAND expertise.
Thunderbolt 3 means it needs a Thunderbolt 3 port. That means the latest Mac or Windows devices. That also means you will probably have a Thunderbolt 3 dock supporting a few devices.
Our test – Samsung Thunderbolt 3 X5 1TB SSD
Australian website here.
Our test device was a Lenovo Yoga 920 that is on loan as our Thunderbolt reference device. Our review of this exquisite device is here.
In sequential read/write it achieved 2815/2097Mbps when connected to the Lenovo Yoga's Thunderbolt port. That is on par with what Samsung claims – all is good.
Interestingly the Yoga internal drive achieved 3397/1971Mbps drive, so the X5 is a little faster at writing to disk for larger file sizes. While both are PCIe NVMe 3.0 x 4 lane, the X5 is a later version 1.3.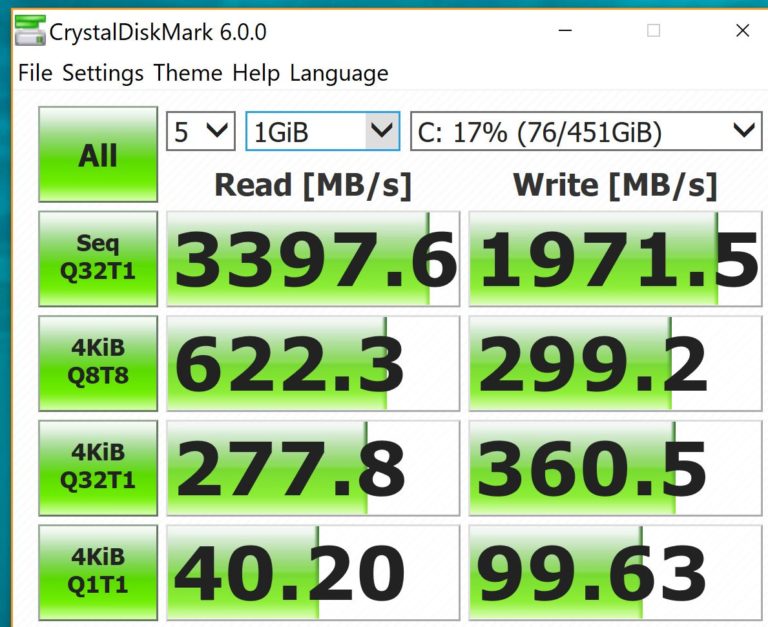 We also tried via a Kensington Thunderbolt 3 dock which is our pick for Windows devices. As expected the read/write speeds were down about 10-20% – still very fast.
The X5 also managed to maintain the constant speed not wavering over 100GB file tests.
Who is it for?
If you are using large files – photography rendering or video editors then you can use this both as a backup and even render on.
Its overkill for general use – get a Samsung T5 that will run on USB 2.0 or later.
Specifications – Samsung Thunderbolt 3 X5
Available in 500GB, 1TB, and 2TB
Thunderbolt 3 Interface and .5m cable to achieve 40Gbps speed
PCIe Gen 1.3 flash controller
Sequential data transfer rates up to 2,800 MB/s read, and 2,300 MB/s write (2TB version)
Works on Mac and Windows
Optional Password Protection via AES 256-bit Encryption
Bus-powered, no separate power adapter needed
Sleek, glossy design
No moving parts, heatsink keeps it cool
Non-slip matte surface on bottom of drive
Shock-resistant to withstand drops up to 2M
Includes 0.5m Thunderbolt 3 cable
Dimensions: 119 x 62 x 19.7 mm x 150g
3-year warranty
$629 (500GB), $1,099 (1TB) $2,199 (2TB)
GadgetGuy's take. Samsung Thunderbolt 3 X5 – very fast, very desirable, very niche and very expensive
If you feel the need for speed, want to move data around, and you have Thunderbolt 3 ports, then there is no better.
If you just want to back up a Samsung 1TB T5 costs under $500.
Pro
Damned fast – faster than any other external drive
Beautiful industrial design
Solid magnesium enclosure and a heat pipe to keep it cool
3-year warranty
Hardware encryption option without performance degradation
Con
Thunderbolt 3 only – be aware there is no USB backwards compatibility
Just a little large for a shirt pocket
Not IP rated
Rating
Rated as the current fastest Thunderbolt 3 external SSD that can act as both backup and a work drive.
Overall: 4.6 out of 5
Features: 5 out of 5 – meet or exceed marketing statements
Value for money: 4 out of 5 – early adopters will pay full price
Performance: 5 out of 5 – Amazing, blistering speed
Ease of Use: 4 out of 5 – No backwards USB compatibility
Design: 5 out of 5 – Very well made with a great warranty
The fastest external SSD to date