The Sony GTK-PG10 is a pretty fantastic portable speaker that even has cup holders (seriously), but you need to look beyond that kitsch. Outside it looks like a 'blunt instrument for maximum volume' that will annoy the neighbours. Inside there is quite a lot of tech.
I like Sony; it's [usually] refined design cred and a touch of elegance. There is nothing subtle or elegant about the Sony GTK-PG10. It looks straight out of the 90s – a boom box with cup-holders. I am waiting for the next version replete with a cooler for drinks to put in the cup holders.
Let's get over the cup holders. Sony claims the Sony GTK-PG10 cupholders are a world first and a focal point of any party. I say cup holders are not going to make people buy it. The focal point of any party is the music – how loud and how it sounds.
Spoiler alert: It is big and loud with surprising versatility from bass-heavy tracks to high instrumentals if you master its app and use the EQ.
Sony GTK-PG10 portable party speaker
First impressions
We Aussies have an architectural expression – brutalist design – that means stocky, blocky and lots of hard lines. That describes the 330 mm x 376 mm x 303 mm 6.7kg boom box with a massive front woofer and interesting 'wings' a.k.a. Cup holders at the top.
I am not saying it is ugly, but it lacks the Sony finesse that I, and I suspect most of us like. It is fine for taking to the beach, on camps, the back of a ute (pick-up truck in US terms) or you live in a cave, but it is also large and relatively heavy. If you need portability and IP ratings, then look at Sony's SRS-XB (Extra Bass) range. It is not a delicate Objet d'art by any stretch.
So, note to Sony: love the concept (of the wings – more on that later) but not the execution.
Sony GTK-PG10 Australian website here.
Manual here.
Sony GTK-PG10 Price
$449 but you may find it online for about 20% less.
The Wings
The left and right wings have a tweeter on each. When the wings are closed, the tweeters point down at 45°, and when the wings are open, they point up at a 45°. As you open or close the wings, its DSP (digital signal processor) adjusts the 'sound stage'.
Orientation makes a considerable difference to the sound stage but so too does the speaker location and height. You probably should only use the down position if the speaker is around 1.2 metres or more off the ground if only to focus the sound in a narrower area.
With the wings up it creates a broader sound stage both in front and above the speaker and works best when your ears are above the speaker, e.g. it is on a table or the floor.
The Wings have a 10kg weight limit, and the speaker must not be used as a 'stool'. They latch down into place to act as carrying handles.
It is an in-your-face, I am loud kind of speaker including the tripod mount. A trap – it is just a recessed hole in the base (no screw mount), and you need a shaft diameter of 35mm to insert into the socket. As it weighs 6.7kg be careful that the three legs have a minimum of 55cm (spread from the centre). Don't mount the device over 1.2 m height or it could be top-heavy and tumble.
Sound and volume
We test with a huge variety of music to ensure that we cover bass, mid, treble – or head thumping metal, pop, vocal, classical and instrumental.
The speaker has a companion Music Centre App (and Fiestable app – more later) that has an EQ with pre-sets as below. My only complaint here is that you don't know what each does, so there is no 'baseline' when you use the Custom EQ setting.
To be clear, I would like to know what each setting means in 'EQ' language so I can select the one I like most and then tweak it slightly with the +/-6dB Custom EQ.
We tested on the 'Flat' EQ setting, and volume was nearly 90dB (loud). It had a very harsh treble and when we backed off to under 80dB that came under control.
The flat EQ setting produced this frequency response. It is as expected – bass starts at 100Hz and its relatively flat to about 16kHz.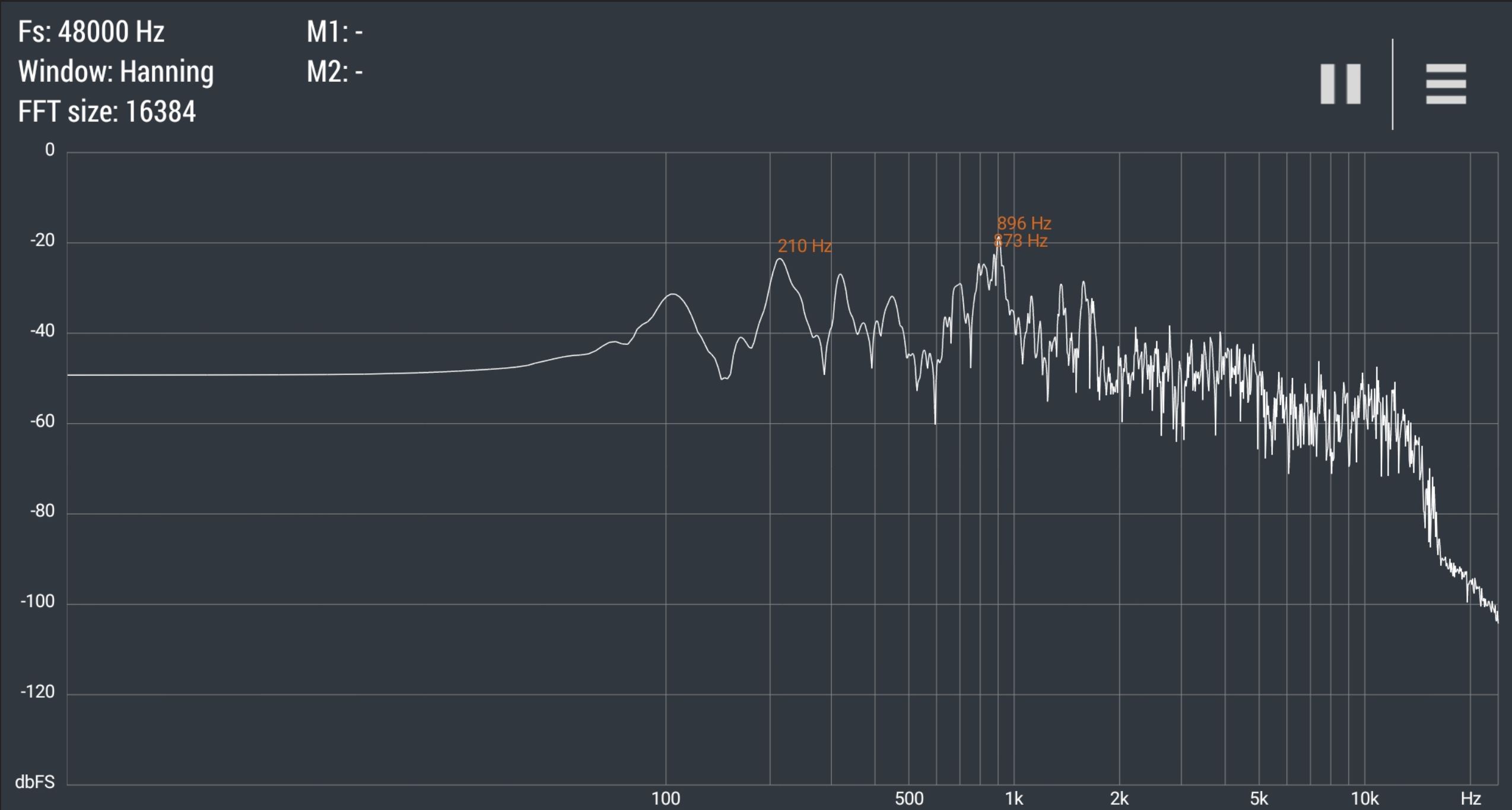 The 'Excited' setting boosted the bass a little, but it still cut in about 100Hz and slightly extended treble – it was my favourite setting for most music.
The 'Extra Bass' setting (in the app and via a push button) did as expected. Boosted Bass from around 70Hz but at the expense of upper-mid and treble. It was great for bassy music but not for pop or vocals.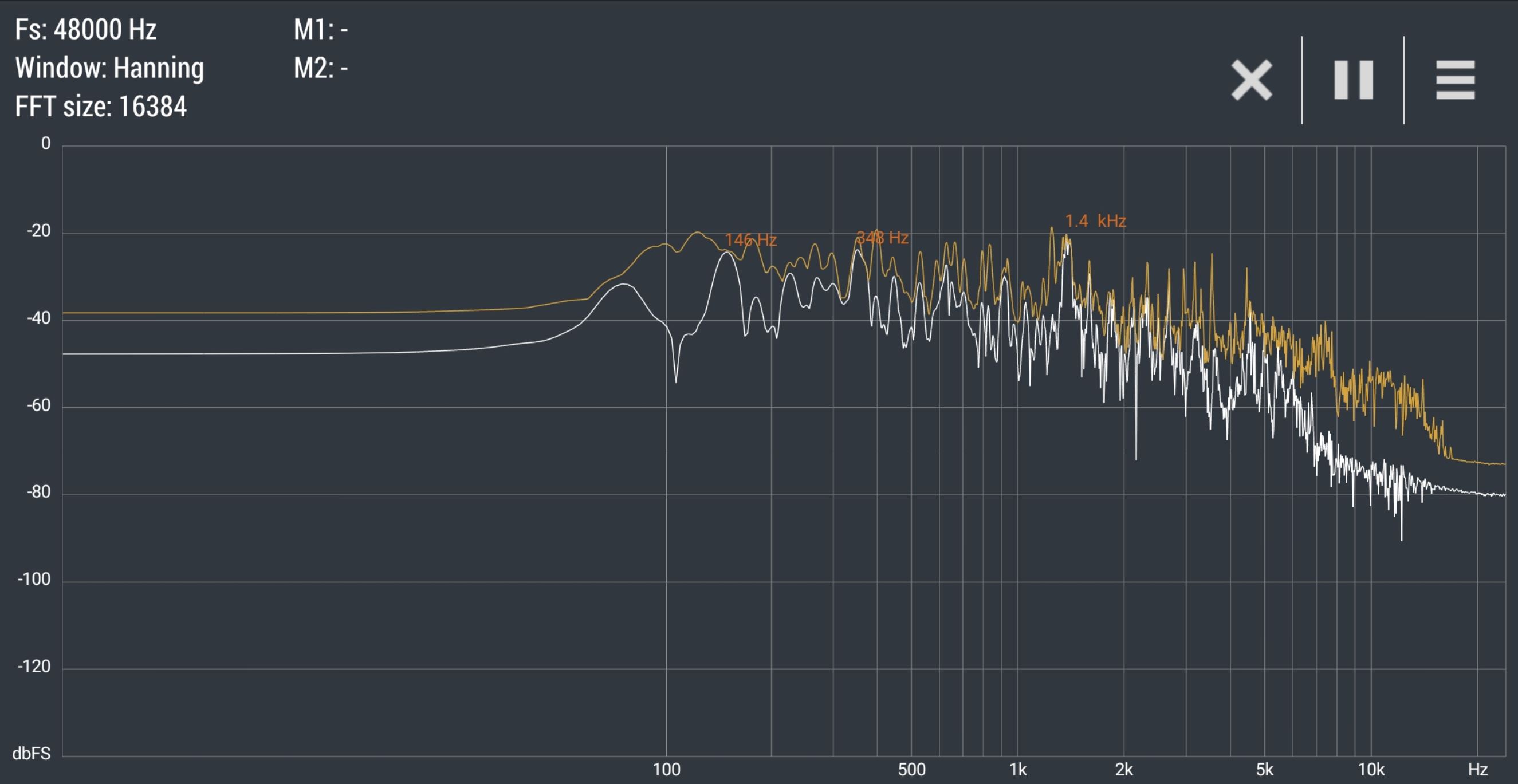 Bottom line: It is capable of a warm and sweet signature (nirvana), but you will need to tweak the app to get what suits you.
Speaker specifications
2.1 system (Left/Right/Woofer)
2 x 25W 40mm tweeters in the wings
25W 180mm cone-type woofer. It appears to have two passive vents beside it (vented cabinet)
Claimed 60Hz-20kHz
Connectivity
Under a covered front port
5V/1A USB
AAC, MP3, WAV, WMA
shuffle, repeat and track by track
Very difficult to navigate folders/albums
5V/1A will power a portable HDD or SSD (limited on folder and file numbers) or act as a Power Bank
BT 4.2
SBC, AAC and LDAC
pair up to 8 BT devices
10-metre max range – we felt 6-7 metres was reliable
FM radio
20 channel pre-set in Music Centre – no pre-sets on the device
A good tuner that picked up stations my car could not.
Tune +/- only – no way to type in the frequency
not DAB+ that more are expecting now
RCA L+R
We tried BT with a portable CD player and 3.5mm smartphone jack. Volumes were about half of BT. It could have been the CD player or 3.5mm output or the port's sensitivity
¼" Microphone jack
Input for a karaoke mic or other un-amplified source
Battery
A 4900mAh battery is slightly larger than you get on a premium smartphone. It has to do less computing work but drive larger speakers. We mention this because we expect it to have similar charge and discharge characteristics.
But it does not. A charge from 0-100% (with the unit turned off) takes an agonising 7-8-hours. You can use it on mains power, but the charge time extends to almost double that again. Sorry, Sony – you have obviously under specified the charging circuit amperage.
We ran three tests over the week
5-hours maximum volume,
11-hours at 70% volume
13-hours at 50% volume
Bottom Line: if you intend to use it on battery (it can only charge via mains power) make sure you leave plenty of time to charge it. The app tells you the battery level, and you can get a voice indicator as well.
Sony Music Centre and Fiestable apps for your smartphone
Music Centre lets you remotely use the speakers via a Bluetooth connection, so you can change the volume and use the different modes that include Bluetooth, USB, FM Radio, Audio In and Karaoke.
Fiestable lets you pick karaoke tracks to sing along or echo. You can shift the key of the music that's playing by six steps in either the flat or sharp direction–enough to translate a song to anyone's singing range.
GadgetGuy's take – Sony GTK-PG10 is a party speaker
Do we review it as a cup holder with a speaker or a speaker with a cup holder? Forget the cupholder – it's a party speaker, loud and proud.
It has heaps of volume and with the app can produce several variations on 'warm and sweet' (nirvana for movies and music).
You can ramp up the bass a little without affecting treble too much or go for more mids to improve vocals. As much as Sony would like you to think Extra Bass means head-thumping its more subtle than that and should be used depending on the music content.
The Sony GTK-PG10, Sony GTK-PG10, Sony GTK-PG10, Sony GTK-PG10
Cup holders are novel but not the reason to buy
Heaps of volume at relatively low distortion levels
App makes it possible to adjust sound singature for most content
Adjustable sound stage to suit placement
Sony LDAC support makes BT even sweeter
Can be harsh over 80% volume (adjust the app)
Cupholders are splash proof – not spill proof
Very app reliant to get the best out of this
No voice assistant