One of the world's biggest toy makers has given GadgetGuy a preview of what's new and awesome, and heading to stores for Aussie younglings this Christmas. Start making your wish-lists now.
This week, Hasbro showed off its latest and greatest wares, many of which will arrive in the toy sections of department stores, waiting for your kids to point them out and say "I want that one!"
We were shown a new version of Monopoly, some new My Little Pony gear (with the first ever male My Little Pony), and even some new Transformers toys, but we're hear for the gadgety toys, and there's quite a few of those this year.
Twister is one of them, receiving the full on tech treatment with a revitalisation from the dancing games that are popular at the moment.
Twister Dance arrives in a small speaker with colour LEDs in the box, and a few sets of colourful plastic circles.
The concept is this: put down the plastic circles on the ground, turn on the Twister Dance box, pick a song you want to dance to, and then as the music is playing through the built-in loudspeaker, watch the colour lights and dance on the spot.
Songs from artists such as Kei$ha and Britney Spears are preloaded, but Twister Dance also comes with a 3.5mm jack so you can plug in your own phone or media player, and let the system's built-in beat-mapper work out what dance moves to make for your music.
If your kids are totally into Dance Central, Just Dance, and just about anything digitally-dance-centric, this is what they'll want, and at $55 in September, it won't cost you a leg, which is good, because you'll need those for Twister Dance.
Little girls may not want to dance the night way, but they can play with a new doll that can walk by itself.
Designed to encourage children to be more nurturing, Baby Alive Baby Wanna Walk is a doll that encourages you to help it walk by holding it's hand and walking with it. Eventually, it will walk by itself, taking step after step just like a new child, occasionally stumbling.
It's going to hit stores in September, fetching a price tag of $90 when it does.
That's not all we saw, with Hasbro rolling out the red carpet for its orange line of Nerf guns.
This year, kids of all ages can get into the Nerf Elite Hailfire, a new foam dart gun that can take six clips of ammunition for a high-speed foam shootout.
At $90 when it hits stores in November, the Hailfire is certainly not a cheap toy shoot-out, but the speed at which it throws darts at you makes it unlike any other toy gun you've ever seen before.
The GadgetGuy tried it out, using this writer as target practice, and as awesome as the weapon is, it's worth noting that you still shouldn't aim it at your face.
For that, you can try Hasbro's upcoming Laser Tag game, arriving with compatibility for Apple's iPhone and iPod Touch.
You'll be able to find the guns in packs of one or two, each with a slot at the top for holding an Apple iDevice, with a free augmented reality game available from the App Store which can turn real-life into a virtual shoot out.
Of course, you can play laser tag without the iPhone, but it will just be you shooting your friends with laser guns.
If you're cool with that, you'll find the packs for $60 for a single gun or $110 for two weapons when they arrive in October.
If laser tag isn't your cup of tea, Nerf will also be encouraging you to play sports at night, with FireVision.
Designed for big backyards and open spaces, FireVision offers up some simple visors with LEDs on them, allowing you to see your friends and team mates at night, with red and green lights.
Specially designed balls come with reflector material on them – similar to the stuff used on roads – and as you throw a ball around, the strips reflect, making it possible to play ball-based games at night.
Football, basketball, and handball variations will exist, and the LED visors are closer to headbands with LEDs on them, making it a one size fits all, so all members of the family can play.
Oh, and then there's this guy.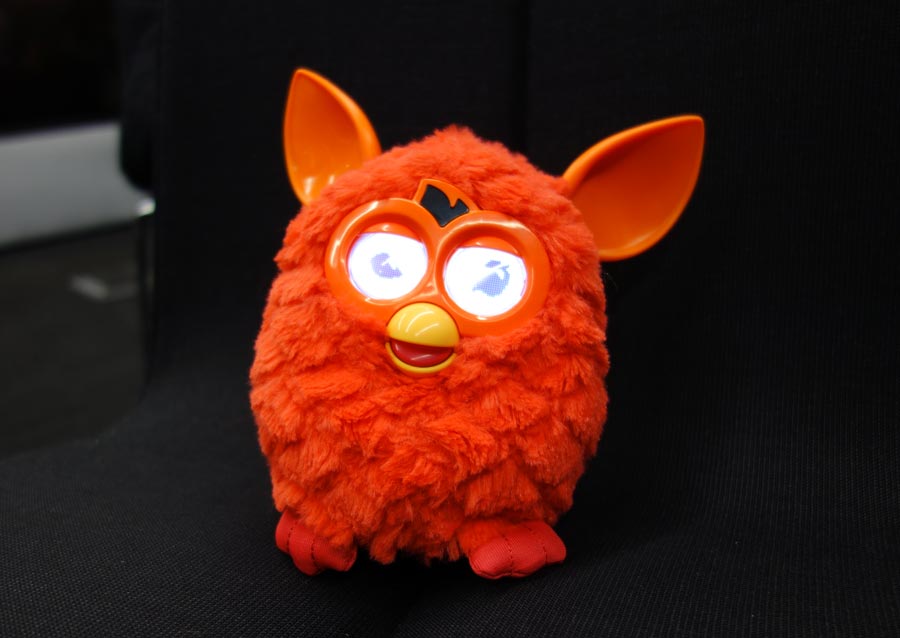 Furby is back.
The must have item in 1998, Furby has come and gone several times over the years, appearing in 2005 again with a new version and disappearing two years later.
Seven years seems to pass for every incarnation of the Furby, so you can probably expect a new version in 2021, but for now, here's Furby for 2012.
He's small, furry, and kind of reminds us of the Tribbles from the original Star Trek series with William Shatner.
While the original models had plastic eyes with blinking eyelids, the new Furby features a more expression-based LCD pair of eyes, able to show different types of eyes and graphics and say much more than simple white eyes.
Hasbro told us that new Furby will develop his own personality. If you're good to him, he might be nice, but if you're bad, expect him to be a little brat. A furry little brat.
They can dance, talk to other Furbies, and even speak to you in over 100 phrases of what the creators call "Furbish".
You probably won't need a degree to speak it, and you can always feed it with an iOS app that lets you make virtual sandwiches from a virtual snack deli.
We felt Furby and he's still a dancing ball of fluff, though he has quite a few points of articulation in his body, able to twist, move forward slightly, and shake a lot.
It's still not going to be for everyone, but when it arrives for $100 later this year, we can see kids really getting into Furby, bringing the strange ball of fluff virtual pet back to bedrooms and living rooms.