Digital storage solutions are getting bigger, with Western Digital announcing its upcoming solutions for businesses and individuals, including a huge 26TB hard drive.
Aimed at businesses using cloud storage solutions, the 26TB Ultrastar DC HC670 hard drive is built using technology referred to as 'shingled magnetic recording' (SMR). This helps increase data capacity, although it does equate to slower data transfer speeds.
Conversely, the also-revealed 22TB Ultrastar DC HC570 hard drive uses what is called 'conventional magnetic recording' (CMR) technology, which is known for faster speeds. This 22TB variant will also form part of the WD Purple, WD Red, and WD Gold range of products. Overseas, these drives will launch around winter our time, although local details are not yet available.
On the business SSD front, the Ultrastar DC SN650 NVMe SSDs will feature capacities of up to 15.36TB, use a PCIe 4.0 interface, and come in 2.5-inch and elongated E1.L variants. Expect to see these enterprise cloud-centric SSDs available in the second half of 2022.
For gamers looking to upgrade their storage, two new WD Black SSDs are hitting the market: the internal SN850X SSD and external WD Black P40 Game Drive SSD. Western Digital claims the transfer speeds for the SN850X, an NVMe PCIe 4.0 compatible device, go up to 7,300MBps, while the P40 maxes out at a reported 2,000MBps. Local pricing for both gaming storage options has not been confirmed, although the SN850X will start at US$189.99, with the P40 starting at US$119.99. As for size options, the SN850X will be available in 1TB, 2TB, and 4TB options, while the P40 will have 500GB, 1TB, and 2TB options.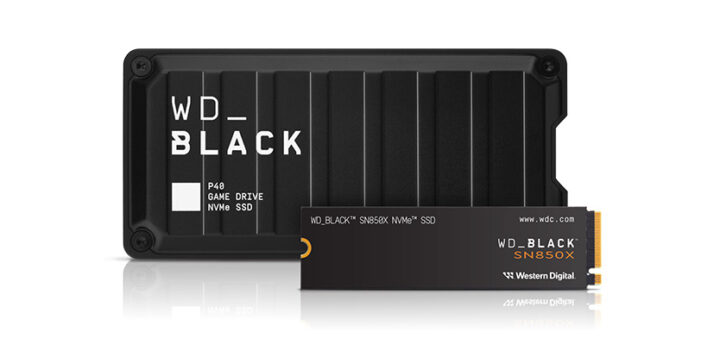 Western Digital also announced the PC SN740 NVMe SSD, which appears to cater more toward the prebuilt PC market than customisation enthusiasts. Other announcements also included portable modular SanDisk storage solutions aimed at media professionals such as photographers and videographers.
It's seriously impressive how far storage technology has come over the years. As storage technology continues improving, expect the total capacity and transfer speeds to continue rising.