You have just moved into your new home only to find you can't get NBN or even ADSL and a landline. What are the alternatives to NBN?
Part of the problem is that Telstra sold all its existing 'last mile' copper wiring to the NBN to allow for Fibre-to-the-Node (FTTN) connections. It cannot lay more wiring even if it wanted to!
Just to repeat – if you are in a new estate or perhaps a small development replacing previous farmland then your home a) may not have access to traditional copper for ADSL or a landline and b) its highly likely that NBN will not have your development as a priority for connection either by FTTH (Home) or FTTC (Curb).
Sure you can pay an extortionate amount to bring in fibre from the nearest node (prices of $10-20,000 are not unusual) but for the most part, your options are either Fixed Wireless (uses an antenna dish) or Home Wireless Broadband ( if there is a suitable telco tower near enough). We focus on the latter option.
There are only three home wireless broadband infrastructure providers that own the transmission towers
There are several resellers including
Exetel (Optus reseller)
Ovo (Optus)
Spintel (Optus)
In comparison to Optus direct, all resellers appear to charge significantly more for data. You will need to compare the latest deals.
The catch 22 with alternatives to NBN – network speed and often lock-in contracts
Just as you need a strong smartphone reception to get good download speeds, you need even better for home wireless broadband to work. Mobile phones and home wireless broadband work on different frequencies.
OzTowers allows you to search for the closest towers and the companies that own them. For example, my closest tower is 1.03km away yet I only get two bars reception. At that rate you can forget home wireless broadband.
If you want to identify tower numbers use the RFNSA and enter your postcode. This may help in negotiating with a telco.
There are also apps that measure tower strength such as Phone Signal or Network Cell Info Lite. These may assist in selecting your best carrier. I particularly like the map feature of the latter.
Optus don't commit to a speed stating, "Speeds are variable on the Optus 4G Mobile Network and depend on factors including congestion, location, local conditions, hardware, software and general internet traffic." We understand that typical speeds depend on signal frequency (2300Mhz is desirable) and strength. These are from 5-12Mbps download (like ADSL). And, these can fall back to slower 3G speeds at times.
First, you need to use its Huawei B525 modem gateway. It is a Wi-Fi AC Dual band. It has four LAN ports (one is a WAN allowing connection to another Wi-Fi router), one RJ-11 phone port (for VoIP).
As a Cat 6 modem it has a maximum of 300/50Mbps 4G DL/UL speed. But this is a very entry-level router. It is has Wi-Fi 2.4GHz 300Mbps and Wi-Fi AC 1300Mbps (in total referred to as called AC1600), 1 x 1 antenna, no MIMO, beam forming or other go fast stuff. It is suited for a small apartment only with a few devices attached.
In theory, if you could get a steady 300Mbps that is equivalent to 37.5MBps which at a pinch would stream 4K (2160p) and that uses about 7GB per hour. FHD (1080p) takes about 7MBps and uses about 3 per hour.
BUT – and here is the kicker – given Optus offers between 5-12Mbps, it's not possible to use the service as real-time streaming or catch up TV option. You can read more about streaming requirements here.
Unless you use uploads a lot (like a home worker or web hosting), this is fine although you pay for data both ways — unused data each month its forfeit.
For $60/80 per month (on a 24-month plan) you get 200/500GB of data. Extra data is $10 per 10GB – reasonable.
Otherwise, for a monthly plan – no lock-in – the modem costs $192, and you can have the same data price and data as a 24-month plan.
Telstra has a 4GX Modem Cat 11 Gateway (more for fixed installations supports up to 20 devices) or a NETGEAR Nighthawk M1 modem Cat 16 – 1Gbps/150Mbps.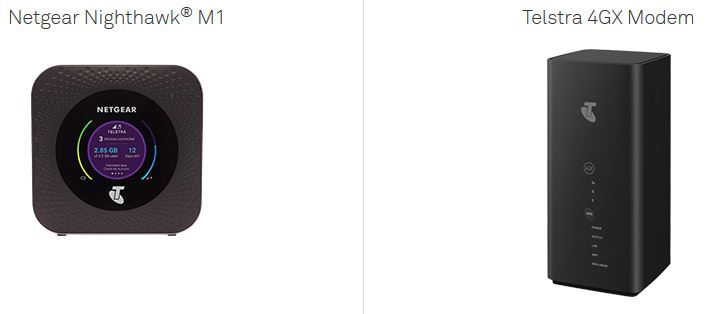 Despite the Nighthawk being a Cat 16, Telstra advises that speeds are typically 3-300Mbps with this device. Still, that is better than Optus that state speeds are from 5-12Mbps.
The 4GX gateway is Cat 11, and Telstra advise it should do 5-200Mbps in 4GX and 2-50Mbps in 4G areas.
24-month plans are $35/59/89 for 10/30/80GB data (at present there is an offer of 5/20/10GB bonus data respectively). Extra data is $10 per GB (Optus is $10 for 10GB).
Telstra is eye-wateringly expensive, but it provides higher speeds if you have good 4GX reception.
We considered the Vodafone offer, but as the modem choices were both Cat 4 (150/50Mbps), we do not consider this fast enough to support home mobile broadband.
24-month plans are $17/31/45/60 for 3/10/30/90GB. There is a current promotion to add 0/10/30/20GB to the plans and prices may vary.
GadgetGuy's take: Alternatives to NBN are very poor but better than nothing
Bottom line – if NBN is available go for it. If ADSL is available go for it. Home wireless broadband is expensive and slow. Optus offers the best deals and data allowances but at lower speeds than Telstra.
Also look at resellers – but most will use Optus infrastructure. For example, OVO offer $50/70/90/100 for 30-day plans for 50/100/150/250GB plus you buy a Huawei B525 modem (as used by Optus and may not work on the Telstra network).
And don't be fooled by companies offering cheap mobile data sims and cheap internet dongles. These don't use the dedicated frequencies needed. Mobile phones and home wireless broadband work on different frequencies.
So if you have just built and/or there is no NBN, copper (ADSL) or you are a renter that wants a temporary solution – this is as good as it gets! Until 5G is ubiquitous and that won't be cheap.