The Ampere Unravel AW+ fast wireless charger is a three panel, fold-out charger supporting two Qi 10W charger pads and a 2.5W Apple watch magnetic charge pad.
The Ampere Unravel AW+ unique proposition is the ability to charge three devices at the same time – iPhone, iPod and watch – oh, and Android users can get a 3+1 version with three charger pads and a 5W USB-C output.
We put the Ampere Unravel AW+ through its paces and it passed with flying colours – just as well as it comes with a choice of fire emoji red, pure black, glow in the dark green, sky blue, coral and navy highlights.
Ampere Unravel AW+ – this is the product Apple tried to build but could not!
Website here
Price: From US$109.95 (30W adapter) to $124.95 (60W) plus currency conversion, shipping etc. Allow about 50% more in AU. It is listed on Amazon Australia at $409.95 inc shipping – forget that!
Warranty 1-year
First impression
It is a little larger than expected at 88 x 88 x 30mm (stacked) or 270 x 88 x 10mm (flat) x 248g (plus a charger). That is not a bad thing as the pads (about the size of a thick drink coaster) need to be large enough to place an iPhone on. It is quite solid too, with large hinges and screw-together construction -– quality, not cheap!
If you want to use all three pads, you need at least a 30W USB-C PD 2.0 (or later) charger but we recommend a 60W (if only because you can, and it does not cost a lot more). Or you can use any other USB-C PD charger above 30W.
Orientations
You may be tempted to use it flat for three devices, but the clever Z-hinge and a magnetic clasp allows for FaceTime charging, or watch only, or one pad.
The 10W pads have a non-slip charging ring, and the centre pad has non-slip edge pads. The 2.5W watch pad has the Apple Magnetic holder.
The only issues we found are
The indicator LED on each pad is obscured by the iPhone – not so with the Air Pods or watch
The watch when charged flat need some precision placement and the band must be capable of opening fully – it can act as a vertical charger, and the band wraps around it.
There were some comments that the 'glow in the dark green' version is a little bright
Tests (iPhone X and Apple watch 4)
Qi 10W charging means a 5V/2A (10W) coil that is perhaps 75% efficient (7.5W) matching the exact needs of an Apple iPhone.
While a 30W USB-C PD works with all three devices at the same time, charging time is over eight hours. If you use a 60W charger, then that reduces by about 30%.
Note Qi charging is not as fast as cable charging – it is more an overnight thing. Unravel claims 3.1hours to charge the iPhone X with a 60W PD – we assume that time is for the iPhone only.
Works with phone cases up to 3mm thick.
Temperatures – warmish – perhaps 5-10° over ambient
Other features:
It has
Four pogo pins that work with a special Unravel USB-C PD 20,800mAh power bank  (not tested).
Foreign object detection – it won't charge you keys!
Automatic trickle charge top-up (as all good QI charges should have)
Optional zip-up travel case
The 3-in-01 device (not tested)
Requires a 60W charger. Outputs 3 x 10W Qi charges and 5W USB-C.
GadgetGuy's take – Ampere Unravel AW+ is a multiple all-in-one Apple wireless charger
Like so many Kickstarter campaigns it got off to a well-funded but shaky start with early shipments not quite delivering on the Apple Watch promise – Guys under-promise and over-deliver!
The finished product does what it says, although it is not perfect. For example
I think it's a little heavy (the box says 196g and its 228g plus a charger)
Its landscape mode (clip-out stand on panel one) works but the charging panel is a tad lower than ideal
You can use portrait mode on panel two but it is too easy to defy gravity and knock the phone off
The 2.5W watch pad needs some precision in placement although the clip out stand is close to perfect and you can then put a solid band around the panel.
Still, it is well made and it will do what you want. I suspect Apple users, however, will want something a little more 'Applesque' perhaps in rose gold, silver and space grey.
Android users need to be aware that the 3-in-1 version has only a 5W USB-C output and that is not a lot of use as a charger port except for watches and other low wattage devices.
Our rating assumes a price of around A$200-250 – any more it is out of the ball-park. You can explore other Qi chargers that GadgetGuy has reviewed here.
Coming soon
Ampere is also releasing Unravel 2  – 2 x 15W pads with "up to 60W passthrough". But do the math – each 15W pad takes about 20W (at typical 75% Qi efficiency), so it can only pass through the left-over power! But they have taken our advice and it comes in Apple's faux Rose Gold, Silver and Space Grey!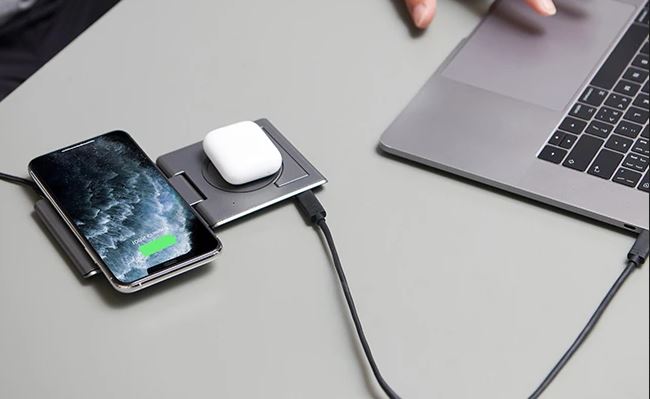 Can simultaneously charge three devices
Go for the 60W charger version and order an Australian Plug (or you will get a US plug)
Well made
Charging times are longer than claimed so buy the 60W version
Apple users expect 'Applesque' products