As part of the company's Halloween-themed 'Scary Fast' digital event focusing on Mac devices, Apple revealed three new M3 chipsets aimed at powering creative workflows.
The new generation system on a chip (SoC) includes the M3, M3 Pro, and M3 Max, built using 3-nanometer technology. Each one offers improved performance over the M2 chips, including enhancements to the CPU, GPU, neural engine, and unified memory. Among the first to take advantage of the new SoCs are fresh MacBook Pro laptops and a 24-inch iMac.
It's remarkable to see Apple announcing three chips at once. Only earlier this year, Apple launched the M2 Pro and M2 Max chips, making it less than 12 months between upgrades. Apple described the M3 chips as housing a next-generation GPU for graphical rendering and gaming capabilities.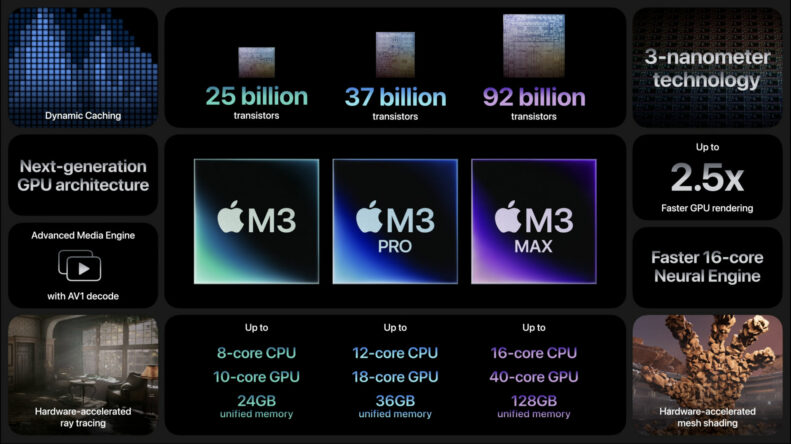 Apple M3, M3 Pro, and M3 Max details
A lot of the comparisons made by Appel throughout its presentation were between the M1 and M3 chips. There are a couple of likely reasons for this. One is that people don't upgrade computers every year, while the other is that the performance gap between the two generations sounds more impressive. Indeed, the M3 generation is certainly an upgrade over the M2 series, but it's more incremental. This, as we've pointed out in our iPhone 15 and iPhone 15 Pro reviews, is to be expected with regular releases.
To illustrate the point, when compared to the M1 chips, the M3 series has 50% faster efficiency cores, 30% faster performance cores, and a 60% faster Neural Engine. Meanwhile, the gains over over the M2 chips across the same categories register at 30%, 15%, and 15% respectively. Nothing to be sneezed at, but certainly less dramatic.
| Specification | M3 | M3 Pro | M3 Max |
| --- | --- | --- | --- |
| CPU | 8-core CPU with four performance cores and four efficiency cores | 12-core CPU with six performance cores and six efficiency cores | 16-core CPU with 12 performance cores and four efficiency cores |
| GPU | 10-core GPU | 18-core GPU | 40-core GPU |
| Memory | Up to 24GB of unified memory | Up to 32GB unified memory | Up to 128GB of unified memory |
| Transistors | 25 billion | 37 billion | 92 billion |
That's not to say the M3 chips haven't made big strides forward, however. Apple focused on its next-generation GPU, claiming the graphics architecture is the "largest leap forward" on its silicon to date. A new Dynamic Caching feature uses only the required amount of memory per task to efficiently direct resources as needed and enable much better performance. Plus, with M3, Mac devices now have hardware-accelerated ray tracing for the first time. Visually intensive tasks like 3D rendering and gaming are set to see some of the biggest gains from these advancements.
Another key metric Apple measures is performance-per-watt. In other words, the ability to produce high levels of performance without guzzling power. It appears that efficiency has gone to another level, with the new MacBook Pro laptops reported to last up to 22 hours on a single charge.
When is it coming?
You don't have to wait long to start using M3 Mac computers, with the new 24-inch iMac out next week, at the same time as the refreshed MacBook Pro range.
Given the track record of the M-series chips, the M3 platform throws the gauntlet down to competitors, including the Intel Core Ultra, in the battle for the ultimate computer SoC.