Along with the new iPad Mini, which you can read all about here, Apple made a few other announcements at its San Jose event including a smaller MacBook Pro, a refreshed Mac Mini and all-new iMacs.  Here's our summary of Apple's latest and greatest:
A pint-sized MacBook Pro
Apple made waves earlier this year with it's 15 inch MacBook Pro, which included a revolutionary 15 inch Retina display.  Now Apple has added a second Retina-based notebook to the family, only this time in the guise of a 13 inch model.
Like the 15 inch, the 13 inch MacBook Pro now comes in a thinner form factor than the old 13 inch model, and measures just  1.9 cm thick, or  At a mere 1.9cm and 1.62kg, the remarkably portable 13-inch MacBook Pro with Retina display is 20 per cent thinner and almost half a kilogram lighter than the current 13-inch MacBook Pro.
The key feature of the 13 inch model is the option of a super high-resolution IPS-based 'Retina' display. This has an impressive 2,560 x 1,600, and while the 15 inch version can display about 5 million pixels, the 13 inch manages an impressive 4 million.
This translates to pin-sharp text, even at very small sizes, along with beautifully detailed photos and graphics. At 227 pixels per inch, it's nearly impossible to see the individual pixels that make up an image, and the IPS-based display can be viewed from angles up to 178 degrees.
The display also sports new anti-reflection technology, which is intended to show 75 per cent less reflections and 29 per cent higher contrast levels than the previous screen.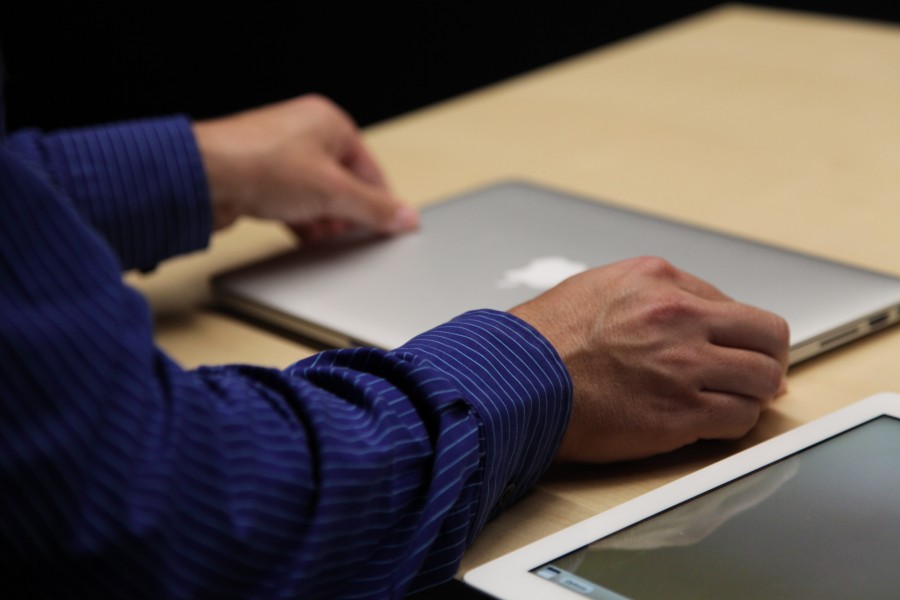 From a processing point of view, the 13 inch MacBook Pro version is quite capable, with processors ranging from dual-core 2.5GHz Intel Core i5 to faster 2.9GHz Intel Core i7 processors. Intel HD Graphics 4000 is included, along with 8GB of 1600 MHz RAM, and you can choose up to 768GB of flash storage. It does not appear, however, that there is an option for the quad-core Intel Core i7 processors found in the 15 inch MacBook Pro range, meaning that the 13 inch unit cannot quite match the top-end grunt of Apple's flagship notebook.
Apple has placed special attention into the battery construction and has spread the battery around the internals, and can produce about 7 hours of charge. The unit features a similar unibody design to other MacBook Pros, resulting in a good combination of rigidity and aesthetic appeal.
Port options are the same as the 15 inch MacBook Pro, only on a smaller device, and include two Thunderbolt connectors, two USB 3.0 connectors, SD card, HDMI and a MagiSafe 2 power connector. As with the 15 inch MacBook Pro, an optical drive has been omitted, along with plug-in Ethernet, although there's dual band Wi-Fi (802.11n) included.
There are four models to choose from, each with varying degrees of hardware features, although the big distinction in price is because of the Retina screen. Here's Apple's latest pricing:
The 13-inch MacBook Pro with Retina display is available with a 2.5 GHz dual-core Intel Core i5 processor with Turbo Boost speeds up to 3.1 GHz, 8GB of memory and 128GB of flash storage starting at a recommended retail price of AUD$1,899; and with 256GB of flash storage starting at a recommended retail price of AUD$2,199. Configure-to-order options include faster dual-core Intel Core i7 processors and flash storage up to 768GB. Additional technical specifications, configure-to-order options and accessories are available online.
The 13-inch MacBook Pro with Retina display is available today through the Apple Online Store as well as Apple's retail stores and Apple Authorised Resellers.