The Apple Watch was launched about 5 years ago. It has quickly become world's most popular smartwatch, finding its way onto more wrists than any other brand. There's also a healthy ecosystem of watch accessory makers out there. Some make good quality products, while others can be a bit hit or miss.
3SIXT is a reputable ANZ-based company that makes "…iPhone, smartphone & tablet enhancements with style." We managed to get our hands on some of their bands that are very similar to Apple's most popular versions, only less expensive. Here's how they stacked up :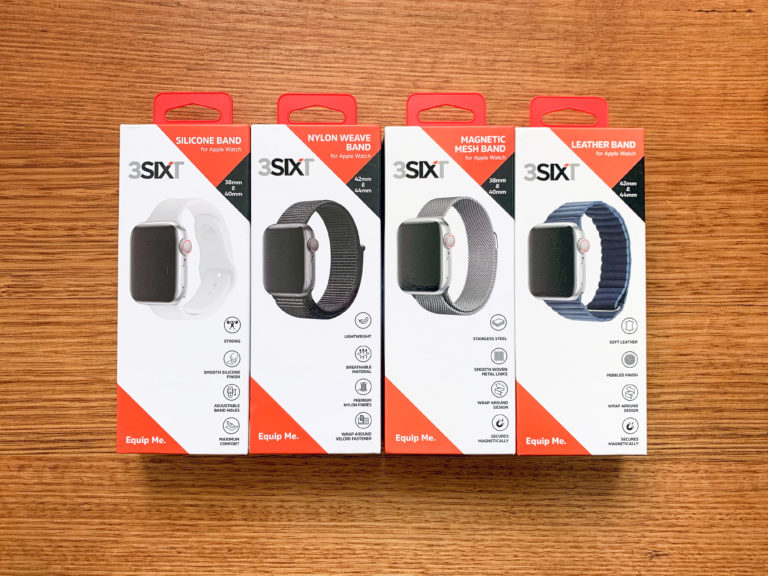 3SIXT Silicone Band
This is essentially the same as Apple's popular Sport Band. It's made from a "high performance injection-molded liquid silicone" and feels very similar. It shares the same appearance, and can be fastened with a pin-type fastener that fits into one of a series on holes on the other end of the band.
The band is smooth to the touch and has about the same thickness as the Sport Band. It is quite durable and flexible as well.
One difference was that the band appeared to catch on something when fitting it into the anchor grooves on the watch. This was overcome with a bit of force, thankfully, and didn't reappear when fitting the band the second time.
In terms of size, the Silicon Band is adjustable from 130mm to 180mm. Keep in mind that Apple's Sport Band gives you both a shorter and longer strap to cater for larger wrist sizes. With 3SIXT's version, it may not fit on larger wrists.
The 3SIXT Silicon Band is priced at $39.95 versus Apple's $79. You'll save some money going with 3SIXT's version with few compromises. Apple does offer a wider range of colour choices, however. With 3SIXT, you'll need to stick with black or white.
For the 3SIXT Silicon Band's product page, click here.
3SIXT Nylon Weave Band
This band is made from a nylon weave and has a wrap around velcro fastener. It provides a comfortable and secure fit, and is more breathable, than the Silicon Band. It's also quite light and sturdy, so an ideal choice for active lifestyles and working out.
We compared 3SIXT's band to Apple's Hyper Grape Nike Sport Loop. Both looked similar, however, we found that the Apple version was made from a slightly tighter weave. This enabled two things: the velcro's grip is noticeably better, and it stretches more than the 3SIXT's version. While stretchability might mean a little more comfort, the velcro grip is more important.
We're not saying that the 3SIXT's velcro will fall away from the band, as it too fits securely. The Apple version may last longer over time, however.
We tested the 3SIXT's Nylon Weave band by taking it to the gym for a solid kick-boxing workout. The one-size-fits all nature of the velcro band kept the watch pressed firmly against our wrist for decent heart rate sensing. It also managed to stay in place despite the boxing glove rubbing against it.
With a lot of sweating, the breathability of the fabric is definitely more comfortable than the silicon band. Afterwards, the sweat-drenched band was rinsed with water and left to air-dry. The next day it was complexly dry and didn't have an odour or experience any colour fade. So all up, we feel that the band definitely performed well.
Fitting the band to the Apple Watch wasn't quite as smooth as Apple's own version but nothing to be concerned about.
The Nylon Weave Band is available in black or grey. It costs $59.95 versus the $79 for Apple's Hyper Grape Nike Sport Loop.
For the 3SIXT Nylon Weave Band's product page, click here.
3SIXT Leather Band
We compared the 3SIXT Leather Band with Apple's Cape Code Blue Leather Loop. According to the 3SIXT site, the band has a "…high-quality pebble-textured genuine leather design…" It also comes with the same type of magnetic closure that is "…designed to sit flush against the wrist and effortlessly fastens every time."
From our experience, the description is fairly accurate. The real difference is the price between the two products. Apple's costs $229, while 3SIXT's Leather Band is just $99.95, so we're talking about nearly $130. While the 3SIXT is perfectly functional and looks attractive, there is a noticeable quality difference. The leather on the Apple band is finer, softer, smoother and divided into smaller segments. As such, it wraps a little better around your wrist, while the 3SIXT's leather seems stiffer and doesn't have the same 'weight'.
The fasteners on the 3SIXT's Leather Band are lighter as well, however the magnet is stronger than that on the Apple band.
One issue for this reviewer's 'small to average' wrist size is that the band is too long. Compared to the Apple model, 3SIXT's is about a centimetre longer, and when closed actually wraps onto the watch face itself. (See the photo for how this looks).
For larger wrists, this shouldn't be an issue, but something to flag none-the-less as it can't be shortened.
Overall, the 3SIXT's Leather Band is attractive, and fine for its purpose, but you do get what you pay for. The extra $130 buys better quality leather and a more premium feel, and perhaps a more evenly sized band.
For the 3SIXT Leather Band's product page, click here.
3SIXT Magnetic Mesh Band
Apple's Stainless Steel Milanese Loop band was a hallmark style released with the first Apple Watch. It's a dressy, flashy design, intended to compliment your wrist. It's also one of the more expensive bands at $229. 3SIXT's Magnetic Mesh Band mimics its design, and also includes the fully adjustable, variable length magnetic clasp.
With a price of just $69.95, you're saving nearly $160 with the 3SIXT model, so what are the compromises? Appearance-wise, the metallic finish looks very similar to the Apple, with a nice shine, and made from a similarly sized metal mesh. The edges of both bands are smooth, albeit a little smoother on the Apple model. The quality of the magnetic fasteners feels about equal, along with magnet strength.
Fastening the band to the watch was not quite as good a fit, however, but not loose by any means. We also noticed that the SIXT's band was a little more coarse, in terms of the band rubbing against itself.
We did notice that Apple's version is about 3mm wider, and a little longer. The 3SIXT's narrower band does feel more feminine, or at least daintier.
Apple's version is wider and longer

Both bands have a good shine and finish
Overall, we were expecting to see a more noticeable difference in quality between the two, given the price. With a $160 savings, 3SIXT Magnetic Mesh Band is the value star of the lot. Still, if you have a larger wrist, and prefer a more masculine, wider band, the Apple version might be a better choice in the long run.
For the 3SIXT Magnetic Mesh Band's product page, click here.