Our local General Store needed some Wi-Fi security cameras for its front door, order counter and rear door. After some research, the natural choice on cost, features and privacy was from the Arlo Essentials range.
The Arlo Essentials range (GadgetGuy news and reviews here) does not require an Arlo base station – just the Arlo smartphone app and Wi-Fi. In fact, Wi-Fi does not need to be very fast either – the 1080p video/audio stream is around 1-2Mbps so the basic NBN 25 plan is fine.
After looking at the stores need, the owner identified (all from the Arlo essential range)
Video Doorbell wire-free for the front door (to see all who enter) Website here $329
Spotlight for the front counter (easy to reach for recharging) Website here $229
XL spotlight camera for the rear door area (longer battery life enables a more difficult installation). Same Website $279
By shopping around and price matching he saved a little over 10%.
Review: This is a blow-by-blow description of the Arlo Essentials install process.
Setup was a breeze – so easy with the Arlo app
I arrived at the store with a stepladder and cordless screwdriver/drill. You need a 3.5mm (or 6mm if you use the wall plugs) drill bit and a Philips head driver bit.
One thing the owner had not done was charge the three devices – they were straight out of the box. Fortunately, Arlo ships with 50-60% charge so setup was possible.
Download the Arlo app for Android (or iOS) and it brings up the install screen.
Select the device (from carousel pictures of Arlo cameras).
Press the sync button and it finds the camera.
Aim the camera at the QR code that is displaying on the smartphone, enter the Wi-Fi credentials and name it.
It may update firmware and within a few seconds the camera is active.
That is it.
These come with a 3-month trial of Arlo's premier cloud storage. The $14.99/month (up to five cameras) gives 30-day rolling storage, live video streaming, person/vehicle/animal detection, definable zones and call-a-friend. The latter will be handy as he can notify a nearby staff member if he gets an after-hours alert.
Arlo gets 100% for app ease and setup. I have been testing Arlo gear for about three years and it has never faulted.
Battery and Charge
Both the Essential cameras have a micro-USB port. A 20cm cable is in the box – no charger. You can use any 5V/1A (or higher) charger. I did not complete charging but one hour on the Essential Spotlight took it from 50-80% so assume a charge time of three-to-four hours. The Essential Spotlight XL is supposed to last a year – time will tell. It takes about twice as long to fully charge.
The app shows the battery level. When its low you get a notification. Simply take the camera down (either unscrew it from the ¼" tripod mount or remove the tripod gimbal – both easy).
The Essential Video Doorbell has a removable battery that is also micro-USB chargeable. One hours charge also improved it by 30%. You remove the camera by pressing a special 'pin' into a secret hole on the mounting.
Mounting
The Essential Spotlight cameras come with a ¼" tripod mount, three screws and plaster wall plugs. As these cameras don't have a flat base you have no option but to mount them.
The lens has a 130° field-of-view. That is pretty typical of 1080p cameras and it is plenty wide enough.
The natural inclination is to mount them higher, but 1.5-1.8 metres is plenty – especially if you want to reach up to remove them for charging. Any higher tends to show the top of people's heads.
The Essential Video Doorbell wireless is battery operated but can be wired for continuous charge. The ideal height is chest level – about 1.2metres. It has a 180° field of view for head-to-toe view (like a peephole). It comes with a flat and an angled mount to create the ideal viewing angle.
Sensitivity
In the General store environment, there can be thousands of activations each day.
A feature of the Arlo cloud is the ability to set motion zones (you need a cloud subscription plan). In this case it has been set to record no activity behind the front counter but all activity in the front of the shop. Time will tell if the store needs that much detail. The cameras initial intent was to cover security when the shop is closed.
In addition, you can tune sensitivity to eliminate most false positives.
Schedule
The Arlo app can arm or disarm the cameras, schedule by day and times or geofence – disarm/arm when the smartphone is in the shop.
And when the notification is suspect you can remotely speak to the intruder and set off an alarm.
Voice commands
It supports IFTTT (If this then that) and Google Assistant to arm/disarm. That would be perfect when staff lock the store up.
Current supported commands are
Turn off/on camera (by name or room)
Show camera (name) on Chromecast device like a TV
There are other smart home integrations
Arlo also works with Alexa and iPhone/iWatch.
Image quality – superb
The Essential Spotlight has two LEDs for colour night recording as well as 850nm IR LEDs for mono. Light sensitivity (low f-stop) during the day is good. Normal shop lighting means quite accurate colours and reasonable details. Night colour recording is good to about 3 metres although the PIR motion tracking has 6-10 metres range.
The cameras can be set to use a follow object feature called Auto Zoom and tracking. Essentially this uses digital zoom (up to 8x) to track the motion within the frame. we will update with Night images soon.
The video doorbell is quite amazing.
First, is has a head-to-toe field of view or a 180°. It has 1536×1536 resolution – a 1:1 ratio. It has HDR that means it can pick up some extra details in shadow or bright light.
Second it has a relatively lag-free full-duplex conversation. In the shop it is 5 metres from the router. Remote two-way conversations uses SIP (the NBN telephone network) and it is pretty good. Or you can respond with a computer voice message.
BTW if you don't have a great Wi-Fi connection voice lag can increase and it will drop back to 1080 or 720p video rates.
It can attach to a ding-dong wired chime and ring your smartphone.
Night vision is via IR but even a relatively low lumen security light will bring out colour.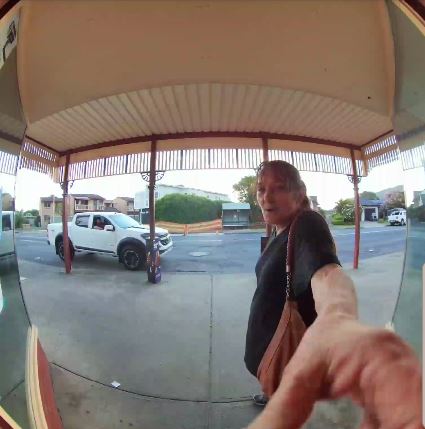 And the battery life is up to six months. Optionally you can hardwire it to a 8-24V AC transformer and existing doorbell and chime for continuous battery charging.
GadgetGuy's take
The Arlo Essentials series is a perfect low-cost way to add Arlo quality security monitoring to a home or small business.
The general store owner is chuffed – DIY security for $837 (less 10%). Dedicated PVR Cameras cost almost that much each and you pay for monitoring.
He was impressed with Arlo's Privacy as a Pledge when he compared that to Ring, EUFY and EZVIZ that offered no privacy.
I am chuffed – the install was flawless and took less than an hour armed with a screwdriver/drill and ladder.
The end results are superb with image quality and good details. And the Arlo Essentials video doorbell has added an extra level of visible security.
The only downside is that they need an Arlo Smart hub to record locally to micro-SD or USB or to use the Arlo Chime (update – the new Chime can work without a hub).
Arlo Essentials CES Innovation Awards Honouree
The Arlo Essential Indoor Camera and Touchless Video Doorbell received 2021 CES Innovation Award Honourees in the Smart Home category. These join other Arlo CES Innovation Awards, including the Arlo Pro 3 Floodlight (2020), Arlo Pro 3 Camera and Arlo Ultra 4K (2019).

Arlo Essentials – the install was so easy (review)
Positives
Great price for all three cameras
Easy, foolproof, setup
Great image quality
Remote view and full-duplex communications
Scheduling and Google Assistant integration
Negatives
No charger supplied
Remove the cameras from the mount to charge
Batteries are sealed units – not replaceable
No local storage without the Arlo Smarthub