We all want some security on home, and with the aid of internet connected devices, we can always keep an eye on home. Belkin's NetCam HD is one such gadget, giving you a high definition perspective of a place you want to keep tabs on when you're not there.
What is it?
Looking for a home security solution for your home? Belkin hopes to have that covered with a camera that goes beyond the basic 640×480 VGA feed most cameras tend to offer, increasing the resolution to high definition's 720p (1280×720), but also offering 640×360 (the widescreen equivalent of VGA) and 320×180.
It's not just a bigger resolution, mind you, as there's a 2 megapixel sensor capable of capturing stills, with a wide lens that stops down to F/2.0 aperture. Some red lights are also included to help the camera cut through the dark and see in the dead of night, making it a night-vision compatible device.
A microphone is built into the camera so you can hear what's going on where ever the camera is.
Networking for the Belkin NetCam HD happens solely by wireless, with 802.11b/g/n connectivity, linking up with Belkin's NetCam servers to stream directly to the online service which works with apps for iOS and Android.
The apps for iOS and Android are important, too, as they not only are built to let you monitor what's going on at home, but also let you configure and setup the NetCam HD from a phone, meaning no computer is required.
Once connected with the NetCam service, it will send email notifications when motion is detected, with pictures included of what that motion is.
Belkin also offers a "Cloud+ Premium Service" which costs money (though the camera does come with a trial) that also records videos of the motion, displaying it in a timeline.
The Belkin NetCam HD is powered by a single wall adaptor.
Performance
We've always loved the idea of a connected home, and Belkin has done more than many other companies to make this happen, working on its WeMo products to link up the world of smartphone and tablets to commonplace technology such as wall-based power points, light switches, light bulbs, with home appliances also being added to this shortly.
Aside for home electrical systems, Belkin also appears interested in security and the idea of letting people watch rooms in their home, and similar to what D-Link and Swann currently provide, is getting in with its own camera.
Last year, Belkin made a VGA version of this in the form of the NetCam, and this year we're seeing an update in the form of the NetCam HD, an understandably high definition equivalent boasting a wide angle lens, H.264 compatibility for capturing up to 720p videos with sound, and a way of logging in and watching the camera through your smartphone or tablet (provided you use Apple's iOS or Google's Android).
Taking it out of the box, there's very little that's different about the Belkin NetCam HD compared to other cameras. It's simple, with a small beige camera, a reasonably big lens surrounded by some small lights, and mounted to a small stand. It's unobtrusive, but definitely looks like a camera, so there's no hiding this in a bookcase.
Plug it in and the camera will spring to life, with a switch on the back determining what mode you're starting out in. You'll want to set the top mode first, which is actually the setup system, creating a WiFi spot for a smartphone or tablet to connect to with Belkin's NetCam app.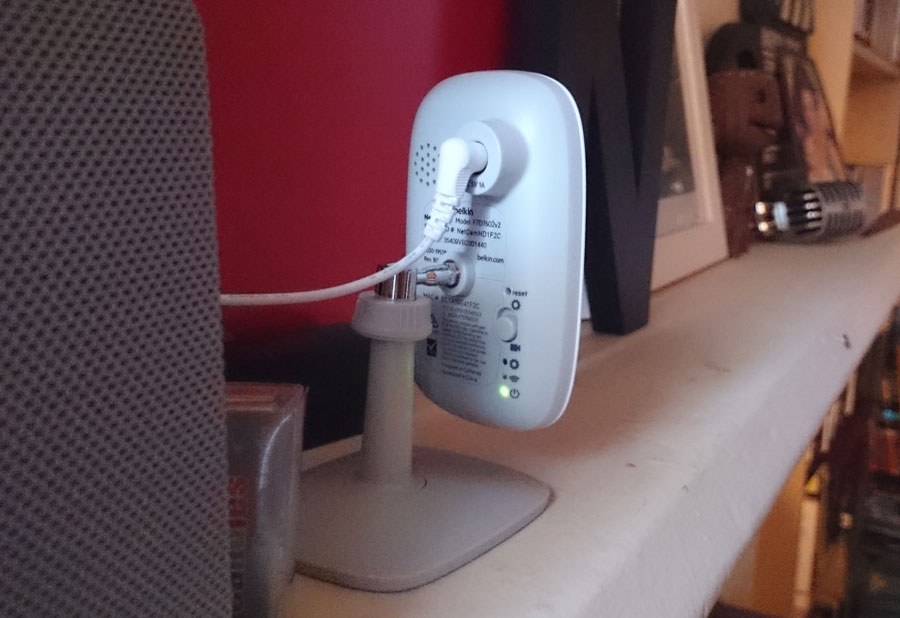 This begins the setup procedure which basically involves telling the camera what network to connect to with what settings.
In theory, it should be easy, but depending on the network at home and the app, it can fail. Easily.
Our setup took several hours of entering the same information in over and over again, before finally removing the wireless networks from our phone and letting the app do its thing.
We almost gave up, for what it's worth, and we've seen other customers have had similar problems, so it seems to be an issue not everyone has, but it's worth noting that setup of the NetCam HD can go one of two ways: really well, or poorly and frustrating. You may have the former, but we sure had the latter.
From there, though, the camera is ready to have its switch on the back pushed to the bottom mode, which is used as a camera. Once this is done after setup is complete, you can log in to the Belkin NetCam system through either the website or mobile app and check out your camera. Easy.
The image you get is very wide, offering a fairly large scope of where ever the camera is placed. The image quality isn't bad either, though it can be a little lacking in colour, but that's probably the least of your concerns if you're setting up a security camera.
Depending on the amount of light, though, you may find the image is in black and white, as the night vision mode will switch to a monochromatic picture.
And whenever there's movement, these pictures can be sent directly to your email with an alert that movement is happening, and even saved to the Belkin account in the form of a video.
But the NetCam HD appears to be one very sensitive soul, and frustratingly, there's nothing you can do about it.
Five settings are provided for sensitivities, rated from not sensitive at all to extremely sensitive, and regardless of what you pick, you'll end up with a ton of false positives, as the Belkin NetCam proceeds to tell you there's movement in your home even when there isn't.
On the most sensitive setting, the NetCam gets fired up remarkably easily, sending alerts your way frequently. Interestingly, on the lowest setting, the camera is just as panicked, telling you of the movement in your home, even when it might just be a change in light.
It's a truly frustrating situation, because Belkin hasn't provided much of a point of difference between the settings, which basically means you'll get an alert at the faintest light change.
The NetCam software is also very underdeveloped as far as its competition goes, and we're talking both online using the web browser, and its Android and iOS counterparts.
Neither of the systems allow you to turn the camera on and off remotely, even though you'd expect that given how Belkin's wireless home automation gear "WeMo" is built off that very principle. This means you can't turn the camera off when entering your home, or switch it on when leaving, forcing you to physically plug and unplug the camera to use it, a backwards approach when you consider how Belkin's WeMo has apparently been taking off.
Not helping the NetCam is its already mentioned overly sensitive design, and how you can't paint the region that should be sensitive.
For instance, on some of the D-Link cameras, you can paint or select a section of the viewport to monitor, with the sensitivity of the camera playing to that specific region. But not the Belkin NetCam HD, which monitors everything and doesn't let you choose the part of the frame it's responding to best.
The severely wide angle lens actually compounds this issue, which is a shame, because a wide angle lens is actually better for a security camera. But here on the NetCam HD, this ultra wide angle lens means more of the picture is visible, and the most minor flash of light or movement from a clock seems to set the camera off.
One of the obvious problems we found with the NetCam's constant barrage of notifications (above) that came as a result of this sensitivity is that you get tired of seeing them, and subsequently don't check them, with the entire impact being lost on you.
After a full day of notifications — over a hundred of them — we stopped caring, and even though as reviewers we have more tolerance for devices and their faults than most, were literally on the verge of beating Belkin's NetCam HD with a hammer just to shut it up.
That's not a good place to be, obviously, and if you're on holiday, the last thing you want to be doing is checking your security camera frequently, especially if it's telling you there's movement at home, no matter how benign it actually is.
Not to mention how quickly this will clog up your inbox, with extra images and notifications. There's that issue, too.
Basically, if every messages includes about 200kb of data, and five emails equates to around a megabyte, and you have a camera such as the NetCam HD that constantly pings you, well this starts to seriously add up in your inbox. If you're a user of Hotmail or Gmail — or any mail service with a finite amount of storage before your plan charges you — you'll find Belkin's persistent and mostly pointless notifications could easily dent your mail storage quickly.
Conclusion
We were hoping that the NetCam HD would be a great replacement for people who love Belkin's WeMo home automation and wanted to merge it with as sense of decent security smarts, but it turns out that Belkin's NetCam HD hasn't been changed enough to match the rest of the Belkin range.
Whether it comes from Belkin not doing enough to integrate the two technologies, or even refine the camera's sensitivity so that is works as a proper security camera replacement, the Belkin NetCam HD is hard to recommend, which is a shame since the image quality has something over other cameras. It's a shame the rest of the camera just doesn't fare as well.
Wide angle lens; Decent image quality from a security camera; Can shoot in the dark; If you pay for the online system, it does provide a decent interface with timelines for seeing video activity;
Setup doesn't always go easily; Camera has five sensitivity options, and yet is still way too sensitive; Can't paint or select a region to respond to as a security camera specifically; Notifications will pile up; App interface is poorly developed; The Belkin NetCam HD isn't directly compatible with the WeMo system Belkin makes; NetCam can't be turned off when you get home through the app, and has to be unplugged;