This is a story about how the D-Link EXO DAP-1820 Smart mesh extender cured Wi-Fi black spots in a typical modern single level home where any Wi-Fi simply does not work for oh, so many reasons.
We hoped that one or more D-Link EXO DAP-1820 Smart mesh extenders would cure Wi-Fi black spots. And it did with aplomb. But it did not do it in the way a typical mesh extender works. It did it even better once we added Ethernet backhaul. Let me explain.
A long story short, my daughter bought a home that is part of a duplex style development, and it is long and thin – about 30 metres long by 10 metres wide = 300m2 in all. Walls are cement block that stops Wi-Fi signal dead and getting a signal past the laundry/bathrooms etc. to the Master bed is impossible.
And as it typical the termination point for NBN (or in this case its still VDSL2 as it is part of the development) is at the front corner of the home (Master Bed) with an extension RJ11 phone point in the living room at the very back of the home (see the red dots below).
To complicate matters the TG-789 VDSL2 router supplied was in no way suitable for 300m2 coverage. It was in the Living area (or it could have been in the Master Bed).
This Wi-Fi router is dual Band router and rates 1-star in most reviews. It is fine as a gateway, to support phone and as a four-port Ethernet switch but atrocious as a Wi-Fi device. Using a Wi-Fi signal strength meter, it was -60/65dBm (fair) in the living room.
The 2.4/5Ghz signal dropped to -85/-115dBm (unusable) at the dining area. Effective coverage was about 50m2 – this reflects low cost and poor antenna design.
In reality, this modem was incapable of Wi-Fi coverage past the kitchen and courtyard, leaving over half the house in a black spot.
D-Link kindly loaned us some of its kit to experiment
EXO DIR-3060 EXO Wi-Fi 5 AC3000 router (Website here) $399.95
EXO DAP-1820 EXO Wi-Fi 5 AC2000 Smart Mesh Wi-Fi Range Extender (Website here) $249.95 each
Powerline AV2 adapters DHP-P701AV Ethernet-over-Power 2000Gbps (1Gbps full-duplex) (Website here) $269.95 (pair)
We also took a NETGEAR AX8/RAX80 AX6000 router (review here) and EAX80 Wi-Fi Range Extender (review here) to see if raw Wi-Fi 6 horsepower by itself would cure the issues. Spoiler alert – it did not.
Issue 1 – The TG-798 router was hardcoded to iiNet VDSL2, so that precluded removing it. We could only connect a router/range extender via Ethernet or Wi-Fi.
Test 1 – Wi-Fi 6 – the biggest hammer
We set up the NETGEAR AX8 linked to the TG-789 gateway. The far better antenna design gave strong 2.4/5Ghz coverage (-20/30dBm) to the Living, Dining, Bed 2, Bed 3 and Study. But both bands were non-existent in the Master Bed.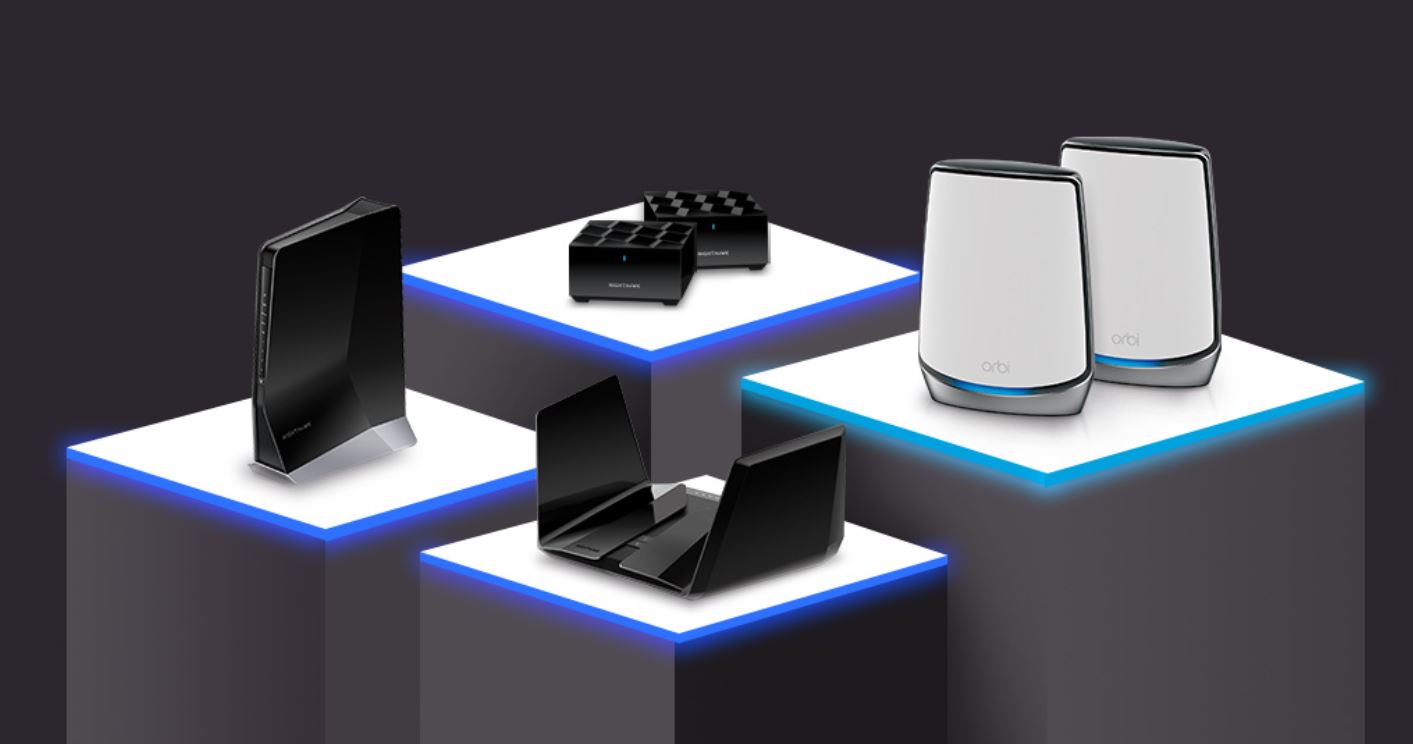 We then used the EAX80 Mesh Extender in the bedroom, but it could not get a strong enough signal on any band to retransmit. We could have used a set of Powerline adapters to supply Ethernet-over-Power, but the EAX80 can only have a single sign-on if it meshes via Wi-Fi. Otherwise, if using an Ethernet backhaul, it is an access point with a separate SSID sign-on.
Note: NETGEAR is working on the firmware to enable a single SSID over Ethernet, so this would be the choice for Wi-Fi 6 AX networking which is overkill for a single level, 2-person home!
Test 2 – D-Link DIR-3060 EXO Wi-Fi 5 AC3000 Router and EXO DAP-1820 Wi-Fi 5 AC2200 mesh extenders
We set up the D-Link DIR-3060 router linked to the TG-789 gateway. Like the NETGEAR AX8, the far superior antenna design gave similar strong coverage to the same area. The router is interesting as it has in-built McAfee protection for five years and end-point protection for two years – we will cover that later.
D-Link EXO DIR-3060 EXO Specs
AC3000 is 2.4Ghz band 1 (400Mbps), 5GHz band 2 (866) and band 3 (1733) suited to Tri-band mesh use
Wave 2 x 2 MU-MIMO and QoS
Six antennae for maximum coverage (2.4/5Ghz 100/30 meters line-of-sight)
Gigabit Ethernet WAN port for NBN (FTTP/C/HFC/Fixed Wireless/Satellite)
Four-port gigabit full-duplex Ethernet switch
USB 3.0 and 2.0 ports
D-Fend McAfee smart home protection
Compatible with D-Link EXO products as well as many other mesh and access points
D-Link Exo DAP-1820 mesh extender
We placed a DAP-1820 mesh extender in the Master bedroom, and as expected, it was unable to get a strong enough signal to retransmit. So, we used a pair of DHP-701AV Ethernet plugs to get an Ethernet point there.
D-Link EXO DAP-1820 specs
AC2000 is 2.4Ghz 300Mbps) and 5Ghz (1733Mbps)
Format: Wall plug style (wider than a standard power socket)
Gigabit Ethernet port (can be for Ethernet backhaul or to provide Ethernet to a device if using Wi-Fi backhaul)
Dual higher-powered external antenna
Signal strength LEDs
Can be used as either a Mesh Extender or Access Point
Android or iOS app or use WPS
Resigned to having separate SSIDs we were delighted to find that the D-Link Wi-Fi app allowed for mesh via Wi-Fi or Ethernet backhaul. One word describes the elation – ripper! Apart from the business-oriented Synology AC2200 Mesh router (review here), this is the first time we have seen a flawless single SSID mesh-over-Ethernet backhaul in a consumer-grade router/extender.
So now we had AC3000 in the main living area (about half the house) and good strong AC2000 in the other half.
DHP-P701AV specs
Ethernet-over-power Powerline AV 2000 (1Gbps full-duplex)
Format: standard width wall plug with a pass-through power outlet
MIMO and OFDM technology handles up 16 Powerline units to connect (reduces throughput)
Push-button connect and 128-bit AES encryption
I have been using Powerline equipment since 2005, and it is 100% reliable and recovers quickly from power outages.
But there is more.
D-Link claims the DAP-1820 will work with most brand routers including the crap TG-789. So, we connected to it via the DHP-701AV. We re-ran the D-Link Wi-Fi software (for Android or iOS), and indeed it connected seamlessly with one SSID!
This means that you can now extend your current Wi-Fi network over Ethernet cable or Ethernet-over-Power, making the D-Link solution the best and most cost-effective.
And with D-Link's powerline, you could also get Ethernet to multi-level homes and add DAP-1820 mesh extenders to cover these levels. We measured a strong solid 2.4/5Ghz signal out to about 20/10metres from the extender. It was more than enough to support a 2K Arlo Pro 3 security camera outside in the car park, and now daughter is looking at an Arlo Video doorbell as well.
McAfee Secure Home Platform runs on the router. It has a generous five-year free subscription.
Any device that connects downstream via Wired or Wi-Fi Ethernet router (e.g. via its Mesh Extenders too) has:
Cloud-based McAfee Global Threat Intelligence database
Malicious site blocking
Device Fingerprinting
IoT and Botnet threat detection
Vulnerability scan
Home Away mode (stops IoT connections when you are away)
Comprehensive parental controls
Renewal price is unknown.
The second part is McAfee LiveSafe, and it has a two-year free subscription for unlimited installations on Windows, Android, Mac and iOS (features vary depending on OS) devices.
Anti-virus/malware and cloud-based threat intelligence database
Anti-phishing
Web Advisor
Performance optimisation
Password Manager
File Lock/Encrypted storage
Renewal is $164.95
GadgetGuy's take – D-Link saved the day
First, NETGEAR Wi-Fi 6 AX gear is great, but it is very expensive and over-kill for my daughter's needs. I took it just in case the D-Link solution was not up to scratch.
D-Link assured me that it's EXO DAP-1820 could use Ethernet backhaul. The pleasant surprise was that it supports single SSID Mesh over Ethernet as well.
In our tests, the EXO DAP-1820 achieved the same internet speeds as at the router enabling it to do 4K streaming. Impressive.
We have written so much about home Wi-Fi issues so let's summarise
Location, location, location – place the main router in the dead centre of all your Wi-Fi devices.
Use Ethernet backhaul (DHP-P701AV or Ethernet cables) to place EXO DAP-1820 range extenders to cover black spots.
Use Ethernet backhaul to place a low-cost Ethernet switch near your TV, Blu-ray, PC console or other media device
This article is really a combined review of the D-Link solution to curing Wi-Fi black spots. Given that the EXO AC30000 router, EXO DAP-1820 mesh range extenders and the DHP-701AV work so well together and are so easy to set up it is a 5/5.
D-Link EXO DAP-1820 mesh extender
The D-Link EXO DAP-1820 Smart mesh extender is perfect to extend any D-Link EXO AC router and works with a variety of IEEE 802.11k/v mesh brands as well.