Suppose you are using mobile data and are in a good coverage area close to a mobile phone tower. In that case, you will most likely have fast and reliable mobile internet. But what if you live or play on the fringe of mobile coverage and want to improve your reception for mobile data and possibly voice communication?
This review looks at the D-Link Eagle Pro AI G415 4G smart Wi-Fi router but with a twist. We will look at how you can adapt this product as an alternative to other similar 4G capable routers at up to 3 times the price.
Details: D-Link Eagle Pro AI G415 4G Smart Router
| | |
| --- | --- |
| Price (RRP) | A$299.95 |
| Website | D-Link Australia |
| From | Leading Retailers |
| Warranty | 12 months 24/7 |
| Manual | User guide, video |
| Country of Manufacture | Taiwan |
| About | D-Link is a global leader in designing and developing networking and connectivity products for consumers, small businesses, medium to large-sized enterprises, and service providers. From relatively modest beginnings in Taiwan, the company has grown since 1986 into an award-winning global brand with over 2000 employees in 60 countries. |
The G415 is part of the D-Link family of Eagle Pro AI Wi-Fi routers, and it can be combined with other Eagle Pro routers and range extenders to form a Mesh Wi-Fi network.
A Mesh router allows you to extend your Wi-Fi signal with the help of repeater stations (which are also called access points). A mesh router also keeps the same network name, meaning as you walk around your house just like a mobile phone network, your devices will seamlessly switch between one repeater station and the next. At GadgetGuy, we've found that Mesh networks are the best option for sharing Wi-Fi around a larger house, with fewer black spots and faster Wi-Fi speeds in all your rooms.
Multi-purpose router
The G415 can be used in one of 3 modes: the first is as a Wi-Fi router with 4G backup. Next, it can function as a 4G hotspot router. Lastly, it is an aforementioned Mesh extender, which expands the Wi-Fi network from another Eagle pro router.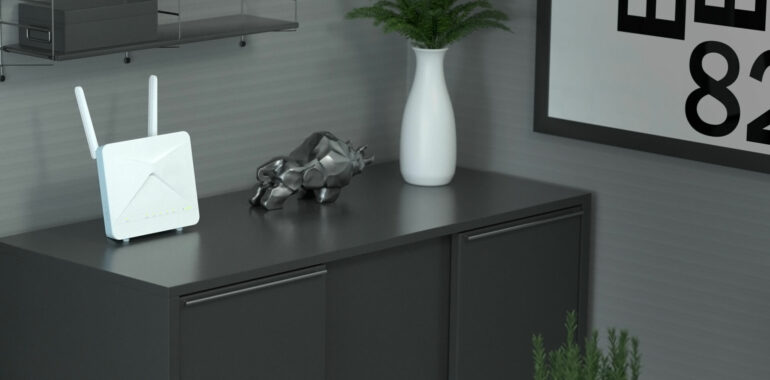 Let's dig into the first mode. As a Wi-Fi router, this product will connect to your NBN modem and provide a cost-effective home network with the latest Wi-Fi 6 technology. The newest Wi-Fi 6 standard delivers faster data throughput, greater coverage, support for more devices and better security. An added benefit is you can insert a SIM card into the router. If your NBN connection goes down, you will still have internet access on the 4G mobile network. This is great for small businesses, work-from-home professionals and households with teenagers. Note that the SIM will need to be paid for or come bundled with your NBN plan.
Next, as a stand-alone 4G (and 3G) router, the G415 does not rely on an NBN connection. Instead, it uses a completely independent 4G mobile connection, so you can take the router with you anywhere you have power and mobile phone coverage. You can then create an internet hotspot for your devices at a holiday home, in an RV or when staying at short-term accommodation. The router has 4G LTE Cat4 capability, so it will handle speeds of up to 150Mbps (which is 3 x the standard 50Mbps NBN speed). It can also connect to 3G in case a 4G signal isn't available.
Lastly, while you only get the single unit in the pack, the G415 can connect to other compatible D-Link Mesh Wi-Fi access and function as the main router in a Mesh network. This is handy feature if you want to expand your network coverage to reach a larger area at a later date.
D-Link Eagle Pro AI G415 features
Other features of the G415 include 3 Gigabit Ethernet ports that allow you to direct connect 4K TVs, gaming consoles, external storage or simply a printer.
The artificial intelligence built into the router will optimise Wi-Fi channels so you are not competing with your neighbours' traffic. The type of traffic on your network will also be prioritised based on bandwidth needs, so video calls and streaming will run lag-free (subject to your home's total available bandwidth).
You can set up a Guest Network to keep visitors separate from your devices and information. You can also limit guests' speed to keep the best performance for yourself. There's a QR code for guests to scan making connecting to your network super-simple.
The Eagle Pro AI app for your smartphone will allow you to customise your setup, receive notifications & usage reports, and access enhanced parental controls such as bedtime schedules and blocking certain sites.
Turning your G415 into a poor coverage superstar
The G415 has four key features that open up possibilities for those wanting to roam Australia while staying connected to mobile internet.
The G415 runs off 240 or 12 volts, which means you can power it from a vehicle. (This requires an additional cig cable.)
The unit ships with 2 reasonable 4G antennas
The unit has a 4-step LED 4G signal indicator
The antenna connections on the rear of the unit are SMA male plugs and can accept other higher gain antennas
As a result, out of the box the G415's ability to send and receive a 3G or 4G is superior to a mobile phone or other 4G hotspot/routers with no external antennas.
To further increase range, you can purchase high-gain antennas (discussed below) that can significantly improve your reception quality and internet speed.
When wondering if you have reception, the LED signal indicator will clearly indicate if you have any and at what strength. This is especially useful if you use a high gain directional antenna that must be pointed at the closest mobile cell tower. (Rotate the antenna until signal strength is maximised.)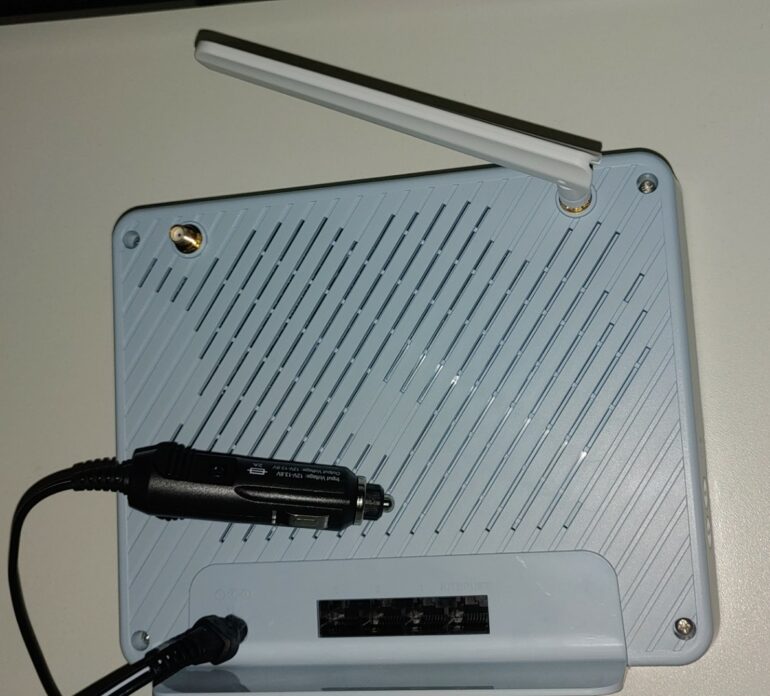 And by purchasing a $12.95 Cigarette Lighter Adaptor Cable, you can power the G415 from your car, 4WD or caravan.
Long-range connectivity at up to a third of the price
GadgetGuy recently published a Caravanner's guide to connecting to the internet anywhere. We specified several internet connectivity options including satellite, Cel-fi and a specialised 4G router solution, which will all set you back between $1,000 to $2,000. However, using the the D-Link G415 4G smart router, we bundled together comparable high gain package for just $637, which is up to a third of the price. This includes: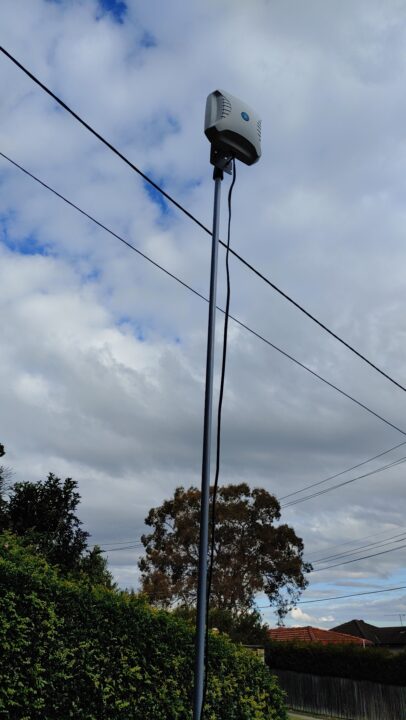 D-Link Eagle Pro AI G415 4G router – $300
Bunning's telescopic pool pole $29 (1.5m aluminium pole extends to 4.5m)
This solution allows the antenna to be elevated up to 4.5m above the ground and, with an 11dBi gain directional antenna, maximise your chance of getting a signal. (This may allow you to have coverage up to 35km from a mobile tower.)
For those that want to know more, you can further enhance reception using an Omni directional antenna.
Omni directional means the antenna does not need to be pointed to receive coverage and ideal for mounting on a vehicle that moves. Here are a few examples:
Watch out for a future GadgetGuy article reviewing RFI antennas including the new 5G antennas, which support 5G, 4G and 3G signals across all Australian mobile frequencies.
Real-world tests with RFI antenna
For testing, we use a Circles.Life SIM that has access to 100% of the Optus network. (Circles.Life offers a 100GB plan for $45 a month.)
| | | | |
| --- | --- | --- | --- |
| | Signal Strength | Internet speed Down | Internet speed Up |
| G415 antennas (included) | -73dBm | 19.4Mbps | 3.8Mbps |
| No antennas | -95dBm | 1.7Mbps | 0.2Mbps |
| RFI omni directional antenna | -67dBm | 33.8Mbps | 4.5Mbps |
| RFI directional antenna | -63dBm | 56.9Mbbs | 4.9Mbps |
| Smart phone only (not G415) | -102dBm | 104Mbps | 5.79Mbps |
(a higher dBm indicates a stronger signal)
So many factors will affect this test, so our only real measure is to compare the relative numbers. To stream Netflix or do a video call, you would want a minimum of 15Mbps download speed.
The mobile phone test was a surprise as it had the worst signal strength but the fastest internet speed. We put this down to a more expensive processor, which was confirmed by D-Link when we enquired about it. We expect the mobile to lose coverage long before the external antenna solutions in poor coverage areas.
Testing different antenna solutions on the G415 was as expected. (Note: you need two antennas or an antenna with two antenna cable inputs. Only two antennas will get you the faster internet speeds.) The higher directional -11dBm gain antenna had the better the signal strength and the faster the internet speed. Better signal strength is measured as the higher number, so -61dBm is better than -73dBm. We also expect the directional antenna to perform best when further away from a mobile tower. We have not measured signal strengths at different distances in this review.
If your smartphone loses coverage and supports Wi-Fi calling. You could use the G415 Wi-Fi, assuming it has a 3/4G connection, to still make and receive mobile calls from your smartphone.
GadgetGuy's take
This router is a great solution for caravaners and travellers straight out of the box. Equally, suppose you have poor mobile phone coverage and inferior internet. In that case, this may be an economical solution to solve your connectivity by improving your 4G reception.
Alternatively, those with good NBN internet might want extra peace of mind, as the G415 can switch over to 4G data as a backup if the NBN connection goes down.
At this price, it has all the latest technology, including Wi-Fi 6 and Mesh support, future-proofing you for the time being. The unit is easy to set up, and using it as a 4G router is as simple as inserting a SIM and powering it on.
We really like the ability to use this router in a travelling environment or alternatively improve poor coverage by adding a external antennas.
More networking news and reviews on GadgetGuy
D-Link Eagle Pro AI Smart 4G router G415
Improve your reception for mobile data and possibly voice communication if you live or play on the fringe of mobile coverage with D-Link G415.
Positives
Affordable price
Simple setup and AI to improve performance
Ability to use as a remote 4G router or use NBN with a 4G backup
External antenna sockets, 12-volt support and signal meter allowing it to be used for remote travelling
Negatives
The internet speed was slow compared to using a mobile phone as a hotspot, however this could change when further away from a cell tower