The competition for premium thin and light notebooks has never been higher. Dell has responded with a bold redesign of its flagship ultrabook, and challenges some tried and true laptop conventions in the process. So, did Dell stick the landing with the XPS 13 Plus or is it just a case of form over function? Let's find out.
Design
The XPS 13 Plus has quite a unique, futuristic design. Its near borderless display and edge-to-edge keyboard sit above a capacitive LED function button row, and the seamless glass palm-rest houses an invisible haptic trackpad. While this design may seem like it could be difficult to use, in practice, that's far from the case.
The decision to use capacitive LED buttons as opposed to physical keys for the function row is likely the most divisive. Smartly, the media keys are displayed by default, which is handy since most people use the function row keys to adjust the volume, display brightness and keyboard backlight. Simply pressing the Fn key switches to the standard F1 through to F12 keys. You can also lock the F keys in place by holding Fn + Esc if that's your preference.
The capacitive buttons are fine enough for infrequent tasks such as changing the volume but the lack of haptic feedback means there's no tactile feel, forcing you to take your attention away from the screen and look at what you're pressing. It's something that will likely only bother a limited subset of users such as programmers and designers who regularly rely on function keys for shortcuts in certain applications.
The keyboard is one of the best we've used, particularly for a device this thin and light. Dell has put every last millimetre of space to use so that there's no gaps between the keys while retaining nice large keycaps. Coupled with a generous 1mm of travel, the keys have an excellent bounce-back that make the keyboard a dream to type on. The way the gapless keys spill all the way to the edges of the laptop also looks incredibly slick.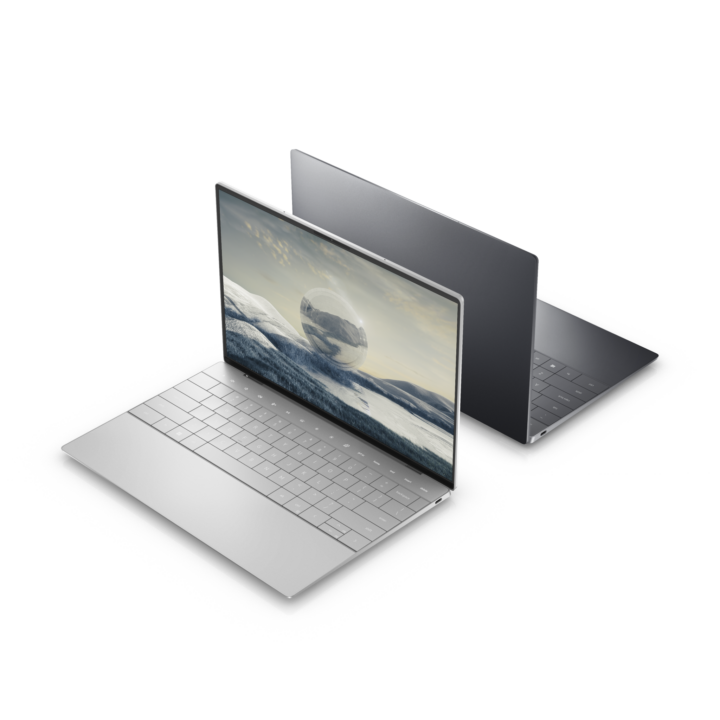 Continuing on with the futuristic theme, the haptic touchpad is embedded into a single piece of glass running across the entire section beneath the keyboard. There's no markers to tell you where the touchpad begins and ends but I didn't find this to be an issue. The touchpad is directly under the spacebar, which is where you would expect it to be, and the surface area is large and every bit as responsive as a traditional touchpad. Without any demarcation for its edges, I did find my hands naturally resting on the touchpad more often, but the 13 Plus' palm rejection feature meant I never encountered any issues with accidental presses.
In another nod to minimalism, the power button is completely unmarked and blends seamlessly into the keyboard. The power button houses the fingerprint reader and the webcam is also 'Windows Hello' enabled for fast sign-in.
The 720p webcam performs better than average for video calls but it's a noticeable step down in quality when compared to the 1080p webcam you find in Microsoft Surface devices.
Ports and connectivity
The XPS 13 Plus comes with just two physical ports, both of which are USB-C and support Thunderbolt 4. Frustratingly, there is no headphone jack but Dell does include a USB-C to 3.5mm adapter in the box. I wish that Dell found a way to include a headphone jack as, unlike on smartphones, using wireless headphones on a Windows notebook isn't a seamless experience. I also personally prefer to use wired headphones when I'm on a laptop because I know I'm going to work away for hours on end and I don't want to have to think about keeping both the laptop and headphones charged.
Using the headphone adapter means I have to use up one of two ports, and if I'm charging my laptop with the other port, then carrying around yet another dongle just so I can use something as simple as an external drive is not ideal.
Display
The XPS 13 Plus comes with three different 13.4-inch display options. The base config has a 1920 x 1200 (FHD+) non-touch LCD or you can spend a bit extra and go for either the touch-enabled 3456 x 2160 (3.5K) OLED display or a 3840 x 2400 (UHD+) LCD display. I reviewed the UHD+ model, which is really sharp at this size and the screen visibility holds up well when outdoors thanks to the effective anti-reflective coating and the bright 500 nits rated display. The screen is also DisplayHDR400 compliant but I would recommend going for the OLED screen if your typical laptop usage consists of a healthy dose of watching movies and tv shows.
Unfortunately, there's no option of a refresh rate higher than 60Hz. If you're coming from a laptop that has a faster refresh rate such as 90Hz or 120Hz, switching to a slower 60Hz display will take some getting used to.
Battery life
One of the key selling points of thin and light notebooks is the battery life. Sadly, this is an area where the XPS 13 Plus drops the ball, averaging between 4 to 5 hours of actual real world use with the screen set to 60% brightness. That's a far cry from the 8 hour average you get from other Windows ultrabooks such as Microsoft's own Surface Laptop 4 and further still from Apple's M2 MacBook Pro and Air, both of which netted more than 12 hours of runtime.
Worse still, is the machine doesn't exactly sip power when the lid is closed and not in use, chewing through 15% of battery after just 12 hours of sleep.
Dell does offer some additional power profiles via its 'My Dell Power Manager' app but we mainly ran the laptop in its default 'optimised' profile since the other modes such as 'Quiet' or 'Cool' didn't yield a substantial enough improvement in runtime in our testing.
The included 60W charger is nice and small at least and provides up to 80% charge in just one hour.
Performance
Dell set out to deliver pro-level performance in a compact design and, as far as benchmarks go, it definitely lives up to it.
In Geekbench 5, which is a CPU-foused benchmark, the 13 Plus netted a solid 1701 in single core and an impressive 9,525 in multi-core thanks to the beefy Intel Core i7-1280P. The multi-core score outperforms every other 13-inch notebook we've tested to date and even some larger 14-inch notebooks such as the Surface Laptop Studio and the Razer Blade 14.
It should be noted that for the purposes of benchmarking, I switched the battery profile to 'Ultra performance' mode, which kicks up the surface temperature and fans to the limit as it increases clock speeds and the power draw to the 28W maximum available on the chip.
Switching the battery profile down to 'optimised', which makes the machine much quieter, still delivers an impressive Geekbench 5 score of 1,643 single core and 7,655 multi-core.
The CPU speeds are helped along by the fast DDR5 RAM and PCIe 4.0 internal SSD, which delivered a whopping 7081 MB/s read and 6249 MB/s write speeds in CrystalDiskMark, making it the fastest internal drive we've tested on any laptop to date.
Intel's Iris Xe integrated graphics aren't the strongest going around but achieve about what you would expect for a notebook this thin and light. However, this means playing most AAA games is off the table.
Problems and fixes
While the benchmark numbers are great, I encountered some significant performance drops during my review period in which I used the unit as my daily driver for a month. 4K videos stutter and freeze during playback while multitasking between applications and browser windows also suffer from notable slowdown from time to time. The fans kick up quite a bit when this occurs and the laptop would get fairly hot to the touch.
The other issue I encountered is that audio would cut out on a regular basis and switching the audio output to a different device over USB-C such as an external monitor's onboard speakers, external DAC or even headphones, simply wouldn't work. I tried multiple reinstalls of Windows and updating to the latest drivers but the issues were still there.
Recently, there was a driver update released from Dell that, according to the update log, was supposed to fix the audio problem, but in my testing it failed to fix the issue. Judging by the amount of comments left online from owners pointing out similar performance and audio issues, this doesn't appear to be an isolated incident.
Eventually, I did a fresh install of Windows instead of using the default recovery of Dell's version of Windows and without installing any of Dell's drivers or software. This requires a number of extra steps to get working but after doing so, I didn't experience any of the performance stutters or audio issues, which again suggests that Dell's drivers are the culprit.
The Verge also recently reported that Dell is recalling models of the XPS 13 Plus with OLED displays due to a problem with the adhesive used that can cause the display to become loose.
All that is to say Dell appears to be having some quality control issues with the Dell XPS 13 Plus.
GadgetGuy's take
The XPS 13 Plus looks incredible and boasts some impressive power under the hood to match. There is a lot to like and it is certainly easy to carry around. However, the battery life simply isn't up to the mark and Dell's quality control, particularly when it comes to its drivers, resulted in issues with audio and performance. While it appears this may be rectified with a future software fix, the XPS Plus is difficult to recommend in its current state.
Dell's XPX 13 Plus is well designed, light and packs a powerful punch, however, it needs better battery life and polish to take the ultra-portables crown.
Positives
Slick new design is a showstopper
Packs a lot of power in small package
Keyboard is a dream to type on
Fingerprint reader and Windows Hello camera for secure login
Insanely quick storage speeds
Negatives
Dissapointing battery life
Buggy performance and audio
No headphone jack
Display capped at 60Hz
Pricey