Move over Apple, because thin is in with a new thin king, as HP shows off the world's slimmest notebook in gold.
Apple's sexy and slim gold laptop isn't alone in either of those two defining features anymore, with HP detailing that is has something offering a colour scheme almost as blinged up, while offering a thickness that manages to shed more millimetres.
Built from aluminium and carbon fibre, it's another in HP's "Spectre" series of machines, and while we've previously seen a few in this range — usually popping up with a model code or moniker — this one is simply the "Spectre".
That word normally indicates a ghost, and with the latest HP Spectre, it's almost a ghost of an older, larger laptop, with the new Spectre barely a shadow of what came before it.
Simply put, the new machine is remarkably thin, delivering a 13.3 inch Full HD PC experience in a thickness measuring 10.4mm, edging out the Apple MacBook which ranges from 3.5mm to 13.1mm.
Inside this impressively thin design, HP has brought over Intel's Core i5 and i7 processors (depending on the model that is selected), 8GB RAM, and either 256GB or 512GB of solid-state storage using the high-speed NVMe technology launched last year.
While the improvements in processor and storage technology have helped lead HP down this part of remarkably svelte designs, a complete change from USB ports has also been part of the metamorphosis, with none of the older USB ports used here and only USB Type C and Thunderbolt 3 present.
Three of these ports are present, offering two Thunderbolt 3 options on the back for both USB Type C and Thunderbolt (depending on what the device you're using needs), while the third port is a USB Type C port for charging the laptop with, also offering a smidgeon of USB Type C if you're not recharging the laptop at the time.
And you may not be, for what it's worth, with HP saying that the Spectre includes a hybrid split battery system to deliver almost 10 hours of battery life even with the Core i5 and i7 processors.
That's a cracking amount of battery life from such a thin laptop, and we're excited to see other features making an appearance, such as backlit keys, 802.11ac WiFi, Bang & Olufsen speakers, a unique piston hinge to make the laptop look hinge-less, and the 13 inch display also being protected by Corning's scratch-resistant Gorilla Glass.
"The HP Spectre is the thinnest notebook in the world, and unlike the majority of other super thin PCs on the market, this laptop doesn't compromise power or features," said Jeff Woodhouse, Consumer Category Manager for Personal Systems at HP South Pacific.
"With a beautiful, Full HD edge-to-edge display, Intel Core i processors, Bang & Olufsen sound and a stunning and thin design, HP's engineers have set a new standard with the all new Spectre."
We'll admit that we're seeing aspects of the old Dell Adamo in this design, with that rear hinge standing out and bringing that machine back to our minds.
That said, we expect the HP to last significantly longer, with improvements in technology part of the reason for that shift.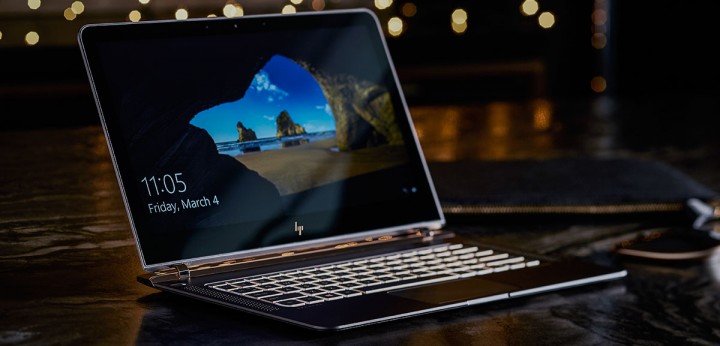 Pricing doesn't look bad for this machine either, with what is clearly a threat to Apple's MacBook starting at $2299 from electronics and computers retailers across the country now. Consider us intrigued.