When you've been building computers as long as HP has, you need to spend a bit of time refreshing and updating designs to shake things up, and that appears to be exactly what the company has done with a few newbies heading to stores shortly.
Launched this week ahead of the Windows 10 release at the end of the month — indeed, next week even — HP's latest crop of computers won't get you that next copy of Windows early, though it will be free like Microsoft has previously said.
What it will get you, however, is a change in design for many of HP's machines, as the Pavilion X360 machines get a little slimmer, the Pavilion X2 convertible becomes a friend to magnets, and the Envy range gets a better build while also adding the option for a decent display.
The machines start with one of the more playful designs, the Pavilion X2, which takes HP's familiar hybrid design with a detachable screen with all the computer innards and a keyboard section, and makes that connection between the two more seamless thanks to magnets.
You'll still find some hooks in place to hold the display to its keyboard brother, but the magnets will keep the display here, and my word, they're strong.
Picking up the Pavilion X2 today, it's quite surprising as to just how strong HP has made this section, and you'll even be able to lift the laptop by its screen and keep the keyboard connected. We're not sure how often this will be a necessity, but it's there if you feel like torture-testing your laptop.
Inside the X2, you'll find an Intel Atom clocked at 1.3GHz, 2GB RAM, and either 32 or 64GB of storage, with a microSD card slot if need be to upgrade this.
This is all pretty standards specs for a small hybrid, and little about the specs is all that updated, with two USB 2.0 ports, one microHDMI, and your typical assortment of 802.11b/g/n WiFi and Bluetooth.
In fact, with similar specs to the last generation of budget convertible notebooks, the design is really what separates this computer, making it a little more friendly than previous X2 designs simply because of the expected improvements HP has made to the magnet and hinge system.
You'll find this one in stores now from $549.
Alongside it will be another Pavilion, though this one of a 360 degree nature.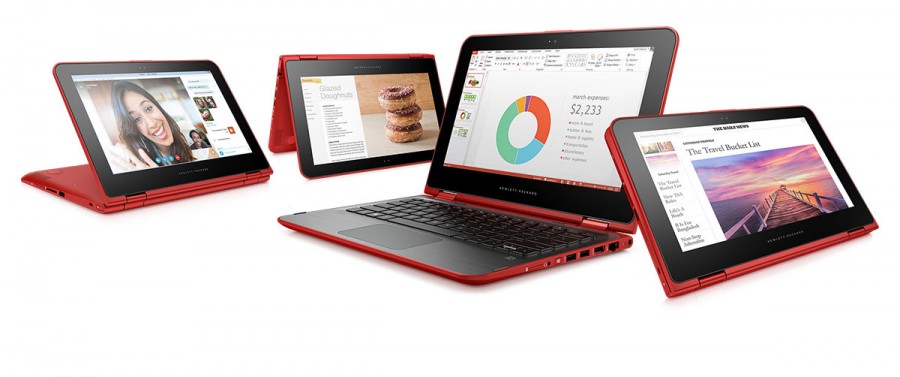 A follow-up to last year's ho-hum Pavilion X360, the 2015 take on that laptop seeks to improve the design, slim it down, with better sound along for the ride too.
That last one — better sound — is a recurring theme with the new computers, as HP begins to work with Bang & Olufsen, now that HP and Beats have gone their separate ways (likely because Beats is now owned by Apple).
Speaking to HP this week, the company told GadgetGuy that the HP partnership was very much "a complete partnership between the brands", with the devices being tested and tuned by one of B&O's tone masters, with a combination of audio processing technology and speaker designs.
We didn't get to hear the audio quality this time, but if it's as good as HP suggests, this could offer HP's machines a leg up in some areas.
Back to the tech in the Pavilion X360, and you'll find either a Core, Pentium, or Celeron processor depending on how much you want to spend, with either a conventional hard drive or solid state drive. It's still 11 inches, but we're a little surprised that HP hasn't spent the time upgrading the display on this computer, sticking with a HD only 1366×768 display (that low rumbling you can hear is us grumbling at another low-end screen).
And while the hinge features the same logic with a 360 degree rotation, HP has slimmed the design, which is most welcome from the kind of chunky form-factor we saw last year.
"Customers told us that they wanted more colour choices, more hardware options and better battery life in our Pavilion notebooks and x360 convertible PCs," said HP's Mark Graham.
Pricing on the Pavilion X360 for 2015 starts at $699.
A larger Pavilion (above, left) will also join the X360 and X2 offering the simple clamshell design with no tablet use, Intel Core processors from the fifth-generation, up to 16GB RAM, up to 2TB hard drive storage, either AMD or Nvidia graphics, and either a DVD or Blu-ray burner depending on how much you want to spend.
"With our 2015 Pavilion line up, we have combined bold new colours from Milan with the latest processors to give customers systems with a fresh new look that deliver better performance and battery life across the board."
We're hoping those processors and batteries perform well, but we'll have to wait until we review them to know for sure, so look out soon.
Meanwhile, if you care to spend a little more, there's an Envy about to hit the horizon, bringing an aluminium body, Intel Core i5 or i7 processors, and some high-end graphics if you need them.
In this product, HP is throwing in the good stuff, with either a choice of either HD (720p), Full HD (1080p), or Quad HD (1440p) screens dependent on how high your wallet goes, up to 2TB of storage, and a battery that can hit at most 9.5 hours.
"For 2015, we are reinventing our Envy notebook product line to deliver great battery life, thinner and lighter designs, bright, high resolution displays and Bang & Olufsen audio for better entertainment, communications and productivity experiences," said Graham.
We're not quite sure how much you need to spend to reach that almost 10 hours of battery life, but you'll find this one starting from $1899, so it's clear that HP is going after the MacBook Pro market with this one.
Availability on all of these should be now, and while Windows 8.1 is what they all come with, an upgrade for Windows 10 should be just around the corner, provided "around the corner" means next week, which it does in this instance.