ITy Bytes 14 October- in this edition,
Nokia 8.1 first to receive Google Android 10,
Windows devices may have a vulnerability,
Opensignal reveals the real state of 4G coverage and speeds,
Ailsa Bay releases world's first blockchain whiskey to ensure authenticity,
Tile trackers new line-up,
Optus introduces Messaging service for fault reporting and more,
Circles.Life – new MVNO (mobile virtual network operator) on the Optus Network,
D-Link adds a single camera to its 2, 3, and 4 camera OMNA kits,
Intel unleashes the "Hulk" – new Xeon processors for the professional creator,
Intel Core-X – Hulk's little brothers
ITy Bytes 14 October is brief, curated news for those who want to know
ITy Bytes 14 October
Nokia 8.1 first to receive Google Android 10
Nokia first smartphone to receive Android 10 is the 8.1. It is also the first phone running Qualcomm's Snapdragon 710 mobile platform to receive the OS update. The Nokia 8.1 will benefit from the latest AI-led innovations, enabling even more accessibility options, intuitive gestures, and more control of your data.
Nokia 8.1 fans will get to experience a whole host of new features with Android 10, including:
Gesture Navigation: control of your Nokia smartphone just got slicker, with faster and more intuitive controls at your fingertips
Smart Reply: receive even smarter responses in messages, not just words but actions you can take
Privacy Controls: have even more control of your data all in one place, as well as control when your location is shared with your apps – whether that is always, only while in use or never
Focus mode: block out distracting apps when you need to concentrate on what's important (try it now in Beta)
Family Link: helping parents set digital ground rules for the whole family, now part of the Digital Wellbeing settings.
All Nokia Android phones get two years of OS updates and three years of security patches. That makes Nokia a safe bet.
Windows devices may have a vulnerability
SafeBreach found Open Hardware Monitor, a free, open-source software program that monitors a computers temperature sensors, fan speeds, voltages, load and clock speeds has a major vulnerability. Tens of millions of computers use Open Hardware Monitor as part of monitoring systems, including HP devices using HP Touchpoint Analytics.
The critical vulnerability is the second of its type found by SafeBreach Labs during the past four months. Previously, SafeBreach also discovered a vulnerability in PC-Doctor, a monitoring and diagnostics packaged licensed to Dell and other major OEMs, that is run on hundreds of millions of systems. Both offer attackers the capability to take over machines and read and write to device memory, among the most serious types of security risks.
HP has patched the vulnerability (here), and some users may need to force an update.
SafeBrach says this is only the latest instance of supply-chain attack vectors. These are among the most dangerous because they compromise trusted components and allow for attackers to go months or years unnoticed enjoying privileged access to devices and systems without being discovered.
Opensignal reveals the real state of 4G coverage and speeds
Opensignal is a mobile analytics company. It is the independent global standard for understanding the true state of the world's mobile networks based on measurements of real user experience
While we all thought that Telstra has the best 4G network everywhere, Opensignal has just proven that it only has the edge in Major cities and Optus gives it a hiding in all other areas. We will let the charts do the talking, but it is clear that Telstra only wants volume and is following the money. It also shows that Vodafone is improving outside capital cities. Perhaps its time to switch recommendations from Telstra to Optus.
Ailsa Bay releases world's first blockchain whiskey to ensure authenticity
GadgetGuy enjoys a good scotch and we reported on Ailsa Bay late last year as the first to use rapid micro-maturation and 'precision science and engineering' to measure and control the Sweetness Parts Per Million (SPPM – or how sweet the whisky is) in addition to the commonly measured Phenol Parts Per Million (PPPM – or how smoky the scotch is) – it is even listed on the bottle. Cost $95, and it is highly recommended for peat lovers.
For Ailsa Bay, blockchain data is collected from parent company William Grant & Sons' existing data sources, including cask types, filling dates, and bottling dates are all tracked.
Consumers can trace the origins of their whisky via an innovative web experience, which is individually tailored to each bottle. By scanning a QR code, users are presented with a visual history of their whisky, produced using digitally created art generated by blockchain data unique to the drink's journey.
Blockchain technology also allows Ailsa Bay to gather data from existing and potential customers, using mobile location services to correlate where the whisky is being purchased and consumed to maintain brand protection.
James Macrae, Brand Ambassador or Ailsa Bay, says "Innovation is a key part of the William Grant & Sons business. We're constantly looking to evolve our offering and learn new things to push the boundaries within the drinks industry. We're doing something now that we hope will set the bar for the future experience of spirits, and we look forward to seeing how other brands follow suit as innovation within the industry continues to develop in the next few years."
Tile trackers new line-up
Tile the world's leading smart location company has introduced Tile's most innovative tracker yet, Sticker; a new sleek form factor for Slim; and expanded range for classics Pro and Mate. Together, this next generation of Tile products unlocks more use cases and greater functionality to help customers find their belongings in every situation.
Sticker is waterproof, adhesive-backed and has a full three-year battery life and 45 metres range
Slim, the shape of a credit card, it is perfect fit for wallets, luggage tags, and other hidden spots. Sixty metres range and a three-years of battery life.
Pro has a Bluetooth range of 120 metres (400 feet). Mate has a Bluetooth range of 60 metres.
Optus introduces Messaging service for fault reporting and more
Ever called a useless, faceless call centre (I have) to report a fault only to have to repeat all the information again when you need to call back.
Optus says that while its Live Chat feature is good, Messaging allows customers to 'come and go' from a conversation and that means they no longer need to wait on the phone or a chat queue; making it easier than ever for customers to engage with us when they need help.
Optus customers can start a Messaging conversation online through the web, and then jump across to the My Optus App on their mobile device to continue their interaction if that's easier. The service is 24/7 and applies to any Optus service, home phone, internet, accounts etc.
Circles.Life – a new MVNO (mobile virtual network operator) on the Optus Network
GadgetGuy usually does not publish MVNO plans as this is not news. What is news is that Optus is beating Telstra in coverage and speed (see earlier article) and Circle.Life's pricing is not bad – $28/20GB a month with an extra $10/20GB top-up or $6/3GB boost or 1 cent per MB pay-as-you-go.
It is entirely online, and interaction is only via the Circles.Life app. Established in 2016 in Singapore, it came to Australia earlier this year. From what we can see, there is no downside apart from it offering users 'deals and surprises' in conjunction with its partners.
D-Link adds a single camera to its 2, 3, and 4 camera OMNA kits
D-Link's OMNA DCS security cameras now come in two, three and four-camera kits as well as single cameras. GadgetGuy announced the two-camera kit here and was impressed because like the popular Arlo range it uses a dedicated base station to keep camera traffic off the home network.
The cameras have
1080p@30fps recording
135° field of view
Adjustable PIR zones
2-way audio
Full Google, Alexa and IFTTT compatibility
Complimentary 12-month subscription to the mydlink 14-day Cloud recording service.
DCS-2804KT OMNA 4-Pack with base station – $1299.95
DCS-2803KT OMNA 3-Pack with base station – $1099.95
Dcs-2802KT OMNA 2-pack with base station – $799.95
DCS-2800LH OMNA Add-On camera – $349.95
We set the two-camera kit up in a holiday home with the basic 12Mbps NBN. Because these use a base station with local storage (not the home Wi-Fi), we can still access it over snail's pace NBN to check on alerts.
Intel unleashes the "Hulk" – new Xeon processors for the professional creator
The Intel Xeon W-2200 platform is the 'ultimate' for professional creators. These eight new processors (W-2295, W-2275, W-2265, W-2255, W-2245, W-2235, W-2225 and W-2223) deliver outstanding performance and expanded platform capabilities for data science, visual effects, 3D rendering, complex 3D CAD, AI development and edge deployments.
They are for configurable form-factors – from small desktop to towers – as well as include built-in platform security features and reliability, such as ECC support and Intel vPro. For example, the 3D architectural rendering process on Autodesk Revit with V-Ray accelerates up to 10% faster compared with the previous generation.
New Xeon W (processor only) prices range from US$294 to $1,333. For additional product details, visit the Intel Xeon W-2200 product brief.
Intel Core-X – the Hulks little brother
For freelancers, prosumers and desktop enthusiasts who may not need commercial-grade features, Intel Core X-series processors provide the performance with the added flexibility of overclocking capabilities. These four new processors (i9-10980XE, i9-10940X, i9-10920X and i9-10900X) are especially suited for advanced workflows that vary in need for photo/video editing, game development and 3D animation. Additionally, they deliver enthusiast-ready enhanced features, like Intel Performance Maximizer that makes it easy to dynamically and reliably custom-tune the unlocked processors based on the X-series' individual performance DNA.
New X-series prices range from US$590 to $979. With the creator segment's need for more computing-intensive and specific workloads, the new pricing enables X-series to be more accessible to the creators looking for even more compute-intensive workloads than Intel's mainstream desktop processors.
For additional product details, visit the Intel X-series product brief.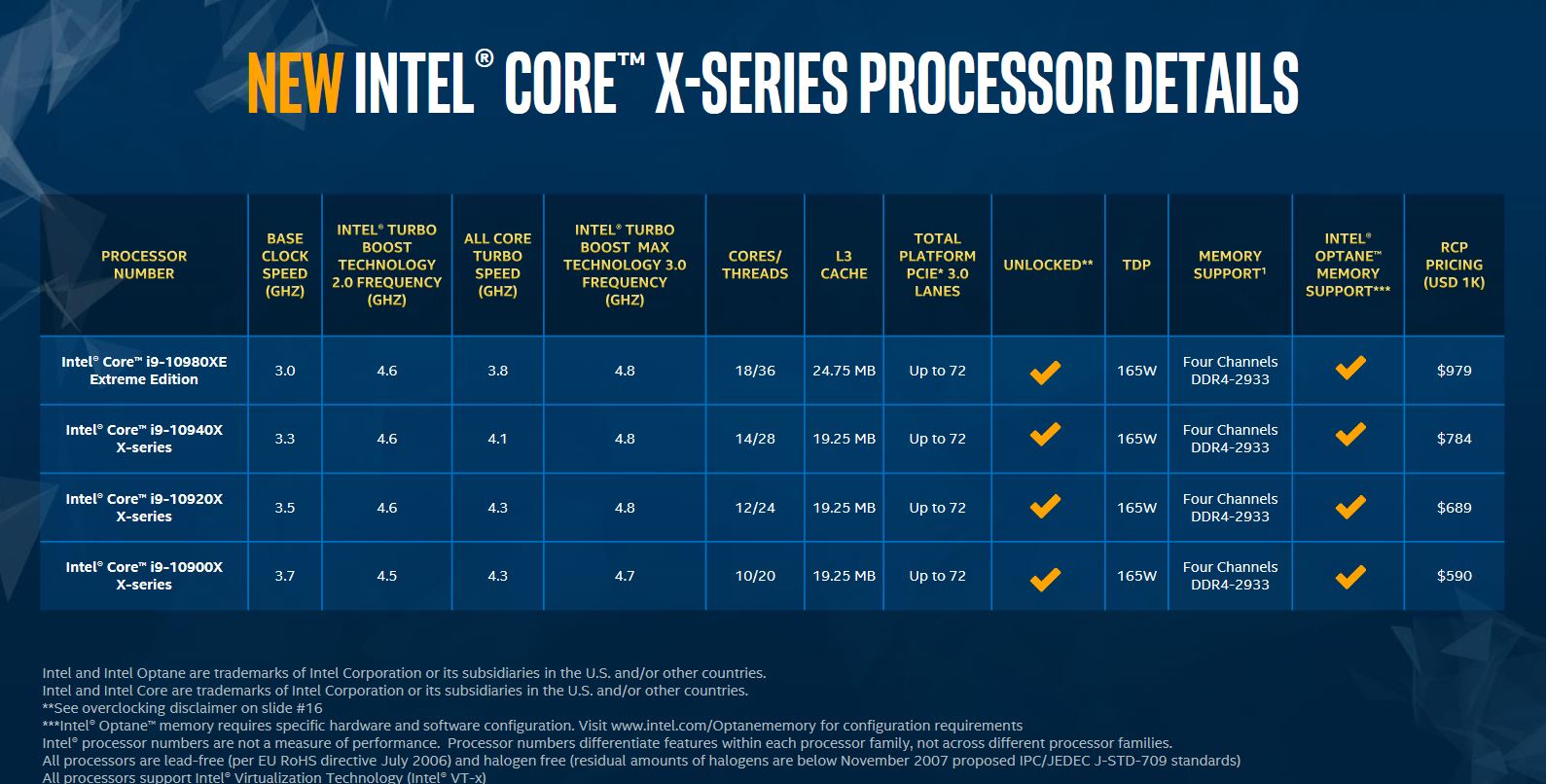 Ity Bytes 14 October, Ity Bytes 14 October, Ity Bytes 14 October