Mobile technology is a broad umbrella, which is why Lenovo announced a massive range of new portable PC and Chromebook devices at MWC 2023. Led by the second-gen ThinkPad Z13 and Z16 Windows 11 laptops, Lenovo's new devices look suited to creatives, hybrid workers on the move, and students. There are also new hybrid laptop-tablet devices for those looking for greater flexibility.
Next-gen ThinkPad Z13 and Z16 powered by AMD
Arguably the most powerful of the new devices, the Z13 and Z16 ThinkPad laptops house plenty of grunt. They use the latest AMD Ryzen 7000 Series Processors in addition to Radeon 700M Series GPUs, with the option of installing up to 64GB of RAM. Plus, up to a 2TB PCIe SSD should give you plenty of onboard storage. With specs like these, it's clear Lenovo's targeting creatives, making it possible to take on more graphics-intensive tasks.
The second-gen ThinkPad Z13 and Z16 both have fast wireless connectivity, supporting Wi-Fi 6E and Bluetooth connections. Exclusive to the Z13 model is a new top cover material bonded to the recycled aluminium top cover. Made from flax plant fibres, the woven natural material certainly makes the device stand out.
ThinkPads for work and travel
Aimed at the demographic of people who work while travelling or routinely work away from the office, the fourth-gen ThinkPad X13 and ThinkPad X13 Yoga devices come with either AMD or Intel processors. As implied by the name, the Yoga variant has a swivel display you can flip over to quickly show others your screen. Meanwhile, you can get the core X13 model with a 13.3-inch display as fancy as a 2.8K OLED Dolby Vision screen. It also has technology aimed at reducing eye strain by lowering blue light.
A 2.8K OLED display is also an option with the upcoming ThinkPad T14 Gen 4, T16 Gen 2, and T14s Gen 4 laptops. Meanwhile, the latest ThinkPad L Series now supports up to 2TB SSD storage, double the previous generation's capacity.
Lenovo also touted the capabilities of its Lenovo View software, which provides various camera enhancements and features. In line with various other companies recognising we want to look better in video calls, the software features auto-framing and video-enhancing algorithms in addition to privacy settings.
For small-to-medium enterprises, the new ThinkPad E14 Gen 5 and ThinkPad E16 laptops feature an increased 16:10 screen ratio. This comes alongside a larger touchpad and a new keyboard designed for increased comfort and productivity.
Another addition to Lenovo's lineup included enhanced versions of the ThinkCentre TIO Monitors. Now in their fifth generation, the TIO Monitors come in 21.5 and 23.8-inch versions, and house upgrades to the built-in 1080p camera, microphone, and speakers. Built to house Lenovo's Tiny PC range, these displays have a rear 3-in-1 connector port where you can snap a PC in and out easily without cables. Some of the use cases Lenovo mentions include reception areas and public-facing kiosks like in libraries. The TIO Monitors also have a rear HDMI port and DisplayPort, allowing connection with up to two external PCs for greater flexibility.
New Duet and Chromebook devices for students
Another reveal from Lenovo included the latest IdeaPad Duet 3i, a laptop-tablet hybrid PC. Positioned as an affordable device for students, it runs on Windows 11 and sports a new 11.5-inch 2K display with 100% DCI-P3 colours and 400 nits of brightness. It's incredibly slim, too, at just 8.95mm thick, making it easy to take with you. Built to last the school day, the Duet 3i's battery reportedly lasts up to 8.5 hours, and its Rapid Boost Charge feature gives two hours of use from a 15-minute charge.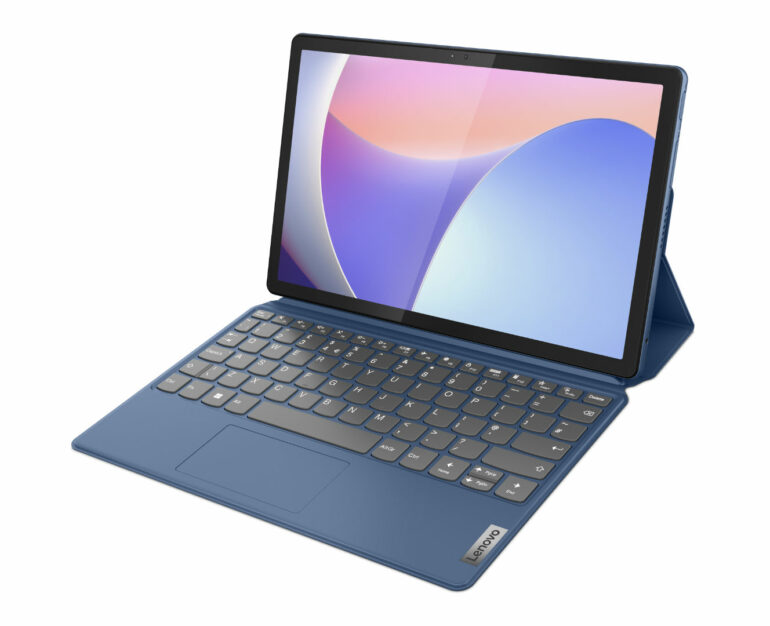 Finally, there's also the IdeaPad Slim 3 Chromebook, a 14-inch laptop running on Google's OS. As with many Chromebooks, it only needs to be powerful enough to handle web-based tasks, evidenced by Mediatek Kompanio 500 Series processor. It also features a Full HD IPS touchscreen, Wi-Fi 6 and USB-C connectivity, and a 13.5-hour battery life.
New ThinkPad Z13 and Lenovo range release date and price
Although Lenovo shared plenty of details about its upcoming portable PC devices, we don't yet know much about when they'll arrive or how much they'll cost. We expect they'll launch throughout 2023, so we'll update you with more information as we learn more.