LG's latest UltraWide Monitor, the 34WK95U-W is stunning to behold. It has a 34 inch (86 cm) flat widescreen, but the real trick is its '5K' display resolution.
While there are many monitors on the market that have a similar screen size, there are very few that can manage an ultra-high 5,120 x 2,160 pixel resolution. If fact, we can't find any in Australian stores that are a direct match.
Why is 5K so special? Thanks to the LG 34WK95U-W's tiny pixels, this means that more 'dots' can be squeezed into its 34 inch panel compared to others. The result is noticeably higher detail and the ability to display finer lines and shapes. This is perfect for intensive content creation, architectural and 3D design, financial analysis, medical imaging, prototyping and other pursuits.
5K panel features
To truly be a workstation-class monitor, a high-performance panel is essential. It's good to see that LG's Nano-IPS panel delivers the goods. This begins with nano-crystal colour technology, which essentially means that the nano-crystal particles absorb excess wavelengths of light to deliver a richer colour experience. As a result, the panel can display 98 percent of the DCI-P3 colourspace, which is an industry standard for video production and professional photo manipulation.
The LG's 10-bit panel is HDR10 (High Dynamic Range) compliant, with a VESA certified 'DisplayHDR 600' peak brightness. This extra brightness really punches through in terms of crisp, dazzling whites, and accurately displays dynamic content created using modern HDR still and cine cameras.
Day to day use
We really appreciated the extra width of the LG's 'Ultrawide' format. Compared to a standard 4K screen, you get about 33 percent more desktop space, which means more room for colour pallets, tool panes, app windows and source monitors. While you could place two smaller monitors side-by-side, the LG 34WK95U-W is a more elegant solution, plus you only need room for one stand and one cable to connect to your computer.
While sitting in middle of the display is ideal, you can be off-angle, such as towards one edge or the other and the image quality does not fade or degrade. The panel is capable of viewing horizontally or vertically up to 178 degrees. It's good to see that the vertical viewing angle is so wide as it provides more placement options, such as wall mounting above your eye-line.
There's really only one drawback to the LG's 21:9 widescreen shape – it's flat, not curved. When compared to a curved display of the same aspect ratio and size, the corners of the curved screen are physically closer to you, as they bend forward. You can also get this effect by positioning two monitors in a slight 'V' shape.
Given the 34WK95U-W's considerable width, the corners are a little too far away to focus on clearly. This isn't to say the LG's corners are blurry as they are in fact very sharp, however, just slightly outside the limits of this reviewer's eyesight.
Dazzling image quality
The LG 34WK95U's image quality is nothing short of excellent, as you might expect at this price-point. Colours are gloriously bright and accurate thanks to the Nano IPS technology and the 10-bit panel.
There's impressive colour purity, even as the brightness increases, so, for example, a red apple does not blow out to an orange colour as the brightness increases. Contrast wise, blacks appeared uniform and pure, with minimal blooming thanks to the local dimming technology. The actual contrast rating for the panel is 1200:1.
The LG's high 5K resolution and pixel density means that text is impeccably crisp and sharp. There were no apparent moiré issues from closely spaced patterns or parallel lines that we could detect during our review.
If you do plan on watching fast motion or perhaps gaming on the LG, the panel's 5 millisecond pixel response time should minimise motion blur and latency issues. Still, for gamers, there are probably better options out there that are cheaper, have a lower resolution and more gaming settings and functionality.
For Apple Mac users
One thing to note is that our testing platform was a 13in 2018 MacBook Pro, connected via USB-C. As such, the latest MacOS does not enable the full resolution of the monitor by default.
You can force it to run at the maximum 5,120 x 2,160 pixels however, and when doing so, the icons and text are tiny – but still very sharp. While you may not want to run this mode for day to day use, it's a great option when using tools such as Adobe After Effects, Photoshop or Premier, or Apple's Final Cut Pro. In this configuration, there's just so much room and granularity to customise your workspace.
Those looking for a professional USB-C monitor are probably aware of LG's existing 4K and 5K Ultrafine displays, which are made through a collaboration with Apple. These are non-widescreen 22 and 27 inch units. In many ways the LG 34WK95U-W is a better alternative as you still get the amazing detail and colour performance as well as 33 percent more width.
Connectivity and cables
The LG 34WK95U-W is designed to connect to USB-C laptops and PCs, both Windows and Mac.
It supports Thunderbolt 3, which is a standard that runs over the USB-C connection. Thunderbolt 3 is state of the art and blisteringly fast. It can transfer at speeds up to 40 gigabytes per second, which is two times faster than Thunderbolt 2 and eight times faster than USB 3.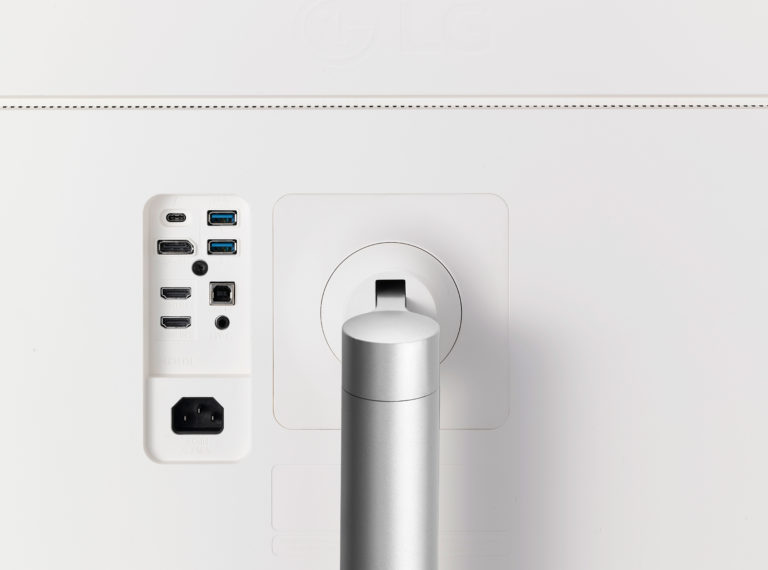 This connector has the capacity to transmit two separate 4K video signals (or one 5K), as well as audio and data to any compatible device. It also delivers 85 watts of power so it can charge your laptop, all with just one cable.
You don't have to use USB-C however, and video connections include two HDMI (version 2.0) ports and one Display Port (version 1.4). There is also a USB 2.0 (B-type) plug and two USB 3.0 (A-Type) connections.
The net result of the different connectors is that the monitor can become a connection 'hub'. You can use the one USB-C cable to connect to your computer and transfer video, audio and power. The other USB plugs can then either or connect to or charge compatible devices such as phones, hard drives, USB sticks and web cameras.
While there are a lot of options, it would still be good to see an additional USB-C-Out port to daisy-chain a growing selection of USB-C devices.
Stand and ergonomics
The LG 34WK95U-W comes with a two-piece base and stand, and is quick to assemble without any tools. The stand has vertical height adjustment of 110mm and tilts 5 degrees forward and 15 degrees rearward. In daily use, the stand is quite sturdy and doesn't tend to wobble, however the screen could be a little more firmly fixed in place when pushing on its corners.
For wall and bracket-mounting, there's a VESA Standard Mount Interface with 100 x 100mm screw placement.
Sound-wise, there are two 5 watt speakers positioned along the bottom edge. These are not particularly loud or dynamic, however, they're OK for general audio. Also worth noting is that MacOS software volume control is not supported so you'll need to toggle the little hardware joystick to adjust volume. For headphones, a jack is included but you'll need to run your cable around to the back of the display.
Monitor management
LG equips you with monitor management software for both Macs and Windows computers. 'OnScreen Control' has a number of features including split screen and preset window arrangements along with monitor settings. There's also suite of colour calibration tools.
You can navigate the Monitor's built-in on-screen menu from the small multi-directional joystick located on the display's bottom edge. It's quite easy to use, and gives you access to general input and screen adjustments. There are a few unexpected settings too such as an auto-brightness, screen response speed and local dimming.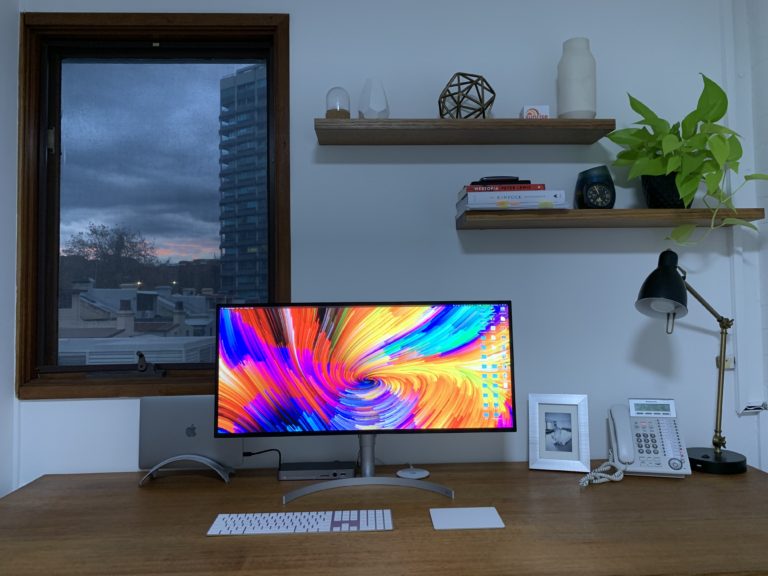 Energy-wise, the 34WK95U-W could be better and only gets a 2.5 star certification, with 220kWh/year predicted consumption. It's clear that displaying over 11 million pixels really does require some power!
Accessories out of the box include a power cable, USB B to A cable, Display Port and USB-C (TBT3 Active) cable. You'll also be covered with a 3-year parts and labour warranty, which is a welcome inclusion.
GadgetGuy's take
As a professional-class display, you get what you pay for, and the LG UltraWide 34WK95U-W delivers in spades. Its 34 inch, 21:9 wide shape is very functional and versatile, offering a lot of desktop real estate while not taking up much actual room on your desk. Coupled with pin-sharp detail and excellent dynamic colour performance, there's really no compromise for professionals looking for the best possible foundation to build, create, inform or inspire.
The LG 34WK95U-W has an RRP of $3,199. This may seem like a lot of money for a monitor, however, considering that for those who need a twin monitor setup, the LG can fit the job quite well.
If at all else, the LG 34WK95U-W's 5K panel means that there's finally a desktop screen sharp enough to compete with the many 'ultrafine' and 'Retina' screens found on our laptops that tend to look so much better than our monitors.
Specifications – LG UltraWide 34WK95U-W
Size
34 inch / 86cm diameter
Resolution
5120 x 2160
Panel type
Nano-IPS (In Pane Switching)
Backlit, local dimming
Brightness
High Dynamic Range (HDR10)
450cd/m² (Typ.)
360cd/m² (Min.)
Colour depth
10-bit
Colour gamut
DCI-P3 98%
Viewing angle
178° x 178°
Refresh rate
60 hertz
Pixel response time
5ms (GTG)
Contrast ratio (native)
1200:1
Connections
2 x HDMI (ver 2.0)
1 x Display Port (ver 1.4)
1 x Thunderbolt
1 x USB 2.0 (B-Type)
2 x USB 3.0 (A-Type)
1 x Headphone (output)
Audio
2 x 5W speakers
Headphone jack
Supplied cables
Power cable
USB B-to-A
Display Port
Thunderbolt (TBT3 Active)
Dimensions (with stand)
(WxDxH)
817mm x 234mm x 559mm (Up)
817mm x 234mm x 449mm (Down)
Dimensions (no stand)
(WxDxH)
817mm x 57mm x 360mm
Weight
With stand weight – 9.0kg
Without stand weight – 7.7kg
VESA™ Standard Mount
100mm x 100mm
Energy consumption
Comparative – 220kWh/year
Typical power – 80W
Sleep mode – 1.2W
Off mode – 0.3W
Warranty
3 Years (Parts & Labour)
For more information, visit LG's monitor product page here.
Positives
Amazing resolution and pixel clarity
The 'Ultrawide' panel is like two monitors in one and a great workstation companion
Industry standard HDR10 and DCI-P3 colour gamut with bright, pure colours
Solid stand and versatile ergonomics
Negatives
Pricey
A curved screen would bring the corners closer to the viewer