As its name suggests, the LG Gram notebook range is all about lightweight portability. Under the LG Gram banner, there are a few different models, including the SuperSlim, and the slick Style laptop.
Available in a few different sizes and configurations, the SuperSlim looks great and performs well enough but its lightweight build doesn't feel as sturdy as competing devices. It's ideal if space is at a premium and you want a gorgeous OLED display. Just make sure it's well protected.
LG Gram SuperSlim OLED laptop review
Ultra thin, light and blue
Regardless of which model you choose, picking up a Gram laptop feels much lighter than you would expect it to be. With the 15.6-inch OLED SuperSlim model, for example, it weighs a sliver under 1kg at 990 grams, making it a snap to wave around one-handed, and you get the benefit of a generous screen, too.
This model is also very thin at just 109mm at its widest point, and almost svelte enough to stuff into a document envelope. Its stylish Neptune Blue finish looks fantastic too, which I absolutely love. Shame about the fingerprints but I can live with an occasional wipe-down for such an eye-pleasing colour.
With a similar screen size, design and even colour, it's difficult not to draw similarities between the LG Gram SuperSlim and Apple's 15-inch MacBook Air in starlight blue.
LG Gram SuperSlim specifications
Processor (CPU)
13th Gen Intel® CoreTM Processor i7-1360P (12 Cores: 4P + 8E, P: 2.2 up to 5.0 GHz / E: 1.6 up to 3.7 GHz), L3 Cache 18MB
Graphics (GPU)
Intel Iris Xe Graphics (i7)
Size
15.6-inch / 39.6cm
Display
Resolution: FHD (1920*1080)
Panel type: OLED
Response time: 0.2ms
Colour gamut: DCI-P3 100% (Typical, min 90%)
Refresh rate: 60Hz
Memory
16GB LPDDR5 (Dual Channel, 6000MHz)
Storage
M.2(2280) Dual SSD slots, Gen4
– NVMe: 512GB
Wireless
Intel® Wireless-AX211 (802.11ax, 2×2, Dual Band, BT Combo)
Bluetooth 5.1
Speaker
Stereo Speaker 2.0W x 2 Smart Amp (Max 5W)
HD Audio with Dolby Atmos
Webcam
FHD IR Webcam with Dual Mic (Face recognition)
Headphone
4-Pole Headset, US type, 3.5mm
USB
USB 4 Gen3x2 Type C (x2, with Power Delivery, Display Port, Thunderbolt 4)
USB 4 Gen3x2 Type C (x1, with Power Delivery)
Battery
60 Wh Li-Ion
MobileMark 2018: 13.0 hr
Video playback: 16.3 hr
JEITA 2.0: 20.0 hr
AC Adaptor
65W 2-pole with Power cord, Black
Dimension(mm)
356.0 x 227.45 x 10.9mm
Weight
990g
Colour
Neptune Blue
Price (RRP)
$3,299
Warranty
One year
Official website
LG Australia
Build and durability
The Gram's sleek design is thanks to lightweight materials including a magnesium-alloy chassis. However, there are trade-offs with an ultra-thin and light laptop, the main one being durability. Compared to the MacBook Air 15-inch with its full aluminium construction, the LG Gram SuperSlim feels like you need to take extra care with it, such as always packing it into a well-protected sleeve when toting it around. I also question if it would survive student life, such as being chucked into a bag filled with heavy textbooks.
While the keyboard base is sturdy, flexing it from corner to corner does reveal a bit of give, and the large bottom panel creaks when pressure is applied. The bottom also bows inwards when you press it, giving the impression that there's a hollow space beneath.
The screen is secured by a long, sturdy hinge that adds rigidity to an otherwise very thin display. It's good that OLED screens are inherently flexible too, because this one does bend without applying much pressure.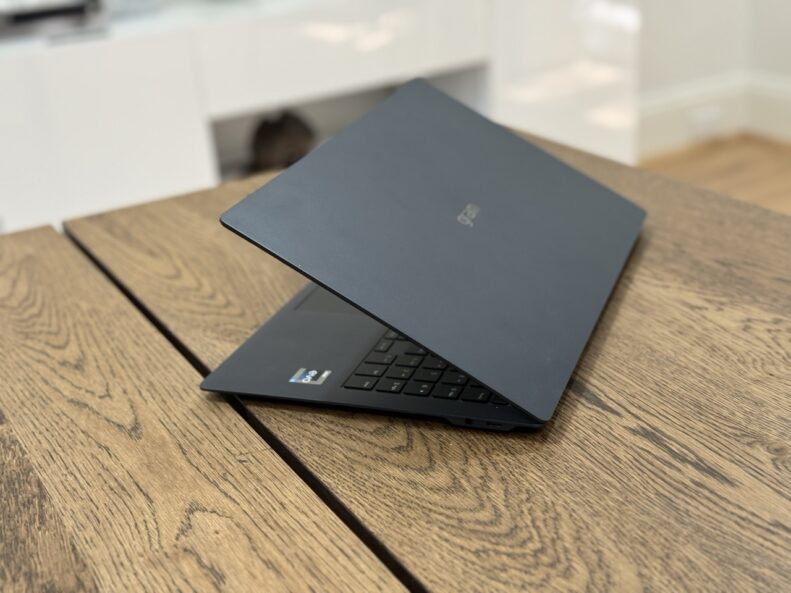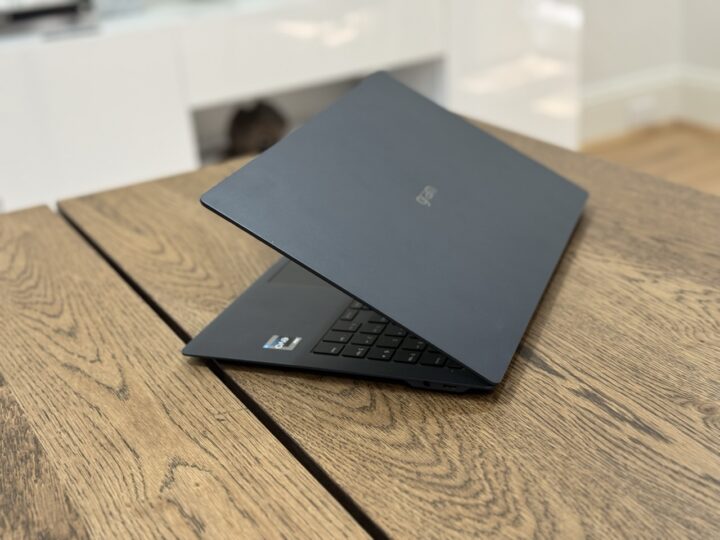 Otherwise, the hinge's friction helps the screen stay where you tilt it, and the lid closes firmly and stays closed. There's also a little indent on the front lip so it's easy to open again.
OLED display
One of the Gram SuperSlim's hallmarks is the roomy 15.6-inch OLED display. OLED is a fantastic panel technology and a dream for a laptop thanks to wide viewing angles, stunningly deep contrast and lifelike colours. It features High Dynamic Range (HDR) support and can display over a billion colours along with 100% coverage of the P3 gamut.
Contrast is rated at 1,000,000:1, which essentially means that black looks like 'real' black and not a dark grey, plus there are oodles of detail visible when displaying darker colours. OLED is perfect for watching film noir movies, for example. It's also decently bright, punching out about 400 nits, with a peak brightness of 500 nits. Gamers will love this screen too for its ultra-low response time of just 0.2 milliseconds.
While the screen is undoubtedly lovely to look at, there are a few drawbacks, namely the 16:9 aspect ratio and HD resolution. The wide but narrow screen is great for watching movies but would benefit from a taller shape, such as a 16:10 aspect, in order to provide space for viewing an entire document or long web page.
The relatively low HD resolution (1920 x 1080 pixels) is a bit old-school for this price point too and isn't particularly sharp. This means that text has fuzzy edges and there's a visible 'grain' along thin straight lines and in some images. The MacBook Air's 15-inch display, while not OLED, has more pixels (2880 x 1864) allowing for pin-sharp text and minimal graininess. Dell's XPS 15, on the other hand, has even more pixels than the MacBook Air with a 3456 x 2160 resolution.
Keyboard and ergonomics
The keyboard is roomy thanks to the Gram SuperSlim's width and features a half-height function key row across the top and a full numerical keyboard to the right. While the backspace and tab keys are slimmed down to accommodate everything, the keyboard layout is a great option for those who do a lot of data entry or prefer to have a keypad.
To help keep the Gram slim, there's not a lot of key travel. Key presses still provide some tactile feedback, however, this isn't as luxurious or heavy as the MacBook Air. Still, it's good to see that the keys have two levels of backlighting so you can pick the level that's right for your environment.
Trackpad-wise, this is okay in terms of size and position. It's responsive and there are many different settings that you can customize for the way you like to use it.
Connections
Wi-Fi connectivity is the latest 802.11ax, or Wi-Fi 6, type and there's Bluetooth 5.1, which is not the very latest but certainly not outdated.
As with many ultra-thin laptops, there isn't room for bulkier connections including HDMI or an SD card reader. The Gram features USB-C type ports that protrude from each side; the two on the left are the Thunderbolt 4 ultra-fast variety, and there's a standard USB-C without Thunderbolt on the right beside a 3.5mm headphone jack. This is still one more USB-C plug than on the MacBook Air and you can charge the Gram via any of them.
Speaking of charging, there's a separate power brick, which is reasonably small, and unlike Apple's MacBook Air charger, it's not integrated into the plug so it doesn't need to hang off the wall.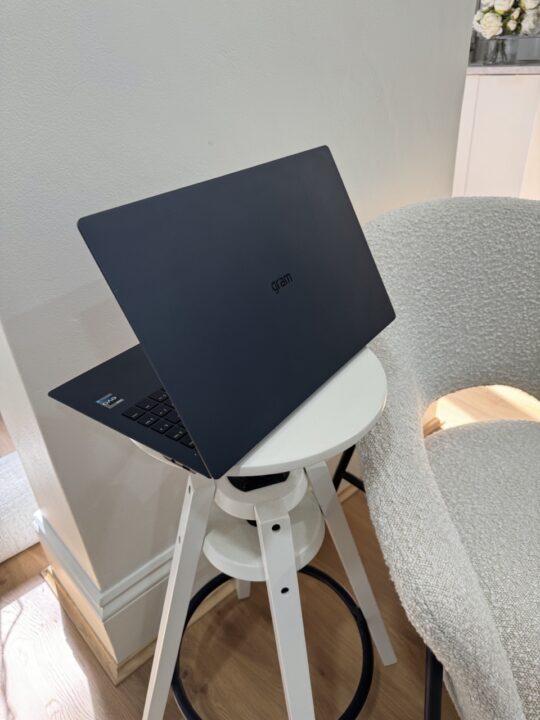 To keep it running, there's a 60 Watt-hour Lithium-ion battery. In use, I was impressed that could operate the SuperSlim as my daily driver without being plugged into the mains for about a day. This wasn't using it all the time mind you, however, it's rated for 13 hours on MobileMark 2018's benchmark test, along with 16.3 hours of continuous video playback.
Daily use
In use, the Gram felt responsive and took general tasks in its stride thanks to the 13th Gen Intel Core i7 processor and 16GB of RAM, as I would normally have three or four applications open at once including mail and office apps, a web browser with multiple tabs, video conferencing software, etc. It was about middle of the pack for its specification when tested on GeekBench 6 and PC Mark 10 too.
For gaming, there's Intel's Intel Iris Xe Graphics (i7) integrated graphics, which has seen some upgrades over the Gen 12 model and it can deliver reasonable frame rates (normally towards 60fps) on popular AAA games. However, Iris Xe is ideal for thin and light laptops and doesn't compete with dedicated GPUs, so hardcore gamers or those working with intensive visualization or 3D applications will need a beefier machine.
I used the integrated webcam for my daily stand-up meeting on Microsoft Teams. However, the 1080P (HD) resolution camera really didn't impress. The image was blown out, with too many highlights, and it was grainy as well. The camera can also apparently be used for Windows Hello facial recognition, however, I simply couldn't get this to work. Hopefully, a future tweak to the camera drivers will fix the problems.
For audio, there are two 2-watt speakers, with a max 5-watt Smart Amp, and the Gram supports Dolby Atmos. While it does the job for videos and movies, there isn't a lot of depth overall, even with Atmos, as the thin dimensions of the chassis don't allow for much bass.
Who's the LG Gram SuperSlim for?
The 15.6-inch OLED LG SuperSlim makes a good impression with its incredibly lightweight dimensions and lovely OLED screen. It's ideally suited for busy professionals who want a laptop that's capable, attractive, and easy to move from home to office to boardroom – and will take proper care of it during transport. The large 15.6-inch screen is also handy to fit more on screen than the 14-inch Gram and is very nice on the eyes. Battery life will keep pace with long, busy days, and while the screen is bright and colourful, high-end content professionals will want higher resolutions.
However, size and weight bring compromises in terms of durability, along with some lower-spec components compared to other models at this price point. At the time of writing, you can pick up a 15.6-inch OLED LG Gram SuperSlim at JB Hi-Fi for $2,399, a decent saving on its $3,299 RRP.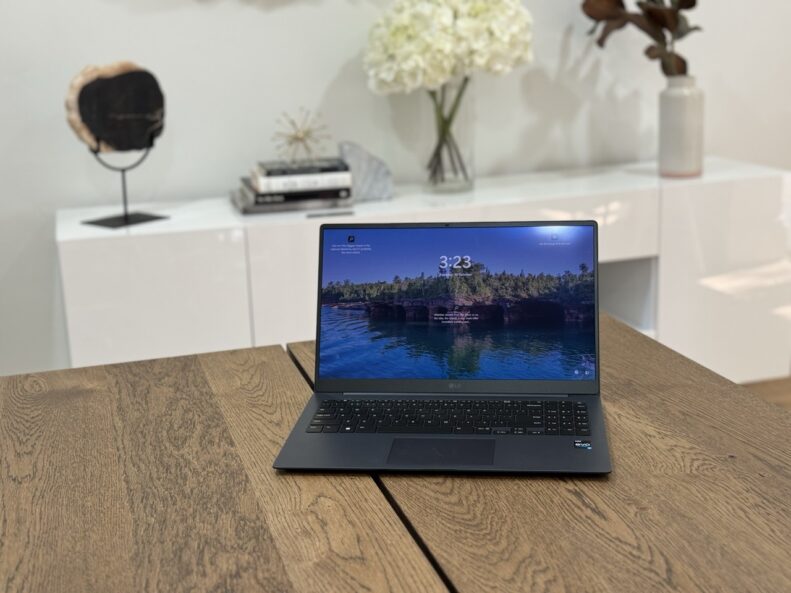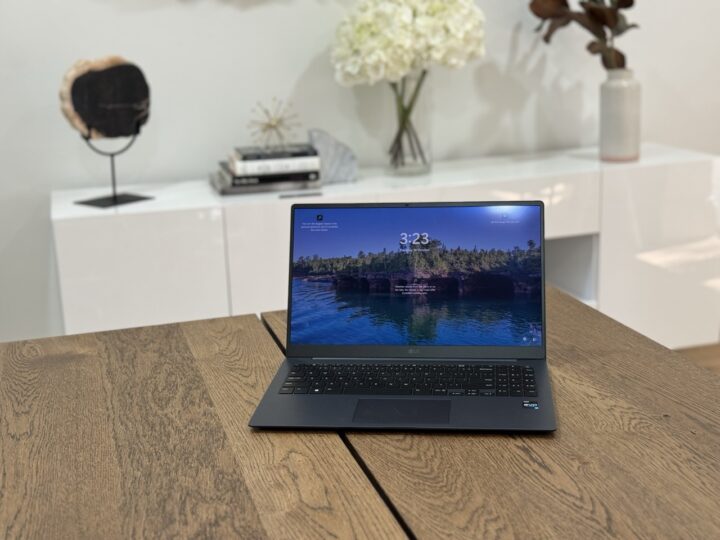 The MacBook Air 15-inch, on the other hand, has $2,499 with a slightly smaller 15.3-inch screen, M2 chip, 512GB SSD storage and 8GB of RAM. It's arguably more powerful and has a long battery life. However, this is about half a kilo heavier at 1.51kg and is 16mm thicker at 115mm.
LG Gram SuperSlim OLED laptop
The LG Gram SuperSlim with 15.6in OLED display is an amazingly light and thin laptop with gorgeous 15.6in OLED screen, however, it's size and weight mean it's a bit fragile and cuts a few corners in terms of specifications.
Positives
Amazingly light at 990 grams, and super slim too. Nice to move around
OLED display is colourful, bright and has incredible contrast
Attractive design that you'll be proud to show off
Decent battery life and can be charged from any USB port
Negatives
Lightweight materials don't feel as sturdy as a full aluminium body
OLED screen is only HD resolution
Webcam should look better than it does
Pricey but there are some good deals to be had right now