If you thought Google's Android and Apple's iOS were the only game in town, think again, because Microsoft is back with a new device sporting an updated look, feel, and the bones to do so much more.
But is this what Microsoft really needs to compete, or just more of the same?
Features
Microsoft's first major smartphone of the year, the Lumia 950 has the luck of being one of the last phones of the year, though looking at its spec, you might be forgiven for thinking that you've seen it all before, and that's because it relies on some of the same technology we've seen time and time again this year.
For starters, there's a six-core Qualcomm Snapdragon 808 processor, just like that out of the LG G4 and LG-made Google Nexus 5X, with this processor paired with 3GB RAM and 32GB of storage, the latter of which can be upgraded using a microSD card slot found under the removable cover. Microsoft's Windows 10 runs on this phone out of the box, too.
Connection options on the device include 802.11a/b/g/n WiFi with support for 802.11ac, too, alongside 4G LTE in the Category 6 part of the market, while Bluetooth 4.1, Near-Field Communication (NFC) and GPS help balance out the last part of the wireless area.
Wired support is found here, also, but with a different port from what you might be anticipating, with the standard 3.5mm headset jack up top, while the regular microUSB port found at the bottom gets replaced with a USB Type C port for charging and data transfer.
All of this sits underneath a 5.2 inch display, offering up the Quad HD resolution of 2560×1440 on an AMOLED panel, protected by Corning's scratch-resistant Gorilla Glass 3 technology.
Buttons are fairly standard for a Windows Phone, with the right edge revealing a volume rocker, power button, and camera button, while the remainder of phone buttons are on-screen on this handset, revealed when you turn the phone on and swipe up from the bottom.
The back is also removable, and it's here that you'll find a 3000mAh replaceable battery covering the nanoSIM and microSD slots, which sit stacked on top of each other.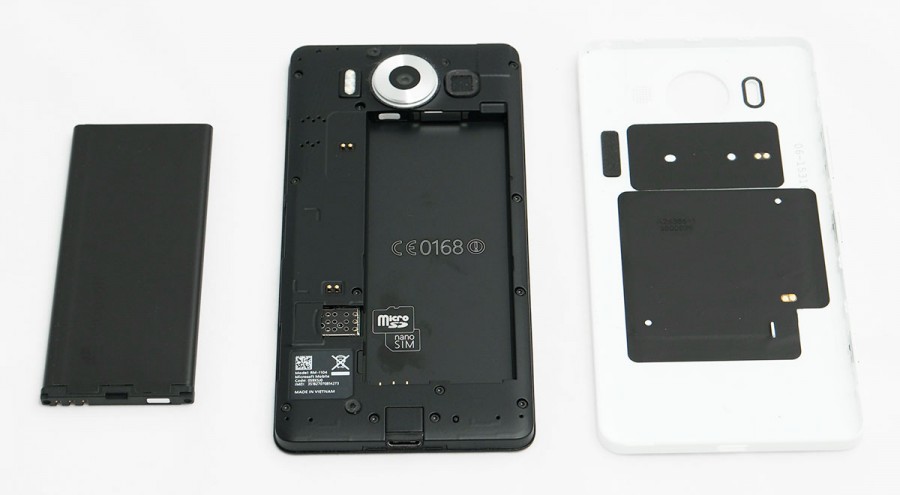 Performance
It's been a while since Windows came around in these parts, but like a horse making its way back from a fight at the OS Corral — the Operating System Corral, that is — Microsoft has returned to show that it still has a player worth fighting with.
For this edition of Windows on a mobile, we're at something like version 10, much like it is on the desktop. In fact, it's worth keeping that one in mind, because the version on the desktop, and on so many laptops today, is pretty much the same one you'll find on a mobile, and that's because Windows 10 marks a huge departure and operating system design for Microsoft.
Instead of what it has been like for years where MS developed similar looking operating systems out of two different codebases, Microsoft has instead made Windows 10 to work from the same environment, changing it up depending on the device you're using it with.
Does this mean you can load Windows 10 on just any phone? No, not really, but it does mean that a phone with Windows 10 should be able to play many of the apps made for Windows 10 and sold through the Windows 10 Store, a place where Microsoft can at least verify the universal design of said apps.
It also means that if you have one of the phone docks that are on the way out, you'll even be able to use the phone as a sort of computer, fitting the phone in line with Microsoft's whole "Continuum" concept whereby the one operating system shared between multiple devices means they can be used for multiple things.
Xbox One owners around the world were just recently delivered Windows 10 to their consoles, and while you won't exactly be drafting or editing documents in a desktop environment on that box, you technically can with the right hardware on the Lumia 950 if you wanted to.
For now, though, we'll focus on the phone side of things, partly because we haven't seen the dock yet and aren't quite sure when it will be making an appearance.