The Microsoft Surface headphone is its first entry into the high-end Bluetooth, Noise Cancelling, headphone market. It is unique because it has Cortana compatibility out-of-the-box.
Microsoft Surface Headphone was a 'ground up' project over three years involving a large team of Microsoft engineers rather than re-brand someone else's device. It is unique in its mandate and Cortana market niche. Although it works fine as Bluetooth, noise cancelling headphones on non-Windows devices.
Not to put to fine a point on it, but long-time Microsoft watchers say that Microsoft gets things right on the third try. These headphones are good – almost great – and there is a little room to improve futher. Why?
Since release, it has had at least three firmware updates (the latest is 20 March 1.0.3.4.31.24) to improve audio quality, stability, a bug when using the 3.5mm audio, spotty Spotify music play resumption and who knows what else from earlier updates. I suspect we will see many more updates as Microsoft strives for perfection.
Yes, Microsoft is a computer software company – and it is learning about hardware as it goes. That is why you need to take a lot of previous reviews with a grain of salt. The so-called warm or muddy music signature has markedly improved, Bluetooth connection stability is now rock solid, and you can avoid Cortana if you just use it as a Bluetooth device on Windows 10, Android, macOS and iOS. Although you will need the Cortana App or Surface Headphone Windows 10 app installed to update firmware and to access the EQ.
We will leave any comparisons with market leaders Sony, Sennheiser, Bose, Plantronics (Poly), JBL or Jabra until the end. Why? Because this product is unique – not paddling in a sea of tough competition.
Review: Microsoft Surface Headphone
Australian website here
 Out of the box
It is a big, solid, platinum grey box – understated, corporate, clean, and minimalist style. If you saw this in a shop, it would be overshadowed by other brand's flashy, brightly coloured, retail packaging and emblazoned unique selling propositions. It sits at $499.95.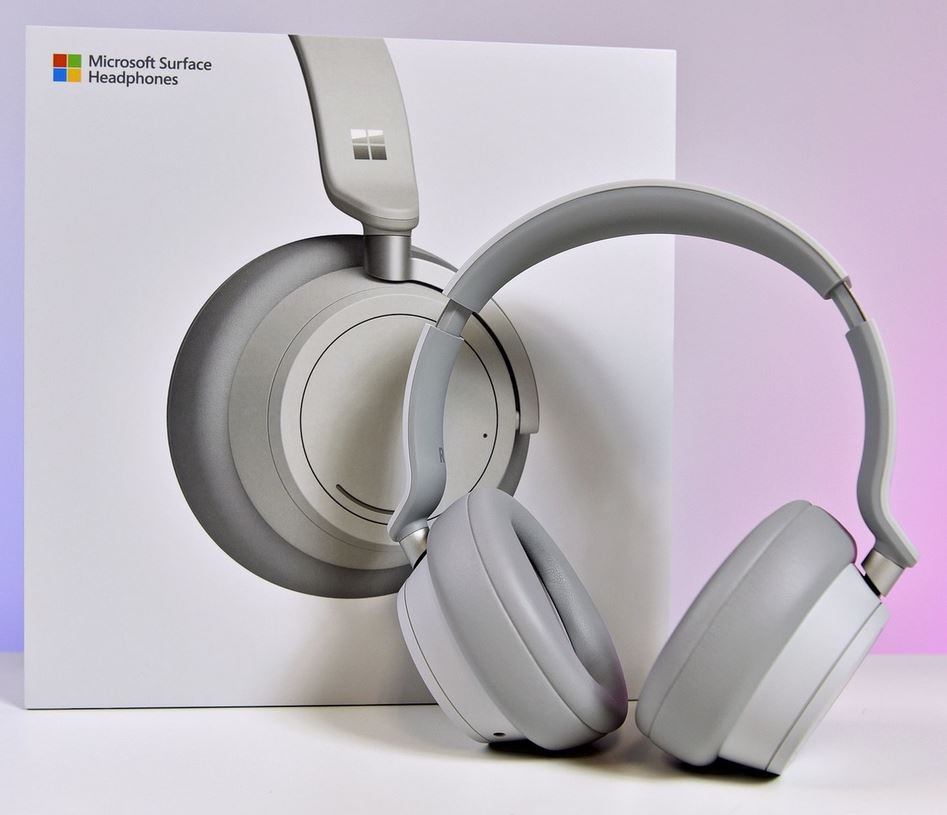 When you open the box you see a substantial corporate grey, hard, carry case with a 1.5m USB-A to USB-C and 1.2m 3.5mm audio cable.
The over-the-ear headphones are Microsoft Platinum Grey – minimalist with the only flash of colour being the stainless-steel expansion band and metallic tones on the cup pivots. Again, very corporate.
The headphone cups are round with oversized pads and slender oval cutouts housing the 40mm drivers. The fit is snug – no, I do not have big ears – to maximise noise isolation.
There is a rotating bezel – a unique ring – on the outside of each cup. The left is for 13 levels of noise cancelling and the right for volume.  
Also, on the right are touch controls, a flush mount power button (and Bluetooth activator) and a microphone button that can activate Cortana.
Setup
Download the Cortana app for Android (tested), and it will pair the headphones. Except, that out-of-the-box it had the original firmware, and Cortana could not find them.
So, I connected via Bluetooth to a Windows 10 Surface Pro, downloaded the Windows 10 Surface Headphones app and updated the firmware. Now the Android app and I presume macOS and iOS can find them.

The catch 22 is that without the app on at least one device, the additional functions like firmware update and the Equaliser are not available.
How does it sound?
Playing my favourite Blues Brothers Peter Gun Theme (for bass) and Beach Boys (for vocals and instrumentals) and a tone generator (to reveal the driver's native capability) we found:
Deep Bass: 20-40Hz – none
Middle Bass: 40-100Hz – creeping in at 80Hz
High Bass: 100 to 200Hz – flat (good)
Low-mids: 200-400Hz – flat (good)
Mids: 400-1000Hz – flat (good)
High-mids: 1-2kHz – flat (good)
Low-treble: 2-4kHz – declining
Treble:4-6kHz – declining
High Treble: 6-10kHz – spiky
Dog whistle: 10-20kHz – spiky and falling off a cliff
Technically this is almost a warm and sweet sound signature – the nirvana for movies and music. But the late onset of bass and spiky, rough highs make this more mid-centric and detracts from higher vocals and instrumentals.
The App EQ has pre-sets for Flat (the native driver capabilities), Classical (High boost), Jazz (Mid recess), Pop (Mid U curve, e.g. boosted bass and treble at the expense of mid – not good for vocals), Rock (mid-bass increase) and custom. Choose custom and play!
The EQ has +/-12dB (Low, Mid Low, Mid, Mid High, High) and you can get a tad more bass and smooth the highs which nudges closer to a perfect sound signature. The app stores the EQ setting on the headphones. But the headphones do not have a button to cycle through the presets.
The sound stage is quite wide, with good L/R separation.
Microsoft claim 115dB Sound Pressure level (SPL) – different from decibels. Inside the cups, it will reach 70dB – that is as loud as a vacuum cleaner at your ear. I found that 75% volume was more than enough.
In layman's terms, these sound very good, and Microsoft has addressed the 'muddy' issues via its firmware updates. I am sure we will see a few more of these.
Noise cancelling (NC)
It has eight microphones including left and right cup beam forming mic.
NC is adjustable by 13 levels, but the only feedback (voice prompt) is as you hit maximum NC or the antithesis – ambient sound boost that certainly does amplify your surrounds. We found it is more a case of on or off
Maximum NC will cut out aeroplane noise and mostly everything else. On the train, I found the bezel too hard to precisely adjust in meaningful increments to hear announcements, resorting to taking them off to let the real-world in.
Handsfree
While callers said, my voice was clear, it still sounded as if I was on a speakerphone.
 There was no 'foldback' of my voice in the headphones either – very disconnecting.
Comfort
The ear pads are soft memory foam covered synthetic material (rubber-like – not leather-like) and with the close fit can get a little hot. I wore them for two hours straight and needed a brief break.
At 290g it is heavier than most.
Battery and USB-C
The battery is good for 15 hours BT with NC use – tests confirmed that. Recharge time is around two hours. You can use the 3.5mm cable and achieve up to 50 hours with NC – not tested.
The music will stop when you remove the headphones from your head or slip them down to your neck. But there appears to be no auto-off powwe function to save battery so remember to press the power button off after use.
The USB-C port is for charging and to update the firmware. You can continue to use BT while charging but there is no built-in USB DAC to allow you to listen to music over USB.
Voice assistant
I don't know about you, but I don't want more than one voice assistant knowing my every desire. As far as I am concerned Cortana is purely a window to Windows.
Apparently, if you connect to Android (without the Cortana app installed), you can long press the right mic button, and OK Google pops up (or Siri in iOS). I was unable to get that feature working but OK, Google does work via the smartphone, and you can hear her and your own voice in the headphones.
Bluetooth
It uses BT 4.2 LE that allows pairing with two concurrent devices and up to 10 stored in memory.
It uses the standard SBC codec – there is no hi-res sound like aptX/HD (Qualcomm), LDAC (Sony) or AAC (Apple). That is no big deal – the sound is CD but not audiophile quality.
GadgetGuy's take – Microsoft Surface Headphone is an excellent first effort
We said it is unique and should not be compared to the market leaders. Why?
Microsoft is not out to compete with the rest of the market. Its headphone is sold in Australia online or at its Microsoft store and little else. You have to want it.
It works perfectly with Microsoft Surface and Xbox products and carries these design cues. In fact, the Platinum grey corporate look appeals to more people than I thought it would – a little bit of originality.
Performance wise it's up there
Almost warm and sweet sound signature – check
Plenty of volume – check
Decent NC – check
Quality – check
Intuitive rotating bezel controls – check
As far as BT, NC headphones go it is a worthy contender that any Microsoft watcher should consider.
On the negative side
Battery life is 15 hours, but you can charge over USB and listen over BT at the same time so it equals out
If it was competing on price then at $499.95 there are better devices for less. But on eBay, you may find a substantial bargain that makes them a worthy contender. Note that Microsoft USA store has these for $100 off at US$249.99 – I can't confirm if we will see this promotion here, but it would make them more price competitive if it were under $400.
That tough market
The Microsoft Surface Headphone fills a unique niche that Microsoft owns. But as you asked about the others…
You will not find these in any 'best top ten' BT, NC headphone reviews because these are not a mass-market retail device.. You will find the following (prices are current market rates from JB Hi-Fi, and you may find even better online).
Sony WH-1000XM3 $379 has better altitude aware NC, high-res audio DACs, longer battery life, and the best audiophile quality sound of all. It is GadgetGuy's reference headphone for 2019. Weight 277g
Sennheiser PCX-550 $348 has the wonderful Sennheiser sound pedigree (only BT SBC) and the almost unique ability to charge and listen over USB (it has a built-in USB DAC). Weight 235g.
Bose QC35 II $350 kind of invented the BT NC 'cans' market and has a cult-like following. Weight 235g.
Jabra Elite 85h ($499 and as just released so there is no street price yet) has innovative adaptive noise cancelling, BT 5.0, 30-hour battery and sound great – a substantial challenger to all of the above. Weight 269g.
JBL Live 650BTNC $249 is a budget set with JBLs excellent sound signature. Weight 260g
Plantronics (Poly) BackBeat Go 810 $239 is hard to beat in the value market. At 190g you can wear these all day.
Minimalist design appeals to the erudite class
Microsoft precision and build
Perfect for Surface
Uncompetitive price against market prices for BT, NC headsets
Need to install the Cortana app for full functionality
Heavier than most and can get a little hot to wear for extended periods
15-hour battery life although off set by cuncurrent charge and listen
No voice 'foldback' in hands free