Outside of the odd quirks, however, it's a fairly efficient and clean version of Android, even if you'd never recognise it as one.
At least the performance is decent, with only the odd spot of lag here and there, no doubt helped by the inclusion of 3GB RAM, which is past the 2GB sweet spot Android prefers.
Combine that with two quad-core chipsets and you'll find the Snapdragon 615-equipped R7 is a surprisingly snappy little smartphone, which we suspect is the point.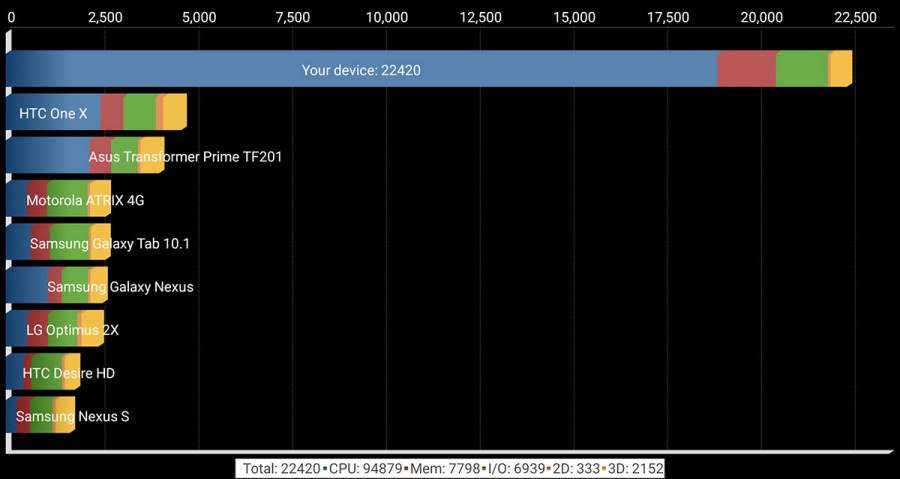 It won't win awards for the fastest phone in the world, but as a mid-ranger, it is more than capable for the majority of things someone might plan to throw its way, with support for a few games, most of the apps you'll find, and general use as a phone.
Mobile speeds are also good here, ranging from 15Mbps to 79Mbps in our tests on Telstra's 4GX network in Sydney.
That's a pretty solid outcome, and given the mobile networks on offer in Australia, you should be able to achieve some decent mobile connectivity here with this handset.
Battery life is also decent too, managing a solid two days of performance with wired headphones doing our regular schtick, telling us that if you pulled it back to wireless headphones and smartwatches and smart bands, you'd need to charge nightly, but that you should still be comfortable with a full day of life.
Go with wireless headphones and you'll find a full day is possible on this handset, which we certainly did, needing a charge in the morning the next day.
Either situation isn't bad, and there are flagship phones that struggle to get this sort of life, and given the size (or lack thereof), that's a fairly impressive result, especially for a mid-range handset asking for under $500.
The camera is really the final area worth commenting on, and while it's not quite as impressive as the cameras thrown into the rotating phones Oppo makes, it's still not a bad shooter.
In daylight, the images are crisp and easy on the eyes, with fairly strong colour reproduction, while night time images tend to be a little slower on the shutter, so expect a little bit of blur from time to time, especially if it's not the most light-filled area around.
For the most part, it's a decent little camera, and even the one up front sports some decent selfie-taking abilities, with a good 8 megapixels there for you to get images of yourself, or even do that spot of video conferencing you tell yourself that one day, one day you just might do.
What's bad about the camera comes back to software, and Oppo's lack of originality.
Just like the operating system and how it feels derived from Apple's iOS, so too does the camera software with a pretty similar — some might say blatantly appropriated — design in the ease of use.
That's not to say this is a bad thing, and if you like the iPhone but just not necessarily the price or lack of megapixels the camera offers, Oppo's borrowed interface helps to bring this interface to Android, whether Apple wants it to or not.
And really, there's no attempt for originality here whatsoever, with the same photos and video slide switch at the bottom, a basic camera shutter, and the ability to change your camera's exposure control using a little brightness control accompanying the square where ever you happen to press.
Oppo hasn't magically transported you to an iPhone either — your app ecosystem is still planted squarely in the confines of Android — but this interface will make you believe you are using an iOS device because frankly it's so damn similar.
Conclusion
If there's one thing we can say about choosing a phone in Australia, it's that we are quite literally spoiled for choice.
Between the brands, there are just so many options to choose from, and when you get down to it, the whole thing can be a bit of a head spin.
Not helping this is the vast difference in pricing between the models, but if you know roughly what you want, reviews can help.
And if what you want is a decent thin phone for not too much cash, or even one of the best iPhone clones in the business, Oppo's R7 is one of the best choices you've likely never heard of.
It's not a perfect phone, and we'll be the first to admit that, but between a slim and solid little body, decent battery life, excellent 4G performance, and a camera that isn't a bad performer, Oppo has produced a mid-range marvel that hits well above its weight and is surprising value. Recommended.
Fairly comfortable to hold; Thin and includes the 3.5mm jack (w00t!); Decent battery life lasting one to two days; Camera quality ain't bad at all; Includes a case in the box; Can operate as either dual SIM or with a microSD;
ColorOS operating system has quite a few quirks; Performance is a little shaky; No backlighting for the bottom buttons; Old style menu button included, well past what Google recommends; While dual SIM is a positive, nanoSIM owners miss out on a microSD slot (sad face);