There are people out there that demand the best built gadgets money can buy, and if you've cracked that iPad Mini or Nexus 7 one too many times, Panasonic will have an option available shortly made just for you.
Built to survive a beating, Panasonic has taken the time at CES this week to announce a new Toughpad that manages to fit in some solid rugged design into a 7 inch tablet.
The small touchscreen Toughpad FZ-M1 will bring with it either a 4th-generation Intel Core i5 or an Intel Atom using the Bay Trail technology announced only recently, packing all of this in under a 7 inch 1280×800 screen alongside 128GB storage, 4GB RAM, WiFi 802.11a/b/g/n/ac, Bluetooth 4.0, USB 3.0, microSDXC, NFC, and even an optional 4G LTE wireless chip.
Like previous Panasonic Toughbooks – and last year's bigger Toughpad tablet – the new tablet is seriously rugged, rated to meet military specifications for drops up to 1.5 metres, heavy vibration, humidity, and extreme temperatures, weighing 540 grams and managing to be merely 1.8cm thick for all of this.
Helping this tablet is the fact that the FZ-M1 is fanless, which is useful since that feature has helped to make that tablet meet the dust and water protection level of IP65, which basically means no dust will be able to enter, and the tablet is highly resistant against water, too.
Oh, and it's also a Windows tablet, relying on Windows 8.1 Pro 64-bit, though Panasonic does say that a Windows 7 Professional downgrade is possible, something businesses with legacy applications that don't like Windows 8 much will probably want to take.
Pricing for the highly ruggedised miniature tablet hasn't yet been announced for Australia, though it will be coming in April this year, so look for more information closer to release.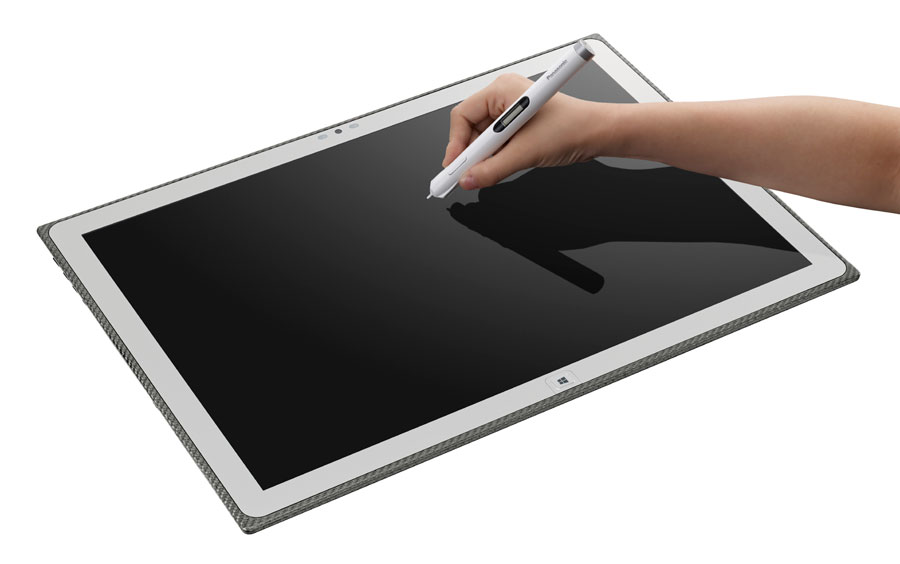 It's not the only Toughpad that Panasonic has shown off this week, with a 20 inch 4K tablet also joining the Toughpad family, running on an Intel Core i7 chip from last year alongside a workstation Nvidia Quadro graphics chip.
Built for a different type of tablet user, Panasonic is focusing this one on people in the field who need something durable, and something very high end for engineering, video editing, or graphics and modelling work.
As such, the 20 inch screen is backed with ruggedisation to make it capable of surviving a 30 cm drop, though given the specs inside – 256GB solid-state drive, 16GB RAM, and a 20 inch 3840×2560 screen – we wouldn't advise dropping it intentionally, especially since the price isn't expected to be, err, cheap. At all.
We'll be keen to play with both, though, we look forward to putting them through their paces.
They are called "Toughpads" after all.