Google's LG Nexus 5X reviewed

Price (RRP): $659 (starting price); $659 for 16GB; $739 for 32GB;
Manufacturer: LG
It's been two years since Google released the Nexus 5, a phone that grabbed people with its great specs and $399 price. Now Google is ready with a follow-up, so what is the Nexus 5X, and is it the same great deal?
Features
A new model of Nexus is here, and this time, LG is in control, with Google letting LG follow-up the Nexus 5 with a new variation, the 5X.
In this new phone, you'll find a new processor, with Qualcomm's Snapdragon 808 six-core processor taking point, paired with 2GB RAM and either 16 or 32GB storage depending on how much you want to spend. Google's Android 6.0 "Marshmallow" arrives on the Nexus 5X.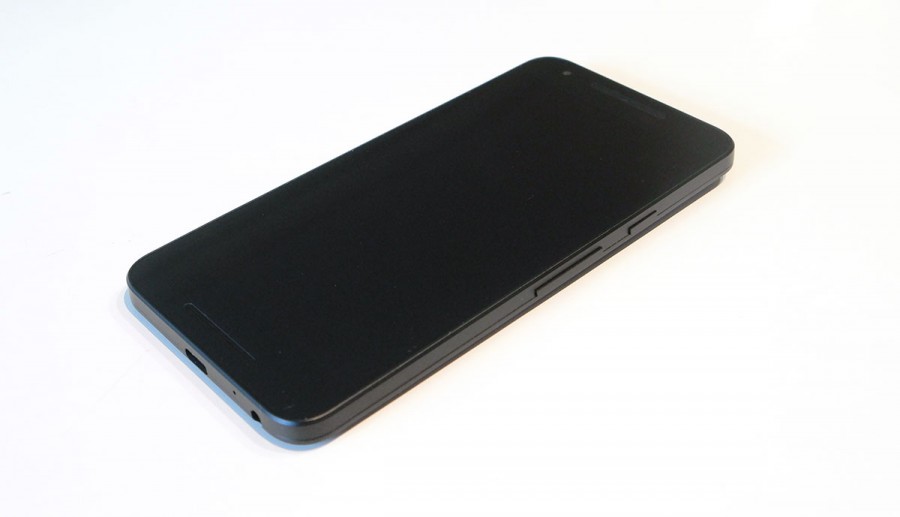 Under the hood, connections are pretty good for a phone released in 2015, offering up 802.11a/b/g/n/ac WiFi, Bluetooth 4.2, Near-Field Communication (NFC), GPS with GLONASS, and 4G LTE on the Category 6 technology capable of delivering up to 300Mbps downloads and up to 50Mbps uploads.
Wired connections are also here, though they're a little different, with the standard 3.5mm headset jack and then a new USB Type-C port at the bottom of the device, here for charging, data transfer, and potentially more.
Cameras are part and parcel of phone designs these days, and the Nexus 5X is no different, delivering a 12.3 megapixel rear camera with infrared-based laser-assisted autofocus, a dual-LED flash, and video capture capable of handling 4K video. The front also gets a camera, with a 5 megapixel front-facing camera without the 4K or dual-LED flash.
A fingerprint sensor can also be found on this phone, sitting at the back under the camera.
You also have a couple of buttons, with the power button sitting above a volume rocker on the right edge, and there's only one tray for you to push out, with a pin-ejectable nanoSIM tray found on the left edge.
Above this all sits a 5.2 inch Full HD display providing roughly 424 pixels per inch of clarity, protecting by Corning's scratch-resistant Gorilla Glass.
Below it, however, you'll find a non-removable battery which is built into the unit, providing 2700mAh of usage.
Performance
We've seen a new Nexus phone at least once a year for the past couple of years, but this year, Google's take on what constitutes the best Android experience you're going to get comes in two forms, with either a 5.2 inch Nexus 5X or a 5.5 inch Nexus 6P.
Now from the get go, it doesn't seem like much should separate these smartphones, after all, what's 0.3 inches between friends? But offering different spec and size, it's clear that Google is still offering people a choice on if they want a regular sized phone or one of those bigger phablet-y models.
Google's Nexus 5X isn't like that big ol' thing, and is the more "normal" of the phones, bringing with it a 5.2 inch display to result in what most would consider a regular large phone, because devices these days that constitute "normal" look more like they offer a big enough screen that won't weigh you down or look cumbersome.
And that's exactly what the Nexus 5X servers up, with the LG-made device bringing a large enough screen and large enough specs to a world where these sorts of things matter. In fact, that's precisely what the Nexus 5 offered a couple of years ago when LG and Google teamed up for that, too, with the $399 Nexus 5 smartphone, one of the reasons many people jumped ship and entered the Android world.
So you have to be a little curious as to what LG and Google can do to create a follow-up, because that's exactly what the Nexus 5X is.
Can it turn out to be five-star outstanding value like its Nexus 5 sibling?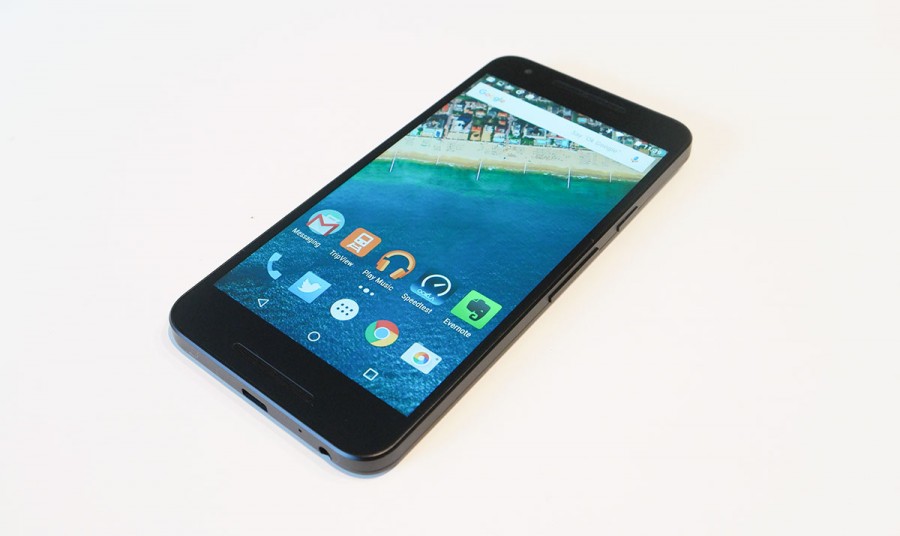 Grab the Nexus 5X and it's quite clear from a design point of view that Google isn't going out of its way to impress you with fancy curves, special shapes, or neat design features that make it look like it was made from a block of a fancy metal, because what is being offered in this phone is basically a softened rectangle made of plastic.
That's not bad, either, it's just the Nexus 5X is an ordinary looking phone, with a simple glass front and a simple plastic back, which basically makes the handset look like a slightly tightened up version of the Nexus 5 from a few years ago.
In fact, much like that last Nexus — which we recall giving five stars to — the new Nexus feels great in the hand, with the soft plastic body not so much feeling cheap, but just comfortable and easy to grip.
The design of this handset is a little ordinary, though, with pretty much just a glass front and the plastic back, and given that even the edges like a defined shape outside of, well, having an edge, you find that there's really nothing remarkable about how the a Nexus 5X looks. That won't bother some people, and if you're after an ordinary phone, Google's Nexus 5X certainly delivers.
There is one thing, however, that does draw the finger in, and it's a circle on the back of the handset. It's not the camera, though it can be confusing as this sits above the circle that has been designed to draw your finger in intentionally, and that's the fingerprint sensor.
Now it's not the first time that we've seen a fingerprint sensor on an Android phone, but it is the first time we've seen one on an official Google phone, and that means Android is ready with support. But that's not all that's new with Android.
New to the Nexus range is Android 6.0, also known as Android M or by its dessert-themed moniker, Android Marshmallow.
The look of this operating system isn't super different to the previous Lollipop Android 5.0 incarnation, as a change in look and a refresh in design (introducing Material Design) was one of the main reasons for version 5 of Google's OS to rock up. No, version 6.0 brings with it more of an update to functionality, offering up more Google search and indexing of your information whenever you want, better battery life, and fingerprint support, but we'll get into that momentarily.
Switch the phone on and the screen comes to life, and while this display won't break any records, it's another excellent LG screen displaying the perfectly clear Full HD 1920×1080 resolution, which means it is definitely clear enough for every day viewing.
We could run the "higher amount of pixels" argument until we're blue in the face if we wanted to, but the simple fact is that with 424 pixels per inch being shown on the Google Nexus 5X, you'll most likely be happy, given it matches at least Apple's Retina resolution that kickstarted this pixel argument, and then some.
Google is also bringing over a trick from its previous Nexus work with Motorola, delivering what appears to be some of the active display technology
Using the phone is a little different than your regular 2015 Android handset, though, and that's because the star of the show is the newest of the new of operating systems, with Android 6.0 "Marshmallow" taking centre point.
The new operating system appears on the Google Nexus phones well ahead of models from other manufacturers, though given how much the Nexus 5X has in common with the G4, we understand LG's flagship G4 from earlier in the year isn't far behind, so that's nice to know.
Still, let's focus on what the Nexus 5X has to offer in Marshmallow, because it's pretty sweet.
Your look stays the same, with much of the flat look ushered in by Material Design sticking around, relying on bright colours and a paper-inspired view, so elements sit on top of each other, almost as if someone handed you a brightly coloured folio of work and said "make this into a phone".
What changes, however, is how deeply Google's search skills integrate with your life, and now that most of us know how good Google Now's voice assistant is at picking up your voice (we have more luck with asking Google questions than we do Siri), you'll find a feature called "Now on Tap" which can be called up whenever you're in an email or message.
Basically, when this happens, Google quickly looks through your message for keywords or places and delivers the information you may be looking for, saving you from having to get out and go to a different screen.
Like how 3D Touch on the iPhone 6S feels like a way of bringing two-handed phone operation back to one, Now on Tap feels like it's a way of cutting the need to do multi-tasking, allowing you to stay in the message when you need to look something up instead of getting lost doing another action.
In reality, our limited time with the Nexus 5X and Android 6.0 has shown us that Now on Tap isn't totally ideal for us, though perhaps it's because we're not really speaking with the keywords Now looks for. It won't, for instance, pick up on every keyword you might want it to, and sometimes pretty much says it has nothing for you.
As time goes on, perhaps it will get more intelligent, learning how to work with you, but right now in the initial stages, it's a great concept that we're not using too much of.
Google Now has also learned a new trick, though it is limited: it can call up an application when you speak to it.
You can tell it to play music through Spotify and it'll open that app, and you can ask it to take a selfie, though in that last one, it will only load the camera, never flipping it to the front-facing shooter, waiting a second, and then firing the photo.
Again, neat concept, but it doesn't feel final yet.
Now is also contextual, which is a neat way of saying "if you ask it a question, you won't have to keep naming the thing you're asking to get it to keep giving you answers".
For instance, you can ask it "What are the X-Men?" and get a spoken answer, and then follow up with "When was the first issue?" without adding "of the X-Men", and the contextual nature of Google Now will be able to work out you were still talking about the X-Men.
That contextual nature also kind of feels like it extends to the indexing of your photos, provided they're uploaded to Google's Photos system, which offers unlimited space for your photos in an unexplained "high resolution", while Google's storage taps out with the rest of your drive storage if you upload them in original resolution.
Regardless, photos indexed by Google can pick up on themes such as locations you've been to, landmarks, and pets. Some of the time it gets it totally wrong, and we've found that the term "food" gets applied to anything remotely taken close-up, while "selfie" appears to be pretty consistent.
Google's menu has also changed, and we're quite into this, with an easy to scroll vertical menu of your icons, with the four most used at various times sitting at the top. That's not to say these are your four most used apps, but rather what the phone thinks you'll use at different times of the day, which for the most part it generally gets right.
You can avoid this, mind you, and just map your favourite programs as you normally would to a homescreen, but it's a nice inclusion all the same.
And then there's the fingerprint support, because finally, after Apple has been supporting the concept for a good three years now, Android is on-board with securing your phone using your digits.
It's not specifically an Android thing that has held this back, mind you; Samsung and HTC have each offered devices with fingerprint sensors, as has Huawei, but you haven't been able to do much with them, unlocking a device and paying with PayPal being more or less the only things that could be done.
Now that Android 6.0 has support, however, more apps can take advantage of this, and the unlocking can be handled by the operating system natively, which is even better.
But most importantly, the hardware used for the fingerprint sensor in the Nexus 5X is simply awesome.
Positioned directly under the camera lens, it's a circle sized to be about the circle of your finger tip, but it can scan your finger super fast, pulling in a time that is only a smidgeon off from what we see on Apple's insanely quick iPhone 6S and 6S Plus.
For a first effort, that is staggering, and the Google Nexus fingerprint scanner is bang on, unlocking in 95 percent of the times we tried, usually only failing when wet fingertips were involved, which is an area all fingerprint scanners on phones struggle with.
The only quibble with the design is that with the circular placement directly under the camera, you may end up trying to scan your finger using the camera which just won't work. Direct placement with pretty much bang on circle sizes wasn't the best idea.
Once you get accommodated with the placement, it becomes second nature, and gripping the phone with your finger on the back — similar to what LG has been doing for years in its G series — makes for an easy unlock without problems.
Unlocking leads to the operation, and for the most part, using the Nexus 5X shows that LG really knows how to build a phone, because the six-core Nexus 5X really flies. Borrowing from the template of the already excellent but just a tad too thick LG G4 has helped the Nexus 5X tremendously, as the 2GB RAM and Snapdragon 808 work together beautifully.
Mobile broadband speeds are also excellent, offering high-speed connectivity so much that it feels like there's a Category 6 modem here, with our tests revealing over 100Mbps was easily possible in Sydney's CBD on the Telstra 4GX network.
The camera is also strong, with the 12 megapixel shooter providing a simple design with a swipe between stills and video, and a few extra modes of each.
In the stills mode, you'll find a lens blur mode, panorama, and Google's less-used StreetView-inspired "photo sphere" mode, while video delivers footage captured in 720p HD, 1080p Full HD, or 4K Ultra HD.
Images look decent as well, with some pretty responsive laser autofocus working to get you the focus you need quickly, and if you need to open the camera in a heartbeat, double tapping the home button at the side of the phone helps tremendously.
Interestingly, we couldn't find a burst mode on this camera, so if you're hoping to grab as much as you can, switch to video mode, as holding the camera button down on the Nexus 5X just doesn't seem to do anything.
At least your selfies will look good, though offering up a 5 megapixel camera for the odd picture of yourself, catering to Full HD video conferencing over Google Hangouts if you need it or can afford the bandwidth.
Battery life is also ok, though we'd probably call it average, lasting a day between charges.
Regardless of if we had Bluetooth switched off and worked with wireless headphones or did the opposite and relied on accessories without cables, a total of one day of life appeared to be pretty consistent, with us surfing the web, making phone calls, texting, emailing, taking photos, listening to music, and generally using the mobile.
Just make sure to turn the phone off every few days, because in our tests, we found that if you've been running the phone for a couple of days, you may find that it slows down when you least expect it, coming to a complete halt and generally feeling like a dog.
We're not normally up at 2am, but after midnight on Halloween after being in use for a good three or four days straight, the Nexus 5X became unbearable slow, so much that only a phone restart was able to fix it. Fortunately, that was the fix — because turning it off and on again fixes 95% of most problems in the tech support world — but it's rather curious it happened at all.
No microSD card doesn't help the Nexus 5X either, something that a Google has been doing in its own branded phones, but yet is allowed in other Android devices.
It's not that we're against a lack of upgradeable storage, either. Apple's phones have persisted with the upgrade-less design for ages and it has been fine for that company, with Samsung beginning to join in on the fun this year, much to our surprise. It's more that the Nexus 5X only arrives in 16 and 32GB versions, with this fact surprising us.
Simply put, 16GB isn't much, and for a company that has previously pushed out some pretty solid deals for people to get their hooks into Android, 16GB seems like a mistake, when it could have just as easily been 32 and 64.
The price doesn't help this, and two years after Google practically twisted people's arms with the best value phone of the year, the mid-range Nexus returns for a price that feels more like it approaches the high-end than the mid-range.
Let's just get this out of the way quickly: in 2013, the Nexus 5 was unbeatable value when it came out, offering flagship specs, decent design, and excellent screen, and a solid value at $399.
We're not kidding when we say this was unbeatable, and while the battery life only really hit a day, this was one of the more popular phones to bring people over to Android.
But at a starting price of $659, the Nexus 5X is not that same arm twister. Rather, it's a good update, but it doesn't feel like the refresh worthy of its budget busting brother.
Two years on, the upgraded system with the same spec of storage doesn't really feel like it's worth nearly $300 more, and even though our dollar has taken a bit of a beating in that span of time, again, it still feels like the pricing of the Nexus 5X should be lower, almost to the tune of $200.
We get the argument, though, because spec-wise, this is high-grade stuff, so Google and LG don't want to undervalue, it's just that after years of undervaluing on the 5 inch body, it seems a little weird to push that price back up all of a sudden. As if to say, "we've already got you, and now we can just charge more".
We suspect it'll be different with the Nexus 6P simply because there's no mistaking the flagship class it sits in, with even high specs, a better screen, and a metal body, but here on the Nexus 5X, it just feels like Google should either drop the price a touch or upgrade the storage overall.
That last part would go a long way to making the handset feel a little more premium, because seriously, who buys a 16GB phone in a high-end phone?
Finally, there's that new Type C USB port at the bottom, and we list this in the negatives of the device simply because it is both a blessing and a curse.
On the one hand, you should be excited that the Nexus 5X is one of the first phones in the world to sport the Type C USB port, the next generation of high speed wired connections that will become the standard port to charge many devices, taking over from where microUSB was and allowing you to charge not just phones, but also tablets and laptop computers.
This is the future, and it's even reversible. Like Lightning, you cannot possibly put this in the wrong way, so good luck breaking it by accident.
But because it's the future, good luck finding a power supply in a pinch.
Yes, this may be a standard, but on 2015, it's probably not going to be an easily found standard until at least mid-next year, and as such, if you're not using a computer where the new port is featured, you may not have a spare cable with you or found in a store.
That means you'll probably need to go and grab a spare feeding back into standard USB, because one of these isn't in the box. Rather, you just get a standard Type C to power brick, which is fine, but will probably be the charger you leave at home.
If you're an owner of the 2015 ultra-thin MacBook, you already have something that works, but otherwise, well, it might be worth investing in a secondary cable because an extra isn't included in the box.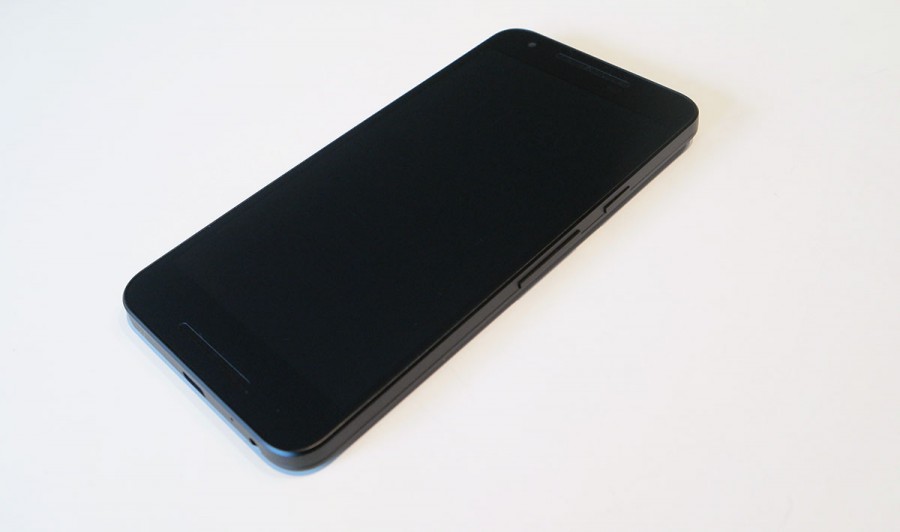 Conclusion
As much as we love what LG and Google have accomplished with the Nexus 5X, we're stuck on one thing: the price.
With a starting price of $659, we really don't understand why the 5X is a phone attracting such a high tag. Granted, there's been a two year gap between the Nexus 5 and the Nexus 5X, and things have changed, but we're now looking at a phone that delivers almost twice the cost, and we're not sure it's validated.
Outside of the camera and processor, the Nexus 5X reads like it should be a mid-range device, even though it comes with specs included in some flagship models, like LG's own G4.
There are major differences, however, but given the Nexus 6P is easily Google's top tier product and features a different design, body, set of materials, screen, and spec, it's hard to view the 5X as anything other than the mid-range option.
Except it's not.
That's one of the reasons why the Nexus 5X is such a confusing device. On the one hand, it's excellent, and on the other, it's overpriced, which is kind of like the original Nexus 5, except that was excellent and underpriced.
If you're a huge fan of the Nexus 5 and want the next best thing but, you know, newer, Google's and LG's Nexus 5X is definitely worth a look, but if you want a Google phone, we'd probably look a little higher, because only at only a little over a hundred more for the Nexus 6P, you'll likely find better value across the board.
Google's LG Nexus 5X reviewed
Price (RRP): $659 (starting price); $659 for 16GB; $739 for 32GB; Manufacturer: LG
Feels nice and light in the hand; Great screen; Android 6.0 is super fast; Speedy and solid little camera; One of the best fingerprint sensors we've ever seen; Strong mobile broadband performance;
No microSD slot; Google's "Now on Tap" isn't always useful; Design makes it so that you won't always find it easy to pull out of the pocket the right way or place your finger on the sensor; Occasional speed drops that feel like there phone is falling over; USB Type C is both a blessing and a curse; Seems a little overpriced;