Size matters: Samsung's Galaxy Note reviewed

Price (RRP): $899; Available on plans from Optus and Vodafone, with Telstra joining in April
Manufacturer: Samsung
Samsung's Galaxy Note is the biggest phone we've ever held to our ear, pushed in our pockets, and held on a bus. With a 5.3 inch touchscreen, it's positively huge. Does bigger mean better?
Features
Samsung's first huge screen phone, the Galaxy Note is a hybrid device that sits somewhere between a phone and a tablet. Many in the industry are referring to this idea as a "phablet",  a name that's as silly as it sounds. We'll just stick to calling it a big phone and see how that works for us.
The first of these devices, Samsung has given the Note a truly huge 5.3 inch Super AMOLED screen supporting a HD-capable resolution of 1280×800 and covered with Corning's scratch-resistant Gorilla Glass. While the screen doesn't have quite the same quality as Apple's 330ppi Retina grade screen found on the iPhone 4 and 4S, it's not far off, reaching a highly respectable 285ppi that should prove itself to be more than pleasing for the eyes.
A big screen needs some pretty decent internals, and Samsung looks to have provided them in spades. The Galaxy Note is equipped with a dual-core 1.4GHz processor, dedicated graphics chip, 1GB RAM, and 16GB storage built in. A microSD slot is included for expanding the memory.
Much of this technology is similar to what Samsung has used in last year's Galaxy S2 handset, albeit with slightly updated specs.
This re-use of Galaxy S2 technology continues with the multimedia and wireless connectivity, with the inclusion of the 8 megapixel rear camera, 2 megapixel front camera, WiFi 802.11 a/b/g/n, support for DLNA, Bluetooth 3.0, GPS, and HSDPA 21Mbps maximum downlink connection.
In fact, the case is very similar, with Samsung opting to go with a similarly textured plastic back in the Galaxy Note.
The front is very much the same, with a main centre button at the bottom of the device flanked on each side menu and back buttons that light up when the phone is in use. Other buttons include the power button on the right side and the volume rocker on the left side of the handset.
Ports are fairly limited on the Galaxy Note, with a microUSB port sitting on the bottom of the handset and a 3.5mm headset jack at the top.
The back of the phone also houses an accessory, with a small black plastic stylus – the "S-Pen" – kept close to the Galaxy Note for when you need to write notes or make a scribble.
Under the back of the handset, Samsung has provided a 2500mAh battery for the Note, a number that far exceeds any other battery we've seen in a phone released locally thus far. The battery is so big that it occupies almost half the physical size of the Galaxy S2.
Performance
One of the biggest phones you're ever likely to see, the Galaxy Note is a monster of a handset, and one that's likely to surprise you.
Let's start with the size: yes, it's big. It's very big. In fact, if you line the Samsung Galaxy S2 up with the Note, you can see for yourself just how huge the handset is, a device that practically dwarves anything else that has come before it.
Despite the huge size, it's still relatively thin, coming in at 9.65mm. In fact, it's genuinely surprising how comfortable the Galaxy Note is to hold and use.
While the phone is very big, the body still manages to feel comfortable in a hand hold, especially when the large angular body of Motorola's new RAZR managed to be rather uncomfortable in comparison. It's not the lightest handset by a long shot, but it's neither heavy, providing a fairly solid heft that at 178 grams makes for a comfortable build.
Using the Note is definitely a two-handed affair, but we haven't seen many touchscreen smartphones that get away with single-handed use. Still, even with large hands, it's a two-handed phone.
If you carry a phone in the pocket of your pants, there's no doubt that the Galaxy Note will be felt as you walk. Whether you're packing loose, casual, or tight jeans, it's hard not to notice the massive shape protruding from your pants. And that's not a euphemism.
Getting the Note out and using it as a device is better than you'd otherwise expect, and is like carrying a tablet around with you. Anyone who has ever questioned why they'd need a phone and a tablet will instantly love the sort of appeal the Note offers.
The screen on offer in the Note is excellent, offering HD resolution in a 5.3 inch form factor. In a way, it's like you're carrying a small version of Samsung's recently released Galaxy Tab 7.7, albeit one that can make phone calls and runs on the phone version of Android operating system.
Images and text look very sharp on the screen, and browsing the web on the large screen is much easier with a bigger screen at your disposal.
The eight megapixel camera is just as good as it was on the Galaxy S2, though it's certainly not as sharp as the shooter found on Apple's iPhone 4/4S.
As always, Samsung has provided a few extra bits and pieces that offer more than just a handset in the package.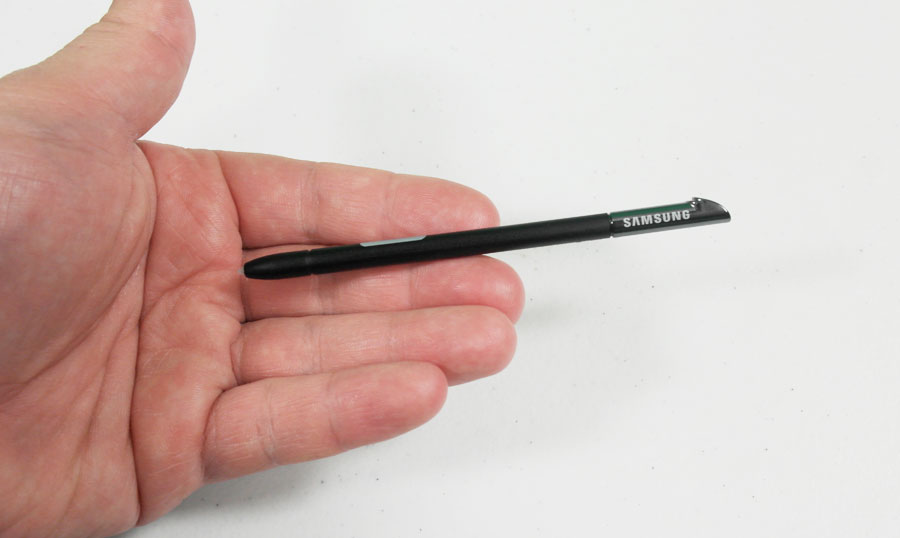 The most notable of these is the stylus, called the "S-Pen" by Samsung. This small plastic pen can be tucked away in the back of the Galaxy Note and features a small tip for a feel and response like that of a pen and less like the rubber tipped styluses normally used on tablets. Samsung has made this stylus to be pressure sensitive, applying different strengths of digital ink depending on how hard you press.
That's how it's supposed to work in theory, but when you apply a small amount of pressure, nothing happens in some of the apps. It's not like taking notes on a piece of paper, and you don't get a faint line as you write or draw. In fact, we had to push hard to get the stylus to be recognised, in comparison to writing with a capacitive rubber stylus or using our finger, which was recognised instantly.
Samsung has apps that are designed to work with the S-Pen, including S Memo and S Planner, but you can also use your finger or another stylus for these. The S-Pen may take some time before we're fully getting the best out of this feature.
Alongside the stylus, Samsung Australia also offers access to the Good Food Guide 2012, Samsung Music Hub, and Navigon's GPS navigation solution.
As for battery performance, we initially expected the Galaxy Note to run out of juice quickly due to the large screen and dual-core processor, but to our surprise, found the Note stronger than expected.
In fact, through a combination of social networking, phone calls, messaging, and game playing, we achieved a life of a day and a half straight with no charge. Most people will want to charge daily in what's becoming fairly typical smartphone life.
While Samsung has managed to make a believer out of us with the size of the Note, the smartphone isn't without its problems.
One of these is the speed of the device. We're not saying it's bad, but we certainly noticed some performance issues popping up from time to time. Some apps took a little longer to load than we otherwise would have liked, and bringing the phone back from standby with a simple flick-up on the lockscreen wouldn't always bring the phone back to life quickly.
While most could live with this, a handset packing a dual-core processor should be able to do much better than this.
Samsung should also have released this handset with Google's latest and greatest, Android 4.0 "Ice Cream Sandwich". While there's nothing wrong with the version of Android it comes out of the box with – 2.3.6, Gingerbread – last year's Galaxy Nexus produced by Samsung arrived with the Android 4.0, making this phone feel out of date.
Samsung's TouchWiz Android overlay feels a little more polished one year on from where it was in the Galaxy S2, but Samsung's own keyboard seems to have its problems. Luckily, the finger-tracing on-screen keyboard known as Swype is available to use on the Galaxy Note.
Even under Swype, we've seen some screen issues where our word swypes are interpreted too early, cutting our words short and making messages seem like strange lines of autocorrect.
We'd also love for this handset to be 4G capable. While Samsung hasn't seen fit to release an LTE-capable Galaxy Note in our country, the large screen would really bring the Internet to life on the go, and we'd love to see a faster download speed on offer here. There's nothing wrong with the 3G here (21Mbps available at the maximum), but we'd love a faster connection.
It's probably worth noting that it's a little strange holding a phone this size to your head to make phone calls. You can get over this pretty quickly, but people may look at you, as it can seem like you're holding the biggest phone ever, and that seems to be reason enough for people to stare.
Conclusion
While it's certainly not for every hand size, Samsung's Galaxy Note proves itself to be one big and impressive phone, making it a solid choice for someone after big buttons, a big screen, or anyone who isn't quite sure whether they need a tablet at all.
Size matters: Samsung's Galaxy Note reviewed
Price (RRP): $899; Available on plans from Optus and Vodafone, with Telstra joining in April Manufacturer: Samsung
Beautiful screen; Decent battery life; Surprisingly comfortable to use and hold;
No 4G; Speed issues pop up occasionally; S-Pen is pressure sensitive, but only just; Runs older version of Android;