Bigger and better: Samsung's Galaxy Note II 4G reviewed

Price (RRP): $899; Available on plans from Telstra, Optus, and Vodafone
Manufacturer: Samsung
The second of Samsung's big phones to be released, the Galaxy Note 2 is one massive device. Featuring a 5.5 inch screen, you'll never call the 4.8 inch Galaxy S3 a big phone again, and while that huge display is one of the reasons to draw you to the Note II, it's the little things and performance that will keep you there.
Features
Combining the work Samsung did with the Galaxy Note and Galaxy S3, the Note II is a blend of the two devices, marrying productivity and performance with a sleeker design and better specs.
Starting with those specifications, the Galaxy Note II features a new faster version of the chip found in the Galaxy S3, with a 1.6GHz quad-core processor manufactured by Samsung. Speed is obviously a priority here, and you can expect 2GB RAM keeping the experience moving at a steady pace, while 16GB storage was included in our model, with the microSD card slot underneath letting you expand it considerably.
Wireless connectivity is mostly standard here, though the WiFi 802.11 a/b/g/n support relies on a dual-band antenna, which should fare better than the typical smartphone. Otherwise, you'll find Bluetooth 4.0 with A2DP, Near-Field Communication, DLNA, GPS, and support for both 3G and 4G in Australia.
The screen is fairly important too, with Samsung moving to a 5.5 inch display supporting the 1280×720 resolution, protected by Corning's scratch-resistant Gorilla Glass 2.
With a bigger 720p display, the pixel per inch value is lower than the Galaxy S3, with the Note scoring 267ppi and the S3 grabbing 305ppi. This reduction in ppi means the Note's display isn't technically as sharp as the S3's, or even the iPhone 4S or 5, though you do get a bigger screen size for your troubles.
The battery is big too, with Samsung jumping from the 2500mAh on the original note to a 3100mAh, a decent leap, for sure. Pull the plastic back off and you'll see this battery, with the microSIM slot sitting next to the battery and a microSD slot just to the right of this.
Multimedia support is taken care of with an 8 megapixel camera on the back, capable of Full HD 1080p capture, while the front-facing 1.9 megapixel camera can capture stills and provide video conferencing.
Like most handsets these days, there aren't many physical buttons or ports to speak of.
For the buttons, you'll find a power button on the right side, a volume rocker on the left, and a small home button on the very bottom of the handset. Ports are equally limited, with a 3.5mm headset jack on the top, microUSB on the bottom, and the Galaxy Note's S-Pen held in a crevice on the bottom.
Performance
The world is changing, and while a few years ago we found phones were getting smaller – so small, you could accidentally sit on them – now they're getting bigger, thanks to our consumption of the web, social networking, video, and this desire to have tablet computers with us at all times.
Enter Samsung's Galaxy Note, the biggest smartphones of the lot, marrying the best of what Samsung develops with the largest form-factor.
We saw the first Galaxy Note in Australia earlier this year, that model arriving a touch later from its release around the world late in 2011.
Not even a year later, we have the Galaxy Note II, an even bigger handset that borrows from the template made popular by its Galaxy SIII brother, and makes what could be Samsung's best handset ever.
Let's start with the size: if you thought the Galaxy S3 was big, think again.
With a 5.5 inch screen, the Galaxy Note II is positively massive, encompassing anything that tries to compete with it.
Aesthetically, Samsung has stuck with a similar design to what it used in the Galaxy S3, choosing to use plastic as its main material, with a removable battery, main home button at the bottom, soft buttons on each side, shiny metallic grey trim, and a slippery feel.
It's not the best design, and out of the plastic bodies we've seen and felt this year, doesn't exude the strongest quality, especially compared with the likes of the HTC One X and Nokia Lumia 900. Still, you find you get used to the feel relatively quickly.
Dominating most of the design of the handset is the massive 5.5 inch screen which is unsurprisingly big… really big.
Technically, the resolution is the same as what you get on the Galaxy S3 – 1280×720 – but with a bigger display, so it's like you're carrying a tiny tablet with you. As a result, everything is larger. You have a bigger phone dial-pad, colossal keyboard, larger games, and a much more sizeable window into the world wide web.
When Samsung announced the Note 2 back at IFA this year, there was some concern that it wouldn't come with 4G, as two versions of the handsets were being released.
Well you can put those fears to rest with this Note, because Samsung has a 4G connection available for you to use in the Note 2.
Benchmarking it, we found the typical range of Sydney 4G LTE speeds we've come to expect in our tests, ranging from 18Mbps to 37Mbps down, and as much as 21Mbps up. Depending on where you are, you may get higher, but in either case, you won't be dissatisfied. This is a smartphone that flies.
Over in the system section, the phone doesn't let up in performance, either. Samsung seems to have learned a few things about improving Android's responsiveness with the 4G Galaxy S3, and the research is paying off well in the new Note.
Coupled with Android 4.1 Jelly Bean, the 2GB of RAM Samsung has thrown into this handset is helping, and the phone works without faltering, with each swipe, button press, and gesture doing what you ask the handset to do.
You can still hold the main button down and bring up the task manager, swiping programs in and out of memory whenever you want, but at one point, we found over ten different applications running and the phone didn't seem to be bothered at all.
No stutters, no crashes, and no problems. We were happy.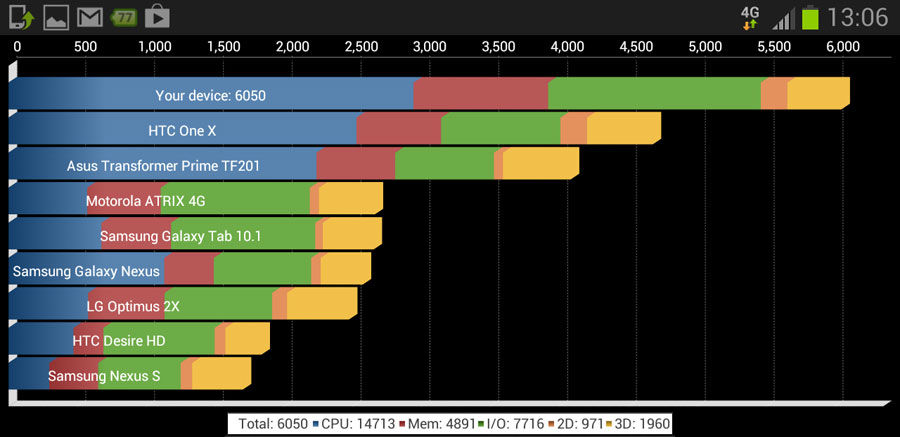 Our benchmarking application shows just how fast the smartphone is, rocketing past the HTC One X and Asus Transformer Prime. Mind you, these are synthetic benchmarks and don't prove much more than the Galaxy Note 2 being ridiculously fast, but it's still impressive, especially since this is an insanely fast computer you can stick in your pocket.
It also shows that most applications and games should love this handset, with an immense amount of power held inside. That's not to say every program will work flawlessly on the Galaxy Note 2, but it's one of the better experiences we've seen.
Like what we saw on the LTE Galaxy S3, Samsung's interpretation of Android in 4.1 Jelly Bean is nice and clear, with a drop down screen that provides quick shortcuts to the main features of your phone – GPS, WiFi, Bluetooth, etc – while also telling you the time, date, and showing a shortcut to all of your settings at the of the screen.
You'll find Samsung's evolved TouchWiz overlay here, and like on the S3, it's a pleasant experience, with up to seven homescreens, an app menu, widget menu, and the ability to uninstall apps relatively painlessly from the main menu screen.
Your settings area is where the majority of Jelly Bean's design changes can be seen, and on the Note 2, you'll find the sections have been divided up well, making it easy to select storage, battery, power options, and more.
Samsung has made things even more interesting by sprucing up its version of Android with some homemade touches, too, making the Note feel more like the hybrid phone-tablet device we all think it is.
One of these is the vertical shortcut dock on the very left of the screen, which can be swiped in and out and allows you to run common apps easily. If it's not on your screen, you can make it appear (or disappear) by holding down the back button on the bottom of the handset.
More than showing your favourite applications, however, this vertical dock shows apps that can be run in a split-screen mode reminiscent of the way desktop apps can be put next to each other but seen and used at the same time.
To do this, simply run one of the apps listed in that vertical dock, and then drag a second – one of those shortcut icons – out into either the top or bottom half of the screen. You'll see one of the halves light up in blue, informing you that the app will load here.
Let go, and the app will load in that specific section of the screen. We haven't seen this on a phone before, but it's easy to use and insanely quick, and unlike Windows 8, we can actually change the window sizes to what we want, not just half and half or relying on a one-quarter/three-quarters view.
Not everyone will have a use for this, mind you, but if you like doing two things at one time – maybe scrolling through email while checking out a webpage, or tweeting while watching a video – you'll find use for this feature.
Another nifty thing Samsung has thrown in is called "one hand operation" and practically highlights that yes, Samsung is aware that the Note is a big phone.
They're so aware that you can actually force the phone to make specific elements smaller and shifted to one side, such as the phone's dial-pad, making it possible to call it up and enter a phone number with just your left or right thumb.
Something else we didn't expect is the accessory specific homescreens. A feature Samsung has thrown in, these are homescreens that appear when you plug accessories in, or in the case of the Note S-Pen, take them out.
For instance, if you take the S-Pen out to use on the Note, the phone picks up that the pen has been detached and switches you to a special homescreen showing you what you can do with the pen. You can change this screen, but by default, it shows you all the neat things the S-Pen works with, while also changing the shortcut icons on the bottom to match the accessory better.
Likewise, when you plug your headphones in, a special headphone homescreen pops up, showing music and video, while once again changing the shortcuts to match the accessory you've plugged in. The headphone screen won't appear with Bluetooth headphones, however.
Let's stick with the S-Pen for the moment, as it's one of the features Samsung is really pushing. Before in the first Note, it was little more than a stylus that let you draw on the big phone.
Now in its second generation, it's a far more interactive and connected accessory.
Made for the customer that still loves to write and draw, this makes the Note more like a smartphone with a built-in notepad, letting you take notes as you chat on the phone, draw things, and store more information that you would normally take on scraps of paper.
For example, as you hover it above the Note, you get a little reticle showing you where it's being pointed. You can use the S-Pen like your fingers to swipe between screens, but then you can also write notes in handwriting and have them translated by the Note's optical character recognition (OCR) into actual text.
Drawing is possible, and Samsung has its own pencils and pens in the S-Note app, or you can download other pieces of software, such as Autodesk's Sketchbook.
And then there's the way Samsung has integrated the S-Pen into making calls.
Let's say you're chatting to a friend and they ask you to take down a phone number. Obviously, you need a scrap of paper, but wait, you have the S-Pen. Take it out while you're on the phone and S-Note will activate on top of the phone screen, allowing you to scribble down the phone number for use later on. Awesome.
Some of the features launched with the Galaxy S3 are here too, including Smart Stay – which keeps the screen on when you're reading things – and Pop-Up Play's way of keeping videos on screen while you're doing something else. We're not sure how many people will use this, but hey, they're available if you need them.
Finally, there's the battery, and while we haven't had much luck with 4G devices lasting much longer than 18 hours, we found a full day of life is capable from the Galaxy Note 2 on 4G networks, extending into a second day possible if you don't use your display or 4G connectivity too much.
Use it far less than we did – speed tests, the odd game, making phone calls, web surfing, social networking, email – and two days are possible.
That is without a doubt the best 4G battery performance we've seen thus far, hardly surprising given the 3100mAh battery found on-board, but good to know, anyway.
For what it's worth, Samsung has made an excellent handset with the Note 2, effectively following the same template that garnered awards in the Galaxy S3, but increasing the size and making it more tablet-like in the process. But it's not perfect, and even though it gets close, we have a few small bones to pick.
One of these is something we saw on the 4G Galaxy S3, and it seems to be an issue with Samsung's latest Android software versions: you cannot replace or change the icons and shortcuts in the Samsung bottom dock.
You know those icons at the bottom of the screen, and at the bottom of every homescreen? Well you can't customise them, so get used to phone, contacts, messaging, and a web browser, because that's the order Samsung has selected, whether you like it or not.
Not every app works with the split-screen multi-tasking either. From our testing, it looks as if its limited to specific apps, though most of these are the office and internet apps you'll use regularly. For instance, you can use the split screen with web browser and Twitter, but not with Flipboard or Angry Birds.
Owners of the first Galaxy Note might feel a bit proud in one area, too, as the second Note sports a lower screen resolution, even though it has 0.2 inches on its brother in overall display size.
It might seem strange, but the 5.3 inch Galaxy Note featured a 1280×800 resolution, while the new Galaxy Note 2 uses a 1280×720 panel on a 5.5 inch size, which effectively reduces the pixel per inch ratio, and makes it appear less precise than its predecessor.
That said, we'd be surprised if anyone complains, and outside of the technical difference, it's a very pretty screen that still manages to be very clear.
Conclusion
For its second effort at a big phone, Samsung has pretty much nailed it, turning the Galaxy Note into more than "just a big phone," but something far more usable as a production tool, a smartphone handset, and a media tablet.
There are features in the Note II that are just so clever and creative that you have to wonder why no one else has thought of them, such as the accessory specific homescreens and split-screen multitasking, the latter of which is something we think should be on more devices, especially tablets.
Then there's the performance, which is staggering. Samsung has given this phone 4G, a big 5.5 inch screen and a blazingly fast 1.6GHz quad-core processor, and yet it lasts longer on 4G than any other handset we've tested this year.
That said, the big screen and size won't be everyone's cup of tea, and while we think this is an excellent handset, if you don't want to carry around something this big, it's not for you.
If, however, you're after an excellent handset with a massive screen, or you want a phone that lets you take advantage of it in the way you would a computer, you'll want to check out the Galaxy Note II. Highly recommended.
Bigger and better: Samsung's Galaxy Note II 4G reviewed
Price (RRP): $899; Available on plans from Telstra, Optus, and Vodafone Manufacturer: Samsung
Strong performance in the operating system; Fantastically fast 4G connection; Just over a day's battery life on 4G, more if you use your phone less; One handed operation mode makes it possible to use the phone's core functions with one hand; Split-screen multitasking works a treat; Homescreens that activate based on what you're doing are very clever;
Screen resolution isn't as high as last Note; Not every app can go to split-screen; Android exhibits the same bugs in the 4G S3, so you can't switch out your dock shortcuts;