Your own personal cinema: Sony's HMZ-T1 reviewed

Price (RRP): $899
Manufacturer: Sony
In the late 90s, Sony introduced a headset geared at letting you experience video game worlds and movies in a personal way. Called the Glasstron, it was Sony's first portable headset for entertainment. Now, Sony has revived the concept with a headset made for today's generation.
Features
Looking like something out of a science fiction movie, Sony's HMZ-T1 is a cinema screen for your eyes.
Built into the shell of an oversized pair of sunglasses, the headset takes advantage of two small 720p OLED screens that sit in front of each eye, effectively creating a stereo image for watching movies and playing games.
Audio is – as expected – a necessary part of the entertainment experience, and Sony has catered for this with built-in flat headphones that can be adjusted for three angles, depending on where your ears sit on your head.
The headset features adjustable straps for keeping the unit tied to your head, with Sony also providing padding not only for comfort, but also to make sure the fit is firm when the headset is worn. At the top of the headset is a detachable leatherette forehead supporter, interchangeable depending on how large your skull is and how tight a fit you're after. Two rubber "light blockers" are also included, attachable on the bottom of the headset to stop light from leaking into the experience.
The HMZ-T1 headset features very few buttons, with a directional pad surrounding a menu button, volume buttons, and a main power button.
You can't just plug the HMZ-T1 headset into a HDMI source, however, as you need to plug the headset into the HMZ-T1P, a Sony HDMI Pass Through box, included in the package.
This extra box plugs into the wall and not only provides power for the headset, but also takes in an HDMI feed and sends it back out to an external HDMI device, such as a TV or monitor. The front of the HMZ-T1P features the proprietary plug port for the headset.
The box also includes a quick setup guide, manual, two extra types of forehead support, a cover for the forehead support, cord and strap clips, a figure-eight power cord for the HMZ-T1P, and a HDMI cable.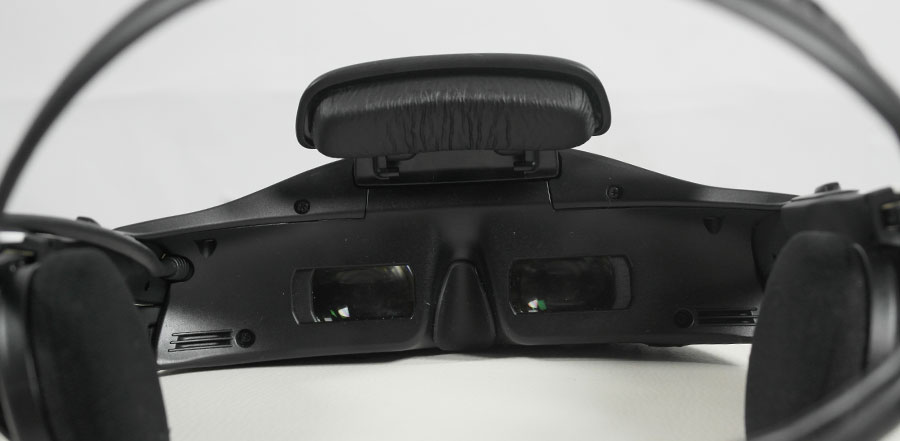 Performance
Using the HMZ-T1 is a completely different experience from watching something on your TV.
For starters, you have to actually put the headset on, an experience that requires you stick it in your head, tighten it to your skull, lower the headphones in place, and keep your head fairly level as you watch movies or play video games. It's not the speedy experience that is sitting on your couch and flicking the TV on, though, as this thing requires a little bit of patience. In fact, if you plan on playing a video game, make sure to have the controller in hands reach, otherwise you'll be grasping at air when the headset is in place on your head.
Once the headset is tight enough and comfortable, you can focus on what the HMZ-T1 is designed for: impressing you with its tiny OLED screens.
Because your eyes are so close to the two tiny 19mm screens, the picture manages to look like you're sitting in a darkened personal cinema. The illusion is quite excellent, and because there is one screen for each eye, you can see a true 3D picture without any need for special glasses.
In our 3D test movie "Tron Legacy," the effect wasn't hugely pronounced, but rather as natural as when we saw the film in both the cinema and on our passive 3D TV. Viewed on the HMZ-T1, the colours and contrast of the picture are quite strong, and it's easy to see the quality of components Sony has used in this headset.
Gaming is also possible in 3D, and we tried Sony's "Uncharted 3" – a title with a 3D mode – as our test title here. We certainly weren't disappointed when we jumped into the game and found the depth effects to be instantly noticeable as our main character Nathan Drake punched the daylights out of some English pub brawlers.
In our initial experience, gaming certainly made the HMZ-T1 the most fun, but it's also very good for watching movies, even when they're not 3D.
Most people can't afford a 19 metre screen for their home – we know we can't – and with the HMZ-T1, that's what your brain thinks it sees. That huge screen experience is surrounded by a black border, similar to what you'd feel if you went to the movies. That said, it's a trip you have to make by yourself.
At $899 per headset, the HMZ-T1 is an expensive trip to your own personal cinema, and it's not terribly comfortable for long periods. We're not sure if we could make it through a full two-hour movie, and would start with 30 minute intervals to see if we can adjust.
This reviewer managed a good half hour before the pressure on the bridge of our nose became too much. Other GadgetGuy staffers became uncomfortable more quickly and found they needed to remove the headset before this time, so it's really going to come down to what level of comfort you can become accustomed to.
Also surprising is the lack of a quality audio system, especially for a company known for making its own headphones. In the HMZ-T1, Sony has provided two small flat supra-aural headphones, but the sound on offer isn't up to the same quality provided by the two excellent OLED panels. In fact, we were left wanting something a little more enveloping, something more becoming of a loud booming movie cinema like our eyes are seeing.
Our last gripe is at the HDMI pass through box, a fundamental requirement of the HMZ-T1. To use this headset, it needs to be plugged into the supplied pass through box, a device that takes in an HDMI feed, sends it to the headset, and then sends an identical feed out to a TV, so everyone else you know can watch what you're watching, not just yourself. You don't need the HDMI out plugged in to make the headset work, it's just provided in case more people want to watch the telly when you're in your little closed off headset world.
Our problem with this is that the entire headset stops being portable when you realise that you're tethered to a box that requires its own power.
The required HDMI box means you can't take the headset with you for use in a portable environment, such as an aeroplane or a long car ride. You're basically stuck, and rather than just put the HDMI in port on the headset and supply a rechargeable battery, you have to rely on the switcher for both power and video transmissions, something that's a little saddening.
Conclusion
Probably the coolest and geekiest piece of kit that's ever come across this reviewer's desk, the Sony HMZ-T1 is a fantastically cool gadget even with its flaws. It's not perfect and is a little on the expensive side, but if you're looking for a way to keep the man cave compact, we'd certainly start here.
Your own personal cinema: Sony's HMZ-T1 reviewed
Price (RRP): $899 Manufacturer: Sony
One of the best 3D images we've seen; You'll be the coolest kid in class (or at work);
Headphones could be better; Can be uncomfortable for long periods of time; Required HDMI switcher means that it's not portable at all;