Samsung's Galaxy Z Flip 5 is its latest 'flippable', or clamshell-style phone, launched alongside the productivity-oriented Z Fold 5. The Flip 5 is designed for the everyday mainstream user, offering a solid combination of features, camera capabilities, a large 6.7-inch internal screen, and, most importantly, the ability to fold it into a compact package.
The South Korean electronics giant isn't holding back on foldable phones either, with the market set to ship 100 million units in 2027, according to Counterpoint Research. It's encouraging to see a consistent stream of improvements since the OG Flip was released in 2020 too. We recently explored Samsung's journey from prototypes to now, and it's fascinating to see how far the technology has come.
And while the Flip 5 doesn't look significantly different from the Flip 4 on the outside, there are some major upgrades. This includes a much larger outer display dubbed the "Flex Window", a redesigned "Flex Hinge", and a more potent mobile chip.
Flex Window with a view
The outer screen on the Flip 5 has expanded to 3.4 inches, up from 1.9 inches on the Flip 4. A larger outer screen means that you can do more without having to open up the phone. Given that competitors, such as Motorola's Razr 40 Ultra and Oppo Find N2, have larger external displays than the outgoing Flip 4, it was vital for Samsung's latest iteration to stay competitive. While it's not as large as the Motorola's 3.6-inch display, the Flex Window cuts short of the camera housing rather than encasing it. This makes the screen feel a little more constricted than the Moto's, but the space difference is relatively minimal.
The Flex Window boasts a clear and luminous AMOLED display with a 60Hz refresh rate. This is perfectly useful, although the Razr 40 Ultra's outer screen features a smoother and more responsive 144Hz refresh rate.
There are about 13 'widgets' accessible on the outer screen, including a calendar, weather app, clock, activity tracker, Spotify music player, and more. You can also view notifications, access contacts, set timers, use the stopwatch, and track your favourite stocks. A full-sized keyboard allows for replying to text messages without opening the display. A swipe down unveils the phone settings, and tapping the camera icon opens the camera – but more on this later.
A re-engineered Flex Hinge
Samsung has crafted a new hinge system, its primary advantage being that the phone now folds entirely flat. This wasn't the case with the Flip 4, which retained a small gap where debris could accumulate. In practice, the new Flex Hinge is not only superior because the phone now lacks a gap, but the hinge is also sturdier and less prone to damage. Its movement is also notably smooth, providing resistance at almost every angle, which means more camera positioning options. When manipulated, it feels more robust than other foldable phone hinges. The hinge is certified to withstand 200,000 opens and closes, far exceeding typical usage over the phone's lifespan.
The Galaxy Z Flip 5 has an IPX8 water resistance rating, though it lacks a dust resistance rating. The water rating implies that it can remain submerged in 1.5 meters of fresh water for 30 minutes. Despite not having a dust rating, this doesn't mean it's vulnerable to dust. In my experience, the hinge's dual rail design keeps dust out of the mechanism quite well, but it's always a good idea to keep your foldable away from sand, dirt and dust anyway.
A potent mobile platform
Another significant enhancement for the Flip 5 is its chip – the Qualcomm Snapdragon 8 Gen 2 mobile platform, exclusively tailored for Samsung. It's featured in Samsung's top-tier Galaxy S23 Ultra, so it's no slouch. In fact, it's the most potent chip in any flip phone you can buy in Australia today.
So why would you want so much power? There are a couple of benefits, starting with extremely snappy performance when opening apps and running many applications at the same time. There's also plenty of horsepower for computational photography. There's a lot of AI processing happening at the point of taking a photo, including determining the best settings for lighting, subject and composition. This includes harsh, low light and backlit shots, and the additional processing helps enhance your photos so they look their best. For gamers, the Snapdragon 8 Gen 2 is a real plus, yielding high frame rates on intensive games like Genshin Impact, Call of Duty and others.
GeekBench 6 test results
| Phone model | Single core score | Multi core score | Processor |
| --- | --- | --- | --- |
| Samsung Galaxy Z Flip 5 | 2094 | 5443 | Qualcomm Snapdragon 8 Gen 2 |
| Motorola Razr 40 Ultra | 1801 | 4658 | Qualcomm Snapdragon 8 Gen 1 |
| Samsung Galaxy Z Flip 4 | 1825 | 4494 | Qualcomm Snapdragon 8 Gen 1 |
| Oppo Find N2 Flip | 1191 | 3389 | MediaTek Dimensity 9000 |
| Motorola Razr 40 | 1019 | 2808 | Qualcomm Snapdragon 7 Gen 1 |
In our Geekbench 6 benchmark results, it's clear that the Flip5 is head and shoulders above the other flip-style foldable phones, none of which have the latest Snapdragon 8 Gen 2 on board
There are also efficiency benefits too, as the Gen 2 version uses less power when it needs to, extending battery life. Given that the Flip 5 has a larger outer screen to contend with but the same 3700mAh battery as the Flip 4, it's great to see that the new chip can help it maintain a healthy amount of charge. For the time that I tested it, which included shooting quite a few photos and videos, it lasted at least a day, if not more. Of course, your mileage may vary depending on what you're doing with the phone but gone are the early days of foldable phones running out of steam halfway through the day. Samsung rates to Flip 5 to last up to 57 hours when listening to music or 20 hours of continuous video playback.
Galaxy Z Flip 5 cameras: the same but different
The camera hardware and sensors remain unchanged from the Flip 4. This includes the 12-megapixel wide and ultra-wide cameras and the 10-megapixel punch-hole selfie camera on the 6.7-inch screen. However, despite the same hardware, there are some notable improvements thanks to the increased processing power of the Snapdragon 8 Gen 2 mobile platform. During my tests, the main improvements for both the ultra-wide and wide lenses came from contrast and sharpness. Images now show more detail in darker areas, and entire photos tend to look sharper and more detailed. I also noticed better handling of high dynamic range processing, so there was less white-clipping and more detail revealed in bright shots, like clouds in the sky.
When it comes to portrait mode and the depth of field effects, or background blur, the extra processing power resulted in a more realistic-looking bokeh. On the Flip 4, it seemed like the background blur was a little overdone, and now it looks more realistic.
Another area of improvement, thanks to the processor, is digital zoom. When cranked up to 10X, there's more detail and sharpness in the zoomed image versus the Flip 4.
Otherwise, in standard daylight shots, there wasn't a lot of difference between the Flip 4 and Flip 4, as both looked quite good in terms of colour and tone.
With video, I saw similar improvements in sharpness and contrast as well as more detail in both highlight and lowlight areas. Otherwise, things like stability and smoothness were about the same between both phones.
With night photos and videos, the Galaxy Z Flip 5 has a cleaner look and more realistic colour tuning. Night skies, for example, look more black than grey, and there appears to be less noise in very dark elements. The ultra-wide lens seemed to show the most improvement here.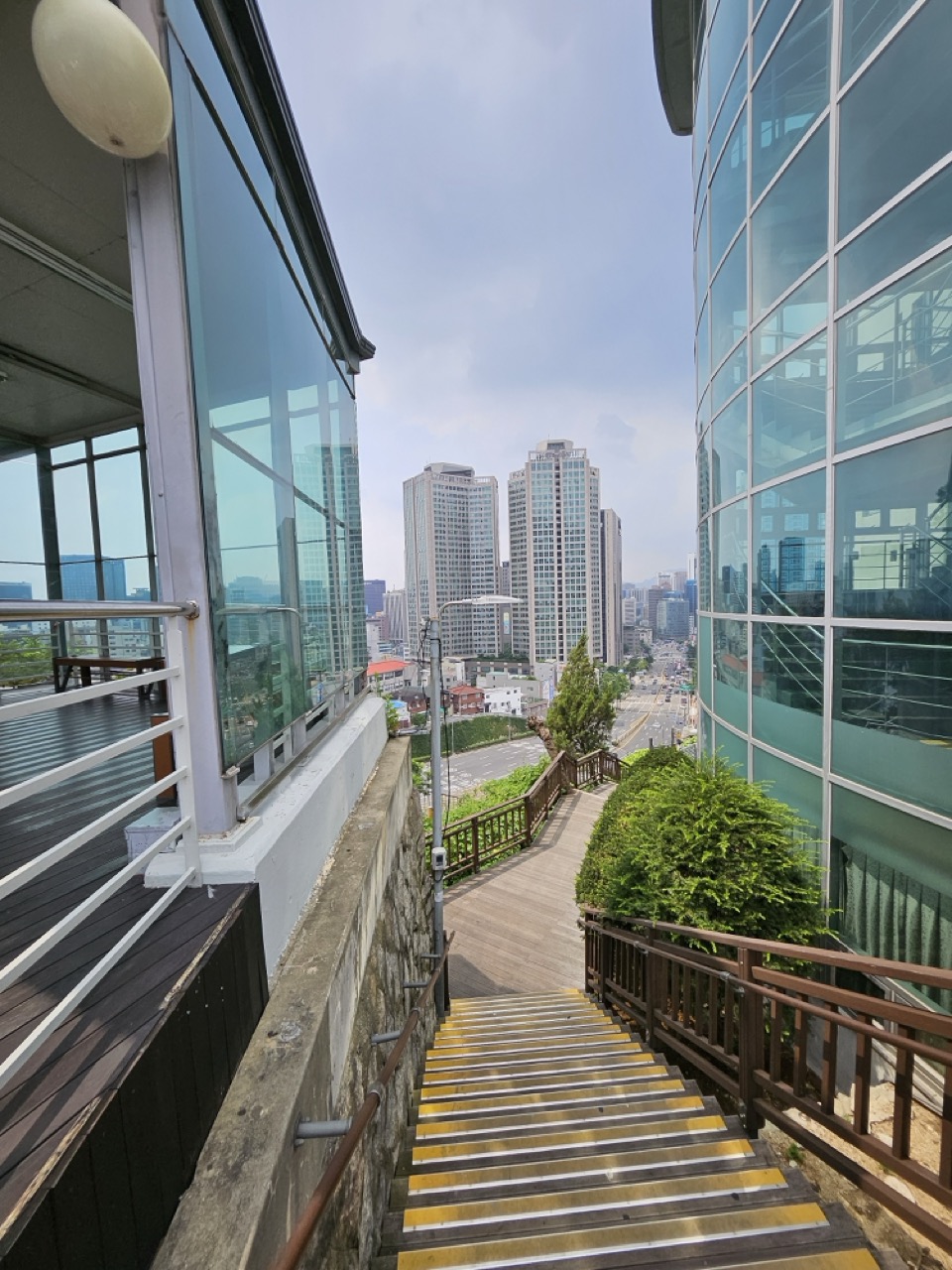 Overall, the Flip 5 camera builds on an already versatile and good-quality system that should satisfy most people for just about anything they want to capture with it. Of course, for even more creative effects and control, there's always the Galaxy S23 range.
What's the Galaxy Z Flip 5 like to use?
Living with the Flip 5 on a day-to-day basis is pretty easy. This is thanks to Samsung's clean and relatively straightforward interface, and there are some software enhancements for the foldable screen.
You can customize the Flex Window with a number of colourful faces that include different clock styles as well as other information, like the date, battery level, or the steps you've taken. I'm sure there will be more as time goes by, not to mention more widgets.
Compared to the Motorola Razr 40 Ultra, which allows you to view just about any app on the front display, it would be good if Samsung offered the same flexibility. For example, you can't watch YouTube or Netflix videos on the outer screen. And while you may not want to browse a web page on the smaller display all the time, having the option would still be useful.
The FlexCam app makes the most of the foldable form factor too. You can launch the camera, shoot selfies, tweak settings, and review your shots, all without opening the display. I love the ability to take a shot by holding my hand open in front of the camera, and this is great for hands-free shooting or solo content creators. You can even use the camera controller on the Galaxy Watch 6 to zoom in on your selfies remotely.
When using the big internal screen, FlexCam places the camera controls on the lower half and a preview window on the upper half. You can tap a button to put the preview in the middle, and tap a dedicated button to turn the external display on or off, so you can show people what the camera sees.
Design and style
The Flip 5 retains its sleek and premium look and feel from the Flip 4, and is available in four colours: mint, graphite, cream, and lavender. If you buy from samsung.com directly, you get more choices, including grey, blue, green, and yellow. The new mint colour is the standout for the year, and it has a subtle blue-greet effect that is quite pleasing to the eye. The polished metallic edges of the phone are a nice touch too.
Config, warranty and prices
There are two configurations of the Flip 5 sold in Australia, which include 256GB and 512GB memory sizes.
It's good to see that there's a 24-month warranty, as it is with all Samsung mobiles, with an extra year available through Samsung Care+.
Sale
Samsung Galaxy Z Flip5 Factory Unlocked Android Smartphone, 512GB, Flex Mode, Hands Free Camera, Compact Foldable Design, Informative Cover Screen, Lavender
Enjoy compact with impact. Designed with durable, lightweight materials and a zero-gap hinge, Galaxy Z Flip5 is a full-screen smartphone experience that folds perfectly into your pocket
Flipped shut and selfie ready. Check your messages and app notifications too. Stay in the loop with an even bigger cover screen, compared to previous Galaxy Flip devices
Make your phone your own by mixing and matching accessories with your unique cover screen and main screen displays. Clip it to your bag or belt loop to step up your style
Fold it, Flip it, Stand it. Take your selfie and group shot game to the next-level, hands free, with Flex Cam
The Flip 5 is the most pricey foldable on the market, starting at $1,649 for the 256GB model. Samsung is offering a free memory upgrade to 512GB for the same price, which is normally $1,849. The Motorola Razr 40 Ultra and Oppo Find N2 are both $1,499, and now with Motorola's new entry-level Razr 40 flip phone for just $999, it's cheaper than ever to get into the foldable space. However, the Flip 5 does include the latest and most powerful processor, along with premium materials and styling options, solid engineering and a healthy selection of high-quality components. Premium does come at a price, and this is exactly what the Flip 5 delivers.
Specifications
Processor
Snapdragon 8 Gen 2 Mobile Platform for Galaxy
OS
Android 13
One UI 5.1.1
Memory and storage
8GB Memory with 512GB internal storage
8GB Memory with 256GB internal storage
Display
Main screen: 6.7-inch FHD+
Dynamic AMOLED 2X
120Hz Adaptive refresh rate (1~120Hz)
Infinity Flex Display (2640 x 1080, 22:9)

Cover screen: 3.4-inch Super AMOLED 60Hz Display
720 x 748
306 PPI
Dimensions
187g
Folded: 71.9 x 85.1 x 15.1mm
Unfolded: 71.9 x 165.1 x 6.9mm
Camera
Rear: 12MP Ultra Wide Camera
F2.2, Pixel size: 1.12μm, FOV: 123˚
12MP Wide-angle Camera
Dual Pixel AF, OIS, F1.8, Pixel size: 1.8μm, FOV: 83˚

Front: 10MP Selfie Camera
F2.2, Pixel size: 1.22μm, FOV: 85˚
Battery
3,700mAh (typical) dual battery
25W charging (charger sold separately)
Fast Wireless Charging 2.0
Wireless PowerShare
Durability
IPX8
Connectivity
5G
LTE
Wi-Fi 6E
Bluetooth v5.3
Sensors
Capacitive Fingerprint sensor (side), Accelerometer, Barometer, Gyro sensor, Geomagnetic sensor, Hall sensor, Proximity sensor, Light sensor
SIM compatibility
One Nano SIM and one eSIM
Price (RRP)
$1,649 (256GB)
$1,849 (512GB)
Colours
Mint, Graphite, Cream, Lavender
Samsung.com exclusives: Grey, Blue, Green, Yellow
Who is the Galaxy Z Flip 5 for?
The Flip 5 is a great all-around choice for anyone who's open to trying something a little bit different, cool, and on-trend. It's perfect for capturing selfies, videos and photos, with a bright and clear dual-screen setup, and plenty of under-the-hood punch for gaming or anything else you're into. Best of all, it's wrapped up in a robust, stylish, and foldable package.
GadgetGuy occasionally uses affiliate links and may receive a small commission from purchased products.
The Galaxy Z Flip 5 is one of the best foldables yet. It's stylish, perfect for photos and videos, and packs plenty of power.
Positives
Very powerful Snapdragon 8 Gen 2 chip means plenty of punch for games, photos, video and more
Large 3.4 inch outer display that's genuinely useful for capturing content and at-a-glance info
Revamped Flex Hinge is more robust, smooth and the phone now folds completely flat
Attractive styling, premium materials and a fresh Mint colour choice
Solid and versatile camera with good low-light performance and improved sharpness and contrast
Negatives
Limited to 13 widgets on outer display and you don't have a choice of running the apps you want on it
Outer screen not quite as large Moto's Razr 40 Ultra
Priced higher than the competition