It's the middle of the year, and by now the TV manufacturers should have their wares in stores for you to buy, and for us to review. Sony appears to be last, though, but is finally showing off one impressive little TV.
Sorry, did we say little? We meant big. We get those words mixed up all the time.
This is Sony's flagship for the year, the X9400C, a big whopper of a TV that arrives in a 75 inch model only, though there is a slightly smaller model available, the X9300C, which will be 65 inches and feature one less major feature.
Features are a big part of what is being offered in this end of the market, in these two "X" models, with 4K Ultra HD support, 802.11ac wireless networking (WiFi), active 3D technology with two pairs of glasses, motion smoothing (which you can turn off), and the latest version of Sony's 4K X-Reality Pro upscaling technology.
By now, you're probably aware of Ultra HD's biggest problem on TVs, and that's the lack of content: there is absolutely nothing to watch.
That's not solely a flippant remark, but rather a point that there is no 4K media in Australia, short of the stuff you can make yourself with the few 4K cameras and 4K capable smartphone cameras available.
Blu-rays will be released supporting the higher definition 4K format soon, but you'll see these late this year and early next, and so right now, the majority of things you'll play back will be upscaled or streamed in 4K.
Streaming in 4K is relatively easy, with Netflix in Australia supporting a few TV shows and movies in the 4K format, though you have to have a pretty fast internet connection to make it happen. YouTube is also a possibility, though this is mostly trailers, and this just helps you to realise the pickings are a little slim in regards to finding Ultra HD content.
So what's the solution?
For now, it is upscaling, as it has been since 4K Ultra HD was first unveiled a few years ago, though this year, the solution is better than it has been.
While every other 4K TV manufacturer has an upscaler, Sony's latest version of the technology relies on its "X1" processor, a proprietary bit of technology that together with algorithms analyses every pixel and frame and compares it to a database to reproduce the pixel and frame quickly as it upscales, interpolating the image and making it appear bigger.
There will be some dotting and some floral patterns, but by and large, when sitting a metre from the TV, Sony hopes its X-Reality Pro technology does its job and makes Blu-rays look like 4K, or close to it.
Then there's the screen itself.
For this screen, Sony is using one of its Triluminos screens, a fancy way of saying what LG and Samsung called quantum dot or "nano-crystal" tech, which is essentially a technology that uses crystals of various sizes for different colours of light. In essence, it should produce OLED-like colour, but without the OLED price.
This isn't Sony's first dance with Triluminos, however, and the company has been using it on TVs for a couple of years now, with the technology even appearing on Sony VAIO laptops until the company discontinued the line and sold the laptop division to a different group.
Triluminos and its quantum dot technology remains, however, and in this iteration, Sony tells us its the best yet, with the technology appearing on a few more models, but it working best on this very large TV, the X9400.
Helping make it better is the "Xtended Dynamic Range Pro" technology, which features a full array of LEDs sitting under the panel and lighting up the pixels in a grid when they're needed, shining bright and pushing the colour range when needed, and switching it off when there should be black.
This is different from most of the other TVs with the standard "Xtended Dynamic Range" tech from Sony, which just uses edge lighting to highlight areas, making the pro version the one to get if you need a big screen with a level of colour accuracy. As a point of difference, the smaller X9300C — identical in almost every other way — uses the standard "Xtended Dynamic Range" tech.
Testing the X9400C out this week, we found it to be simply lovely, with some of the best blacks we've seen from a non-OLED display.
Viewing the infinite space that was seen in "Interstellar", the black of outer space draws you in, and is hard to tell the difference between the black on screen and the black of the frame, what is essentially the chassis of the X9400, with the side sections that house the speakers.
That's another section that has received some work, with Sony getting its magnetic fluid speakers back in a high-end TV to provide high levels of sound without excess distortion and noise.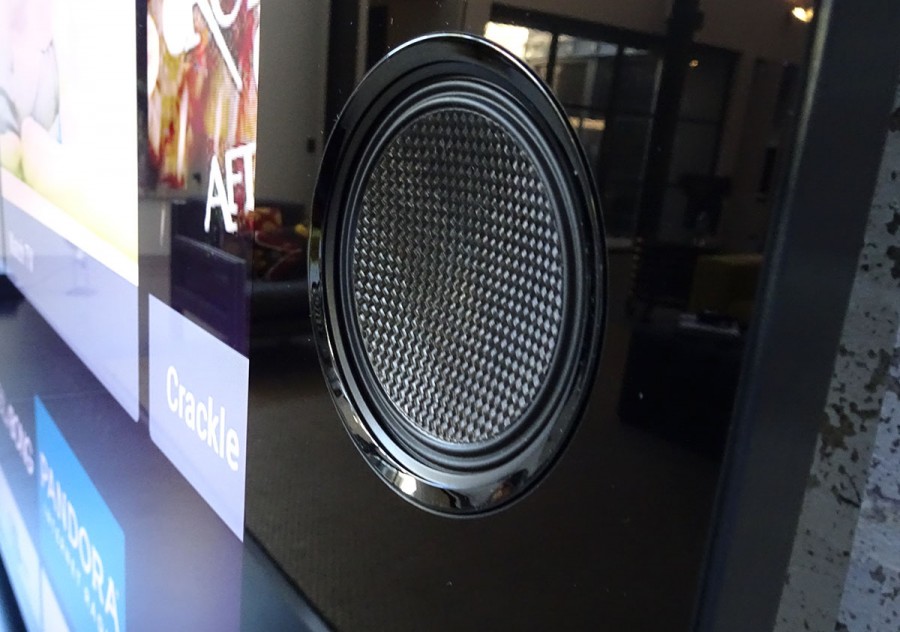 Interestingly, the on-board speakers can certainly handle their own, and testing with some music pumped up, as well as the sound from movies, you can see that these little side-speakers are handling themselves a little better than most of the built-ins we see on other TVs, but there's more to the Sony X9400 sound system than magnetic speakers.
You see, buyers of this TV will also receive a dedicated wireless subwoofer made just for the TV.
Sadly, it won't work with another soundbar or home theatre system, and this is made solely for the X9400, but we're not so sure you'll need another system for a while.
Testing it with music, you can push this thing pretty aggressively, and around the 60 percent volume mark with some of the hip-hop found on the GadgetGuy Sound Test for 2015, we had more than enough sound to scare the neighbours. The jazz of Miles Davis did have to be pushed to its limits, hitting between 90 and 100 percent to get the same amount of volume, though this is something we can likely attest to differences in mixing and mastering throughout the years.
Sufficed to say, we were impressed with the sound, with a solid amount of bass, and good mids and highs from the built-in speakers, and that's not something you can say very often about TV speakers.
Helping the sound is support for 24-bit audio, with Sony bringing its love for high-resolution audio to this TV, ideal if you want to let the television search for high-res FLACs or DSD files on your home network and storage devices, or alternatively plug them into one of the X9400's USB ports.
That last part is a little tricky, as the ports aren't found on the side, but rather on the back.
We didn't feel game enough to move the X9400 by ourselves, being a big TV that weighed more than we expected, so if you do go for this model, make sure you setup a USB cable before you're done installing it, as you'll want it all ready to go for when you want to plug in a drive.
The design is also intriguing, with Sony continuing with its angular almost mountain-inspired side framing, but we're more interested in the interface.
Yes, in this TV Sony's frustratingly-named Xrossbar is well and truly gone, with Google's Android TV now sitting in its place.
Now this isn't the same Google TV we checked out from Sony back in 2012, and that's a good thing. Back then, the Android-based concept felt unfinished and poorly developed, and made us just want to leave the box aside and use, well, anything else, because anything else would have been a better choice.
Fast-forward three years and its easy to see both Google and Sony have made progress, providing a clear icon based interface of apps on a screen, offering up some YouTube choices from the get-go, and an easy way into some of the apps you're probably keen to use, like catch-up TV, web browsers, Google Movies, and even Google Music.
There's a new remote for you to use, too, with a touchpad controller complete with a microphone up top, and when you press the microphone button on that remote, you'll be able to speak into the remote and tell the TV what you want, with Google's "Now"-like voice control at your disposal.
For instance, we wanted to find "Kind of Blue" by Miles Davis, and we did, playing the album on the TV through Google Play Music, but you can do other things, like switch to a different HDMI port, find videos, or get some of Google to do its little tricks, like asking it what the answer to life the universe and everything is (hint: it's 42).
We picked up a few bugs here and there, though for the most part, it was fairly smooth sailing, and we're particularly interested in the games feature on the TV, which will provide some of the games from Google's Play Store for use on the Sony Android TV operating system. You'll want to bring your own game pad, but when you do, you'll find you may not even need a video game system (though we'll still keep ours).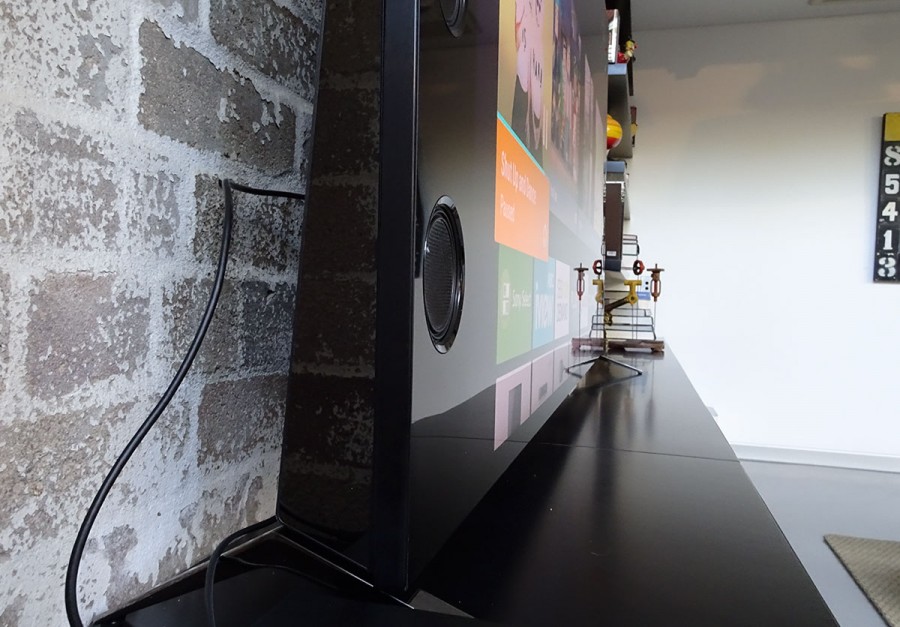 After only about half an hour with the Android TV interface, we're already game to play with it some more, though that might be because we're fans of Android as it is, and this is just a continuation of that work, except here on a big screen.
The good news, however, is that it won't just be the X9400 that gets Android TV, with most of Sony's range netting the new platform.
Even the smaller variant — the X9300C — will get it, with the difference being size (65 inches compared to 75 inches on the X9400C), a less advanced backlight technology, and a difference in price, with the smaller of the two (X9300C) chiming in for $6999 and the larger — the one in most of this article, the X9400C — clocking in at $11999.
Both should be available in stores now, and we're hoping to get a review done on at least one of these shortly, so if you're keen and you can wait, hold on, because our TV reviewer is just as itching to get his mitts on one as you are.