Not all of us run like our lives depend on it, and if you need a bit of a boost on the morning or afternoon run, Sony has a way of delivering motivation to your ears as you jog.
It's the second fitness gadget we've seen from Sony this year, as the company gets into health gadgets well and truly with more than just another fitness tracker, because the gadget we're talking about is definitely not just another fitness tracker.
Sony calls it the "Smart B-Trainer", and it's a pair of in-earphones that is a little more complicated than your regular pair of headphones to go running with.
Rather than simply deliver audio to you as you run, the Sony Smart B-Trainer also includes sensors to track heart rate, acceleration, barometric pressure, steps via gyroscope, and a GPS, taking in this information and recording it in as many as 11 styles of log, giving you distance traveled, time, speed, pace, steps, stride, elevation, cadence, heart rate, calories you've burned, and the route you ran via the GPS.
The technology taking all of this in is inside the headset with its slightly larger size, and it will talk to phones to display and store the information in a friendly manner, and that's if you're using Android or iOS, with both of those supported here.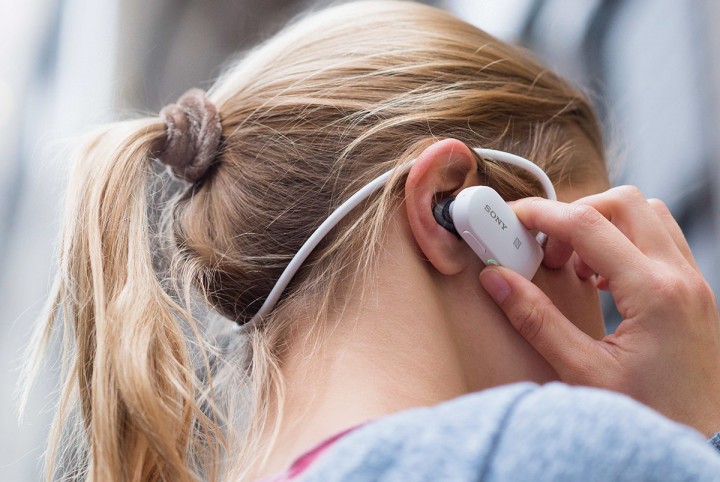 One feature that grabs us, though, isn't just the tracking, but some voice coaching.
We're not quite sure what that consists of yet, but what we do know is that music selection and performance will be linked to heart rate, providing music selections set to different tempos dependent on what sort of sweat and speed you're working up, with Sony doing this through its own analysis technology ("12 Tone") to process your music.
Interestingly, it's not just about your own heart rate, but the heart rate goal you're going for, and when you're trying to reach a lower goal, the music analysis will pull up slower songs to bring you back down to running to the tempo you're going for.
Also of note is the storage, because you might not have to bring your phone with you on the runs.
While you won't receive phone calls without one, the Sony Smart B-Trainer stores 16GB of music files and is water resistant, providing it a fair degree of ruggedisation to elements like the rain (though try not to swim with it).
Pricing for the Sony Smart B-Trainer (SSE-BTR1) is a little different from your regular set of earphones, and will come in at $349 when it arrives in stores this week.