Sony is aggressively increasing its range of TV, audio and more. Its CES 2109 announcements included an interesting glass 360° speaker and adding Alexa as an alternative to Google Assistant on some devices.
Please note that CES announcements are provided a service to GadgetGuy readers and we make no representations to price, availability or quality. The Sony website is here.
Sony TVs – new 8K Master should be superb
Sony has announced the new MASTER Series Z9G 8K LCD and A9G 4K OLED televisions.
Sony's MASTER Series TVs represent the pinnacle of picture quality available to home viewers, capable of displaying images that faithfully convey the creators' intent.
The MASTER Series is the name given to only the very best Sony TVs and provides premium picture quality, colour, contrast, and clarity approaching that of a professional-grade monitor. The MASTER Series TVs also feature Netflix Calibrated Mode and IMAX Enhanced to ensure further that content is as the creator intended.
Sony also welcomed the A8G BRAVIA OLED 4K TV and X9500G and X8500G 4K HDR TVs to their industry-leading TV line up.
MASTER Series Z9G 8K LED TV -Available in 85" from the 2nd half of 2019. Pricing TBC
MASTER Series A9G 4K OLED TV- Available in 55" and 65" from August and 77" from September. Pricing TBC
A8G BRAVIA OLED 4K TV – Available in 55" and 65" from July. Pricing TBC
X9500G 4K TV – Available in 55", 65" and 75" from May and 85" from July. Pricing TBC
X8500G 4K HDR TV – Available in 55", 65" and 75" from May and 85" from July. Pricing TBC
And, a glass 360° speaker. Interesting! Portable?
Sony has a new Glass Sound Speaker, the LSPX-S2, a minimalistic and elegant portable home speaker that uses its design to produce stunning sound quality.
Authentic, crystal clear sound that will fill every corner of the room thanks to Sony's unique Advanced Vertical Drive Technology that makes the speaker reproduce 360-degree sound.
The Glass Sound Speaker has a small, compact body with a subtle design finish with eight hours of battery life. Whether you are having a cozy family get-together or you're having a moment of peace to yourself, this speaker has you covered.
LSPX-S2 Glass Sound Speaker -Available from July for $699
Retro Turntable with Bluetooth
Whether you are revisiting your old records or building up your collection with new releases, transport your vinyl into the present day with the new Sony PS-LX310BT turntable.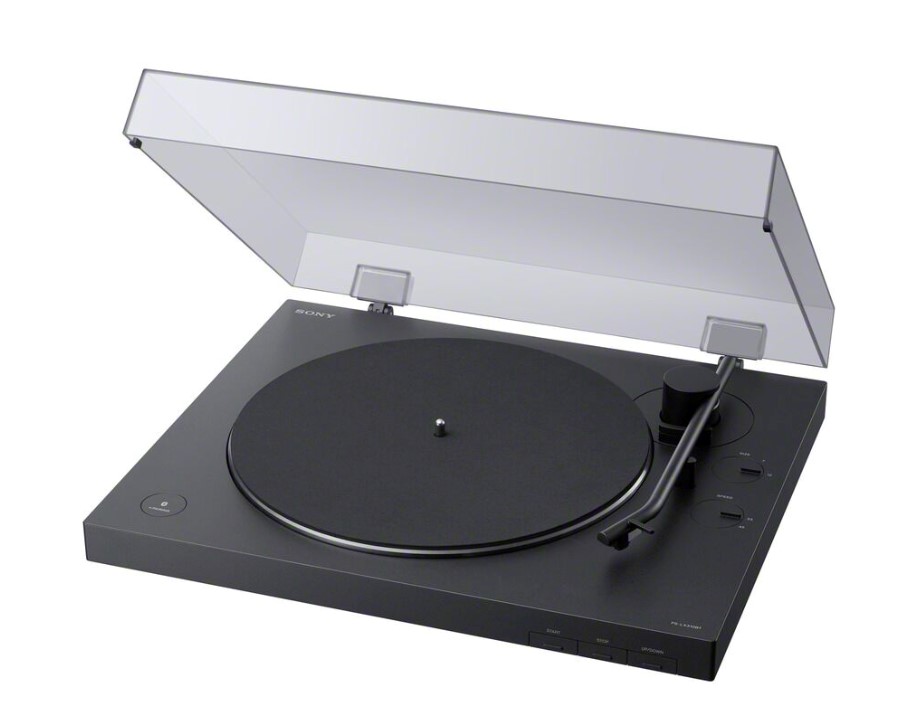 The LX310BT brings the warm sound of vinyl to any wireless speaker, sound bar or headphones with the addition of a BLUETOOTH transmitter built in, giving you complete listening freedom.
Sony fuses the much-loved vinyl sound quality with the convenience and flexibility of connecting to a wired or wireless device, perfect for enjoying vinyl in today's connected world.
PS-LX310BT Turntable -Available from May for $299
Soundbars with Dolby Atmos and DTS:X upscale
Upgrade your home theatre set up with Sony's new HT-X8500 and HT-S350 sound bars.
Experience cinematic surround sound from the comfort of your home with Dolby Atmos and DTS:X support on the new HT-X8500 soundbar with built-in dual subwoofer. This 2.1ch single sound bar delivers object-based cinema sound which puts you in the middle of the action. With 320W of high power sound, the new HT-S350 sound bar delivers impressive surround and deep, powerful bass with its wireless subwoofer.
HT-X8500 Soundbar -Available from April for $599
HT-S350 Soundbar -Available from June for $399
Extra Bass means extra bass! Party Hard Part I
Sony refreshes its EXTRA BASS wireless speaker line up with the addition of the SRS-XB32, SRS-XB22 and SRS-XB12 portable speakers.
Feel the deep and punchy bass sound with the popular EXTRA BASS series of speakers from Sony. The XB22 and XB32 have dual passive radiators which work together with stereo full range speakers to enhance low-end tones and give the bass a boost, despite the compact size. The XB12 uses a single passive radiator to achieve a similar effect.
These speakers are party-proof, being both water and dust resistant, having a long battery life of up to 24 hours and a portable and compact design with a carry handle, so your music can follow you anywhere. The XB32 can even charge your smartphone, so there's no excuse to stop the party.
SRS-XB32 EXTRA BASS Wireless Speaker -Available from May for $229
SRS-XB22 EXTRA BASS Wireless Speaker -Available from May for $159
SRS-XB12 EXTRA BASS Wireless Speaker -Available from April for $79
Party hard with Sony's high power audio and flashing lights – Part II
Sony has announced five new models to its high power audio range with the MHC-V72D, MHC-V42D, MHC-V02 and an exciting new outdoor party speaker, the GTK-PG10.
MHC-V72D, MHC-V42D and MHC-V02 feature high-power 360° sound and lighting for the ultimate party experience. This line up features a new Jet Bass Booster to fill large party spaces with clear and deep bass.
Perfect for outdoor parties and barbeques, the portable, wireless and rechargeable GTK-PG10 speaker spreads high power sound with a dedicated outdoor party mode.
The GTK-PG10 also features a table and cup holders on the splash-proof top panel.
MHC-V72D -Available from April, pricing TBC
MHC-V42D -Available from April, pricing TBC
MHC-V02 -Available from April, pricing TBC
GTK-PG10 -Available from April, pricing TBC
Top of the line WH-1000MX3 cans get Alexa as well as OK Google
Sony has announced that its highly acclaimed WH-1000XM3 noise-cancelling wireless headphones will soon receive Amazon Alexa support in addition to OK Google.
Sony's top wireless noise-cancelling headphones provide a hands-free, voice-controlled experience. Just tap the button and ask Alexa to play music, change tracks, control smart home devices, search information and more – whether you are at home or on-the-go, Alexa is designed to make your life easier by letting you effortlessly control your world.
GadgetGuy's review is here
Amazon Alexa Update for WH-1000XM3 Wireless Noise Cancelling Headphones – Now available in black and silver
360° reality audio
Sony's new "360 Reality Audio", is a new music experience so immersive that music fans will feel like they are front row or on the side stage at a concert.
Sony partnered with select Live Nation Clubs & Theatres to capture audio from an array of concerts including The Wombats, AJR, Good Charlotte, Kodaline and more to be announced.
360 Reality Audio produces a three-dimensional sound field where the different sounds and musical elements can be projected in full 360-degree, powered by Sony's object-based spatial audio technology. Fans can access the audio content of the artists above by using headphones and selecting the "360 Reality Audio" content which will come via services including Deezer and TIDAL.