The STM Grace range of women's business bags is a balance between simplicity and style. In short, they look professional yet are eminently practical.
The STM Grace range (Australian website here) offers extremely reasonably priced business travelling bags including
GadgetGuy asked GadgetGirl (wife and professional businessperson Jan) to review the STM Grace range for the woman traveller.
STM Grace is for a woman on the move
STM Grace is not about 'women's' products but a specially designed range of useful business bags in a variety of colours that suit a person on the move. 'Grace' is named after U.S. Navy Admiral "Amazing" Grace Hopper who helped to develop the first programming language that revolutionised the computer world.
Those colours include (not all are for each style)
Blue Diamond pattern
Purple Diamond
Teal Dot
Coral Dove
Dark Purple
Night Sky
We selected Dark Purple as it is available on all bag styles. When shown to a panel of women the opinion was that colours reflect a more mature audience.
Review paradigms – bags
Quality – zippers, stitching, fabric, strap anchors
Practicality – does it fit what it should
Style/Looks – does it look good, premium or pauper
Caring for it – any special care factors
Looks/Style – more practical
The range uses a 100% polyester fabric with a slightly grainier weave reminiscent of fine canvas. Colours are two-tone – different on upper and lower sections.
It looks practical rather than luxurious or faux leather. It is the kind of look that has a universal appeal unless you are a Prada wearer darling! To me its something that I would use every day in travels to and from work rather than in a boardroom situation.
Interiors are a padded faux fur to protect the contents.
Quality – up there for durability
Zippers are largish, strong, with a matte bronze colour and finished with leather pull tags. These will last, unlike so many cheap nylon zips.
Seams are single stitch with heavy gauge colour matched thread. Corners are 'gapless' (wraparound) and padded. They should last for years.
In all several steps above the cheaply mass-produced ranges.
Practicality – does what it promises
The backpack and both sleeves are well padded and should protect the laptop/tablet admirably. Having said that there is an absence of a rigid protection frame, so it's probably best not to sit on the bag/contents. All provide additional protection against hip-height drops.
Care and maintenance – nothing needed
The exterior should be hand or spot washable without risk of colour run or discolouration. I could not find a water 'resistance' rating. It won't hurt the bags or the contents in the rain.
STM has a lifetime warranty against manufacturing defects.
Individual reviews – STM Grace range.
Pack that holds up to a 15" laptop
The external dimensions are H 42 x W 29 x D 11 cm x .6kg. In imperial terms H 16.5 x W 11.4 x D 4.3 inches.
The laptop pouch is H 24.7 x W 36 x D 1.8 cm or H 9.7 x W 14 x D 0.7 inches. It is suspended at the back of the rear compartment. STM calls this SlingTech as it suspends it above and away from the edges of the pack keeping it isolated from the impact zone.
It fits a MacBook 15 and a Microsoft Surface Book.
In front of that is a slightly smaller sleeve and then backpack main cavity. Followed by a zipped A5 sized pocket with direct access to a CableReady slot to pass a charge or sound cable through to the front zippered compartment.
There are two half-sized front zippered compartments. The upper has pen, glasses and key pockets (and a key lanyard) and the bottom could fit a decent sized paperback novel.
From a practicality view, space is well thought out and useful. The pack is wide enough to fit the power adapters and accessories. It fits A4 files and a lot of 'stuff'.
The back is padded as are the over the shoulder straps. In normal use, this construction is fine for commutes, but it's not particularly 'air-breathable' so no long distance hikes, please.
At $119.95 it provides excellent value for the quality and utility. It is many steps above a "Paddy's Market special" that simply won't protect your laptop or last as long.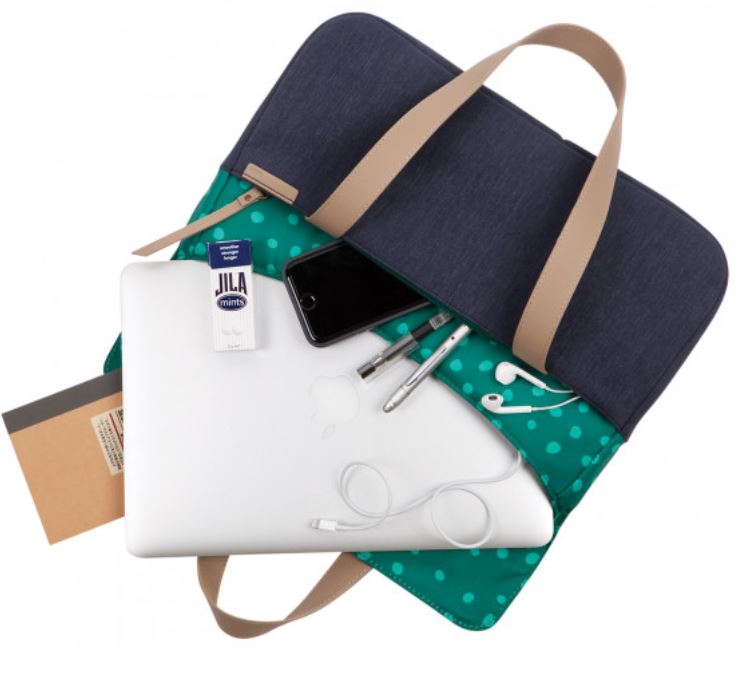 The $69.95 Deluxe Laptop sleeve has carry handles. The site suggests shoulder straps, but they are too short.
It has a laptop compartment concealed under a magnetic flap. A front zippered section holds pens and more, but it is a reasonably tight fit for power adapters and cables. In other words, the slimline design bulges if you put anything thick in there.
The 13" version has external dimensions of 22.7 x 36.0 x 1.8 cm x .31kg. It did not fit a Surface Book (depth wise). The magnetic cover flap is not strong enough to wrap around this.
It was fine with a MacBook 13 and a Surface Pro.
I suspect that the 15" version at 24.7 x 36.0 x 1.8 cm x 3.7kg may be more useful if you have an x360 design laptop.
The handbag straps are only single stitched, so it is important to keep overall weight under 3kg. I don't think they would pull out, but it has happened to me too many time before with other brand sleeves.
Laptop sleeve in two sizes for 11-12" laptops/tablets and 15" laptops
At $49.95 this is a sleeve only and offers no additional storage for chargers and accessories.
Three sizes are available
11" – H 22.3 x W 32.0 x D 2.0 cm x .13kg. Inner pocket H 22.3 x W 32.0 x D 2.0 cm
13" – H 25.5 x W 34.5 x D 2.5 cm x .18kg. Inner pocket H 22.7 x W 32.5 x D 1.8 cm
15" – H 27.4 x W 38.0 x D 3.0 cm x .18kg. Inner pocket H 24.7 x W 36 x D 1.8 cm
The wraparound gapless sleeve should offer good drop resistance and protection.
The 13" model will snuggly fit a Surface Book and easily fit a Surface Pro and MacBook 13.
Clutch for all those accessories
I must admit that I did not initially see the purpose of the $29.95 clutch. It is an unpadded, two compartment, lay flat, clip together, clutch.
Think of it more as an accompaniment to the Pack. It is useful to put all your pens and stationery in one section and whatever else – phone etc. -in the other. Outer dimensions are 13.5 x 21.5 x 4.0 cm x .08kg.
It was very handy to put a laptop charger brick in to stop it from scratching other goods.
GadgetGirl's take – STM Grace is a good, practical travel range
Well made, fit for purpose from a great Australian company based in Sydney.
If you are not looking for 'executive' bags, these will do the everyday commute with ease and protect your most valuable laptop or tablet.
Colours are a highly personal thing. I did not warm to the dark purple, but some others did. In showing the colours to a range of ages, the millennials felt the schema was 'mature'. But there are enough choices to cater to most. In hindsight, the 'Night Sky' is a more acceptable business scheme.
Pricewise you get what you pay for. I noticed a sale (at Myer) offering substantial discounts.  eBay and Amazon also have some models so bag a bargain.
Rating – STM Grace
It is hard to rate a range of items. Overall the quality and price stand up well to other brands. It comes down to whether you like the style. If so its at least a 4.5 out of 5.