Telstra's 4G network is turning into a force to be reckoned with, and that makes it perfect for mobile broadband. If you're looking for the fastest way of getting that, Telstra's Advanced III sets the pace.
What is it?
Connecting to the internet when you're on the go isn't as difficult as it used to be, what with mobile hotspot technology built into smartphones and 4G dongles, but what if you don't want rely on the 4G from your phone?
There are many reasons why this might be the case, ranging from a lack of data to an older phone to the idea of 4G mobile data killing your smartphone battery, all of which are serious reasons, and seriously good reasons to consider a mobile hotspot.
Think of these as little portable modems — because that's exactly what they are — with the ability to get their internet access from a mobile network and transmit that access to any device that connects to the modem.
For the Telstra Advanced III 4GX WiFi Hotspot (a mouthful of a name), Telstra is relying on a piece of hardware mad by Netgear, the AirCard 810S. This little bit of hardware is what Telstra is branding and provides a Category 11 connection to Telstra's 4GX networks, delivering speeds as high as the theoretical 600Mbps Category 11 can achieve, though less is far more likely.
Connections to the portable modem (also called a "hotspot") are handled through high-speed 802.11ac connections, and there's even a 2.4 inch LCD touchscreen on the device to let you control and setup the device dependent on your needs. A network SSID and password will be ready out of the box for you to connect to, though you can change this if need be, and you can even log on to a web interface to explore the options of the Telstra Advanced III as well.
This means you can change features like VPN settings, encryption, and if there's a guest network or not using a website for settings modification built into the device.
Few actual buttons can be found on the deice, with a single physical button on the very top of the unit, and two soft buttons to the right of the LCD catering to home and a back button.
A removable battery can be found inside the Advanced III 4GX hotspot, providing 2930mAh of power and being charged through the USB 3.0 microUSB connection found at the very bottom of the device.
Telstra has also included a microUSB breakout charge cable in the box, allowing you to exploit the massive power supply and recharge a device from the hotspot's battery.
Performance
Built for business, Telstra's Advanced III is one of those "you know you need it when you need high speeds and only high speeds" sort of devices, and if you've ever dealt with Australia's mediocre internet access, you can count yourself in this category.
You know the feeling: downloads just aren't coming down fast enough, and uploads aren't working either. In fact, everything is just so slow that you wish you had a time machine to get to the end of the NBN rollout to see just how much faster everything would be when this project made its way to completion.
But the mobile internet is faster, and this is something you know.
In the past few years, mobile access has become the way many of use email, check Facebook, surf the web, and even use the connection for work, pairing our work machines with devices that let us connect online when there's no WiFi to be had. Few laptops support 4G out of the box, and so you need something.
Telstra's Advanced III isn't alone in this space, that's for sure, but it is one of the fastest we've ever seen, and that is something worth waking up and taking notice of.
Some things don't change, however, and design is one of those, with this Netgear-built portable modem and hotspot bringing the same flat brick design with a small 2.4 inch LCD touchscreen and the centre and a couple of soft buttons to the right.
This screen should tell you everything you need to know, and when you take it out of the box, you'll find it should be setup ready for you to use, complete with network ID and password. That means you don't need to fiddle with anything and can get to web surfing the moment you buy it, which is super handy.
What's more, the battery inside should offer at least 2 to 3 hours of access, though we found more was easily possible, and it is charged using the same microUSB connector most smartphones that aren't made by Apple tend to rely on.
Once you're connected, that's all you need to think about, with support for devices running all the way up to 15 if needed.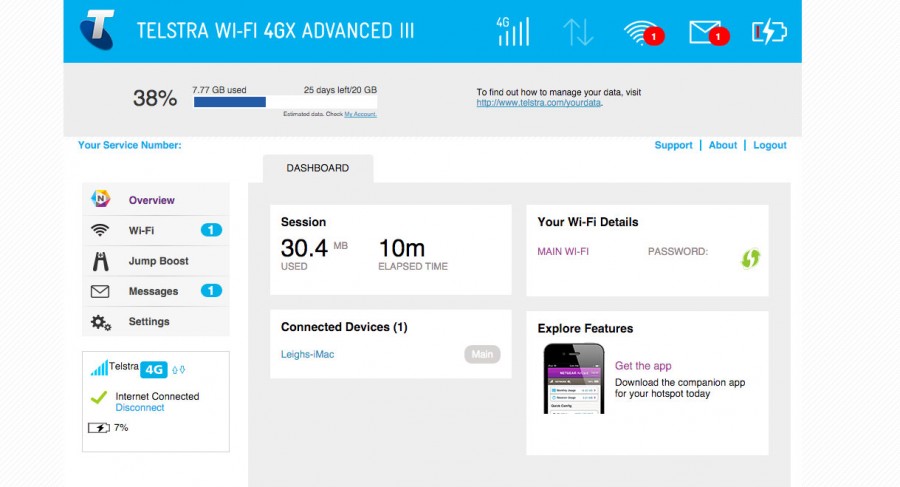 A web based interface is also provided, offering a little bit of animation for connectivity and a decent system for seeing roughly how much data you've downloaded, what your WiFi settings are (and changing them), and how many devices of that supported 15 are connected, handling them if need be.
But the speed is where the real fun is, and that's something worth putting to the test.
And that's just what we did, putting the Telstra Advanced III to the same barrage of 4G speed tests we normally throw the way of smartphones, while also seeing the sort of speeds that were possible from a data downloading point of view.
In use, we found that while it's true you're never going to get to the very limit of what 4G can do — indeed even what Category 11 4G can do, with a technical limit of 600Mbps — we found Category 6 speeds were very possible, with around 290Mbps possible in our tests.
That is quite impressive, and very useful, especially if you need your data to be fast across the board.
For the most part, Netgear and Telstra have nailed this one, with a hyper-fast internet connection possible in the city where we tested it (Sydney on Telstra's 4GX network) and a very, very responsive touchscreen, especially in comparison to the previous generation.
Speeds are never going to be guaranteed to be as "hyper-fast" as the technology can technically reach, and we didn't hit close to the 600Mbps maximum we know that Category 11 can pull, but that has as much to do with the network and the testing locations as it does the hardware being tested with.
Our maximum speed of 298Mbps was still mind-blowing enough that we'd never complain, and as the network matures and Telstra improves its towers and increases its reach, speeds should become more fruitful across Australia.
That means our only real complaint has to come from the price, because while the device isn't super expensive, it's also not cheap either.
Simply put, there is no outright price, and given that this one starts at $37 per month for two years for a paltry 1GB per month — something you could kill in a minute or so — you have to know that this isn't a cheap device.
Telstra's most data friendly plan for the Advanced III sits at a stagger $120 per month for 24 months and delivers 15GB per month, making the total cost over those two years close to $3000 ($2880 in truth).
That is not a cheap price for 15GB of high-speed data, and while we applaud the hardware and the service, the price to get to that point is a little disarming, even for business people.
We'd love to see an outright cost here or even a prepaid option, or just something to let you shape the plan you want, because $120 per month isn't cheap, and even Telstra's so-called "best value" plan for $52 per month with 5GB just doesn't feel enough for the speed on offer.
Conclusion
If you do need plenty of speed and need it on the go, it is hard to look past Telstra's Advanced III 4GX modem, but make sure you're good for the price, because the data hungry plans aren't cheap and you'll be on a two year plan for the privilege.
Very, very fast 4G downloads; Supports up to 15 devices connecting to it at once; Works on 802.11ac WiFi; Colour LCD is quite responsive; Can be used to charge phones; Great web-based interface;