Does your loved one like a little private listening? Are they a committed sportsperson who needs some personal audio to help pass the hours on the track? Might they be an enthusiastic audiophile who would appreciate the kind of accurate sound available only from high-end headphones? Are they often stuck on an airplane, ears pummelled by its noise?
If your answer to any of those questions is "yes", then do we have a gift idea for you! Or maybe ten of them.
Here are some headphones and earphones that have caught our eye – or ears – over recent months. Some are very much for exercise, others for travel, and we'd recommend them all.
BeatsX wireless earphones – $199.95
Since Apple took over the Beats headphone brand, they've started sounding good. And started merging in Apple technology. So the BeatsX Bluetooth earphones incorporate Apple's W1 chip for improved battery life and automated pairing with iPhones and the like.
What most impressed us was the rock solid nature of the Bluetooth pairing. Rather than a begrudging ten metres, these earphones allowed us forty or more metres, and worked without interruption regardless of which pocket our player was in.
Read the gadgetguy.com review here.
Bose QuietComfort 35 II noise cancelling headphones – $499.95
Bose cut its noise cancelling chops with headsets for US fighter pilots, so it knows what it's doing with this technology. Its revised version of the QuietComfort 35 headphones offer two levels of noise reduction, with the higher level being the most impressive we've ever experienced.
Of course, they can work (without noise reduction) when the battery is flat, fed by means of the supplied cable. And as with other Bose headphones, they deliver impressively high quality sound.
Read the gadgetguy.com review here.
BioConnected HR+ Biosensing Sports Earphones – $299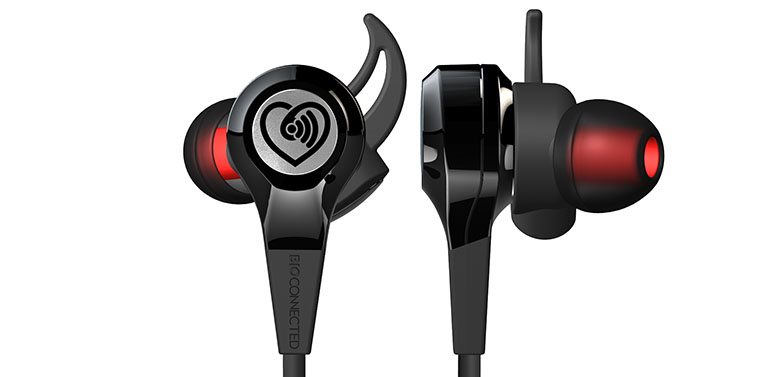 Earphones are for listening to music. Or are they? The BioConnected HR+ Biosensing earphones are, of course, Bluetooth earphones. But they are also heart rate monitors, measuring each beat of your heart and communicating it back to your smart phone.
The Bioconnected app – for iOS only at this point – also gathers the full range of data about your movement, including your route, using your phone's sensors, and builds a full profile of your exercise. Your loved one doesn't have an iPhone? The heart rate monitor can be paired with third party apps on Android phones.
Read the gadgetguy.com review here.
Sennheiser HD 4.50BTNC Wireless Active Noise Cancelling headphones – $299.95
There really isn't a more prestigious name in headphones than Sennheiser, although not everything it makes necessarily quite matches the company's $55,000 Orpheus headphones. These far more affordable models combine comfort, effective noise reduction, and rather good Sennheiser sound quality. No doubt that's aided in part by the inclusion of aptX, an improved audio codec provided on some Android phones.
These Sennheiser headphones also fold up neatly for travel, and work with the supplied cable when the rechargeable battery has run down.
Read the gadgetguy.com review here.
Audiofly AF100W wireless earphones – $189.99
Audiofly is a Western Australian company best known for professional audio monitoring head gear. And now it's making the move into the consumer space with several models. The ones we took a deep dive into was Audiofly's AF1000W Bluetooth model.
These are indeed based on a set of the company's in-ear monitors. It seems that Audiofly is used to the challenge of making earphones that stay in place, despite the antics of the wearer. We found them excellent in that regard, and also in the quality of the sound that they produced.
Read the gadgetguy.com review here.
Beats Solo3 Wireless headphones – $399.95
We mentioned above how we had been down on the sound of Beats headphones. Seriously, we used to see their distinctive shapes on the heads of young people and had to suppress the urge to rush up and warn people off them. But that changed with Apple's ownership, and we have to say that that the Beats Solo3 headphones combine good, solid sound with the (equal) best in Bluetooth connection reliability.
We say equal best, because the BeatsX earbuds are just about as good, because they also incorporate the Apple W1 chip.
Read the gadgetguy.com review here.
Jaybird X3 wireless earphones – $199.95
We confess, when we're using earphones rather than headphones – a much more frequent choice now that summer is upon us – we usually opt for the Jaybird X3 Bluetooth earphones. Part of the reason is the very good sound quality. Part of the reason is the choice from six different ear tips. Part of the reason is the reliable Bluetooth connection. Part of the reason is the inclusion of the AAC codec, which suits them to Apple gear.
But a big part is a charging system, based on a kind of mini-dock, that is far more elegant and usable than just about any other.
Read the gadgetguy.com review here.
Sony MDR-1000X noise cancelling Bluetooth headphones – $699.95
These are headphones for someone that you truly love. The price alone guarantees that. But they also deliver truly fine sound quality. Especially if your loved one has a premium Sony Xperia phone, because these headphones support the LDAC Bluetooth audio codec, Sony's own higher quality system. But even if they don't, the headphones will also use the Apple-friendly AAC system, and the (premium) Android-friendly aptX system.
A useful feature: place your ear up to the right hand earpiece, the music is muted, the noise cancellation is switched off, and the sound from outside is fed into the audio stream. So you can hear what people are saying to you.
Read the gadgetguy.com review here.
Optoma NuForce BE6i Bluetooth earphones – $174.95
There really is a wealth of choice when it comes to earphones. And of those we've looked at lately, the best value would be the Optoma NuFurce BE6i Bluetooth earphones. They come with seven sets of ear tips, two of them using memory foam, and a weatherproof aluminium construction for the ear pieces.
They sounded very fine indeed. The thing we particularly liked about them was their high gain. Some earphones just won't turn up enough to reach a satisfying level. No problem here with that.
Read the gadgetguy.com review here.
House of Marley Buffalo Soldier Bluetooth headphones – $199.95
Headphone makers try. But headphones are necessarily quite utilitarian things, so making them look stylish is not easy. House of Marley has easily met that challenge with the wood finish and gun-metal coloured frame of its Buffalo Soldier Bluetooth headphones.
They also feature a cable – a nicely cloth-wrapped one – in case you run out of power, soft, comfortable earpieces and rather good sound.