The Zoomo Sport 2021 is the Aussie companies next e-bike for the masses. Its purpose-built for Australian city (read road) use to make bike commutes so much faster. It is also popular with couriers and food delivery riders.
GadgetGuy is testing the Zoomo Sport 2021, and to do so, we needed to develop a whole new set of test paradigms to ensure going forward, we review all e-bikes to this standard. To that end, we strongly recommend reading How to choose e-Bikes – A GadgetGuy comprehensive guide so that you know where we are coming from.
Details: Zoomo Sport 2021 e-bike
| | |
| --- | --- |
| Website | Visit Zoomo Sport here. |
| Price | RRP $3599 from July 2021. Promotional offer $2999 with options of rent-to-own (approx. $150pm x 24m), and no-lock-in monthly rentals (cost based on use). |
| Warranty | Will vary for purchase, rent to own, commercial use etc. See terms here covering the frame, forks, electrical and drivetrain. |
| Store | Zoomo in Sydney, Melbourne, and Brisbane (locations) |
| Service | via Zoomo service centres – see service later |
| About | Zoomo (Est 2017 in Sydney), as Bolt Bikes, is now one of the larger e-bike rental and subscription companies servicing parts of the US, UK and Australia. It rents Smartmotion, VelectriX, NCM and develops a range of Zoomo bikes (here). |

First impression – Big, black, heavy bike without instructions
It is quite an imposing bike in matte black with a quasi-step-through frame and 26″ Kenda Kwick Drumlin rims shod with decent Kenda street tyres. It is also quite heavy at 27kg, made mainly from high-grade aircraft aluminium.
How did I feel on the first ride? Terror, trepidation, uncertainty – none of the above, well at least not uncontrollably so. It has been a while since this sexagenarian was an active pushbike rider where I would set of and do 50+km at a time. I class myself as a recreational rider – throw in a bit of exercise, see the sights, and perhaps have a nice lunch along the way.
We will get to set up shortly, but the strongest first feeling I had was to be more traffic aware. Pull out onto the street (all clear), ride a few hundred metres, and expect motorists to obey the 1.5m clearance rule. Sorry – wrong. Almost without exception, motorists zoomed past, breaking that rule. And I kept looking over my right shoulder – damned cars – they seem so perilously close. But after the first few rides with increasing confidence and bravado, I started to enjoy the experience.
Setup
The purchase price includes a safety induction and up to $150 in local delivery costs. But basically, the bike is ready to go – no assembly required. Regrettably, I did not get the induction, but the basics are fairly straightforward – charge, activate the display with the RFID key and ride. The e-bike is just a heavier pushbike, albeit that boost of power that makes riding easy.
Zoomo Sport 2021
Battery Charger
Phone Holder
USB Port for phone charging on the go
King Meter KM5S-R display
Secure U-Lock
Safety Induction (if bought locally)
Display
Unlock the display via an RFID tag – it is the brains of the e-bike.
Five power-assist modes: Eco, City, Tour, Power, Boost
Info key: Real-time speed, average speed, maximum speed, total accumulated kilometrage, single kilometrage, single riding time, real-time speed.
Battery status
Remaining kilometrage
I don't know the power assist ratio, but I guess it is from 1:1 to about 5:1. That means for the effort you put; the bike adds its power assist ratio. It has a torque sensor (how hard you push) that is far more accurate than a cadence sensor (how fast you pedal). Eco is for battery life (distance), and all the others will reduce the battery life. We did all tests on Eco.
Rims and tyres
Kenda Kwick Drumlin is a crossover tyre with good water channelling tread and low-profile shoulder knobs that can handle bitumen, grass, and gravel. They are 26″, e-50 (50kph rating), tube-type, have 5mm thick walls (to reduce side punctures) and have a 3mm layer of light, flexible rubber with puncture-resistant aramid and ceramic particles inside the tire under the tread.
A set of four costs around $200, and tubes are about $25 each. We can tell you that these are good on bitumen and not bad on grass. They are pretty good in wet weather. Forget beach of off-road use. You can fit any 26 x 2.2″ tyres if you wish. The integrated mudguards are effective. I would have felt more comfortable with a long chain guard instead of just covering the chainring.
Motor
All legal e-bikes have a 250W motor that must be pedal activated and cut out at 25kph. All I can tell you is that the 80Nm torque motor supplies more than enough assistance in Eco and too much in Boost mode.
It has a rear hub motor. Purists may say that they want a mid-motor, but you will spend a lot more. I am not convinced you need it.
As far as my tests, it was fine, never creating oversteer (when turning, the bike has more power than the tyres can deal with). And to be fair, it is easier to repair a rear-drive – simply remove the wheel.
Brakes
Front and read hydraulic disc brakes can stop from 25kph in under 10m. This is well within the 15m standard.
Gears
There is a gear up/down selector lever on the right handlebar. It has SRAM X5 9 speed gears – not too many to get lost in. Again, appropriate to the price – you can spend a lot more on Shimano gears. Let's assume gear 1 (low) is 1:1 and 9 (high) is 1:5 (rotation of the chainring to the gear sprocket). With motor assistance off, you can ride it as a hefty bike and get the feel of the gears. You need to start in 1st gear and work your way up. Dooable – just.
With the motor assistance on as long as you can rotate the pedals at least once (even in 9th gear), the motor kicks in and you very quickly are pushing along at 25kph or more. It is only on hills that you need to jump down a cog or three (one at a time, please) until power assist feels like it is helping you as it should.
Note: Zoomo may include a Throttle Assist function (cuts out at 6kph) on future iterations. This is similar to the walk assist function and complies with State road laws.
Battery
The standard model comes with a 36V/13Ah/468Wh battery (up to 60km). You can get a /36V/17Ah/630Wh extended range (up to 80km) battery as well. The battery fits into the frame behind the front forks. It is removable but can also chargeable in the frame. It comes with a 42V/3A/126W charger that will fully charge the battery in about four+ hours. We did notice that the battery discharged relatively quickly when left unused for a couple of weeks. The solution is to remove it from the bike frame.
Suspension
It has front fork suspension suitable for the road and shared paths – a comfortable ride.
Seat
Perhaps Zoomo was kind to me as it supplied quite a wide, padded, and comfortable seat – unlike the saddle shown on the web page. It does offer a range of seats and uses the standard seat post and lock lever.
But this brings us to the common complaint – one size fits all. I am 1.8m, and the seat could accommodate that. My wife is 1.72m and ditto. But it is not for short people nor really tall people.
Quasi-step through
While the design is step through, the bar above the battery reduces the ease of entry. After some use, the bar had several scuff marks where our shoes had brushed this bar. It is not a bike for those with leg lift and mobility issues.
Carry rack
It has a very sturdy rack integrated into the tail with a solid 40kg load plate.
But that brings up the issue of adding accessories. There are no pre-drilled standard accessory holes or collars in the frame, so adding baskets etc., may be a challenge. Many dog owners would appreciate a lockable rear basket, and it could be handy to do some shopping.
Theft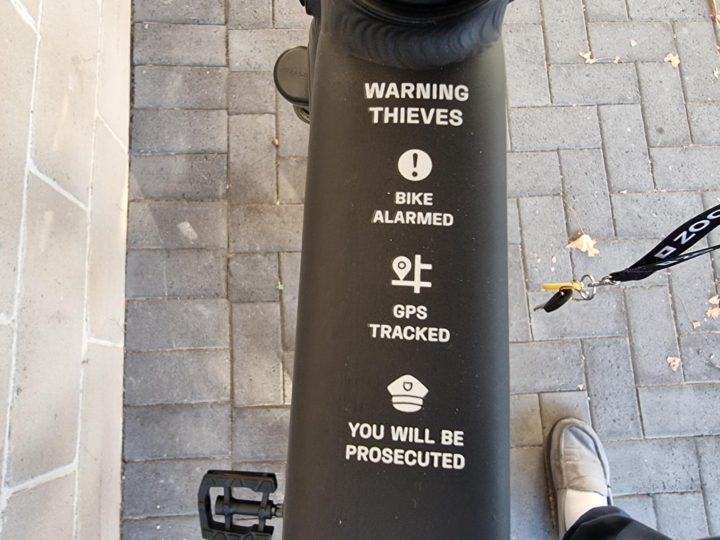 Zoomo supply a secure U-Lock (no security rating given), and the device needs an RFID tag to activate its display and deactivate the motor lock. The battery is also key locked.
It is also GPS tracked (that depends on battery power), and Zoomo claims an 80% success rate in recovery if you report a theft quickly.
Given the physical warnings, alarm and motor lock, the bike is probably safer than most. But organised gangs steal e-bikes from train stations and bike lockers and know how to deactivate any GPS tracker as they all rely on a view of the sky to locate satellites.
Zoomo as a company
I had not heard of Zoomo – it asked us to review this new e-bike. So, we did some checking first and found that it was Bolt Bikes (Est 2017) by Mina Nada.
It started with A$16m funding and lofty goals. "We're trying to build the Tesla of electric bikes here," Nada said. It has also secured a further A$16 million from existing and new investors, led by top tier Australian VC, AirTree. It will use this to expand into new markets and invest in further innovation of its commercial use electric bike platform. In all, $34M raised in 2 years.
Zoomo will also use some of the funds to develop and produce the brand's next-generation e-bike offerings. It has successfully supplied its vehicles to large fleet operators in the last mile delivery space, and its global fleet is rapidly expanding beyond 10,000 units.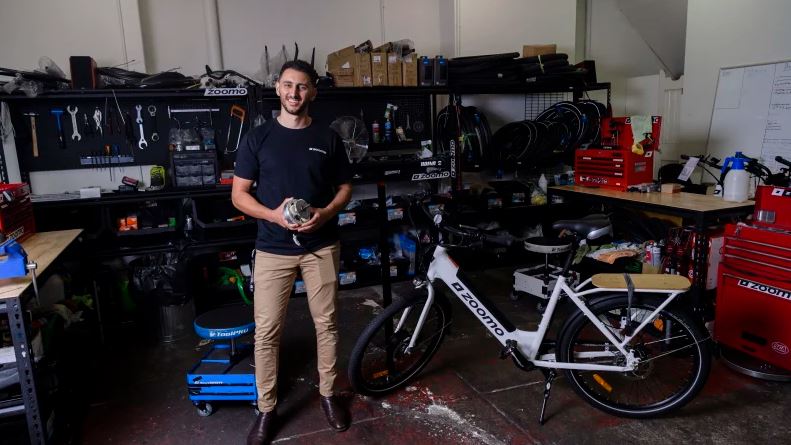 Zoomo has a split personality
There is a slight disconnect – a lack of focus – between commercial bike rental to couriers/food delivery and the consumer. One of the first questions Zoomo asked me was, "Will people pay $2999 for this outright or want to rent to buy or rent monthly?"
The answer is that is offering all three options to consumers – not just business and fleet clients. After all, Zoomo is all about reducing consumer pain points. And there are the issues of ownership, insurance, theft, loaner bikes and more. I am sure that this is under consideration, but its website is not crystal clear.
And one final point – the press release says Zoomo Sport combines next-gen technology with affordability, available today at a price point lower than 70% of standard retail e-bikes. I don't know where it got that figure, but the abacus is faulty. Step-through 'urban', rear-wheel e-bikes with similar specs are similar prices. Mid-motor bikes are typically a lot more expensive.
If Zoomo gets the formula right, it will have nailed e-bike ownership and rentals.
Service and warranty
Trustpilot (Australia) has a 4/5 rating, and there is only one recurring issue – a lack of local servicing outlets outside Sydney/Paramatta, Brisbane and Melbourne CBD. How is Zoomo addressing this?
We spoke to Zoomo, and the answer was that it is looking for service partners around Australia. At present, if you buy a bike outside their service area, then it is up to you or your local bike shop to service it. Zoomo will, of course, provide warranty parts. My advice – if you are buying from outside its service zone, then negotiate a price that allows you to cover your own warranty labour.
Unlike the trusty pushbike, you need to factor in regular services and running costs.
GadgetGuy's take
This is an impressive urban e-bike built to a reasonable price. If I were to liken it to a car, it is more of a utility than an agile sports sedan. Nada's aim is evident, "E-bikes can do 60km/h with bad brakes, rusted chains, and plastic-wrapped (water repellent) leaky batteries risking the riders' safety. That is not us".
The Zoomo Sport 2021 meets or exceeds every paradigm we have tested against. It is an excellent e-bike for the city and urban use. I can't fault it – which is not to say it suits everyone and the best advice is to test ride as many brands and models first. I can say that from the moment you mount it and ride off to your return, it is a nice ride.
The Zoomo Sport 2021 meets or exceeds every paradigm we have tested against. It is an excellent e-bike for the city and urban use.
Positives
Range up to 80km with 17Wh battery
Very well made- built to last
Own, rent to own or monthly subscription models
Negatives
Heavy
No service options outside Sydney/Melbourne/Brisbane
Need to sort out clear definitions for purchase, rent to buy and subscription