The Apple HomePod Mini is a pint-sized smart speaker that brings Siri into your home. You can be sure that it will hit the spot with Apple fans, especially at a very Apple-unlike $149. There is no comparison between the new Apple HomePod Mini and the epoch-making and since retired Apple HomePod. That rocked the house, but its hefty 2.5kg bulk and $469 price tag meant it was not for everyone.
As you know, Apple does not do 'budget' – even its entry-level products are still expensive compared to their rivals. As such, it is a bit of a shock to see the surprisingly affordable Apple HomePod mini. What did Apple leave out to get to that price point, or is it simply a nefarious plan to get a smart speaker into every Apple users home? And remember, Apple equals Siri and HomeKit – not Google Assistant or Amazon Alexa. May as well be speaking a different language.
Details: Apple HomePod mini
Australia website here
Price: $149
Colours: White or Space Grey
Warranty: 2 years ACL
Country of manufacture: China
You can read other GadgetGuy Apple news and reviews here
First impression
It is reminiscent of a shrunken-head version of the HomePod. The eight-ball style features touch-sensitive playback controls on top that fade to black when not in use. Its mesh covering gives it an elegant and understated look. The full-sized HomePod demands pride of place in a room. You can hide the Apple HomePod mini in the corner of the lounge room, kitchen bench or bedside table. Keep in mind, it is not a portable Bluetooth speaker. It needs mains power (USB-C adapter supplied) and does not support Bluetooth. It needs to stay connected to your Wi-Fi network.
Specs
The Apple HomePod mini crams a lot into a tiny package. It is 84.3 (tall) x 97.9mm (wide/round) x 345g. The biggest compromise is a single down-firing speaker. It has two opposed side-firing passive radiators for some bass. It is wrapped in acoustically transparent fabric so as not to muffle the music. The result is a 360° sound coming out of the speaker's bottom and bouncing around the room.
You summon Siri via four-mic far-field microphones. Three listen for the wake word, and the fourth is a kind of echo locator to reduce the ambient music/noise so it can hear you across a typical living room. Sadly, it is now the only speaker to natively support Siri and HomeKit.
Setup
Setting it up is the same experience we've come to expect from Apple, assuming you've got an iOS device at hand – slick! Power is via the Apple 20W charger (9V/2.2A) and permanently fixed USB-C cable. There is no internal battery for portability. You can't power it from a Mac or PC USB port. Power it up, and an alert pops up on the iPhone. Firstly, tell it which room it is in. Then your phone can transfer across your Hey Siri profile so the speaker can recognise your voice.
Once the speaker knows your voice, there is the option to enable Personal Requests. This ensures that when speaking to the Apple HomePod mini, you can access your personal information from iPhone apps like Messages, Calendar, Reminders and Contacts. It can recognise more than one voice. This means up to six homies can add their Hey Siri profile for personalised answers to their queries.
The iPhone also transfers settings across to the speaker – such as your home network (Wi-Fi n only) details and streaming music supplier and log in. Finally, point the phone at the speaker's glowing light to complete the pairing process.
Music services
If you subscribe to Apple Music, then say no more. Out of the box, it plays content from Apple Music, iHeartRadio, TuneIn and your music library, including iTunes purchases. Life is more difficult if you like to stray beyond Apple's walled garden. Sadly, there is not much support for third-party services. Pandora and Amazon Music are supposedly coming. There is no support for Spotify. Instead, the frustrating workaround is to launch that services app on your iGadget and then fling music to the Apple HomePod mini via AirPlay 2 streaming. If this sounds like a deal-breaker, it is. Most other smart speakers from play nicely with your subscription music service of choice. But you may lose Siri and HomeKit – so be careful.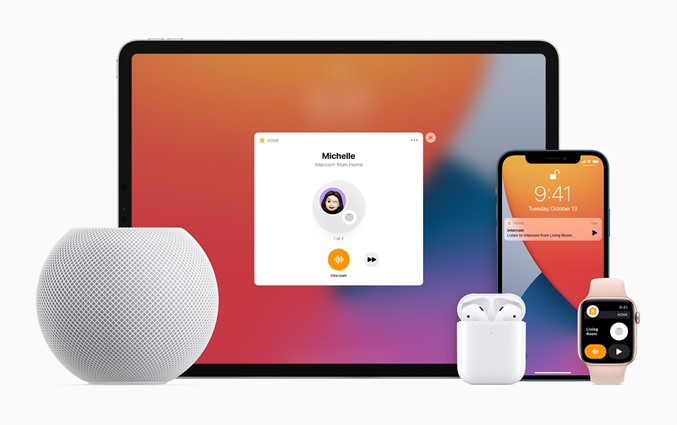 Sound quality
Ask Siri for some music, and the little speaker makes a pretty good first impression. It is mono, of course – 360° music all around. You can stereo pair as well. It packs a surprising punch for its size getting to 80dB – it will fill a small room. It has an S5 processor (same as the Watch 5/SE) that supports 'computational' audio. That means it optimises the sound for the current content. Now audiophiles will want sound as it was recorded and eschew Apple's version of sound. Most people will think it is pretty good.
Sound signature
Technically it suffers from using a single driver to cover bass, mid and treble. It has low distortion to around 90% volume when music then becomes harsher. To our ears, it has no low/mid/upper-bass, weak low-mid and then strong mid and treble. There is no EQ app either. So it is good – not great. You can read more about sound signatures here, but it is a bright vocal verging on mid signature – suited to vocals and strings.
One missing sibling feature is that It does not calibrate itself to match the room acoustics. While the 360° speaker does not need it, it sounds quite different when placed against a wall (usual spot) versus the room's centre (most speakers have reverted to 180° at best).
While we don't compare ecosystems (Sir with Google, Alexa, etc.), there are better Bluetooth and Wi-Fi music speakers out there. Even the little Sonos Roam, not to mention the rest of the Sonos range, outclass it.
You can read DXOMARK'S technical review here. It scores 98 against Amazon Echo Studio (124) and Google Nest (112). DXO agrees with our assessment, 'It has precise treble and clear midrange… It has a significant lack of bass and not enough low-mids. It is not for loud party music or even for movies'. But hey – it is a low-cost Siri speaker.
Siri – basic features
The Apple HomePod mini puts Siri (features list here) at your beck and call. You can ask Siri to move the music to another speaker or create speaker and multi-room groups so you can play music in unison across different rooms. It has a U1 Ultra-wideband chip that allows newer iPhones to transfer music, calls and podcasts seamlessly. Just hold the iPhone next to the HomePod mini, and the content jumps across.
Of course, Siri can answer a wide range of general queries, check the news and weather, and let you control HomeKit compatible smart home gear. If you've enabled Personal Requests, you can also ask Siri to make and answer hand-free calls via your iPhone. This comes in handy when you have your hands full, such as wrangling kids or cooking up a storm in the kitchen. There's also an intercom feature that lets you make announcements to specific rooms or across the house and send notifications to iOS devices.
Unfortunately, Siri isn't as useful as Google Assistant and Amazon's Alexa. They both handle a wider range of queries and work with more third-party services like food deliveries and ridesharing.
Privacy
Apple pledges to be more respectful of privacy and not mine your data to deliver targeted advertising. Interactions are not linked to your Apple ID. There is no physical mute button, but you can tell it to stop listening when you need a bit more privacy. Personal Requests only work if your iPhone is nearby to stop others snooping on your private business while you're out and about.
GadgetGuy's take
If you're an Apple-centric, then the Apple HomePod mini is your only speaker choice to bring Siri into the home. Remember it's a small speaker – great for the kitchen, bedroom or bathroom. It is not a living area device like Apple's original HomePod.
If you stray beyond the Apple ecosystem to use subscription music services like Spotify, the HomePod mini starts to look a lot less attractive. The same if your family has a mix of iOS and Android devices. If that sounds like your home, then you really should question whether a Google or Alexa speaker would serve you better. Would I buy it? Only if my home was nestled deep in the bosom of the Apple ecosystem.
If you're an Apple-centric, then the Apple HomePod mini is your only speaker choice to bring Siri into the home.
Positives
Tight integration with Siri and the Apple ecosystem - really for Apple users only
Easy listening especially considering the size
Siri make it easy to move music around your home
Negatives
Siri isn't as smart as her rivals
Extremely limited access to third-party music services
Sound quality falls well short of similarly priced rivals
No BT, Aux-In or power portability