On the gourd at Apple's launch event in Cupertino, we had a chance to get our hands on Apple's new MacBook Air. This is a completely redesigned model, with a new look and brand new M2 chip. So how does it feel, and what sort of upgrade is it over the M1-equipped MacBook Air that's still on sale?
Look and feel
Starting with the appearance, this is 20% smaller by volume than last year's model. This is thanks to a single-sided logic board, which is about half Oddly it's actually larger in surface area, albeit thinner. It's just 11.3mm thin, but a bit deeper than the old one. Still, it feels great in the hand and takes on the design language found in the new 14 and 16 inch MacBook Pros.
There's no MacBook Air logo beneath the screen, or anywhere for that matter, which seems to be the new way of doing things. It comes in 4 colours including silver, space grey and two new variants: Starlight and Midnight. Starlight has sort of a champagne look, while Midnight looks black in some light and a dark blue in others. This is the real standout colour, in our opinion, however, it does show fingerprints, so you'll probably need to wipe it down more than the others. Also worth noting is that the Gold colour option is gone, so those who want some extra bling are short handed, and will probably look at the more muted Starlight or silver colour options.
Connections and power
As per the previous MacBook Air, there are two USB-C Thunderbolt 3 ports, each with their own dedicated controller, and a 3.5mm headphone jack. However, the headphone jack is of the high impedance variety, so it should play nice with higher quality headphones.
Otherwise, the new model has Bluetooth 5.0 and Wi-Fi 6, which is the same as last year, and does not get Wi-Fi 6E, sadly.
Also new is the MagSafe charging port, along with a fancy colour-matched cable. You don't even get this on the top-end 16in MacBook Pro model. While the immediate benefits of MagSafe are that it will detach if you trip on the cable rather than pull your Air off a table, it does take up a fair amount of room along the edge. It can also max out to 140 Watts, however, this is not a voltage that the Air will ever see. You can still charge with a USB-C cable if you wish.
While on the subject of ports, the two Thunderbolt connectors do not support a dual external monitor setup. Apple says that the MacBook Air will support one external display only, however, this can be up to 6K resolution, such as the mightily expensive Apple Pro XDR Display. It appears that the only way to get dual monitor support is abandoning the Air altogether and opting for the 14 or 16 inch MacBook Pros. It looks like the new 13 inch MacBook Pro won't manage dual monitors either.
Charging choices
Apple has introduced a couple of charging options too. The first is a new 35 Watt dual charger, so you can connect two cables (USB-C at one end) and charge your MacBook Air and an iPhone at the same time, for example. This is a Galium Nitride (GAN) charger, which means it is fairly compact for its total wattage. It splits the 35W in half for each device connected to it, or full power if just one. Some have asked if either of the ports can be used for data, and no, these are for power only.
As the new MacBook Air supports fast-charging provided that you use a 67 Watt charger. This means you can get half way (50%) to full charge in 30 minutes. Of course, you don't get the 67 Watt charger as standard, or the 35 Watt dual charger for that matter. On the entry level MacBook Air you get a 30-Watt single cable brick, with no bells or whistles, so expect to add some more $$ to the bottom line to upgrade your charging.
Bigger and brighter display
The 13.6 inch Retina display looks very good, thanks both to being 13.6 inches rather than 13 on the M1 MacBook Air, and a high brightness 500NIT panel. This is 25% brighter than the old model, and, while there's a notch at the top for the camera, the extra height is in addition to the screen's dimensions so it isn't taking anything away. This new display can manage 1 billion colours and has 4.2 million pixels, so it's very lovely and sharp. While it's a 10-bit panel, it doesn't support High Dynamic Range (HDR) – you'll need the 14 and 16in MacBook Pro's for that – and it's fed an 8-bit signal anyway.
A new 1080P webcam takes up the space in the notch, and features the 'keep you in the frame' Centre Stage feature along with improved clarity low light performance. Of course, if you want to ramp up your web camera quality even further, you can now wirelessly connect to an iPhone with the new Continuity Camera feature.
Interestingly, there are no speaker grilles on the MacBook Air. Speakers are still there though, and are positioned beneath the keyboard, near the screen hinges. This is a 4 speaker system with 2 woofers and 2 tweeters, and there's also Spatial Audio and Dolby Atmos support.
They keyboard felt solid when tested, and there are now full height function keys as well as a full-sized fingerprint scanner like the one on the 16in MacBook Pro.
M2 power
While the new look MacBook Air looks fantastic on the outside, the big question is what sort of performance does Apple's new M2 chip give it over the M1 version? Until we have a chance to run some benchmarks and do a full review, the short answer is that it's about 20 percent faster. However, it's important to note that the M2 is also more efficient than the M1, so you will be getting additional performance while drawing less power.

We witnessed a Photoshop demo, which complex filters on large photos processing up to 70 percent faster than the M1 MacBook Air. Also, the new Air is a very capable video editing platform, and supports up to 11 simultaneous streams of 4K ProRes video or 2 streams of 8K video in full quality, when running Final Cut Pro.
Notable improvements for the M2 versus M1 chip include faster performance cores, better efficiency cores and the addition of ProRes hardware decoders, in addition to H.264 and H.265. There's also now 24 gigabytes of Unified Memory versus 16, so applications have more memory to work with. More specifics on the new Apple M2 chip.
Also thanks to the M2 chip is impressive battery life. The new Air has about the same as last year's model, which is 18 hours of video playback and 15 hours for web browsing. There's a larger battery too, which is 52.6 watt hours vs 49.9, or just over 5% larger. keep in mind that since the M2 is more powerful and efficient, it should get more work done per battery charge thank the pervious Air.
Who is the new MacBook Air for?
Given that the M2 chip is quite capable, it's hard to imagine this as an 'entry level' machine. As the M1 model will remain on sale, it would be the entry level pick, and even then, it should handle most every-day tasks, ranging from web browsing to office apps to video streaming, photo and video editing.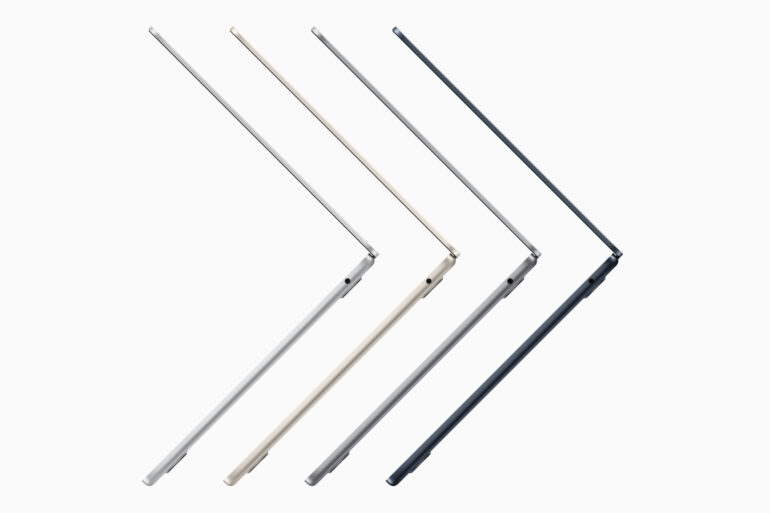 The M2 can do even more, and there are both 8 and 10-core GPU variants to choose from. Also, as the M2 chip gains a max of 24GB of Unified Memory, you can choose a 10-core GPU and 24GB variant that can manage even more intensive content creation and development applications.
As there's a M2-equipped 13in MacBook Pro as well, you can go one step further. The main technical difference between the new Air and new 13in MacBook Pro is active (fan driven) internal cooling. The MacBook Air is fan-less, which means it is completely quiet. However, the 13in MacBook Air can keep the M2 chip cooler, which means longer sustained peak performance, so if you have long render queues or large data sets, the 13in MBP is the better choice as it won't throttle performance due to excess heat. However, it still has the old case design and is in serious need of a refresh.
From here, the next step up is the the 14 and 16in Mac Pros with the M1 Pro and then M1 Max chips. Apple says that the M2 is the starting point for a new family of chips, which happens to be faster than the M1 but pro users should be choosing the M1 Max, M1 Pro and M1 Ultra variants. They'll also gain the high-performance benefits that the higher end laptops and the Mac Studio desktop deliver.
So is the new MacBook Air with M2 the "do-it-all-day" device for anyone? Given our quick hands-on experience with it, we'd say a resounding 'yes.' It has supermodel looks, is feather-light and portable, with a bright and roomy display. Plus, it's packed with power, has Sydney-to-LA battery life and a peacefully quiet operation. We'd like to think that this should keep any mainstream laptop user happy, and then some.
More Apple news and reviews on GadgetGuy
Valens Quinn travelled to WWDC in California as a guest of Apple Australia.