Everyone has a smartwatch, and Asus is no stranger, too, offering a slightly curved display and a whole heap of customisable watch faces. Is this Android Wear at its best, or just more of the same?
Features
Another smartwatch for the pile, the ZenWatch WI500Q is the first time Asus is tackling this new area, and while it's a first time product, what is inside is fairly familiar.
If you've seen an Android Wear watch this year, there's a good chance you've seen the ZenWatch, though perhaps without realising it, because the hardware is pretty much identical.
Inside this watch, you'll find Qualcomm's Snapdragon 400 processor clocked at 1.2GHz, paired with 512MB RAM and 4GB storage, as well as Google's Android Wear operating system.
Wireless communication is included with this hardware, offering Bluetooth 4.0 to get the watch talking to the phone, though you will need an Android smartphone in order to make the Android Wear connection possible.
You'll also find a multi-axis sensor on this watch, microphone, and a degree of water and dust resistance (IP55), with all of this sitting under a screen measured at 1.63 inches diagonally, and offering up a resolution of 320×320 or 277 pixels per inch if you're talking pixel clarity.
The display is protected by Corning's scratch-resistant curved Gorilla Glass 3, and touch has been kept in the unit allowing you to touch the screen. That being said, you'll find a small button — the only physical button on the unit — on the underside of the watch.
Wrist straps on the ZenWatch are replaceable, however, and a proprietary charge bed is used to charge the watch, though this last section can be plugged into a microUSB connection.
Performance
We've seen quite a few smartwatches in the past year, and while Asus is a little late for its first model in Australia, it is here all the same, showing off another take on what a wearable computer can be.
For the Asus example, we're seeing a sway away from the skeuomorphism that Android Wear makers tend to take — you know, that circular smartwatch look LG and Motorola have both adopted — with a return to the square-wish take Samsung and Apple have both preferred.
We get why a square is more preferable, too: there is no mistaking that you'll be looking at a screen, and regardless of how much you like a circular watch, you can fit more information on a square or rectangle, because that's what screens have traditionally been shaped to be.
That being said, both shapes have their pros and cons, and while we like the square, we also still love the circular smartwatch design, and still rely on that LG G Watch R, as that is our smartwatch of choice on Android when we're not wearing something more mechanical, or carrying an iPhone and relying on the Apple Watch.
With that out of the way, let's see what the Asus ZenWatch is all about, because when it comes to design, Asus is all about first impressions.
From the start, it's easy to see why the ZenWatch could be appealing, offering a two-tone metal trim, with silver and a "rose gold" that resembles bronze to us, but still looks fashionable. Even the strap is a departure for the typical smartwatch stylings, with a fold-back metal clasp sitting on a relatively thin but vintage styled piece of brown leather.
People here are divided on whether this looks sexy or not, but this writer happens to find it evokes a more classic tone, and is a better leather strap — at least one that feels more quality — than the types both Motorola and LG offered with their respective smartwatches.
Switch it on with the one physical button on the underside of the watch and you'll see the 320×320 square screen come to life, a bright colourful display that looks great from most angles, even if the curved glass does cause the colour to wash disappear and fade off a little too easily.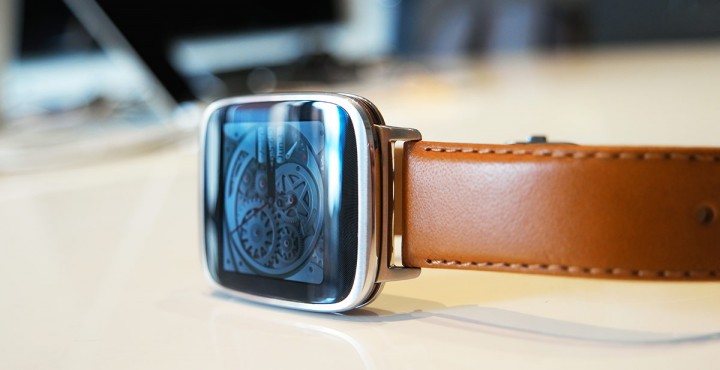 Before we get started, we feel we need to address setup in this review, and that's unusual because Android Wear doesn't really have a whole issue around setup.
Typically, you just download the "Android Wear" app for Android and start linking the two devices up, smartphone and smartwatch, and Android Wear normally does its thing, but the ZenWatch is different.
You see, Android Wear is one of the first times Google has basically asserted some control over the manufacturer world and said "you're not messing with this all that much", providing the operating system and a basic blueprint, allowing the manufacturers to do cool things with that, but not much else.
Because of this, almost every Android Wear watch is the same. Oh sure, it might have a different body, shape, watch materials, different straps, and a choice of different faces, but look under the hood and check out the features and generally you'll find that the assortment of Android Wear devices out there is very much the same.
One could almost say identical. Almost.
Asus isn't a huge fan of this, and to shake up the formula just a bit, has built a little piece of software that really has to be installed in order to make the ZenWatch work.
And we're serious about this. It's not an optional "you know it would be really nice if you installed me" app, but rather a "your watch will continually report the wrong time and you won't be able to do anything if you don't install me" app.
So you install the app "Asus ZenWatch Manager", which sits alongside Android Wear and is required to make the ZenWatch work, and if you don't, you find your watch never syncs and never really does anything, turning quickly into an expensive albeit good looking paper weight.
Once it's done, however, and Android Wear and the Asus ZenWatch app are talking to each other on the same platform, everything starts to work. But only then, so if you're struggling to work out why your Android Wear app isn't working and you didn't take the advice of the watch to install the Asus software, now you know that it's not advice or a suggestion, but rather a requirement.
With that finished, however, you can get to using your Android Wear watch, and from here, it's more or less the same style of product we've seen from previous Android Wear devices.
Granted, we're using the latest software, and so we have a more cleaned up interface, with a watch face being shown pretty much all of the time, which can lead to the apps, favourite contacts, and Google voice commands simply by swiping from right to left from that watch face.
Each of these occurs after each other, and that recent update (as of June 2015) means Android Wear has never been easier to get around, though it still doesn't do much.
Yes, even with the Asus ZenWatch software, Android Wear is primarily a watch with a notification screen thrown in for good measure, almost making it a second display for your phone, so you don't have to keep taking it out.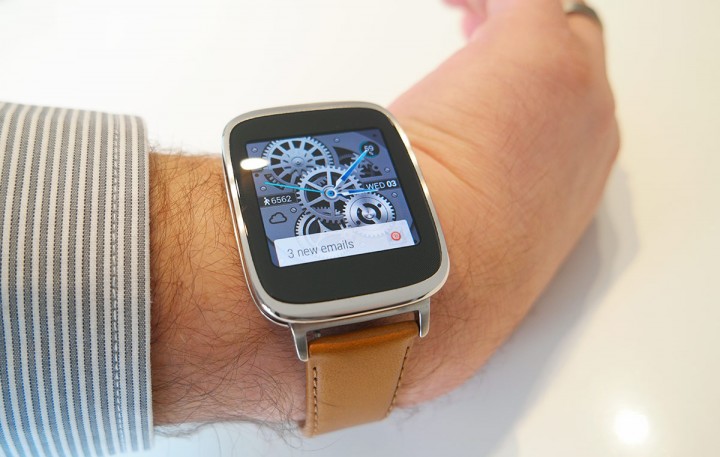 Your emails will pop up in short form on that screen, as will alerts to messages, notifications from your weather app or security system, and you can even swipe away phone calls if you don't want to answer them or swipe them in to pick them up.
Asus does bring in a little bit of extra functionality with apps you can download, allowing you to control a phone camera with the watch, move music over to the device, and even allow gestures to activate a torch or compass.