Now that there's a new Samsung phone on the way, and not far off actually, case manufacturers are making sure they have stuff to protect the new phone. In less than 24 hours, quite a few have stepped forward.
If you're already eager to get your mitts on either of Samsung's new smartphones, the 5.1 inch Galaxy S7 or the 5.5 inch Galaxy S7 Edge, you're not the only one, but you're also probably looking into protection for the phone.
Even though there's a degree of resistance applied to the device, protection is a must have if you plan to keep the phone scratch-less and in pristine condition.
Fortunately, even before release, a few manufacturers are ready with news about products that will be here in the next few weeks, just in time for the March 11 release of Samsung's Galaxy S7 and S7 Edge.
Who will you be buying cases from?
Dog & Bone
Australian case maker Dog & Bone has shown some pretty creative products in the past, including the world's first Bluetooth smart padlock and a replaceable battery concept for the iPhone 6, so what does it have in store for the Galaxy S7?
From the information we're seeing, it almost looks like Dog & Bone is employing a bit of the old Tech 21 concept of D3O, or what we referred to as orange goo.
That's not exactly what's inside the Dog & Bone Splash, but the look is very similar, with Dog & Bone relying on a two-part design which brings together a bumper with a tempered glass screen.
Two parts to the case means you get a fair amount of protection, and Dog & Bone is pushing this further with word that "each case is drop proof and shock proof up to four feet", which in turn translates to a little over a metre.
The name "Splash" also tells you what the case also does, and that is provide a modicum of water protection, with an resistance rating of IP44 applied, which means the Dog & Bone Splash case can survive encounters with small objects and the splashing of water, even if the phone inside can survive a little more.
Dog & Bone says this rating makes the Galaxy S7 suitable for the outdoors given the phone is water-resistant while the case is semi-rugged and brings with it a little more resistance to the elements, adding only 2.5mm to the phone's thickness.
LifeProof
Resistance isn't just going to come from Dog & Bone, with LifeProof chiming in that a variant of its "Fre" case will be ready for the S7 upon release.
LifeProof tends to make cases that are resistant to the elements, and already we're hearing that this case will be usable in the salty depths of the ocean or if you head to the cold and go skiing. The case is waterproof down to two metres for up to one hour, drop-proof for up to two metres and it will include a built-in screen protector and an glass camera lens cover, too.
The company is also talking up a "Sound Enhancement System" which we don't have information on, but knowing what we do about cases, will probably just be a part of the case that allows the sound to echo a little more in a small nook.
One thing of note is the model that this will work on, and right now, LifeProof is only confirming a variant of the Fre for the Galaxy S7, not the S7 Edge. Just something to be aware of.
Otterbox
Otter box's take on the Galaxy S7 and S7 Edge cases isn't as playful as we'd like yet, but you can tell the company is at least focusing on durability, revealing the Commuter and Symmetry designs will be coming to their range.
Otterbox says that these cases will still have its certified drop protection, which is handy to know, though these appear to be pretty basic in regards to designs.
If protection is all you're after, it does appear that Otterbox will have something for you, even if they lack personality.
Spigen
Spigen doesn't have a tremendous following in Australia, though its selection does look pretty varied all the same, which could keep its local distributor busy.
A quick glance to the Spigen website reveals nine separate variations for both the Galaxy S7 and Galaxy S7 Edge, with options for polycarbonate casings, slightly rugged options, and even something made for the edge with a stand built into the side.
We're particularly interested to see that last one, the Galaxy S7 Edge Case Slim Armor, as we are the Galaxy S7 and S7 Edge Case Wallet, which basically provides a card-carrying and currency-friendly wallet with a place to hold that phone of yours.
Tech 21
The other major case maker that has chimed in is Tech 21, formerly responsible for pushing out cases with the aforementioned highly shock resistant D3O goo.
In recent years, Tech 21 has shifted to a different material with the lightweight "FlexShock" material which offers a degree of ruggedisation without a lot of thickness, and apparently doesn't interfere with signal quality from the phone, either.
Six cases have been announced for the S7 and S7 Edge, with five in the Evo range and one in the drop-friendly Impact range, and that last one can survive drops of up to a metre and a half with the addition of only 2mm to the thickness.
If the idea of a phone with a flip cover grabs you, though, Tech 21 will have a semi-rugged coming with a flip-over screen cover with a credit card slot inside, handy for people who use keep the public transport tap-on card with their phone.
Samsung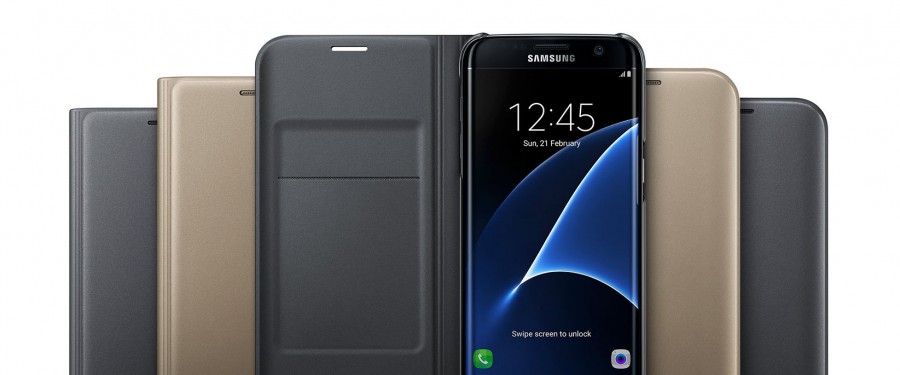 Finally, there's the maker of the phone itself, and it shouldn't be surprising that Samsung will have a few options coming for its new star pupil, the Galaxy S7 series of phones.
You'll find a few here, from the LED View Cover with its face almost retro-dot-LEDs (which looks a lot like the HTC DotView cases to us) to a revamp of last year's translucent Clear View cover, which is also coming along for the ride.
A window case will also be rocking up in the S View Cover, as well Samsung's own take on the wallet — called the Flip Wallet — while a couple of grip cases will be made in plastic and leather.
Samsung says it's leather, though we'll be checking. Here's hoping it's not just pleather.
But quite possible the most interesting of all the cases is Samsung's keyboard cover which is quite literally a snap on cover for the Galaxy S7 and S7 Edge that forces the screen to resize itself while giving you an almost BlackBerry-like physical keypad.
Availability
With the Samsung Galaxy S7 and S7 Edge due in only a few weeks, we wouldn't be surprised to see these cases making their way to stores shortly, and a few manufacturers have even chimed in suggesting we should be seeing them now.
You won't be able to purchase a Samsung Galaxy S7 or S7 Edge until March 11, mind you, so buying a case now is a little moot, but at least you can be prepared for when that new device does rock up.