D-Link has named its new AC5300 modem/router after the world's fastest striking snake – the Cobra. The aptly named Cobra also has a boring model name too – DSL-5300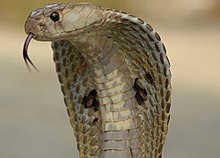 It follows on from the very successful AC3200 Taipan (another snake theme) and there was a Viper and a Python in the mix prior to that.
The snake series are not for ophidiophobics with Chrometophobia (fear of snakes with a propensity to keep the wallet shut). The Cobra is $749.95 so those living at Point Piper need only apply.
So, what do you get for the mega price tag?
VDSL/ADSL Modem – For universal DSL connectivity in Australia and New Zealand
NBN/UFB Ready – Ready for all NBN (Australia) and UFB (New Zealand) connections
Wave 2, MU-MIMO, (Multiuser) Wi-Fi – Sends and receives data to and from devices simultaneously to increase speed and efficiency
8 High-Gain Antennas and smart beamforming – Improves coverage by directing bandwidth to your devices as you move around
Simultaneous Tri-Band – that is one 2.4Ghz (1,000 Mbps) and 2 x 5Ghz (2 x 2167Mbps) which can be aggregated at AC 5300Mbps
SmartConnect – chooses the best band or bands based on available speed and load
8Ghz QuadCore Processor – handles 4K streaming with ease
4 x Gigabit Ethernet ports – each 1000Mbps for hard-wired connections
DNLA enabled (can stream media)
USB 3.30 and USB 2.0 ports
Plus, all the usual D-Link software smarts like VPN support, parental controls, Encryption, push-button WPS, and zero configuration for many LAN devices
Trust me – there are none better.
D-Link ANZ MD Graeme Reardon said, "Flowing on from the heritage of our multi-award-winning TAIPAN Modem Router, the COBRA adds even more bite with the latest generation MU-MIMO Wave 2 wireless support and speeds up to 5.3Gbps combined across its three Wi-Fi bands. It has also been designed with the NBN in mind so it's 100% built for that purpose if required. There's no compromise of any kind with COBRA."
Full details at https://www.dlink.com.au/home-solutions/DSL-5300-cobra-ac5300-wave2-wi-fi-modem-router


Who will use it?
If money is not the issue, then anyone who can afford it. With most houses having more than a dozen devices attached and the emergence of 4K TV streaming this is perfect. And as client devices start to approach Gigabit speeds why throttle them with a few hundred Mbps?
In my case, I use the D-Link AC5300 DIR-895L for $699.95 as I don't need the modem and I have NBN delivered by HFC cable. And if you have a smaller house or apartment you can get AC speed routers and modem routers from $200.
Note: The use of this modem/router will not increase the speed delivered by your ISP but it will use it more efficiently around the home and make on network data transfers much faster.